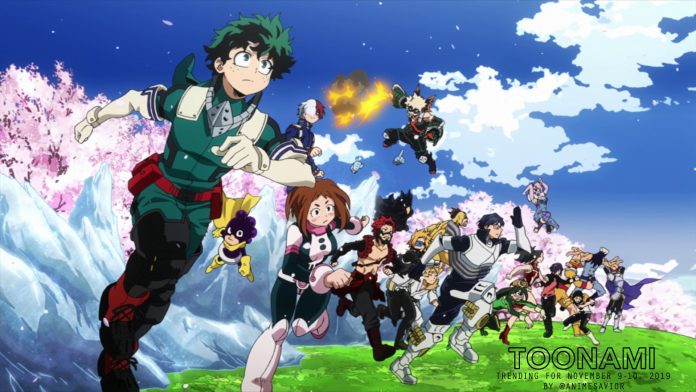 "You don't have to worry kid. I'm not writing an expose even if I did have evidence. To be honest I should probably be apologizing to you. You see, I was never planning to report on dorm life. I apologize, but I just had to know that there's still light in this world. I feel better after our conversation here and now I can encourage others. I won't be lying when I write that there's still hope in the world, even if All Might has retired."
–         Taneo Tokuda, My Hero Academia (Ep. 64)
The Toonami Trending Rundown for Nov. 9-10, 2019. It was a big night for Toonami fans as the eighth Total Immersion Event, The Forge, begun its six-week run, while My Hero Academia returns to start the block with its highly anticipated fourth season.
Among the significant moments of the night, Season Four begins with a recap episode as a freelance journalist named Taneo looks into the lives of Class 1-A in his hopes of finding the newest Symbol of Peace following All Might's retirement. And when Taneo put the pieces together that All Might is training Deku to be his successor, he wants to know if the future will be in good hands. Meanwhile, in Demon Slayer, Tanjiro kills a demon who has haunted Urokodaki by killing many of his students (which includes Sabito and Makomo). By slaying the demon, Tanjiro is able to clear a major hurdle (and lay the spirits to rest) as he completes the final selection as one of only four people to have completed the exam. And in JoJo's Bizarre Adventure, Giorno begins his quest to reform the mafia for the benefit of the people as he meets with the leader of the Passione organization, Polpo, to gain his trust. As his test, Polpo tasks him with keeping the flame on a cigarette lighter burning for 24 hours, and Giorno found the task a lot harder than it looks, as everything that could possibly go wrong, does.
On Twitter, #Toonami would successfully trend in the United States except for Demon Slayer, Black Clover, and the encore run of Attack on Titan. Meanwhile, on Tumblr, #Toonami trended alongside Kimetsu no Yaiba. The full list, including statistics and tweet counts from the Twitter app and Amr Rahmy's Fan Screening analytics app, can be seen below.
---

This week's feature was the first episode of The Forge. You can check it out below:
On Tuesday, we released the fifth part of our series of interviews from Anime Expo 2019, as CJ spoke with Erika Harlacher as they discussed her roles as Kurapika in Hunter x Hunter and Yukiko in Megalo Box.
As part of Dragon Ball Z's 30th-anniversary celebrations, Funimation and Toei have several more events planned in the coming months. Following its well-received debut last year, Funimation and Toei will once again fly a Goku balloon at the Macy's Thanksgiving Day Parade this upcoming Nov. 28. In addition, both companies are putting together a concert event known as the "Dragon Ball Symphonic Adventure" which according to the press release "combines scenes and sounds of Dragon Ball together with live vocals, a 60-piece orchestra and the music of legendary Japanese composer Shunsuke Kikuchi to create an immersive multimedia event for fans." The North American tour will kick off on March 27, 2020, at the Rosemont Theater in Chicago, IL, with additional dates and locations to be announced.
Tune in next week for the second part of The Forge, among other great moments. Until next week, congratulations to the Seattle Sounders for winning the MLS Cup, and stay gold as always.
---
Legend: The shows listed are ordered based on their appearance on the schedule. Show trends are listed in bold. The number next to the listed trend represents the highest it trended on the list (not counting the promoted trend), judging only by the images placed in the rundown. For the Twitter tweet counts, the listed number of tweets are also sorely based on the highest number shown based on the images on the rundown.
United States Trends:
#Toonami [#4]
#TheForge [Trended with #Toonami and #OnePunchMan]
#MyHeroAcademia [#27]
#OnePunchMan [#20]
#DrStone [#21]
#FireForce [Trended with #Toonami]
#FoodWars [#8]
#JoJosBizarreAdventure [#14]
#GoldenWind [#27]
#Shippuden [#16]
#LupinThe3rd [Trended with #Toonami]
Tweet Counts:
#Toonami [10k tweets]
#TheForge [1,447 tweets]
#MyHeroAcademia [6,439 tweets]
#OnePunchMan [2,318 tweets]
#DrStone [2,981 tweets]
#FireForce [2,372 tweets]
#FoodWars [1,978 tweets]
#JoJosBizarreAdventure [3,394 tweets]
Fan Screening Counts:
#MyHeroAcademia [#6 with 2,919 tweets]
#OnePunchMan [#12 with 1,187 tweets]
#DrStone [#9 with 1,603 tweets]
#FireForce [#10 with 1,570 tweets]
#FoodWars [#13 with 1,166 tweets]
#DemonSlayer [#8 with 2,410 tweets]
#KimetsuNoYaiba [#2 with 8,261 tweets]
#BlackClover [#25 with 880 tweets]
#JoJosBizarreAdventure [#13 with 1,469 tweets]
Tumblr Trends:
#Toonami
#Kimetsu no Yaiba
Notes and Other Statistics:
Special thanks to @myanimewaifu, @sdurso5, and others I forgot to mention for spotting some of the trends on this list.
Only Toonami on [adult swim] on Cartoon Network.
My Hero Academia Season 4 Premiere
Toonami Tweets of the Night for November 9-10, 2019