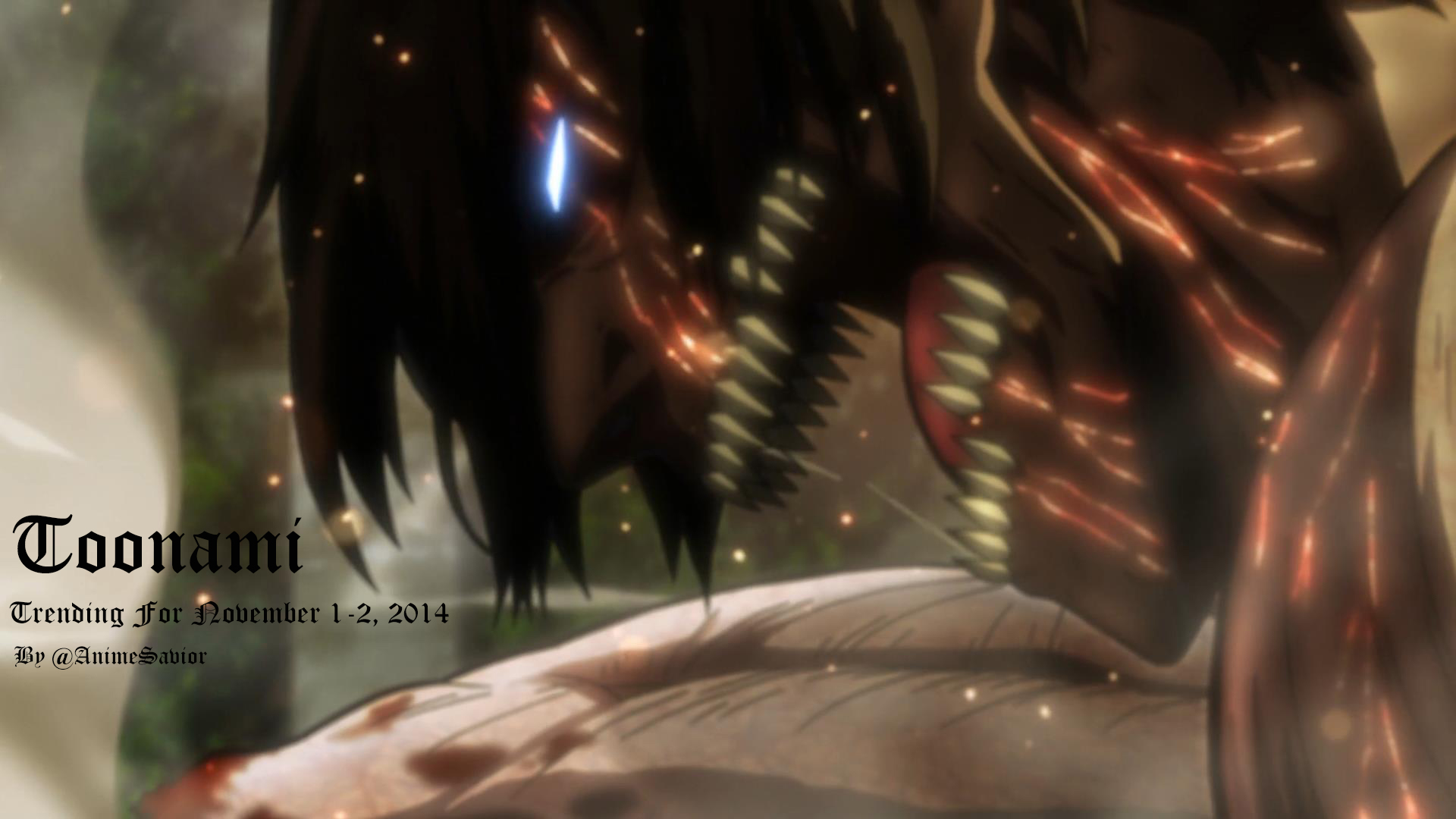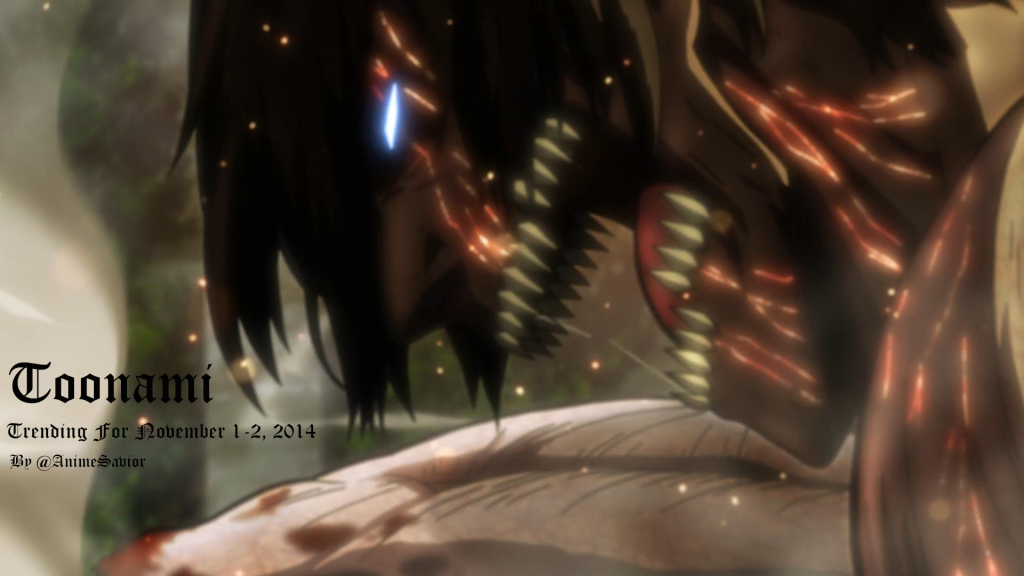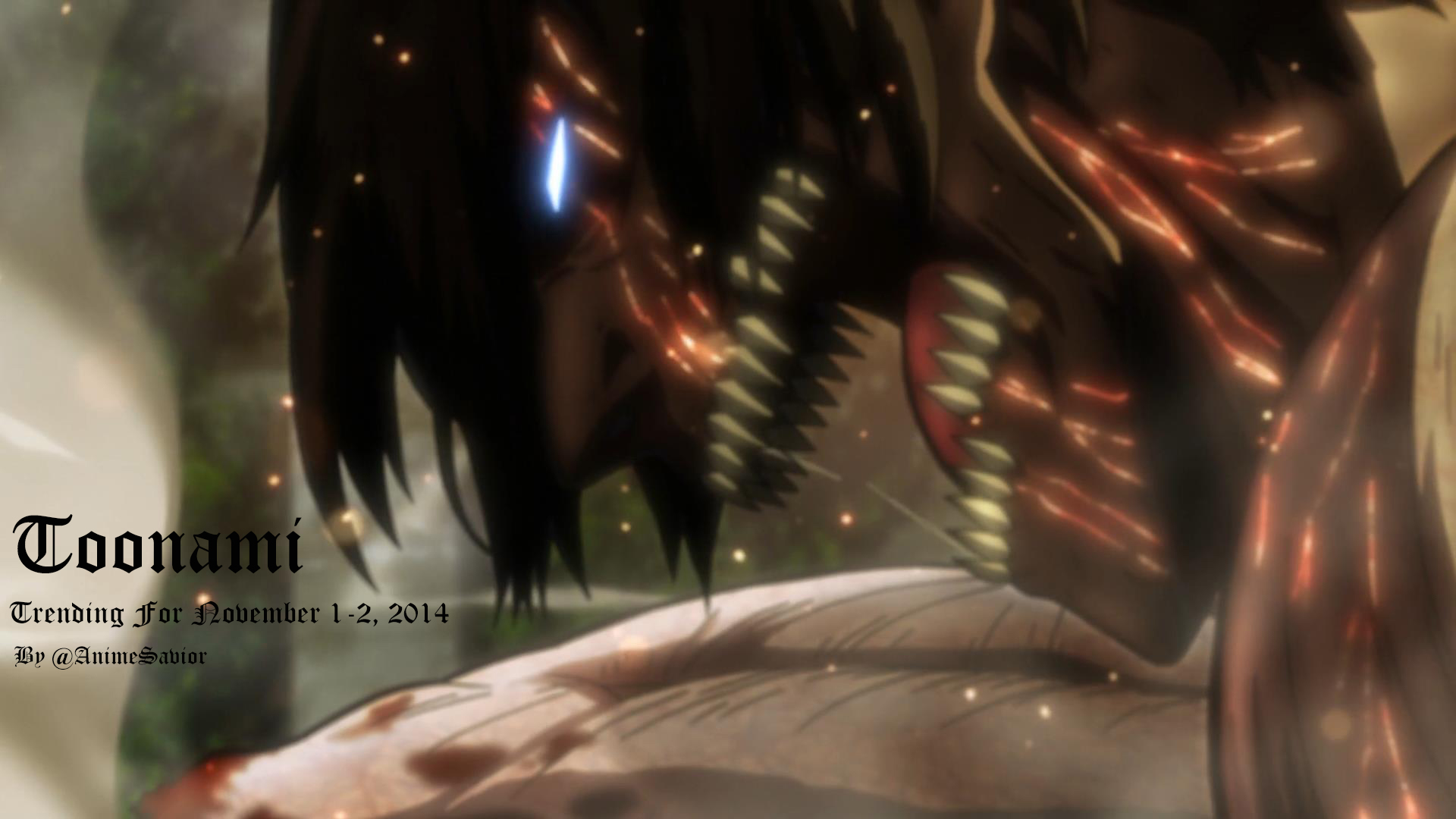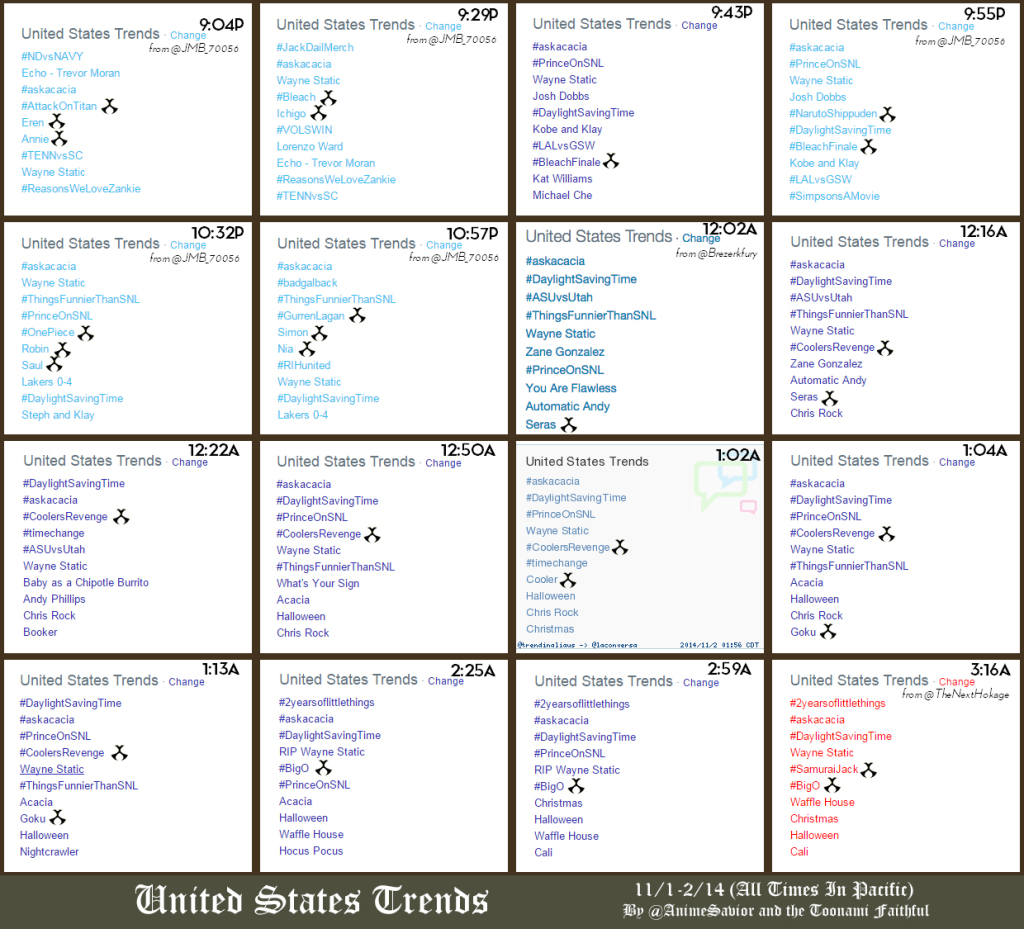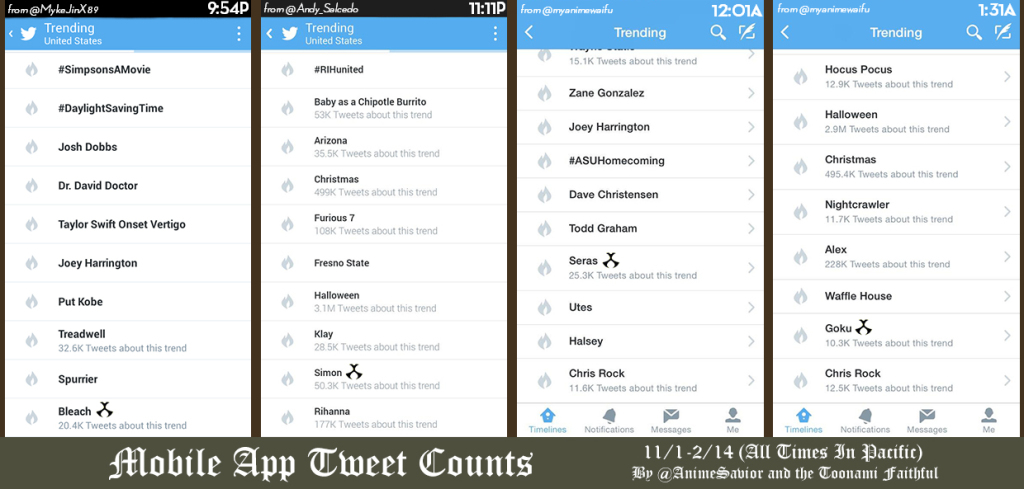 "Not long ago, we haven't even imagine the possibility of Humans transforming into Titans. Now, we're not only aware of the enemy in our midst, we've managed to capture one of them. Make no mistake, there are more out there, and we will hunt down every last one. The initiative is ours. Starting now, we launch an attack of the Titans within our walls."
–          Erwin Smith, Attack on Titan (Ep. 25)
The Toonami Trending Rundown for November 1-2, 2014. Daylight Savings comes to an end and with it brings the end of an era as both Attack on Titan and Bleach end their respective seasons/series with a bang. In regards to show trends, every show between Attack on Titan to Gurren Lagann as well as Cooler's Revenge, Big O, and Samurai Jack all trended in the US. In addition, the hashtag #BleachFinale also trended as fans said their farewells to the iconic show.
We also got some character trends from Attack on Titan (Both Annie and Eren, as Eren defeats Annie while Annie freezes herself inside a crystal), Bleach (Ichigo, as he successfully defeats Ginjo), One Piece (Robin, as she is reunited with Olvia, but gives away that she can read the forbidden texts to the dismay of the government as well as Saul, as he attempts to help Robin escape from Ohara as it is obliterated by the Buster Call), Gurren Lagann (Nia and Simon, as Simon gets out of his mourning period regarding Kamina and he and Nia prevent a mass kidnapping), Hellsing Ultimate (Seras, as she avenges Pip's sacrifice on the remaining Vampire Nazis in the HQ), and Coolers Revenge (Both Cooler and Goku, as Cooler tries to avenge Freeza's death on Goku to no avail).
Attack on Titan Trending Retrospective
About a year ago, Attack on Titan was the talk of the town among those that watched the sub. As the airing of the dub comes to a close, we've seen exactly why AOT has received it's popularity and critical acclaim. And what a run it has been, alright.
During it's run on Toonami, Attack on Titan has successfully trended in 16 different weeks. In addition, when Toonami first premiered the show, the hashtag #AttackOnToonami trended in the US, and when AOT was marathoned on Labor Day weekend, the hashtag #AttackOnTitan marathon also trended. Titan's buzz also produced 9 different character and in-show content trends: Annie, Armin, both the Armored and Colossal Titans, Eren, Hannes, Mikasa, Sasha the Potato Girl, and Titan.
As the wait begins now for Season 2, for those craving for more Titan action, check out the manga which continues on with the story in the meantime. And of course, Toonami will be showcasing reruns in the meantime beginning next week. Eren's goal of eradicating the Titans is only just getting started.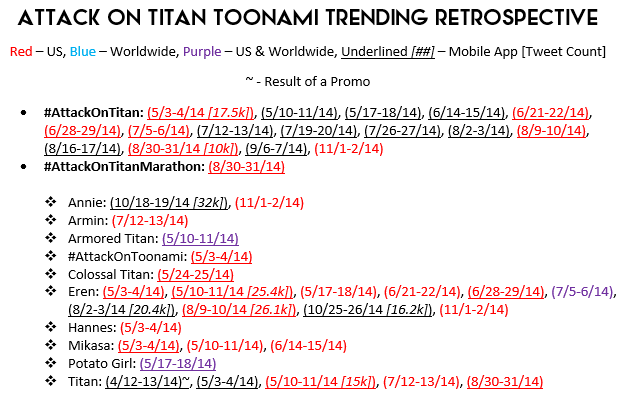 Bleach Trending Retrospective
Dating back to October 2006, Bleach has been a mainstay on Cartoon Network, from the previous golden age of Adult Swim, to the infamous days of CN Real, and to the grand return of Toonami, Ichigo and company have always been there, giving fans much to cheer about.
Dating back to when we first started recording the trending rundown, Bleach has successfully trended during 31 weeks during the Arrancar Arc, 20 weeks during the Gotei 13 Invading Army Arc, and 13 weeks during the Lost Agent Arc. Bleach's buzz also produced 12 different character and in-show content trends, Aizen, Byakuya, Fullbring, Ichigo, Mr. Pork, Nozomi, Rangiku, Renji, Rukia, Orihime, Shuhei, and the Soul Society.
Unfortunately compared to Naruto and One Piece, recent times have not been so kind for Bleach's fortunes, and whether the final act is animated remains a mystery. For now Bleach will be beginning reruns at November 15th at 2:30 Eastern. And of course, there's always the manga which still continues on with presenting the final arc as of this writing.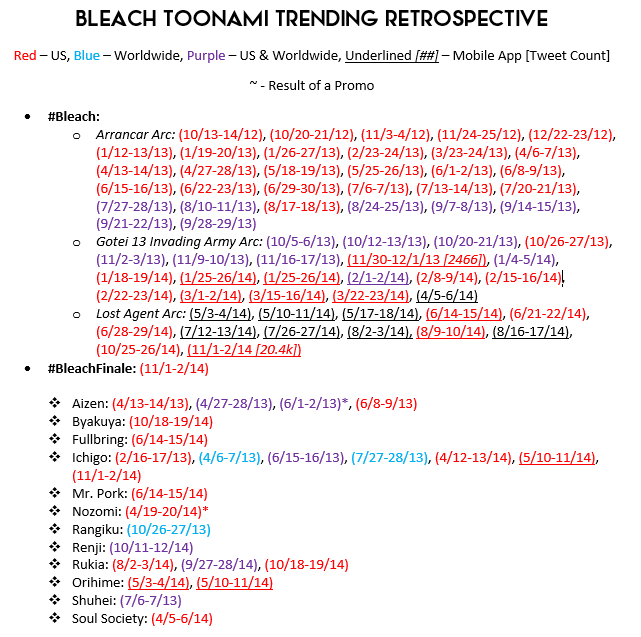 And finally…
Tune in next week as DBZ makes it's highly anticipated return to the block. And on an unfortunate note, Hellsing Ultimate's run will be cut short so it's finale will also be next week. Nevertheless, good things are coming to the block in the near future, and I'm sure we're all excited to see what's next. Until next week, stay gold as always.
Legend: The number next to the listed trend represents the highest it trended on the list (not counting the promoted trend), judging only by the images placed in the rundown. For the mobile app trends, the listed number of tweets are also sorely based on the highest number shown based on the images on the rundown.
US Trends:
#AttackOnTitan [#4]

Annie (From Attack on Titan) [#6]
Eren (From Attack on Titan) [#5]

#Bleach [#4]

#BleachFinale [#7]
Ichigo (From Bleach) [#5]

#NarutoShippuden [#5]
#OnePiece [#5]

Robin (From One Piece) [#6]
Saul (From One Piece) [#7]

#GurrenLagann [#4]

Nia (From Gurren Lagann) [#6]
Simon (From Gurren Lagann) [#4]

Seras (From Hellsing Ultimate) [#9]
#CoolersRevenge [#3]

Cooler (From Cooler's Revenge) [#7]
Goku (From Cooler's Revenge) [#8]

#BigO [#5]
#SamuraiJack [#5]
Mobile App Tweet Counts:
Bleach [20.4k Tweets]
Simon (From Gurren Lagann) [50.3k Tweets]
Seras (From Hellsing Ultimate) [25.3k Tweets]
Goku (From Coolers Revenge) [10.3k Tweets]
Notes and Other Statistics:
Special thanks to @Andy_Salcedo, @Brezerkfury, @JMB_70056, @myanimewaifu, @MykeJinX89, @TheNextHokage, @trendinaliaUS, and others I forgot to mention for spotting some of the trends on this list.
See you, guys. Only Toonami on [adult swim] on Cartoon Network.