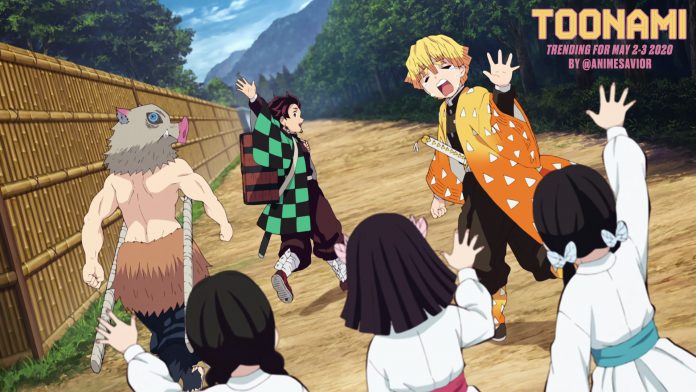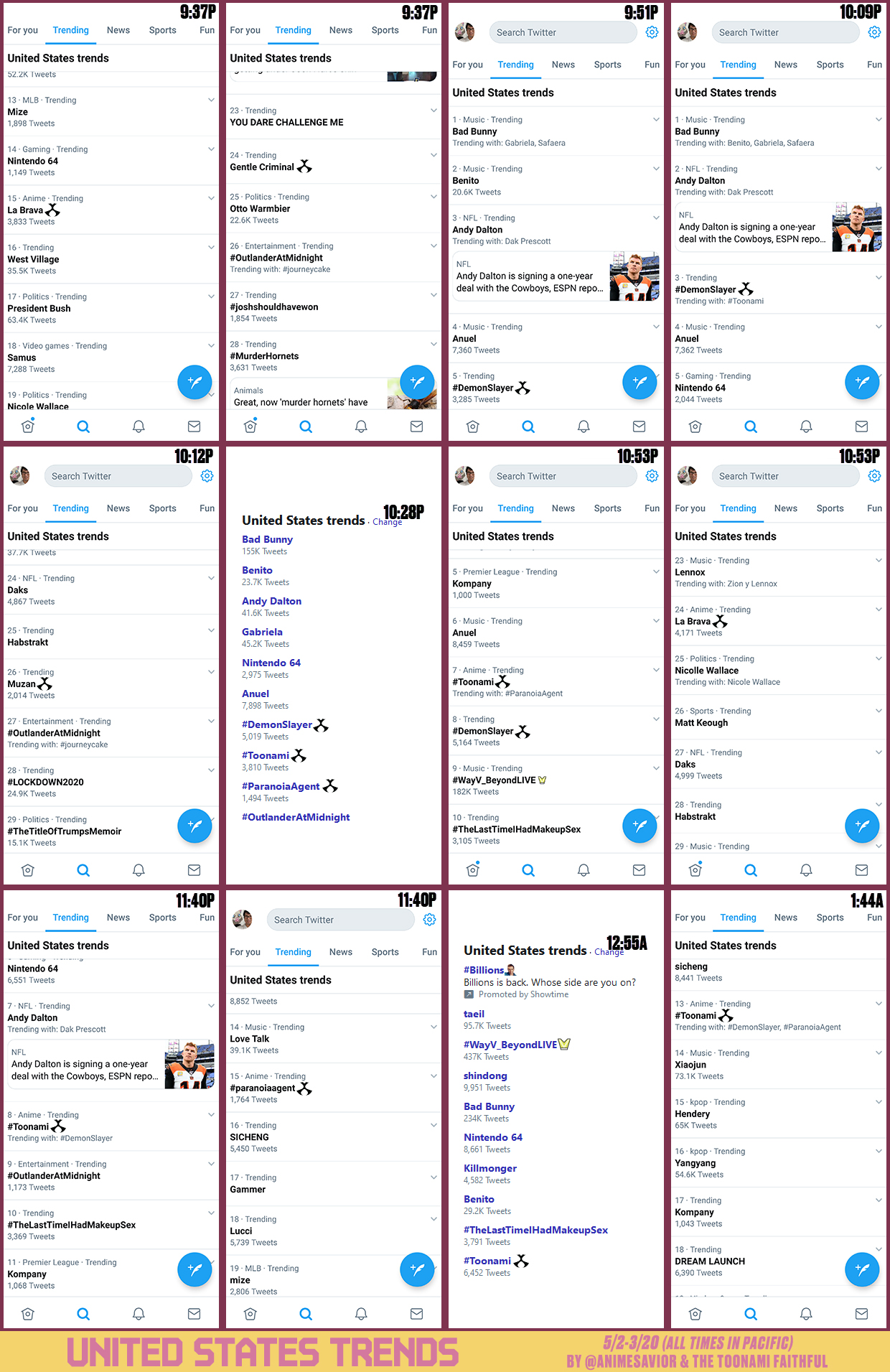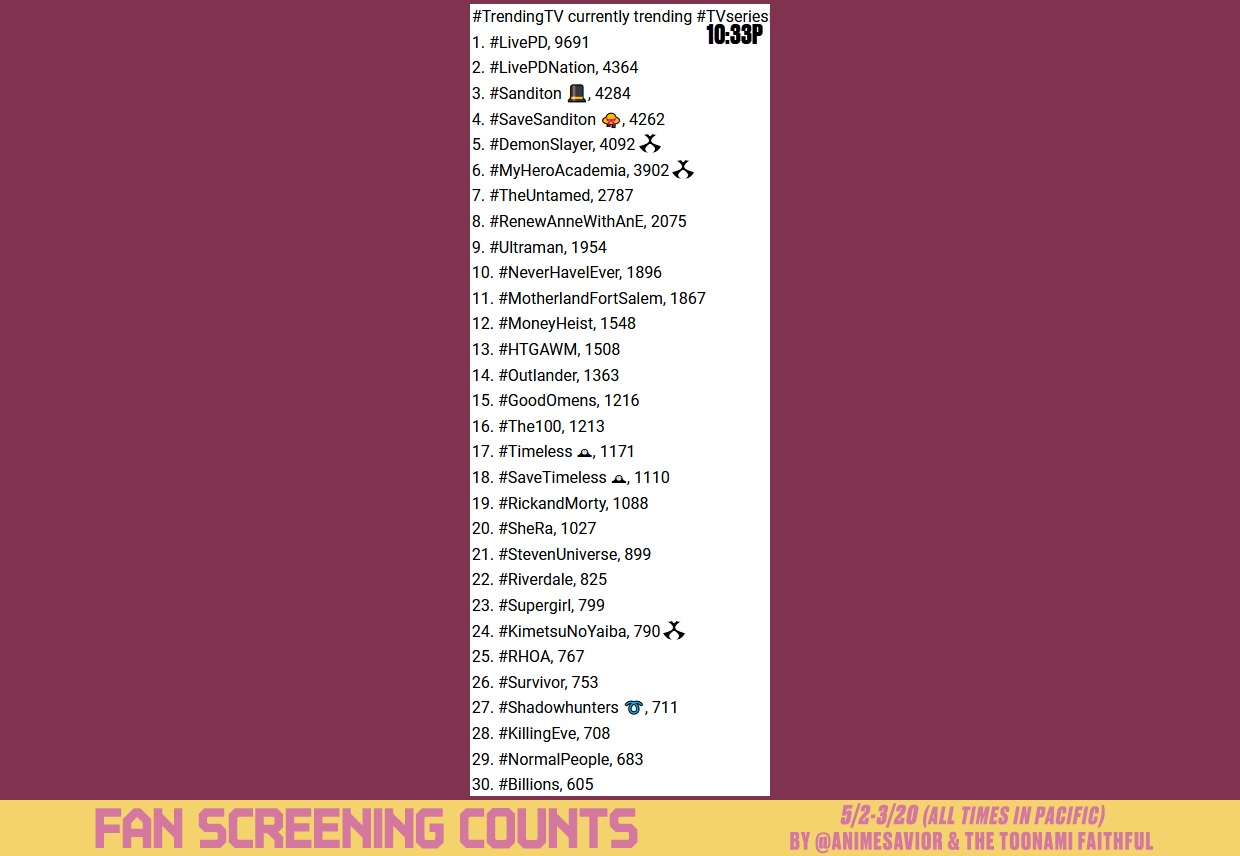 Zenitsu: "Hey, Tanjiro?  You sure about bringing Nezuko along? Wouldn't the safest place for her be back at headquarters?"
Tanjiro: "This is fine.  Wherever we go, we will always be together. We're never going to be apart again."
–      Demon Slayer (Ep. 26)
This Toonami Trending Rundown covers the night of May 2-3, 2020, as fans got to enjoy the season finale of Demon Slayer.
Among some of the notable moments from the night, Demon Slayer would see Tanjiro and company finish recovering from fighting against the Spider Demons. As they bid farewell to the Kocho family, they board the Infinity Train for their next mission. Muzan Kibutsuji meanwhile gathers the Twelve Kizuki to plan their next move but decides to kill the lower-ranked six as he felt that they failed to live up to his standards, giving an ominous feeling as fans wait for the second season. My Hero Academia saw Gentle Criminal and La Brava attempt to break into UA Academy as part of their plan to become YouTube sensations. However, Deku, wanting to see Eri have a good time at the school festival, did all he could to make sure that wasn't going to happen. Despite Gentle and La Brava's best efforts, Deku slowed them down enough for reinforcements to arrive, forcing Gentle to surrender. And Black Clover saw a demonic figure emerge from the elf Ronne, who snuck into the living world amidst the elves' invasion. As the demon took down Licht and Patry, they learn that their genocide by the humans 500 years ago as part of the demon's plan to make a grimoire created from the anger of the elves. As Asta and Yuno attempt to fight back upon hearing this, the demon possesses Patry to keep the two company as he attempts to escape.
On Twitter, #Toonami would trend in the United States alongside Demon Slayer and Paranoia Agent. Both Demon Slayer and My Hero Academia also produced character trends, with Muzan and Gentle Criminal and La Brava, respectively. Meanwhile, on Tumblr, #Toonami would trend alongside My Hero Academia and JoJo's Bizarre Adventure. The full list, including statistics and tweet counts from the Twitter app and Amr Rahmy's Fan Screening analytics app, can be seen below.
---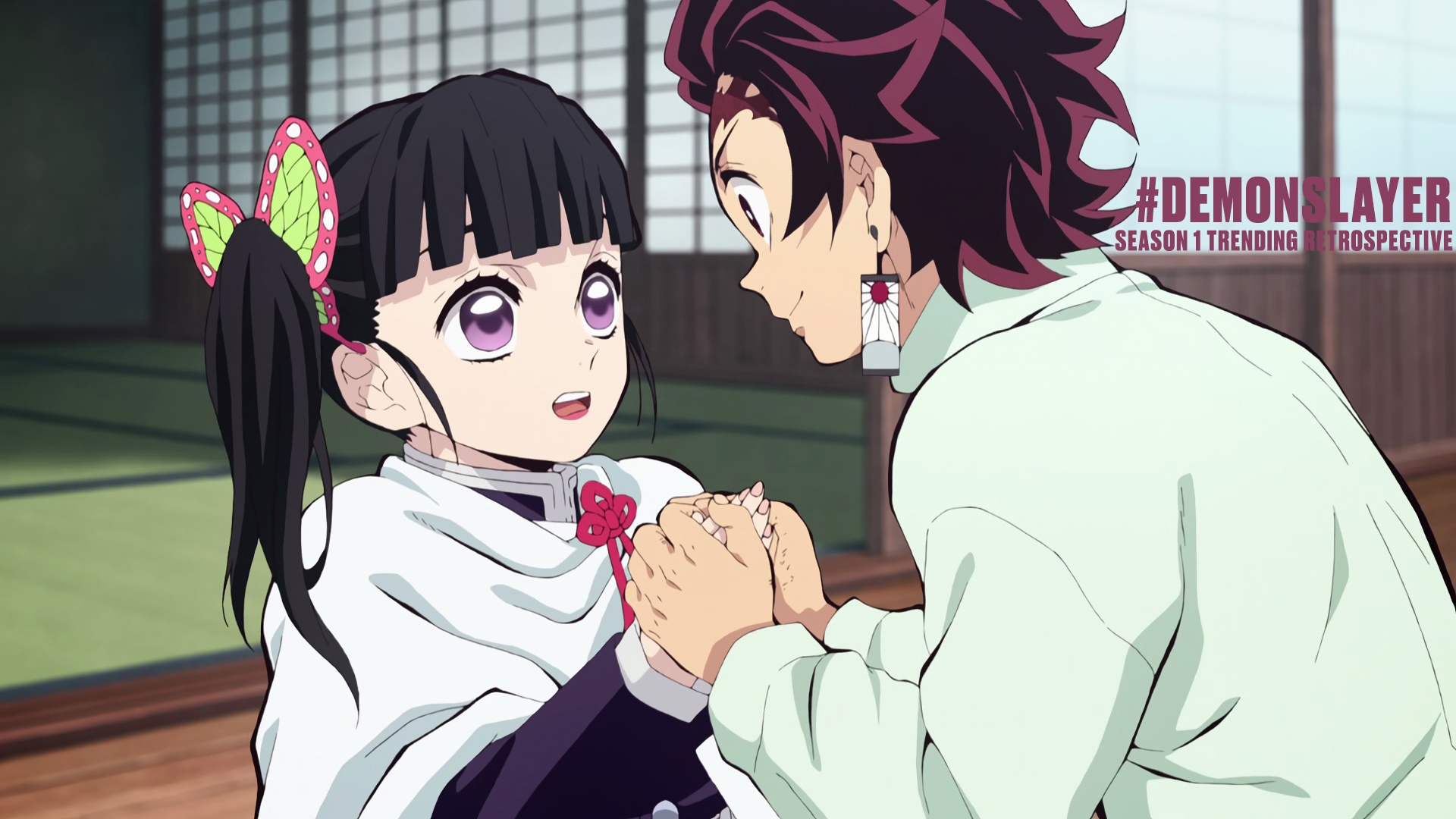 During the first season's run, the hashtag #DemonSlayer trended in the United States on Twitter during 16 out of 26 weeks, and also produced a character trend in Muzan just this week. #KimetsuNoYaiba also trended on Tumblr during seven weeks of its run. The full recorded list of how the show has trended through its Toonami run can be seen below.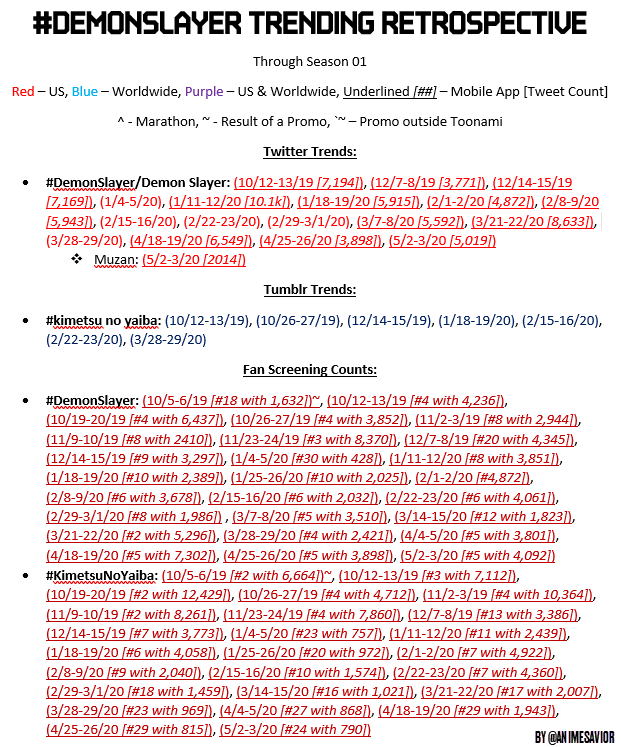 With the acclaimed first season now in the books, fans are wondering what is next? At the moment, the manga is wrapping up its storyline with 203 chapters and counting. The final chapter will be published in the Weekly Shonen Jump on May 11. Given the franchise's continued popularity, it is more of a matter of not if, but when we will be seeing more seasons of Demon Slayer in the future.
For those who want to add this show to their video collections, Aniplex is working on limited-edition Blu-ray boxsets. These boxsets will be released in two volumes, with the first set covering the first 13 episodes will be published on June 30, and the second set includes the latter 13 on Nov. 24. Each volume is priced at $159.98. For those not up for paying the premium price, standard edition boxsets will be distributed by Funimation for $64.98 apiece. The first half is scheduled to be released on store shelves in Sept. 2020, while the second half will be available on Jan. 2021.
In regards to what's next for the anime, Aniplex is at the moment teaming up with Toho to produce a movie for the next story arc, the Mugen Train arc. The film is scheduled to premiere in Japanese theaters on Oct. 16.
While most anime films based on a series tend to be filler (in regards to continuity), it typically isn't a problem if Toonami doesn't broadcast a film on the block. Furthermore since the 2014 Month of Movies, Jason DeMarco has been adamant that they can't air movies nowadays due to financial reasons (although he has made exceptions). But because Mugen Train is a canon arc, this move could potentially cause continuity issues for viewers in the long run.
As Aniplex doesn't necessarily make television retellings/recaps of canon films, there is concern among some viewers that Toonami might be forced to skip ahead to the next arc of the franchise, the Entertainment District Arc, when season two debuts. We have seen precedent from Toonami before. Sword Art Online: Ordinal Scale, for instance, is considered canon despite not being in the original light novels. Fans have noticed that the author is integrating elements from the movie (such as the Augma, and Kirito and Asuna getting engaged) into the Project Alicization anime. There's even mention of the film's events in the light novels going forward. With the issues of Toonami skipping Ordinal Scale now beginning to show, due to how vital the Mugen Train story arc will be to the overall storyline, I'm sure Toonami fans would be devastated if the block had to skip it.
Of course, that's all just speculation, and as Jason DeMarco has regularly said: "never say never." With the franchise's continued popularity and support, I'm confident that Tanjiro, Nezuko, and the entire gang will make their way back to Toonami for the sequel season. And hopefully Jason and co. will find a way to continue airing the series without needing to skip Mugen Train, even if it means airing the movie. All I can say is if you do want to see Demon Slayer again on Toonami when the time comes, you can always let @Clarknova1 and Aniplex know on their respective social media outlets.
---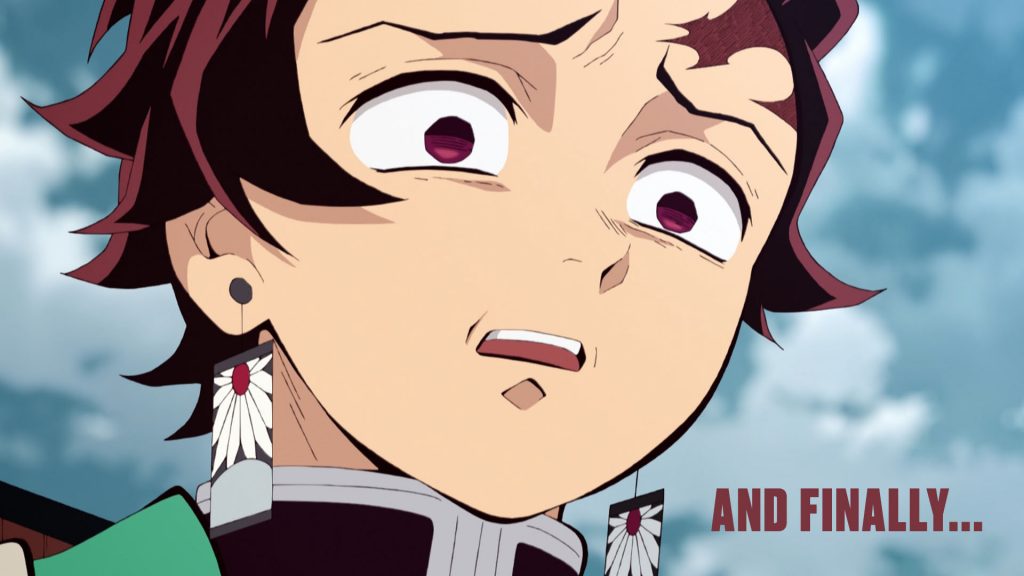 Unfortunately, with COVID-19 continuing to cause delays around the anime industry, we will be seeing more of the effects next week. With Toonami now caught up with the Funimation SimulDub of My Hero Academia, the next episode (episode 86) is not ready to be released to the public. In the interim, Toonami will be rerunning episode 85 this Saturday at its regularly scheduled time, while episode 86 will premiere next Saturday, May 15. Also, with Demon Slayer now in hiatus, Toonami will fill in the slot with an encore presentation of the first season of Mob Psycho 100 beginning next week at 1:00 a.m. Paranoia Agent will move up to 12:30 a.m.
See you again next week as always, and of course, be sure to make sure you do your part to stop the spread of COVID-19 and to protect others by following your local health advisories. Practice social distancing by staying home unless you have to, and wash your hands thoroughly for at least 20 seconds.
---
Legend: The shows listed are ordered based on their appearance on the schedule. Show trends are listed in bold. The number next to the listed trend represents the highest it trended on the list (not counting the promoted trend), judging only by the images placed in the rundown. For the Twitter tweet counts, the listed number of tweets are also sorely based on the highest number shown based on the images on the rundown.
United States Trends:
#Toonami [#7]
Gentle Criminal (from My Hero Academia) [#24]
La Brava (from My Hero Academia) [#15]
#DemonSlayer [#3]
Muzan (from Demon Slayer) [#26]
#ParanoiaAgent [#9]
Tweet Counts:
#Toonami [6,452 tweets]
La Brava (from My Hero Academia) [4,171 tweets]
#DemonSlayer [5,164 tweets]
Muzan (from Demon Slayer) [2,014 tweets]
#ParanoiaAgent [1,764 tweets]
Fan Screening Counts:
#MyHeroAcademia [#6 with 3,902 tweets]
#DemonSlayer [#5 with 4,092 tweets]
#KimetsuNoYaiba [#24 with 790 tweets]
Tumblr Trends:
#Toonami
#My Hero Academia
#JoJo's Bizarre Adventure
Notes and Other Statistics:
Only Toonami on [adult swim] on Cartoon Network.
Did you enjoy this week's Toonami? Let us know by commenting below or directly on our social media. And be sure to follow us on @ToonamiNews and subscribe to our podcast on Soundcloud for future content and breaking news updates.
This week, C.J Maffris and Sketch caught up with Kellen Goff to discuss his roles as My Hero Academia's Overhaul, Rekka in Fire Force and Diavolo in JoJo's Bizarre Adventure. Check it out in the player below.