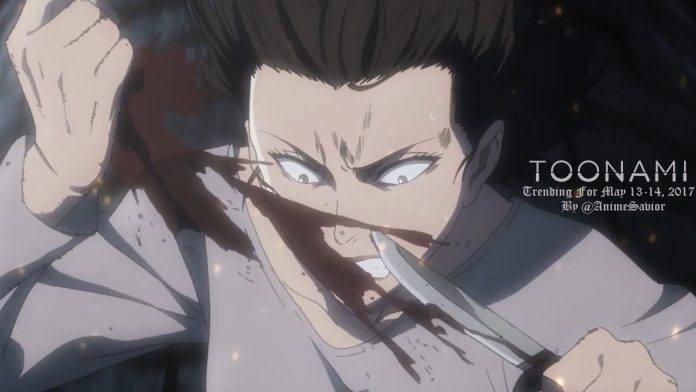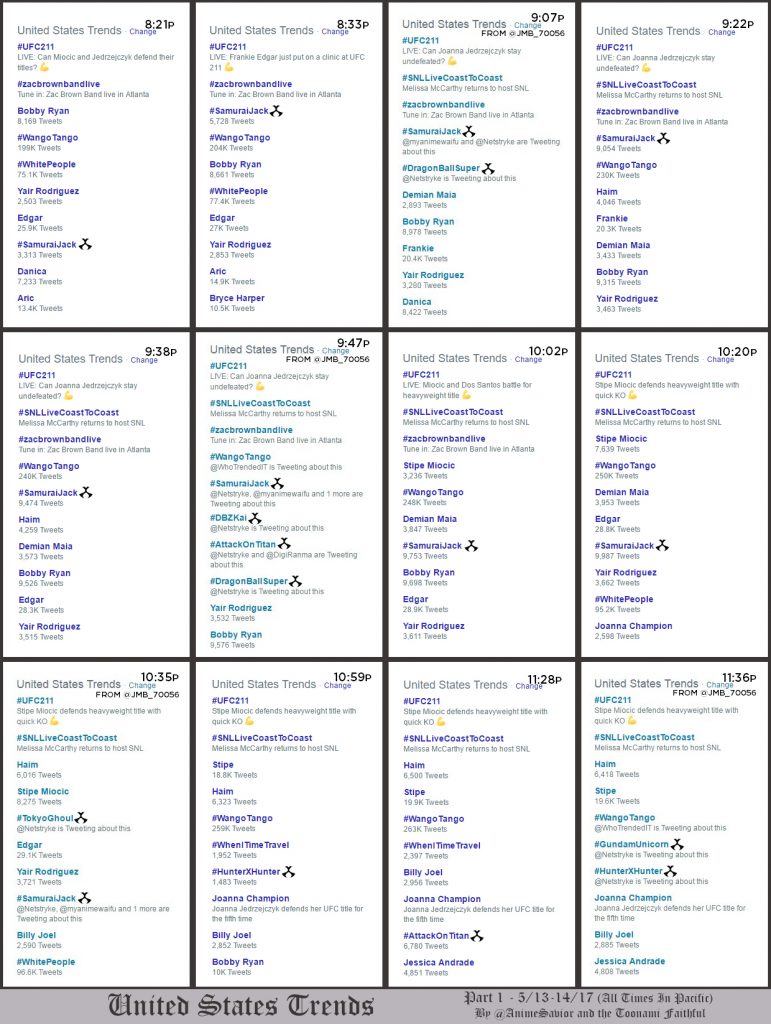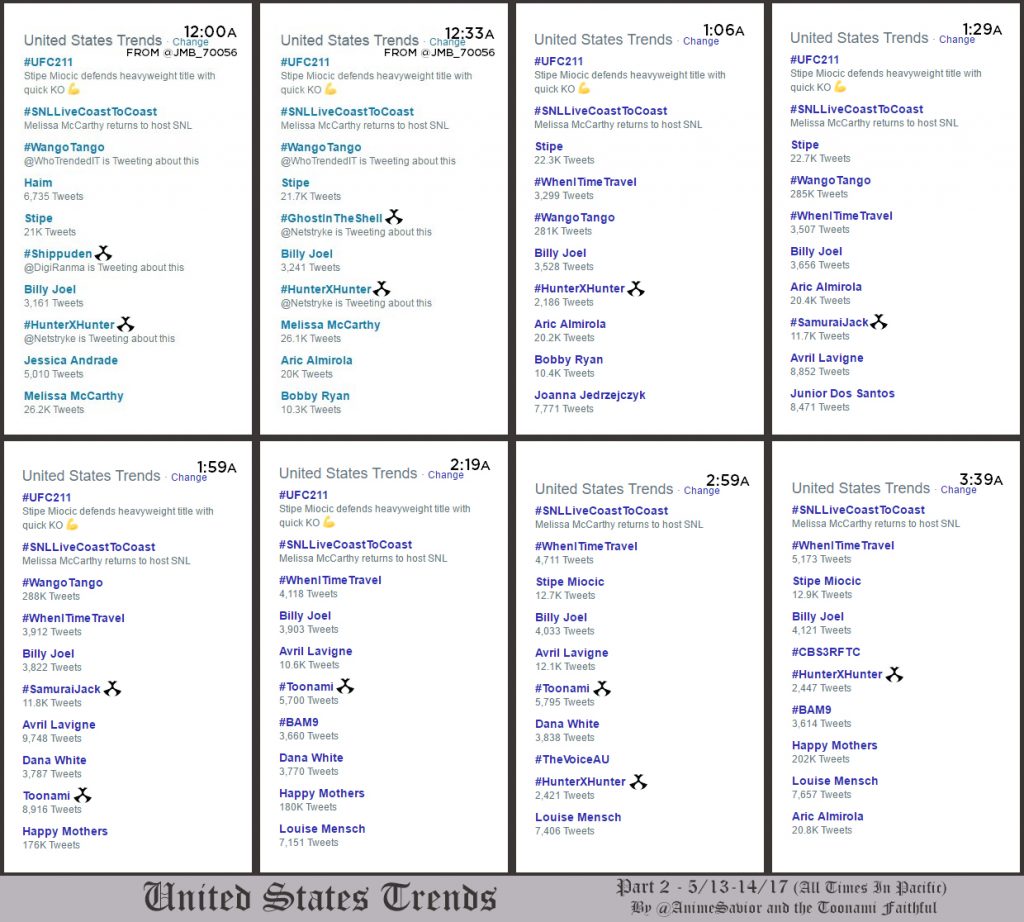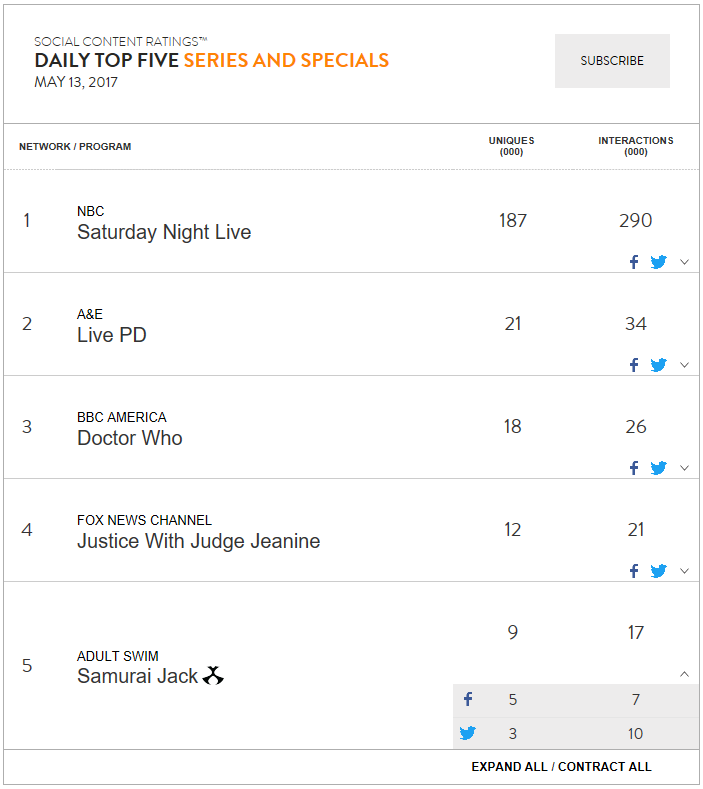 "Krista, listen to me. I realized you've probably forgotten, but since we're facing the end, try to think back. Remember that oath that we made on the showy mountain. I have no business telling you how to live your life. It's not my place. So I guess when you break it down, this is really just more of a hope. Krista, live a life you can be proud of. Never forget the promise we made."
–          Ymir, Attack on Titan (Ep. 29)
The Toonami Trending Rundown for May 13-14, 2017. Things are ramping up for the Titans while we're coming down the stretch with Samurai Jack as Aku confronts and begins the final showdown against Jack and Ashi, while Ymir deciding to take things into her own hands (and revealing a deep dark secret to Krista, to say the least), and Banagher and Audrey make their move to get Laplace's Box, among other great moments.
Things went pretty well trending wise as every show successfully trended on Twitter during their respective East Coast airings, while Samurai Jack and Hunter x Hunter would also trend during or after their respective West Coast airings. Samurai Jack would also trend on tumblr as well.
Finally, Samurai Jack for the second week in a row would make it to Nielsen Social's top 5 most talked about shows on Twitter and Facebook, making it to the #5 spot. This is the 21th time a Toonami show has made it onto this list since we started recording this feat and the 6th for Samurai Jack this season.
---
If you haven't heard the recent news, it has just been announced on Wednesday that Toonami will be welcoming back an old friend with the newest addition to an old classic from the early Adult Swim action days in Lupin the 3rd part IV. The new season is set to have its dub premiere on June 17th at 1:30am Eastern, a week after Gundam Unicorn has wrapped up its run, which on that same topic we're presently just 3 episodes away from its finale.
Adult Swim previously aired some of the previous seasons back in 2003 and while it didn't get as big as some of the other Toonami/Adult Swim classics, the franchise is still pretty well regarded among fans and the Toonami crew today, hence why it was a potential dark horse for an return to the better cartoon show when Discotek licensed the series for US distribution. Some fans may remember that Toonami previously attempted to bring back Lupin last year with The Woman Called Fujiko Mine, however significant issues in regards to needing to censor sexual content proved to be too unfeasible for a broadcast. Fortunately, things went for the better in regards to Part IV and so I'm pretty sure Lupin fans will be eagerly awaiting the next installment of this anime classic, and for those new to the series, feel free to check it out for yourself in just 4 weeks.
Tune in tonight as Samurai Jack showcases its final episode. After 13 long years of waiting, the finale is finally being realized, and I'm sure you don't want to miss this. Hope to see you then, or at least set your DVRs.
---
Legend: The shows listed are ordered based on their appearance on the schedule. Show trends are listed in bold. The number next to the listed trend represents the highest it trended on the list (not counting the promoted trend), judging only by the images placed in the rundown. For the Twitter tweet counts, the listed number of tweets are also sorely based on the highest number shown based on the images on the rundown.
United States Trends:
Toonami/#Toonami [#6]
#SamuraiJack (Also after the West Coast airing) [#3]
#DragonBallSuper [#5]
#DBZKai [#6]
#AttackOnTitan [#7]
#TokyoGhoul [#5]
#HunterXHunter (Also after the West Coast airing) [#7]
#GundamUnicorn [#6]
#Shippuden [#6]
#GhostInTheShell [#6]
Tweet Counts:
Toonami [8,605 tweets]
#Toonami [5,941 tweets]
#SamuraiJack [11.8k tweets]
#DragonBallSuper [6,178 tweets]
#DBZKai [1,531 tweets]
Gohan (From Dragon Ball) [14.5k tweets]
#AttackOnTitan [7,585 tweets]
#TokyoGhoul [2,218 tweets]
#HunterXHunter [2,483 tweets]
Tumblr Trends:
Notes and Other Statistics:
Special thanks to @JMB_70056, @myanimewaifu, and others I forgot to mention for spotting some of the trends on this list.
Only Toonami on [adult swim] on Cartoon Network.