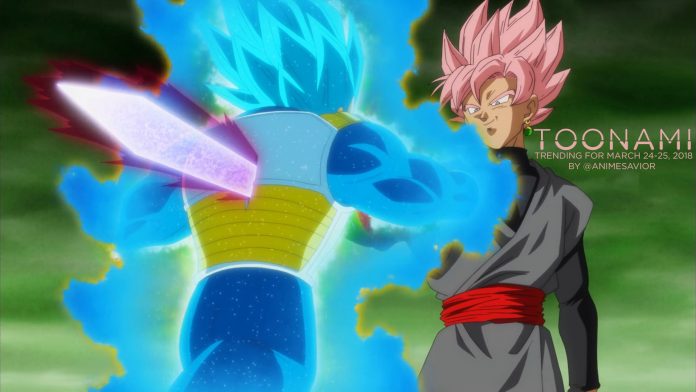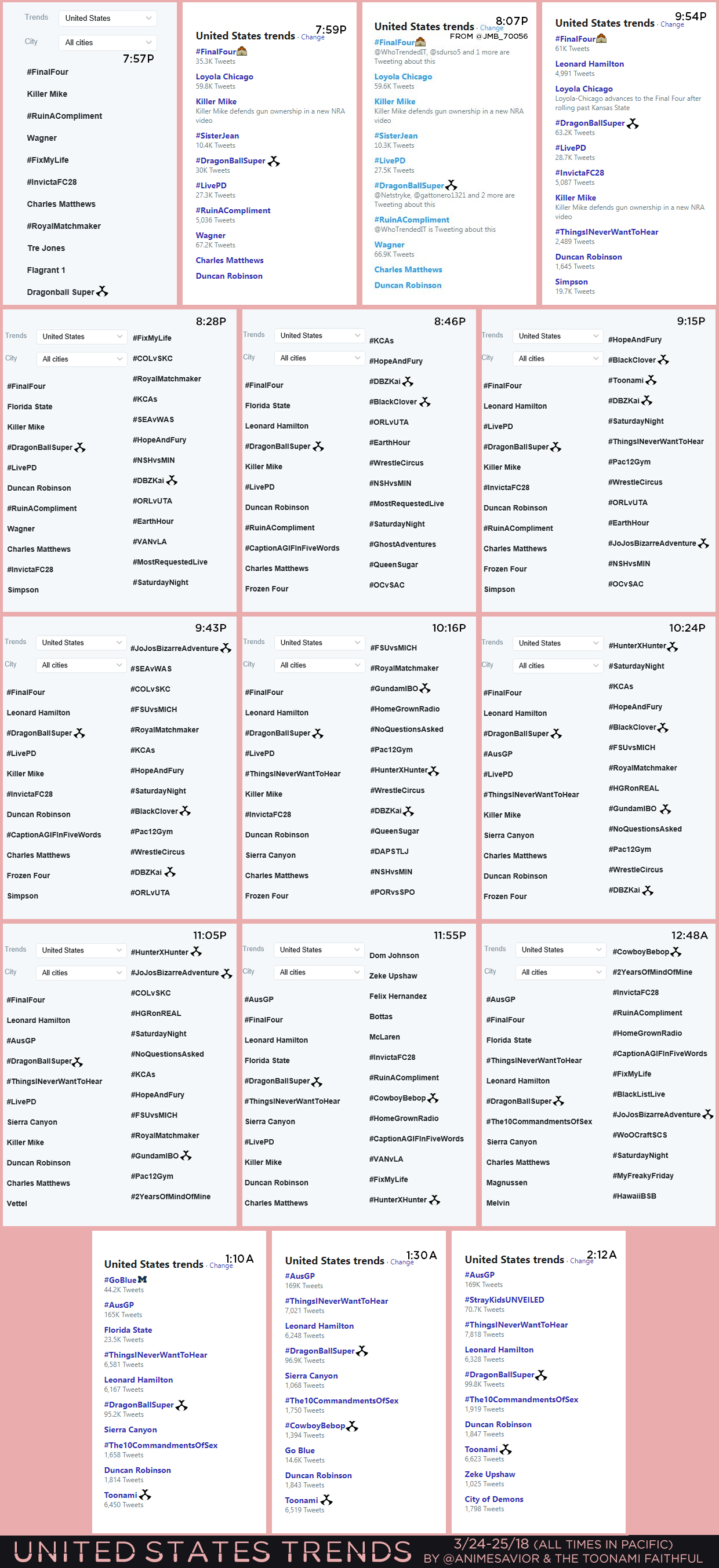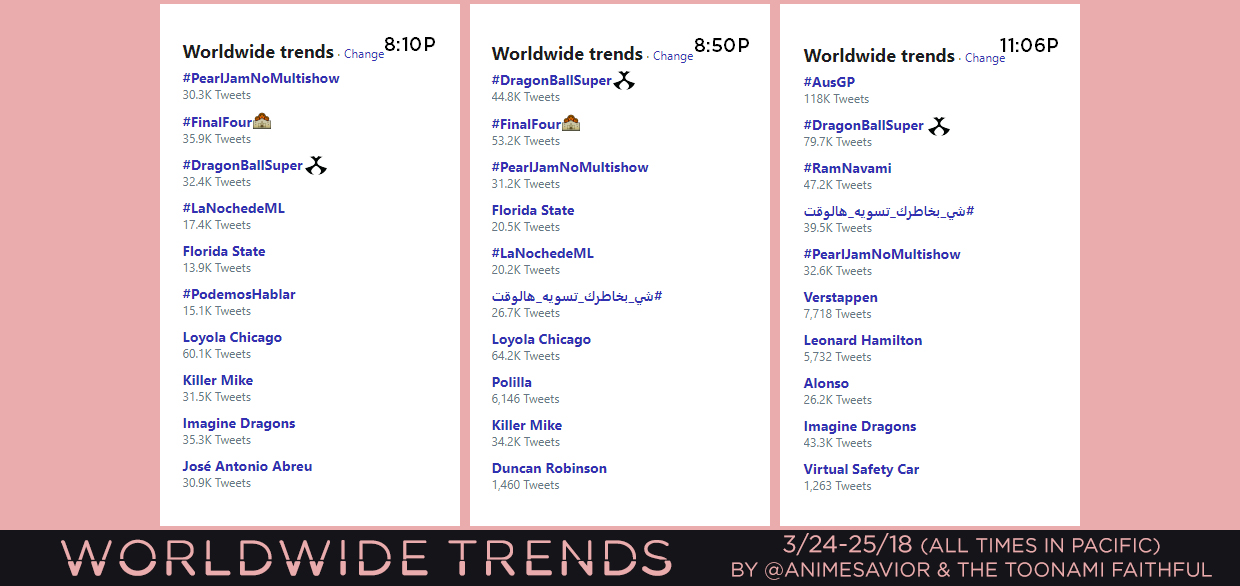 "A most brilliant display. A Saiyan body enveloped in divine energy is beautiful, even if it's wrong. But while you've trained to an incredible degree, you remain nothing more than a mortal being. […] For a lowly animal, you've come quite far. As a reward, I'll show you how far I've come."
–          Goku Black, Dragon Ball Super (Ep. 56)
The Toonami Trending Rundown for March 24-25, 2018. It's the calm before the storm known as April Fools, as among other moments, Goku, Vegeta, and Trunks travel to the future to fight Goku Black, while Goku and Vegeta have to fight their way (and everyone else's) out of Buu's stomach in Kai, and (presumably to make way for the upcoming shows), Toonami showcases both episodes of Cowboy Bebop's The Real Folk Blues finale.
On Twitter, every show between Dragon Ball Super to Hunter x Hunter as well as Cowboy Bebop trended in some capacity the US, while Dragon Ball Super also trended worldwide (which was also due in part to the finale of DBS also airing in Japan around the same time.) On Tumblr, Toonami would trend along with Dragon Ball Super, JoJo's Bizarre Adventure and Cowboy Bebop.
Finally, Dragon Ball Super's buzz would once again make it to the #2 spot on Nielsen Social's top 5 most talked about shows on the day with an estimated 187k total interactions between users on Twitter, Facebook, and Instagram. This is the 45th time a Toonami show has made it onto Nielsen's top 5 rankings since we started recording this feat and the 31th time for Super.
---

This week's feature was a game review of PlayerUnknown's Battlegrounds, presently available for Windows 10 and Xbox One. As the game is still in development, Toonami did not give a score for this title.
More information regarding the FLCL sequels was released this week as on late Sunday Night, Production IG had announced the English cast list on the FLCL Twitter account.
The FLCL 2 Progressive English Cast is as follows:
Haruha Raharu: Kari Wahlgren
Jinyu: Allegra Clark
Hidomi: Xanthe Huynh
Ide: Robbie Daymond
Mori: Jon Allen
Marco: Yuri Lowenthal
Aiko: Christine Marie Cabanos
Hinae: Julie Ann Taylor
Marurao: Jason Griffith
Eye Patch: J. David Brimmer
Tonkichi: Steve Kramer
…while the FLCL 3 Alternative English Cast is:
Haruko: Kari Wahlgren
Kana: Megan Taylor Harvey
Pets: Marieve Herington
Hijiri: Erica Lindbeck
Mossan: Marianne Miller
Sudo: Patrick Seitz
Sasaki: Max Mittelman
Aida: Ben Pronsky
Bunta: Erick Abbate
Yoga: Steve Blum
Kitaki: Erica Schroeder
Kanda: Ray Chase
More information regarding FLCL 2 and 3 is expected to be announced at the C2E2 con in Chicago on April 6 as well as a recently announced Toonami panel at Momocon at Atlanta on May 25. In the meantime, on behalf of the Toonami Faithful, congrats to all the actors on landing their roles and we look forward to enjoying their fine work this Summer.
In Tokyo Ghoul news, FUNimation has announced their simulcasting plans for re as they will stream the sub on both FUNimation Now and Hulu beginning on April 3rd, and as with their other popular works in recent times, FUNimation will also create a simuldub, with the first few episodes being released on the same day as the subtitled counterpart on Funimation Now. No word yet on when and if Toonami will get to showcase the new season as well, but with two timeslots now opened up with Cowboy Bebop and Outlaw Star's completion and with Gundam IBO coming down the stretch, we'll be seeing some new show announcements coming up sometime within the next few weeks. Especially with Anime Boston and other major cons coming up this weekend, and with some potential surprises Adult Swim might have planned on this week's upcoming block, we might hear more on what Toonami has planned real soon.
---

Next week, for the first time since Toonami's revival, April Fools Day will be taking place on Toonami's programming hours. What joke or gift we'll be getting for this event, who knows, but one thing you probably should know is that going by the previous April Fools events from Adult Swim, you should expect to see much if not all of the programming next week to be pre-empted to make way for this special occasion, even if your programming guide says otherwise, so make sure to prepare for next week and/or set your DVRs with that in mind.
Until next week, have a Happy Holy Week for those celebrating, and stay gold as always.
---
Legend: The shows listed are ordered based on their appearance on the schedule. Show trends are listed in bold. The number next to the listed trend represents the highest it trended on the list (not counting the promoted trend), judging only by the images placed in the rundown. For the Twitter tweet counts, the listed number of tweets are also sorely based on the highest number shown based on the images on the rundown.
United States Trends:
Toonami/#Toonami [#8]
#DragonBallSuper [#3]
#DBZKai [#14]
#BlackClover [#13]
#JoJosBizarreAdventure [#12]
#GundamIBO [#14]
#HunterXHunter [#12]
#CowboyBebop [#7]
Worldwide Trends:
Tweet Counts:
Toonami [4,059 tweets]
#Toonami [3,628 tweets]
#DragonBallSuper [87k tweets]
#DBZKai [1,384 tweets]
#BlackClover [1,598 tweets]
#JoJosBizarreAdventure [2,733 tweets]
#GundamIBO [1,274 tweets]
#HunterXHunter [1,905 tweets]
Tumblr Trends:
#toonami
#dragon ball super
#jojo's bizarre adventure
#cowboy bebop
Notes and Other Statistics:
Special thanks to @JMB_70056, @myanimewaifu and others I forgot to mention for spotting some of the trends on this list.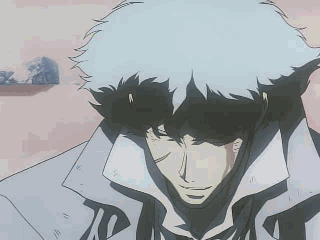 Only Toonami on [adult swim] on Cartoon Network.
Toonami Tweets of the Night for March 24-25, 2018