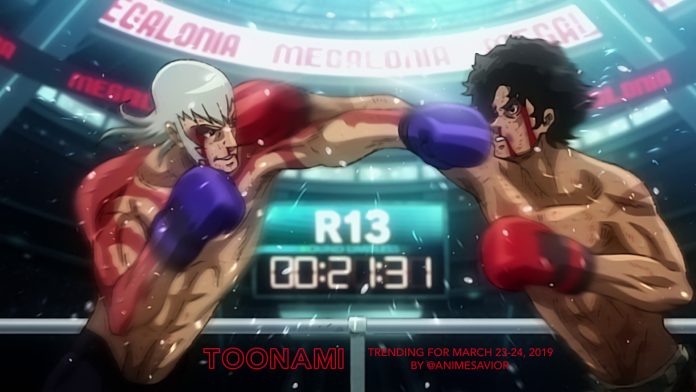 "What the hell am I doing? I'll tell you. I'm here, and in the moment I've lived for."
–          Joe, Megalo Box (ep. 13)
The Toonami Trending Rundown for March 23-24, 2019. Megalobox ends its run with a bang as Joe and Yuri have their highly anticipated rematch at the Megalonia finals. Meanwhile, the League of Villains begin their surprise assault at the UA's hidden campsite, Asuna learns about the Soul Translator and the Underworld as Kirito recovers from his injuries, and Meruem wishes to spend his last moments with Komugi, among other great moments.
On Twitter, Boruto and every show from Sword Art Online to Shippuden on the schedule would successfully trend in the US. #MyHeroAcademia and #SwordArtOnlineAlicization would also trend alongside these shows, but not outright.
Several character trends were also spotted from JoJo's, Black Clover, and Hunter x Hunter, with Josuke and Rohan (As Josuke somehow cheats his way into winning a dice game), Asta (as Ladros gets back up and proceeds to pummel everyone, forcing Asta to unlock a hidden power), and Meruem (as he spends his last moments with Komugi before both succumbing to the radiation).
On Tumblr, #Toonami would trend alongside #BNHA and #Hunter x Hunter. The full list including statistics and tweet counts from the twitter app and Amr Rahmy's Fan Screening analytics app can be seen below.
---

This week's feature was an inspirational speech promo titled "Stay True To Yourself". You can check it out below.
Following the success of My Hero Academia: The Two Heroes in theaters, Studio Bones and Toho Animation have announced that a second film of the hit franchise is in the works, scheduled to premiere sometime in Winter 2020. Funimation has yet to reveal plans for a theatrical release this side of the Pacific at this time.
Netflix has announced that they will be putting up the original Evangelion series up on their streaming service on June 21. Unfortunately, it has been revealed that Netflix will be doing a completely new re-dub with a new cast as Amanda Win-Lee, the show's original ADR Director and voice of Rei, has revealed that she and the original crew will not be invited back by Netflix to reprise their roles.
Toonami creators Jason DeMarco and Gill Austin recently talked with our friend and media partner Joshua Mathieu (@JMB_70056) from Toonami Squad, including how Toonami will remain competitive in this golden age of streaming, its new partnership with Crunchyroll, and the 30th anniversary of DBZ, among other things. Check it out by clicking here.
---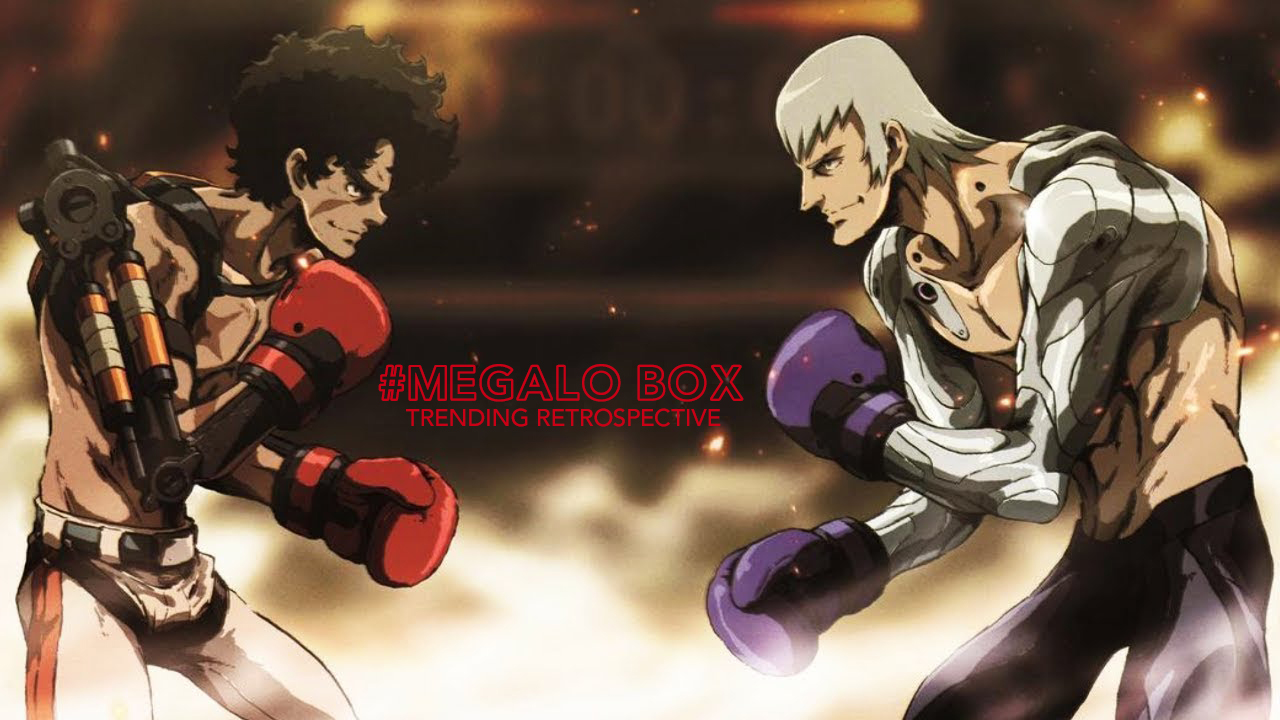 Sports anime has historically been a tough sell for the Western anime fandom. During the mid-2000's, Toonami saw IGPX and the Prince of Tennis stumbling and Slam Dunk and Eyeshield 21 ended up pretty much DOA. While the sports genre of anime has seen a resurgence this decade thanks to the likes of Free, Yuri on Ice, and Haikyu, due to the previously mentioned shows' focusing more on the slice of life aspects rather than the action, it perhaps came as no surprise that Toonami wasn't really interested, and thus a sports anime joining the better cartoon show in the modern era remained elusive. That was, until Megalo Box came.
A show created to commemorate the 50th anniversary of Ashita no Joe, this futuristic reinvisioning of the classic manga and anime in Megalo Box was a notable hit and fan favorite among Crunchyroll viewers during the spring 2018 season with its acclaimed music, animation, and story among other things. The series would become one of the most requested anime to eventually air on Toonami, especially when Viz announced that they had licensed and were producing a dub at Anime Expo, and I think it's safe to say the requests were heard loud and clear by Toonami and Viz. During New York Comic Con, Viz had announced that Megalo Box would make its debut on the better cartoon show on December 8, and the rest is history.
13 weeks of Joe's quest to reach the top, and Megalo Box's run is in the books. During the show's run, the show successfully trended on Twitter in the US every single Saturday it had aired during its 13 week run, and included a character trend in Mikio during week 9. The show also showed up in the top 30 Amr Rahmy's Fan Screening app during all 13 weeks.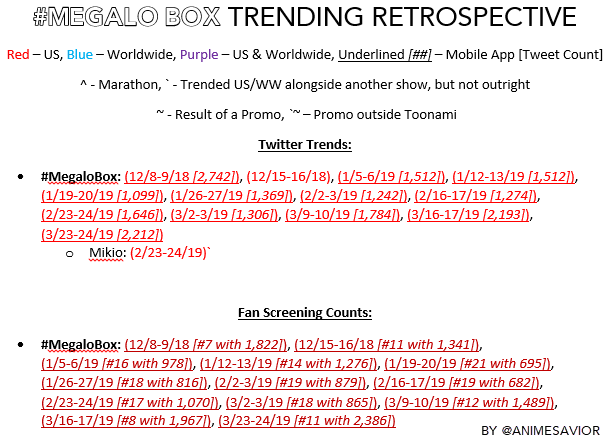 Whether we will see more of Joe's story in the future is hard to say, but overall Megalo Box overall was an enjoyable ride and it was great to see Toonami commemorate the golden anniversary of this historic franchise. Thanks for the memories.
---

Due to the glitch that preempted SAO last week, and with the next acquisition apparently not ready to go just yet, SAO will premiere both Episodes 7 and 8 from 12:30 to 1:30am ET. In addition, we'll also see the conclusion of Hunter x Hunter's Chimera Ant arc, while Boruto begins the School Trip arc, and Naruto begins The Taming of Nine-Tails and Fateful Encounters arc, among other moments. Until then, see you again next week as always.
---
Legend: The shows listed are ordered based on their appearance on the schedule. Show trends are listed in bold. The number next to the listed trend represents the highest it trended on the list (not counting the promoted trend), judging only by the images placed in the rundown. For the Twitter tweet counts, the listed number of tweets are also sorely based on the highest number shown based on the images on the rundown.
United States Trends:
Toonami/#Toonami [#5]
#Boruto [#15]
#MyHeroAcademia [Trended alongside #Toonami and #MegaloBox]
#SwordArtOnline [#9]
#SwordArtOnlineAlicization [Trended alongside #SwordArtOnline]
#MegaloBox [#6]
#JoJosBizarreAdventure [#6]
Josuke (From JoJo's Bizarre Adventure) [#19]
Rohan (From JoJo's Bizarre Adventure) [#14]
#BlackClover [#5]
Asta (From Black Clover) [#17]
#HunterXHunter [#2]
Meruem (From Hunter x Hunter) [Trended alongside #HunterXHunter]
#Shippuden [#9]
Tweet Counts:
#Toonami [6,115 tweets]
#DragonBallSuper [3,202 tweets]
#Boruto [3,823 tweets]
#SwordArtOnline [2,325 tweets]
#MegaloBox [2,212 tweets]
#JoJosBizarreAdventure [3,908 tweets]
Josuke (From JoJo's Bizarre Adventure) [2,720 tweets]
Rohan (From JoJo's Bizarre Adventure) [3,792 tweets]
#BlackClover [1,438 tweets]
Asta (From Black Clover) [5,159 tweets]
#HunterXHunter [2,885 tweets]
Fan Screening Counts:
#DragonBallSuper [#7 with 2803 tweets]
#Boruto [#5 with 4910 tweets]
#MyHeroAcademia [#7 with 2851 tweets]
#SwordArtOnline [#10 with 1836 tweets]
#MegaloBox [#11 with 2386 tweets]
#JoJosBizarreAdventure [#7 with 2931 tweets]
#BlackClover [#21 with 1134 tweets]
#HunterXHunter [#9 with 3018 tweets]
Tumblr Trends:
#Toonami
#BNHA
#Hunter X Hunter
Notes and Other Statistics:
Special thanks to @Journeyman15, @myanimewaifu, @sdurso5 and others I forgot to mention for spotting some of the trends on this list.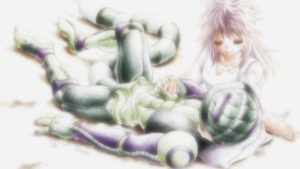 Goodnight. Only Toonami on [adult swim] on Cartoon Network.
Toonami Tweets of the Night for March 23-24, 2019