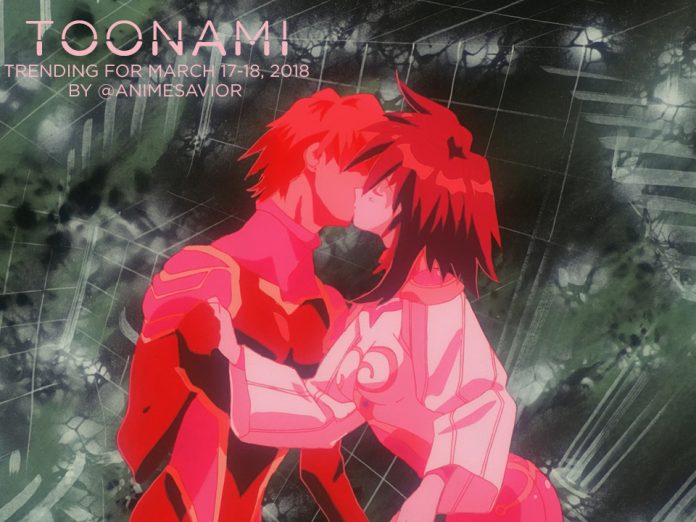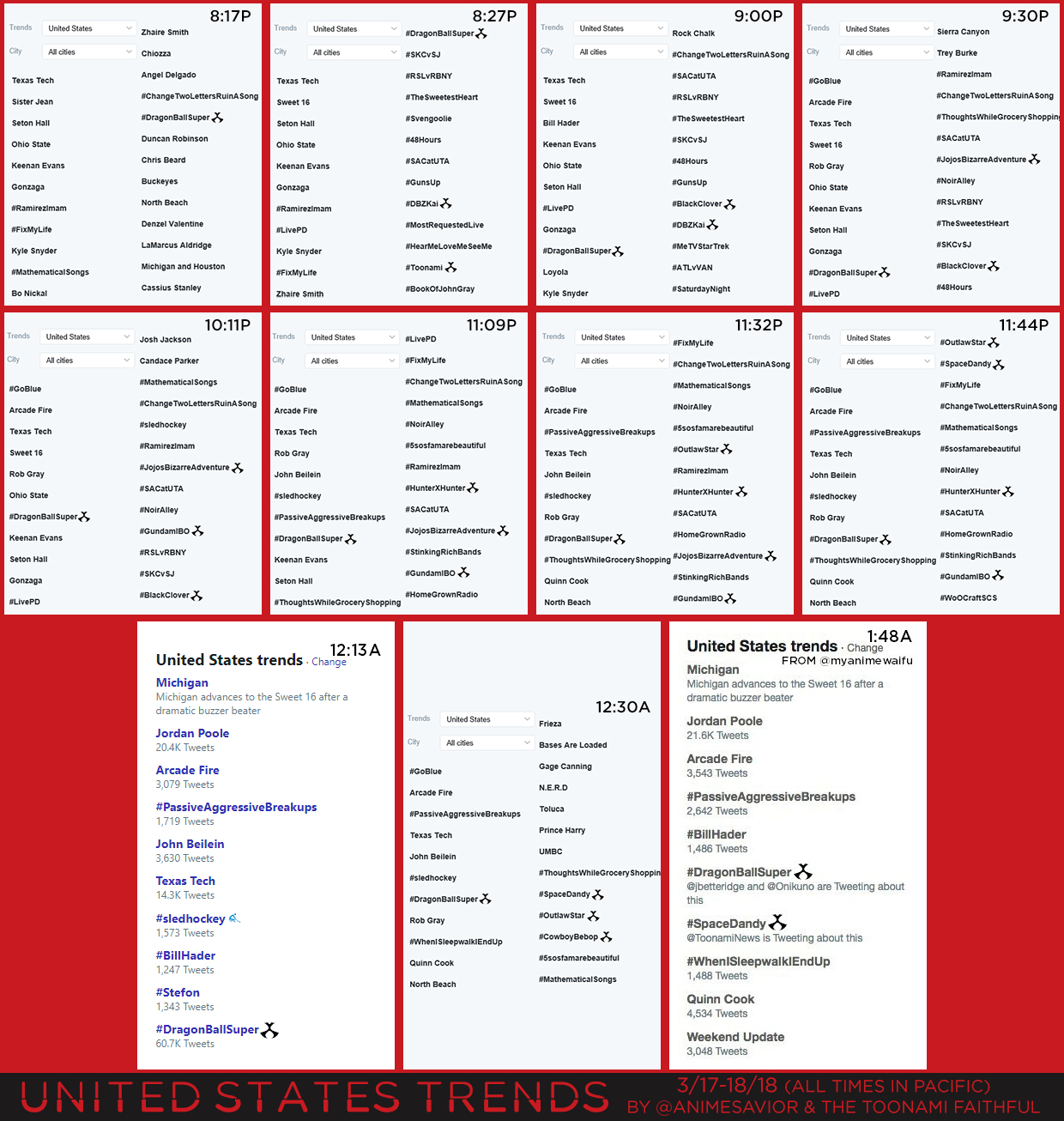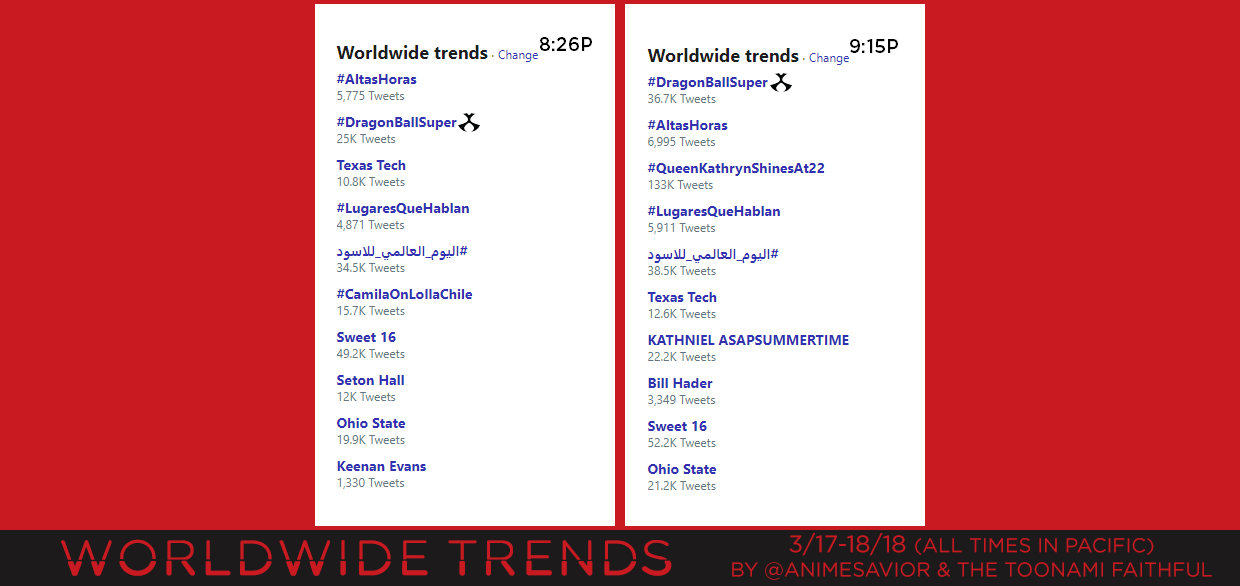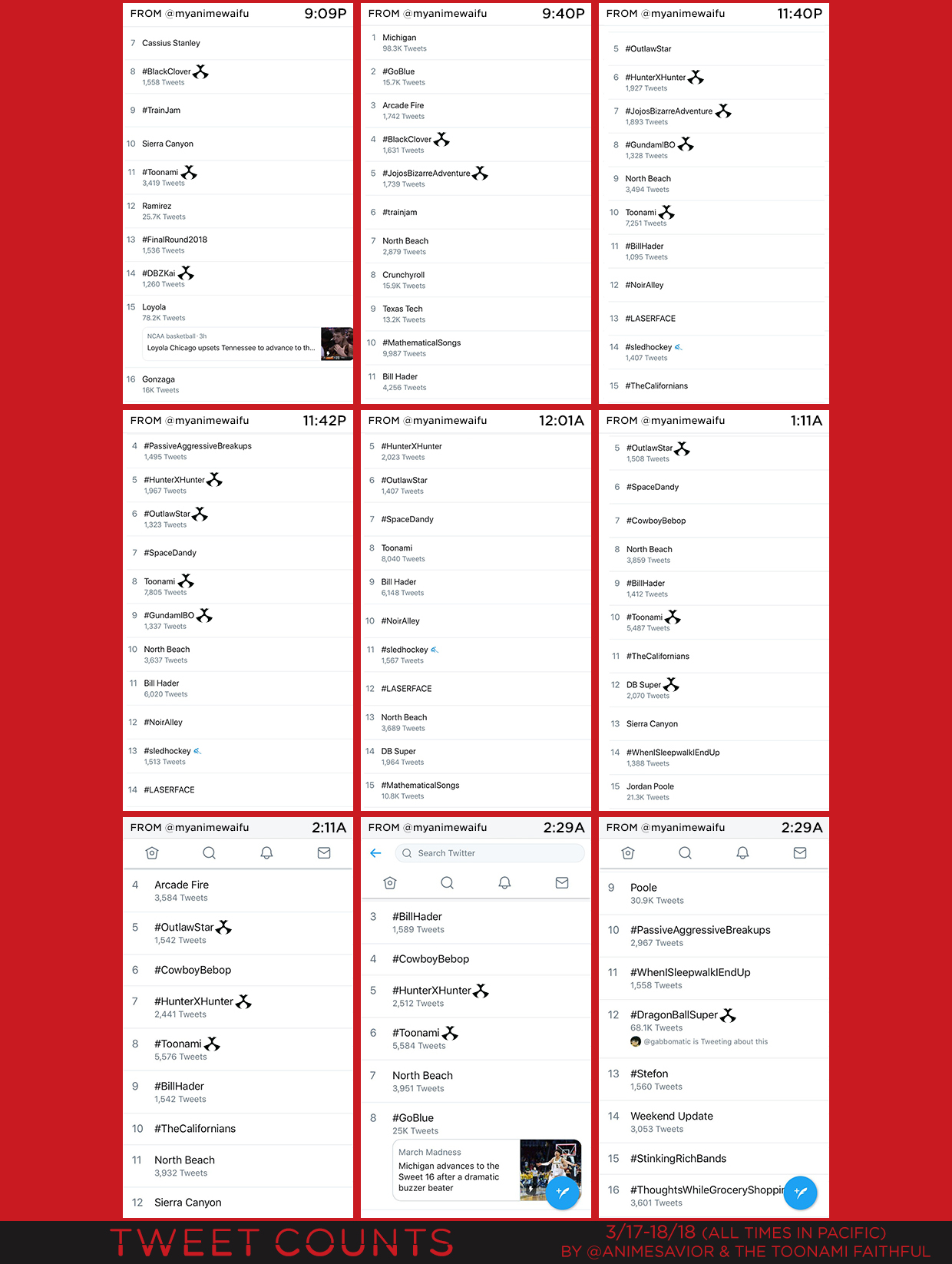 "I want to stay who I am. I want to be with you forever, Gene."
–          Melfina, Outlaw Star (Ep. 26)
The Toonami Trending Rundown for March 17-18, 2018. We commemorate the 21st anniversary of the better cartoon show, as the block showcases the finale of Outlaw Star. Meanwhile among other great moments, Black Clover begins the Dungeon Exploration arc, while Goku, Vegeta, and Trunks prepare to head to the future to fight Black, and Rustal brings the pain to McGillis and Tekkadan forces.
On Twitter, Toonami would trend as with every show save for Naruto Shippuden and Ghost in the Shell, while Dragon Ball Super also trended worldwide. On Tumblr, Toonami would trend as with Dragon Ball Super, JoJo's Bizarre Adventure, and Hunter x Hunter.
---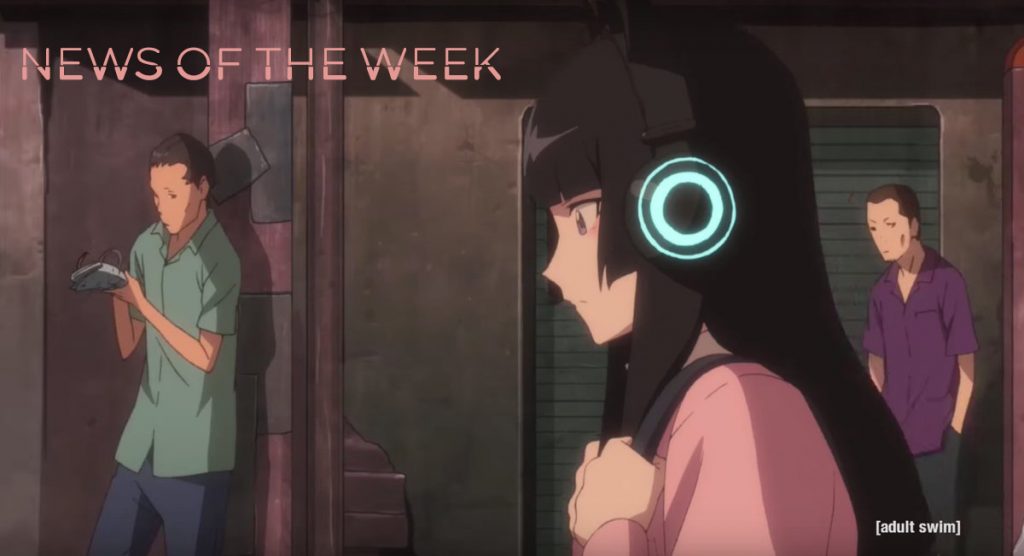 Unlike last year, Toonami didn't bring much to commemorate their 21st anniversary (My guess is that they are focusing their efforts for the April Fools event coming in two weeks), instead showcasing an encore presentation of the Exquisite Corpse music video, created for their 20th anniversary by Titmouse.
Jason however, did mention that there is plenty of material coming down the pipe over the next few years, including "some new programming choices that push us outside our normal comfort zone in the next year". What kind of new programming? Hard to say. While there have been complaints that the block has been too over-reliant in Shonen Jump works, something that I mentioned on what probably contributed to One Piece's demise last year, going too off the anime/action path into Network Decay territory has never worked for ratings either, something that was learned the hard way when CN forced Toonami to air the likes of Hamtaro and Wulin Warriors.
While we'll still see a potential hit Shonen show come every now and then, and it would be a shocker if the likes of Attack on Titan, One Punch Man, Tokyo Ghoul, and Sword Art Online didn't return to air their sequels eventually, fans have been asking for more Seinen and Shoujo shows, and there are some action comedies, horror, dramas, and sports anime who could probably fit in the mix. Of course it should be noted that Adult Swim has aired the likes of Death Note, Durarara, and Paranoia Agent back in the day, and Toonami has aired Miyazaki and Miyazaki-esque films whenever they can air movies. On the other hand, due to its difficulty of fitting in an action packed lineup, I wouldn't really hold my breath for any slice of life anytime soon, if ever and not to mention things that need heavy censorship is a big no-no, so ecchi and other "otaku pandering" material will be as likely as Toonami airing subbed anime, when pigs fly and hell freezes over. Re:Zero has been seen as a potential favorite to join the lineup by fans lately with its dub presently in the works, and some fans have asked for the likes of Food Wars, Erased, Made in Abyss, Pop Team Epic, The Ancient Magus Bride, among many others, so we'll see what happens there. As always keep "voting with your eyeballs" and support Toonami or at least the shows you do like and keep sending Toonami your show suggestions on their Facebook and Tumblr message boxes, as it is the collective viewership who decides what the future of Toonami ultimately is.
Notable news involving Toonami's various programming include:
Toonami released some big news regarding the FLCL sequels this week. In addition to releasing a new trailer, which you can see below, we can now confirm when FLCL will premiere its new seasons. Season 2, FLCL Progressive, will premiere on June 2nd at 11:30pm Eastern, while season 3, FLCL Alternative, will premiere sometime in September. In addition, Kari Wahlgren has also announced that she will indeed be reprising her role as Haruko.
Coming soon, a new adventure to be the strongest begins.
The new #DragonBallSuper movie teaser is here! 👀☄️👐 pic.twitter.com/DO8SidUfPz

— Toei Animation (@ToeiAnimation) March 20, 2018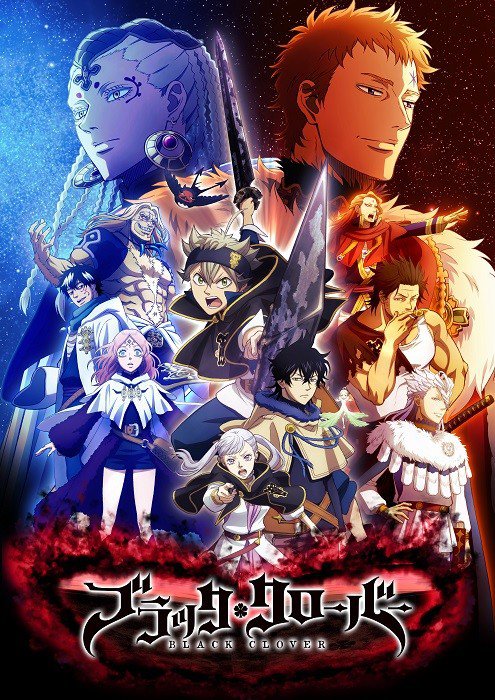 Following the Toonami run of Lupin the Third Part IV, Discotek Media is presently hard at work on working on the Blu-ray of this season of Lupin, which will be available to purchase on May 29th. Due to contractual regulations by TMS and RAI, this Blu-ray will only have the English Dub and the background music will only have the soundtrack heard in the Italian version. A separate subtitled-only release that includes the Japanese soundtrack, will follow later this year.
And in Sword Art Online news, it has been announced that the side-story Alternative Gun Gale Online is set to premiere on Japanese television on Saturday, April 7. In addition, it has also been announced that season 3 of SAO, Project Alicization, will be premiering in Japan sometime in October. A new visual was also released featuring Kirito, Alice, and Eugeo, as well as a new trailer which you can see below. No word yet on what Aniplex's plans are regarding simulcasting and a potential dub as of now.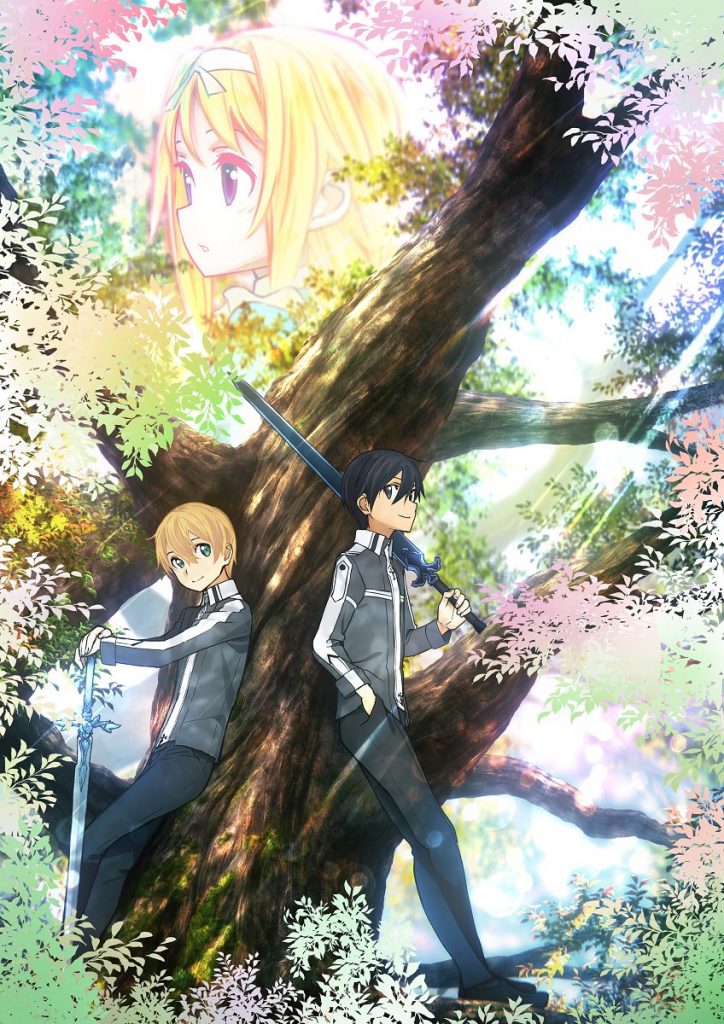 ---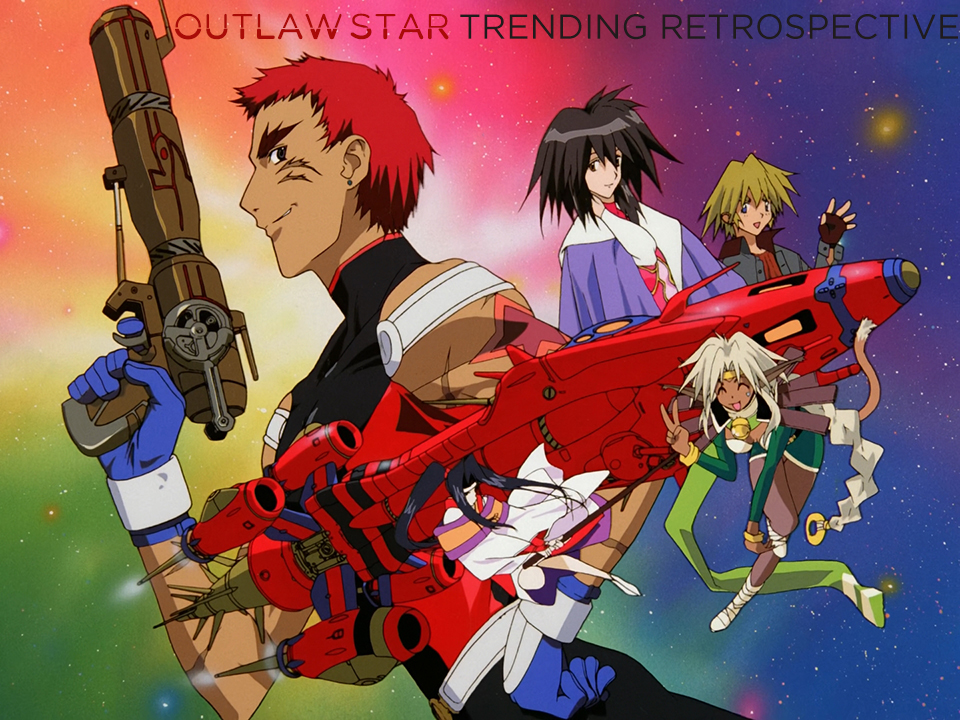 If you watched Toonami during the early 2000's golden years, Outlaw Star needs no introduction to you. Originally premiering in Japan in 1998, it eventually was dubbed and made its way to Toonami in 2001 and alongside Cowboy Bebop and Trigun, became one of the big 3 western-inspired animes Toonami and Adult Swim introduced to us in the 90's and early 2000's.
Given its status as a Toonami classic, Episode 25 would be apart of the April Fools 2012 lineup on the Toonami revival. Despite fans hoping the series could be ran fully on the modern Toonami, due to Bandai Entertainment's closure, it would not be until August 2017 when FUNimation assumed the distribution rights and started releasing the long awaited Blu-rays, that Outlaw Star would be able to make its return to Toonami for a long awaited, remastered, and mostly uncut encore run, including for the first time ever, airing the infamous Hot Springs Planet Tenrei episode.
The show did pretty solid regarding social media buzz during it's 26 week run, as it would trend in the US in some capacity during all but 2 weeks of its run.

Now this is the part of the article where I would say what the future could hold for this franchise, but unfortunately as of now, there is no such future. A 13 episode sidestory, Angel Links, was produced, but didn't exactly go so well, and there's presently no legal way to check out the show to our knowledge besides old DVDs. There was hopes for a sequel back in the day, but for one reason or another, it never materialized and considering it's been 20 years since the show's end, the demand and will to produce a sequel has largely dried up. But as we've seen with FLCL and Samurai Jack among others, if Toonami has shown us anything, it's that nothing is impossible, and especially considering that reboots, sequels, and adaptations of classic anime hits have been quite popular these days, I wouldn't be surprised if Toonami or someone else considered some kind of revival one day.
Regardless, considering its Toonami legacy and how well it holds up to this day, Outlaw Star was quite a joy to watch, back in the old days and even today. All I can say on behalf of everyone, thanks for the memories.
---

As mentioned last week, with the new shows not ready to go just yet, and with April Fools incoming that will likely pre-empt the schedule for the special event in the next two weeks, Toonami will hold off on announcing and premiering said new shows for now. Instead, next week Toonami will be setting things up for these upcoming events, with Space Dandy moving up to 2am EDT, followed by a doubleheader of Cowboy Bebop to showcase its finale at 2:30am-3:30am. Until next week, stay gold as always.
---
Legend: The shows listed are ordered based on their appearance on the schedule. Show trends are listed in bold. The number next to the listed trend represents the highest it trended on the list (not counting the promoted trend), judging only by the images placed in the rundown. For the Twitter tweet counts, the listed number of tweets are also sorely based on the highest number shown based on the images on the rundown.
United States Trends:
Toonami/#Toonami [#23]
#DragonBallSuper [#6]
#DBZKai [#20]
#BlackClover [#20]
#JoJosBizarreAdventure [#18]
#GundamIBO [#21]
#HunterXHunter [#19]
#OutlawStar [#12]
#SpaceDandy [#7]
#CowboyBebop [#22]
Worldwide Trends:
Tweet Counts:
Toonami [8,040 tweets]
#Toonami [5,584 tweets]
#DragonBallSuper [68.1k tweets]
DB Super [2,070 tweets]
#DBZKai [1,260 tweets]
#BlackClover [1,631 tweets]
#JoJosBizarreAdventure [1,893 tweets]
#GundamIBO [1,337 tweets]
#HunterXHunter [2,512 tweets]
#OutlawStar [1,508 tweets]
Tumblr Trends:
#toonami
#dragon ball super
#jojo's bizarre adventure
#hunter x hunter
Notes and Other Statistics:
Special thanks to @myanimewaifu and others I forgot to mention for spotting some of the trends on this list.
Only Toonami on [adult swim] on Cartoon Network.
Toonami Tweets of the Night for March 17-18, 2018