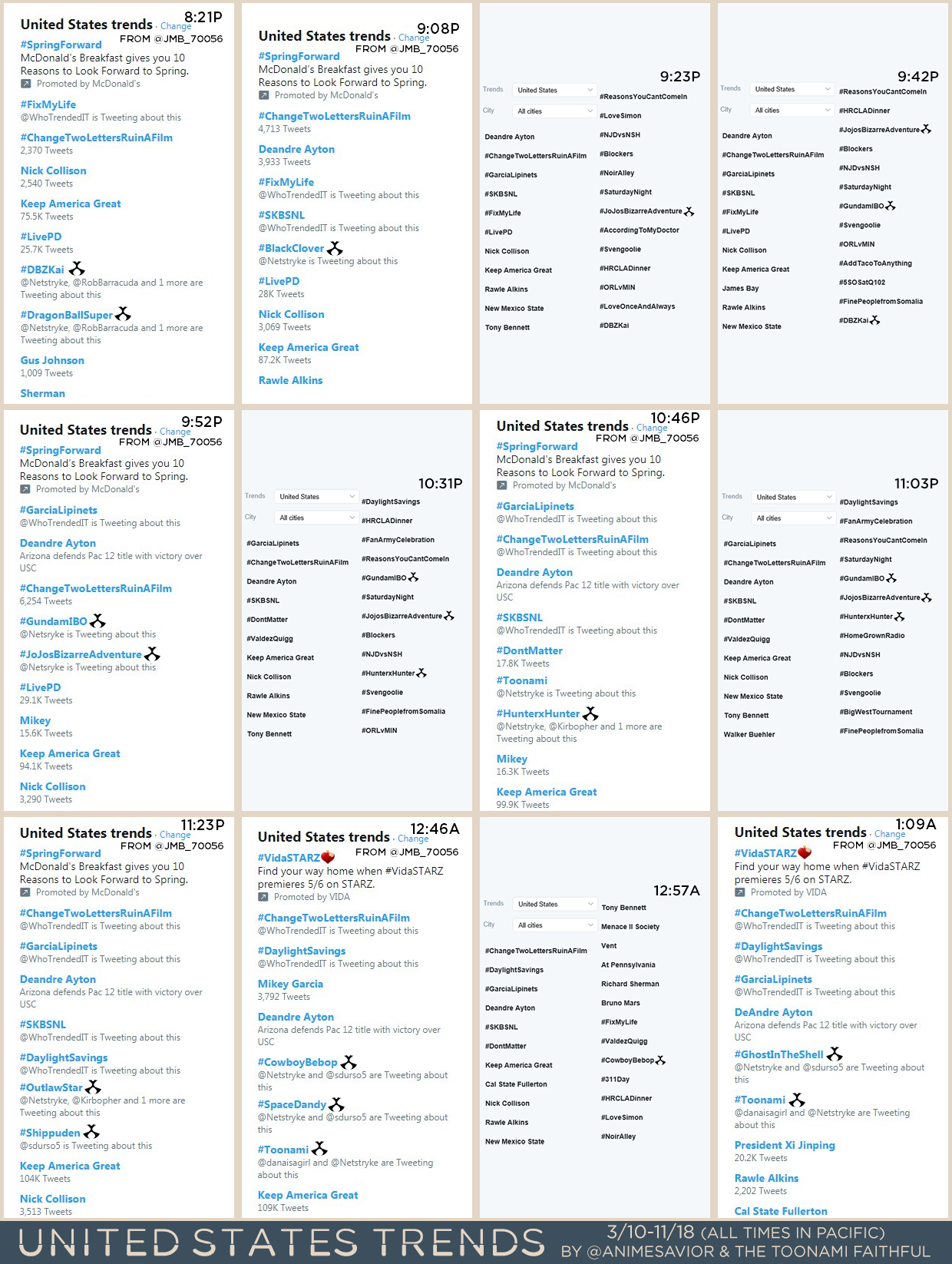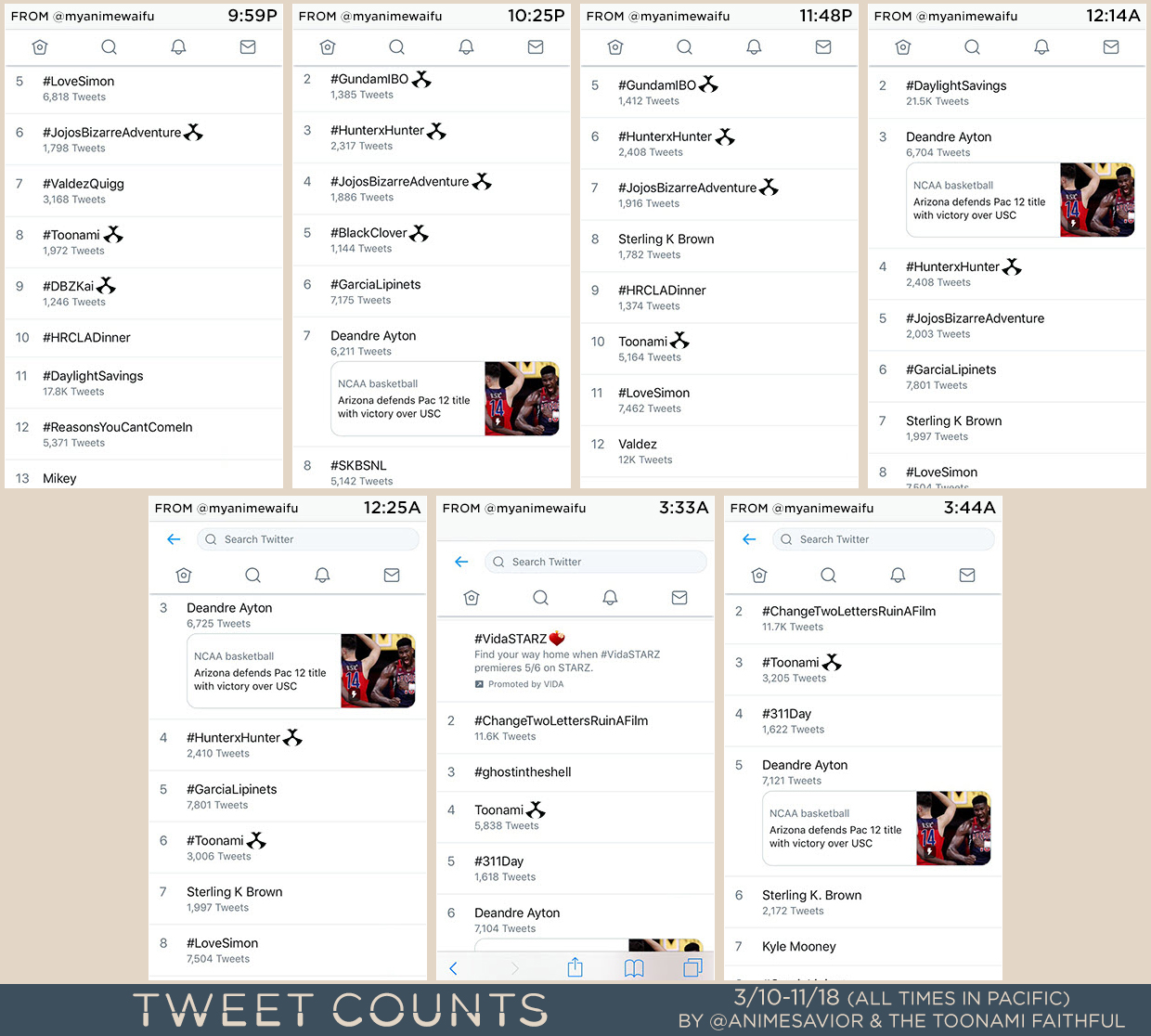 "It's easy? While you're out there putting your life on the line, all i can do is wait here. If it's easier on you to fight, does that mean that i haven't been able to do anything for you in all this time? I…I love you, Mikazuki. I love the Mikazuki that's here. Right in front of me. You don't have to do this. I might have told you to hug girls when they're crying, but now isn't the time to do it, if you…
–         Atra Mixta, Mobile Suit Gundam: Iron Blooded Orphans (Ep. 44)
"That's part of it, but I've also realized how precious you are to me. I don't know of the world for myself that doesn't involve fighting. All I've known are the battlefields that I've chosen and the ones chosen for me. That's all. [And what about now?] I'm fighting, so you can stop crying."
–         Mikazuki Augus
The Toonami Trending Rundown for March 10-11, 2018. Things are setting up for a big showdown for a couple shows as Yuno has to stop wizards attempting to kidnap Sister Lily, while the Tekkadan join in on McGillis' coup as they are tasked in rooting out Rustal and Iok, and the Outlaw Star crew enter the Galactic Leyline, among other great moments.
On Twitter, every show would successfully trend in the US during their respective East Coast airings. Meanwhile on Tumblr, Dragon Ball Super and JoJo's Bizarre Adventure would both trend.
---

This week, Toonami showcased a music video for Emerald Rush by Jon Hopkins. You can check it out below.
Dragon Ball Super might be ending in Japan this month, but production for the next chapter in the franchise with the 20th feature film is well underway, set to premiere in Japanese theaters on December 14, 2018. No word yet on when Toei and FUNimation will be bringing this stateside as of now.
Hold on to your seats! 💥💥💥
The 20th #DragonBall feature film is set to be released on December 14, 2018 in Japan! The new film will also continue to follow the world created in #DragonBallSuper!!

For new details, visit the movie's official website, https://t.co/xnNYUXWQ3n!! pic.twitter.com/s7MJeaISid

— Toei Animation (@ToeiAnimation) March 12, 2018
And in FLCL news, Toonami has announced that there will be some new information regarding the sequels to be posted on their Facebook page beginning next week. They also released an artwork created by character designer Yoshiyuki Sadamoto, which you can see below. Production IG has also set up an official Twitter account for the franchise, @FLCL_USA, so make sure to follow that for any upcoming news ahead.
Welcome to the official FLCL twitter! Stay tuned for more! Here's a beautiful illustration by the original character designer Yoshiyuki Sadamoto. #flcl2 #flcl3 #adultswim #productionig pic.twitter.com/Jccm6SOaS7

— FLCL USA Official (@FLCL_USA) March 16, 2018
This upcoming Saturday will feature the series finale of Outlaw Star, but considering that April Fools is coming in 3 weeks, Toonami will hold off on announcing and premiering the new show for now. Instead, we will have a doubleheader of the final 2 episodes of #CowboyBebop next Saturday from 2:30am-3:30am. Space Dandy will also move up to 2 am in the interim. This could mean that we may have potentially two new shows coming down the pipe within the next few weeks, especially considering that the show that was supposed to replace Lupin Part IV is still waiting in the wings. We'll keep you posted on the details as they are released ahead.
Other than that, have a Happy St. Patrick's Day, enjoy March Madness and we'll see you again Saturday for another round of the better cartoon show. Later.
---
Legend: The shows listed are ordered based on their appearance on the schedule. Show trends are listed in bold. The number next to the listed trend represents the highest it trended on the list (not counting the promoted trend), judging only by the images placed in the rundown. For the Twitter tweet counts, the listed number of tweets are also sorely based on the highest number shown based on the images on the rundown.
United States Trends:
Toonami/#Toonami [#6]
#DragonBallSuper [#7]
#DBZKai [#6]
#BlackClover [#5]
#JoJosBizarreAdventure [#5]
#GundamIBO [#4]
#HunterXHunter [#7]
#Shippuden [#7]
#OutlawStar [#6]
#SpaceDandy [#6]
#CowboyBebop [#5]
#GhostInTheShell [#5]
Tweet Counts:
Toonami [5,838 tweets]
#Toonami [3,205 tweets]
#DBZKai [1,246 tweets]
#BlackClover [1,144 tweets]
#JoJosBizarreAdventure [2,003 tweets]
#GundamIBO [1,412 tweets]
#HunterXHunter [2,410 tweets]
Tumblr Trends:
#dragon ball super
#jojo's bizarre adventure
Notes and Other Statistics:
Special thanks to @JMB_70056, @myanimewaifu, and others I forgot to mention for spotting some of the trends on this list.
Only Toonami on [adult swim] on Cartoon Network.
Toonami Tweets of the Night for March 10-11, 2018