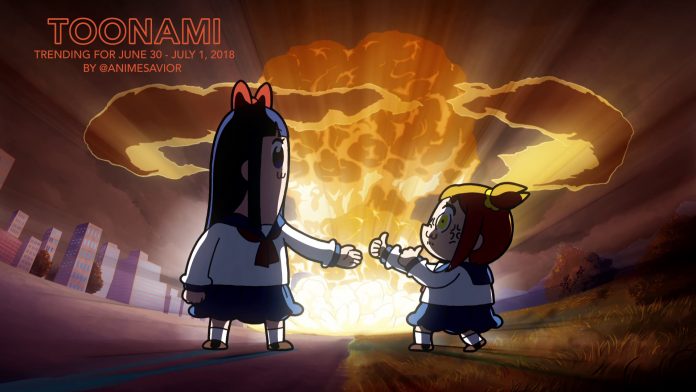 Popuko: "Hey, hey, are you upset?"
Pipimi: "I am not upset."
–          Pop Team Epic (Ep. 01)
The Toonami Trending Rundown for June 30 – July 1, 2018. In an event that many Adult Swim fans expected, but deciding to air it on Toonami rather than Sundays was a bit of a surprise, the hit anime comedy Pop Team Epic makes its way to the better cartoon show, as Popuko and Pipimi are here to do…well…stuff.
Meanwhile, Arale and Dr. Slump make a crossover appearance in Dragon Ball Super, while Ide tries to keep Hidomi away from Haruko's grasps, and Black Clover begins the Eye of the Midnight Sun Arc as Asta meets Rebecca, among other great moments.
Pop Team Epic would no doubt be the talk of the town, for better or for worse, as #PopTeamEpic would trend in the US on Twitter as well as Tumblr alongside Toonami.
---


A little reminder for Dragon Ball Super fans that tonight at 8pm ET (as of this writing), Adult Swim will be airing daily reruns of DBS. Feel free to check those out, and for those who want to help the argument for Toonami expansion, all I can say is to give Dragon Ball and Toonami overall all the support you can.
Next week is the 4th of July weekend, and as we celebrate our great nation on Wednesday, we will also be celebrating the great medium of Anime as Anime Expo will in Downtown Los Angeles. For the first time, I'll be joining CJ Maffris and Sketch 1984 among others to help out with @ToonamiNews' coverage. For those anticipating what may be to come, I once again created a panel list of what to watch for in terms of where news and events related to the better cartoon show and it's many shows will likely occur. We'll let you know if anything news or announcements come about, so stay tuned and for those headed to LA, have a great time and I'll see you around the convention halls.
In contrast to previous years, Toonami will not have a holiday marathon for the 4th of July weekend, instead we will have our regular scheduled programming which will include among other things, the FLCL Progressive finale. So if you are headed to AX or another event on Saturday, make sure to set your DVRs if you can't make it.
Not much else to say so until then, stay gold as always.
---
Legend: The shows listed are ordered based on their appearance on the schedule. Show trends are listed in bold. The number next to the listed trend represents the highest it trended on the list (not counting the promoted trend), judging only by the images placed in the rundown. For the Twitter tweet counts, the listed number of tweets are also sorely based on the highest number shown based on the images on the rundown.
United States Trends:
Tweet Counts:
#Toonami [5,960 tweets]
Toonami [8,003 tweets]
#FLCL [1,603 tweets]
#PopTeamEpic [4,825 tweets]
#JoJosBizarreAdventure [2,279 tweets]
#HunterXHunter [1,774 tweets]
#BlackClover [1,069 tweets]
Tumblr Trends:
Notes and Other Statistics:
Special thanks to @myanimewaifu and others I forgot to mention for spotting some of the trends on this list.
Tweets of the Night are coming soon, likely Saturday, but expect delays due to author being at Anime Expo.
Only Toonami on [adult swim] on Cartoon Network.