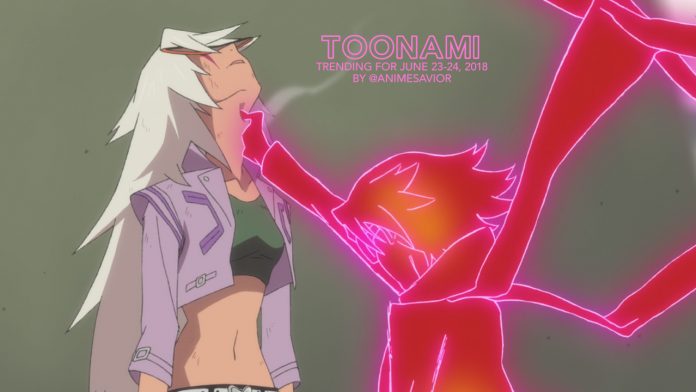 "I get it, I finally understand. I know what you want to do. And that's why…I can't go with you."
–          Hidomi, FLCL Progressive (Ep. 04)
The Toonami Trending Rundown for June 23-24, 2018. It was a day of milestones as Hidomi goes into a "wacko" state from her headphones and Ide tries to get her off it, while Deku and Ochaco have to fend off a raging Bakugo, wanting answers for Deku's powers, and DBZ Kai finishes its run, as Goku battles with Uub, the reincarnation of Evil/Kid Buu, among other moments. Hunter x Hunter also commemorates its 100 episode airing on Toonami while Black Clover completes the Royal Capital story arc.
On Twitter, Toonami would successfully trend in the US alongside FLCL (Including FLCL 2), Hunter x Hunter, Black Clover, and Space Dandy. On Tumblr, Toonami would trend along with Boku no Hero Academia (including BNHA) and Hunter x Hunter.
---


This week's feature was a game review for the new God of War, available exclusively for the PS4. It received a 9.5 out of 10 score.
Even as DBZ Kai's run comes to a close, there will be no shortage of Dragon Ball on Adult Swim anytime soon, as Dragon Ball Super will have weekday reruns at 8pm to begin Cartoon Network's shift from daytime to Adult Swim hours, replacing King of the Hill as the latter show's airing rights have been reverted back to FOX. This will be the first time since the channel's move toward the CN Real/Tim and Eric era started in 2008, that anime programing will be airing on weeknights. Of course, the dub premiere episodes will continue to kick off Toonami at 10:30 as usual.
For those up for a daily DBS fix, feel free to check those out, and for those who want to see more anime air in the weekdays like in the pre-Network Decay days of Cartoon Network and Adult Swim, all I can say is to watch these daily encore runs, and to give Dragon Ball and Toonami overall your continued support.
Well, DBS is going to start weeknights in prime time, so if that does well, maybe they will.

— KING ATOMSK DEMARCO (@Clarknova1) June 27, 2018
Some of the other notable news this week include:
Gon and Killua will have to step up their game if they want to survive on Greed Island!

Add #HunterxHunter, Volume 4 to your Blu-ray/DVD collection ➡️ https://t.co/OKOlGHAsoG pic.twitter.com/JbTL9B1LoK

— VIZ (@VIZMedia) June 26, 2018
Viz Media will also be releasing the second half of the JoJo's Bizarre Adventure: Stardust Crusaders box-sets which will contain Episodes 27-50 of part 3 on July 3rd. The standard edition will retail for $39.99, while the limited edition will retail for $69.99 and will include several bonus features including a 105-page episode guide and six full-color collectible art cards.
And in related JoJo's news, it has been announced that Part 5 of the JoJo's Bizarre Adventure anime: Golden Wind, is presently in production, set to premiere in Japan this October. A special premiere of the first episode will be showcased at the JoJo's panel at Anime Expo. Of course, we're still a ways away from catching up to where Japan is at with the anime, with Toonami having just 9 episodes of Stardust Crusaders left to air, and part 4: Diamond Is Unbreakable still yet to be dubbed, but this could be one to look out for in the distant future.
☆ Watch the U.S. premiere of JOJO's Bizarre Adventure: Golden Wind exclusively at the Anime Expo JOJO's Bizarre Adventure Panel. July 6th, 3PM PT in the Main Events Hall. ☆ pic.twitter.com/txMDPYVgnP

— VIZ (@VIZMedia) June 21, 2018
Next week will be a big shift in terms of programming as Pop Team Epic joins the action to do…we'll…stuff…at 12:00am Eastern, while My Hero Academia and FLCL move to their new timeslots at 11 and 11:30pm respectively, and Black Clover begins the Eye of the Midnight Sun Arc at its regular time at 1:30. Until next week, stay gold as always.
---
Legend: The shows listed are ordered based on their appearance on the schedule. Show trends are listed in bold. The number next to the listed trend represents the highest it trended on the list (not counting the promoted trend), judging only by the images placed in the rundown. For the Twitter tweet counts, the listed number of tweets are also sorely based on the highest number shown based on the images on the rundown.
United States Trends:
Toonami/#Toonami [#6]
#FLCL [#5]
#FLCL2 [#5]
#HunterXHunter [#5]
#BlackClover [#6]
#SpaceDandy [#3]
Tweet Counts:
Toonami [6,287 tweets]
#Toonami [4,109 tweets]
#DBZKai [1,616 tweets]
#MyHeroAcademia [6,709 tweets]
#FLCL [2,211 tweets]
#FLCL2 [1,208 tweets]
#FLCLProgressive [1,155 tweets]
#JoJosBizarreAdventure [2,361 tweets]
#HunterXHunter [1,562 tweets]
Tumblr Trends:
#Toonami
#Boku No Hero Academia
#BNHA
#Hunter X Hunter
Notes and Other Statistics:
Special thanks to @JMB_70056, @myanimewaifu, @sdurso5, @TheNextHokage, and others I forgot to mention for spotting some of the trends on this list.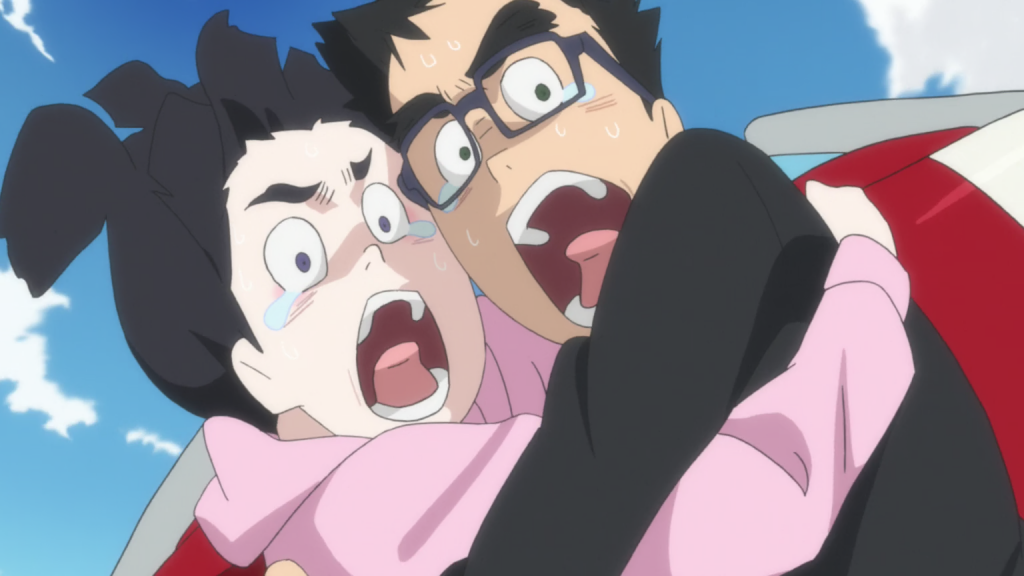 Only Toonami on [adult swim] on Cartoon Network.
Toonami Tweets of the Night for June 23-24, 2018
FLCL Progressive Episode 4 Premiere