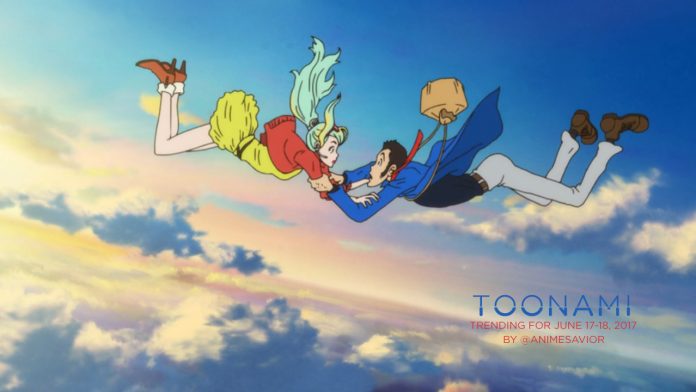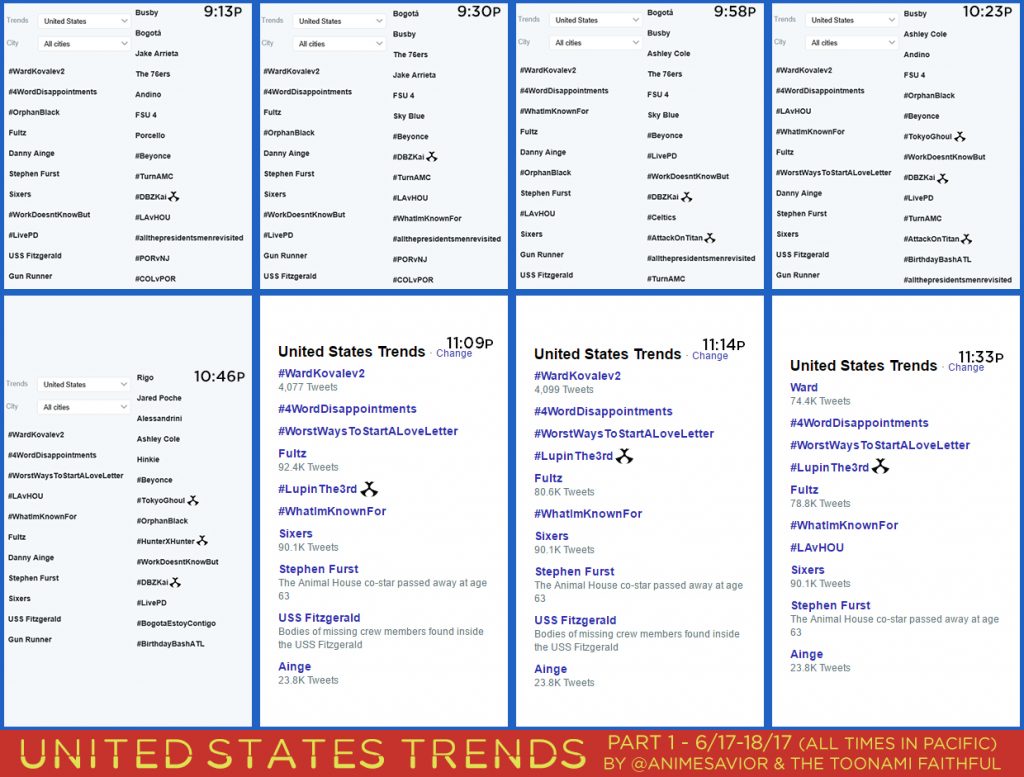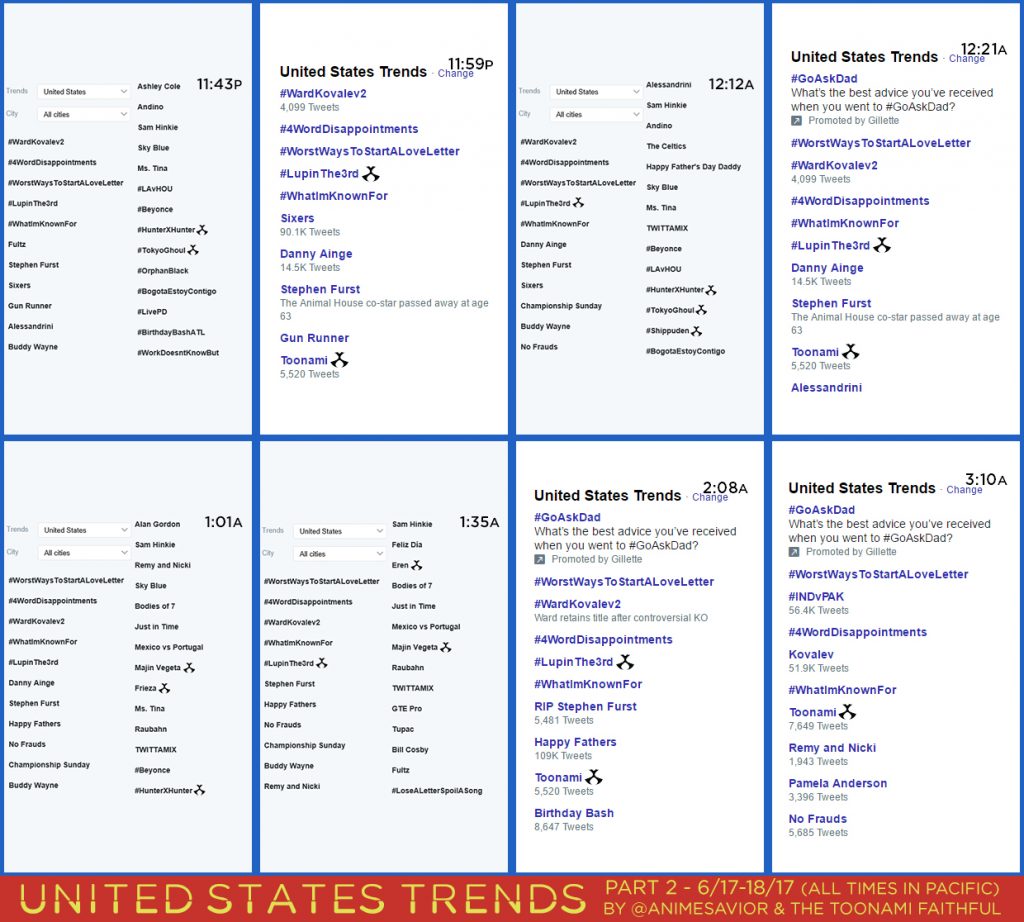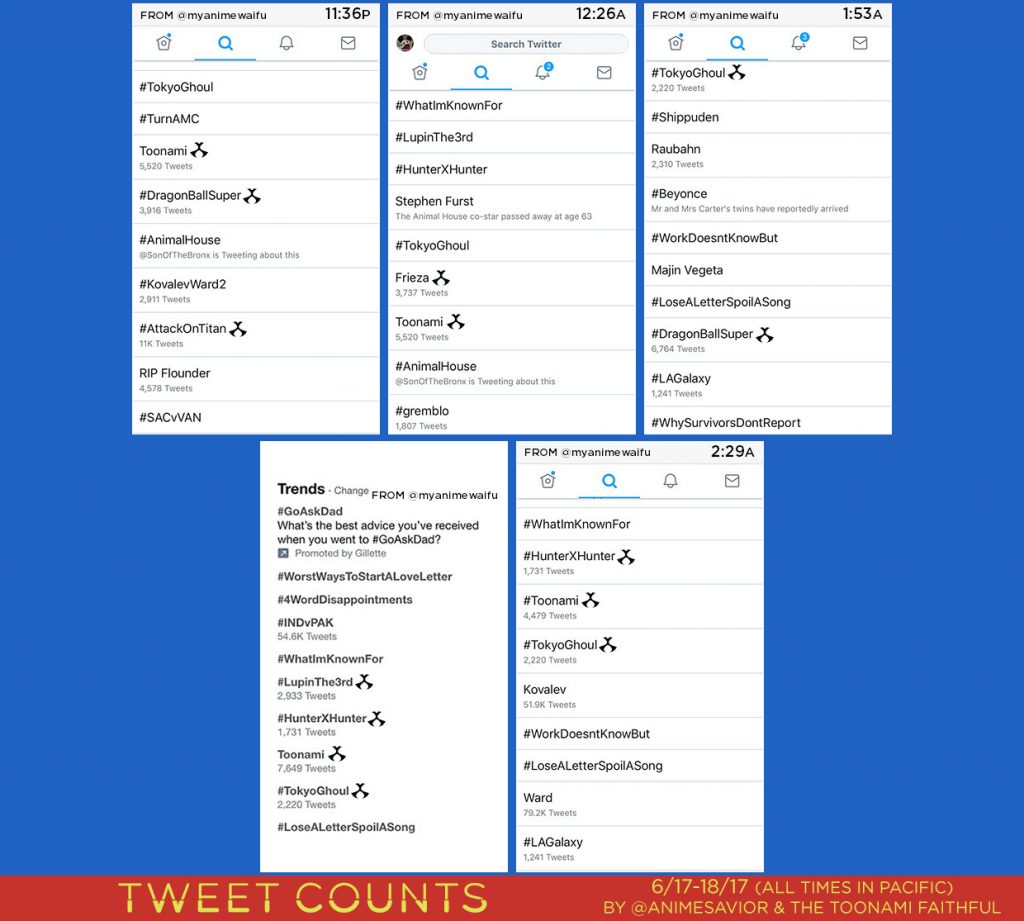 "I am Lupin the Third. I'm not gonna beg anyone for anything. I'm working on a plan."
–          Arsène Lupin III, Lupin the Third Part IV (Ep. 01)
The Toonami Trending Rundown for June 17-18, 2017. One of Adult Swim Action's classic staples during its early days, the world's greatest thief in Arsène Lupin III makes his grand return after a nearly 14 year hiatus, as Lupin the Third Part IV makes its debut on the better cartoon show.
And it would be quite a return as Lupin marries Rebecca, but in the honeymoon they both find out that they got other plans. Meanwhile, among other great moments, Ginyu reappears by taking Tagoma's body, Vegeta sells his soul to Babidi, anxious for a bout with Goku, and Mikasa and Armin reminisce their relationship with Eren, especially regarding his determined yet stubborn behavior.
On Twitter, Toonami and every show from DBZ Kai to Naruto Shippuden successfully trended in the US during their respective airings, and to kick off Lupin on a good note, the hashtag #LupinTheThird trended for over 3 straight hours starting from its East Coast airing and through the West Coast airing. Meanwhile on Tumblr, Toonami would trend in addition to DBZ, Attack on Titan, and Tokyo Ghoul.
Both Dragon Ball and Attack on Titan also produced a few character trends with Frieza (as Goku spares Ginyu from being killed, reminding Frieza of the time Goku spared him, and proceeded to unleash his anger on Gohan for it), Majin Vegeta (as a Vegeta possessed by Babidi goes on a rampage on the tournament crowds, trying to get Goku to fight him.), and Eren (the first for AOT this season as Reiner and Bertholdt kidnap him and Ymir, forcing Mikasa and the scouts to regroup to get them back).
---
This week's feature was a video game review for Injustice 2. It received an 8 out of 10 score.
Good news for Attack on Titan fans. Following the conclusion of the broadcast of Season 2 in Japan (and among those that watched the sub), it was announced that a third season is indeed in the works, to air in Japan sometime next year. We have 4 episodes left in this season of Titan dub wise, and no doubt this will be a candidate for a potential Toonami airing ahead when the dub is ready ahead. We'll keep you posted.
Although it may not be as big as some of the other Toonami/Adult Swim classics over the years, the Lupin franchise has been a very recognizable anime and manga since Adult Swim aired some of the previous seasons back in 2003 and for some even as far as the original debut of the manga in the 1960's. Being well regarded among fans and the Toonami crew to this day, and despite The Woman Called Fujiko Mine being rejected by Adult Swim's S&P department due to content, it perhaps comes as no surprise that Lupin was allowed to make a comeback to the better cartoon show. It will be interesting to see how well this anime classic does with newer and returning viewers in this current era of Toonami. All I can say is stay tuned.
Tune in next week as Tokyo Ghoul showcases the finale of Season 1, among other great moments. And fear not, Tokyo Ghoul fans, as Toonami will indeed be showcasing Season 2 as well, which should be premiering on July 8. Until then, congratulations to both the Pittsburgh Penguins on repeating as Stanley Cup champions and the Golden State Warriors on winning the NBA Championship and stay gold.
---
Legend: The shows listed are ordered based on their appearance on the schedule. Show trends are listed in bold. The number next to the listed trend represents the highest it trended on the list (not counting the promoted trend), judging only by the images placed in the rundown. For the Twitter tweet counts, the listed number of tweets are also sorely based on the highest number shown based on the images on the rundown.
United States Trends:
Toonami [#6]
Frieza (From Dragon Ball Super) [#20]
#DBZKai [#19]
Majin Vegeta (From DBZ Kai) [#18]
#AttackOnTitan [#23]
Eren (From Attack on Titan) [#14]
#TokyoGhoul [#18]
#HunterXHunter [#19]
#LupinThe3rd (Also trended during the West Coast airing) [#4]
#Shippuden [#21]
Tweet Counts:
Toonami [7,649 tweets]
#Toonami [4,479 tweets]
#DragonBallSuper [6,764 tweets]
Frieza (From Dragon Ball Super) [3,737 tweets]
#AttackOnTitan [11k tweets]
#TokyoGhoul [2,220 tweets]
#HunterXHunter [1,731 tweets]
#LupinThe3rd [2,933 tweets]
Tumblr Trends:
#toonami
#dbz
#attack on titan
#tokyo ghoul
Notes and Other Statistics:
Special thanks to @myanimewaifu and others I forgot to mention for spotting some of the trends on this list.
Come and Get It. Only Toonami on [adult swim] on Cartoon Network.