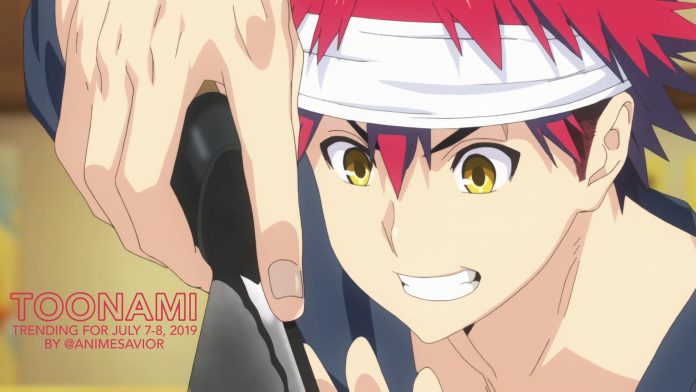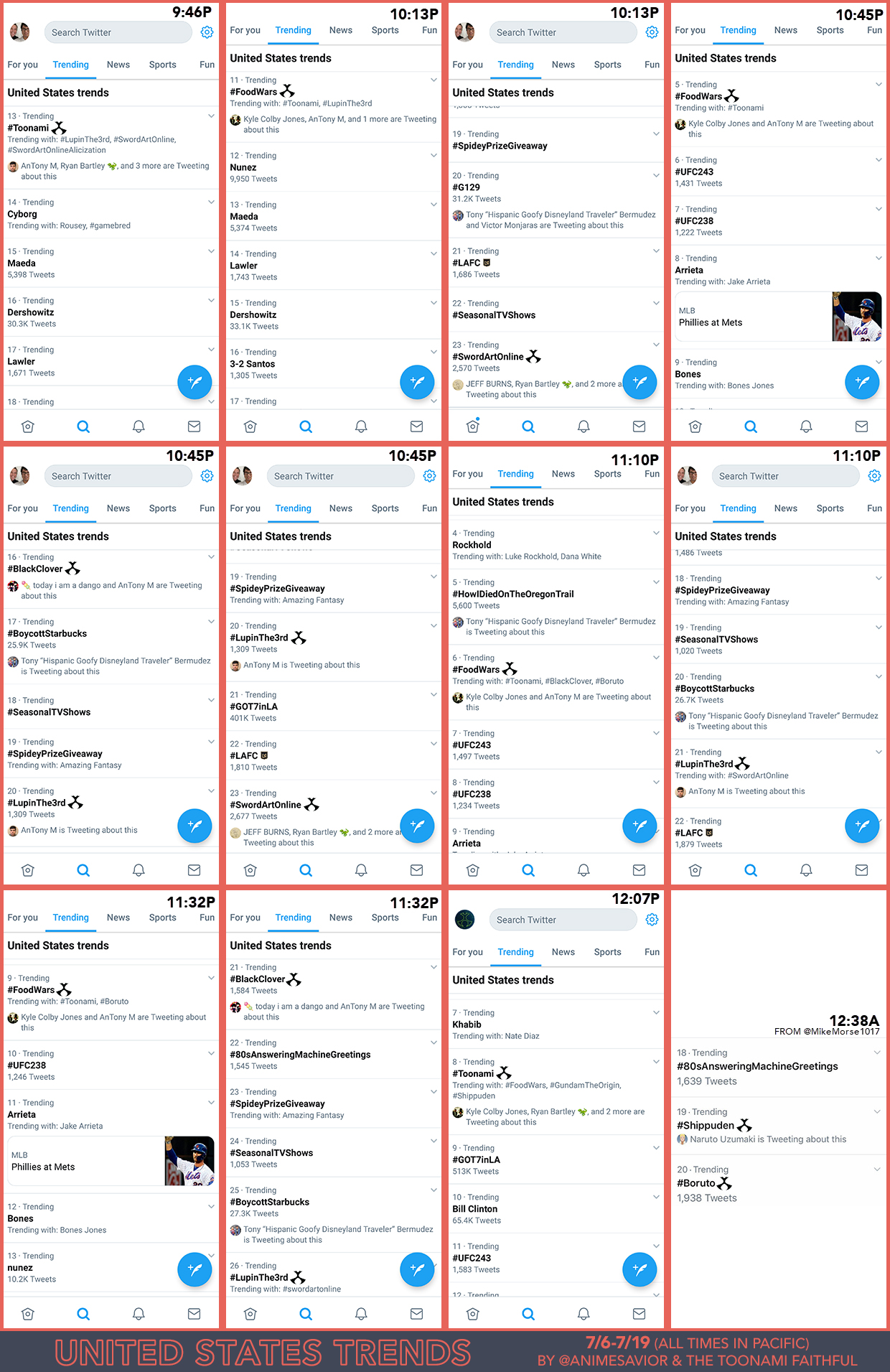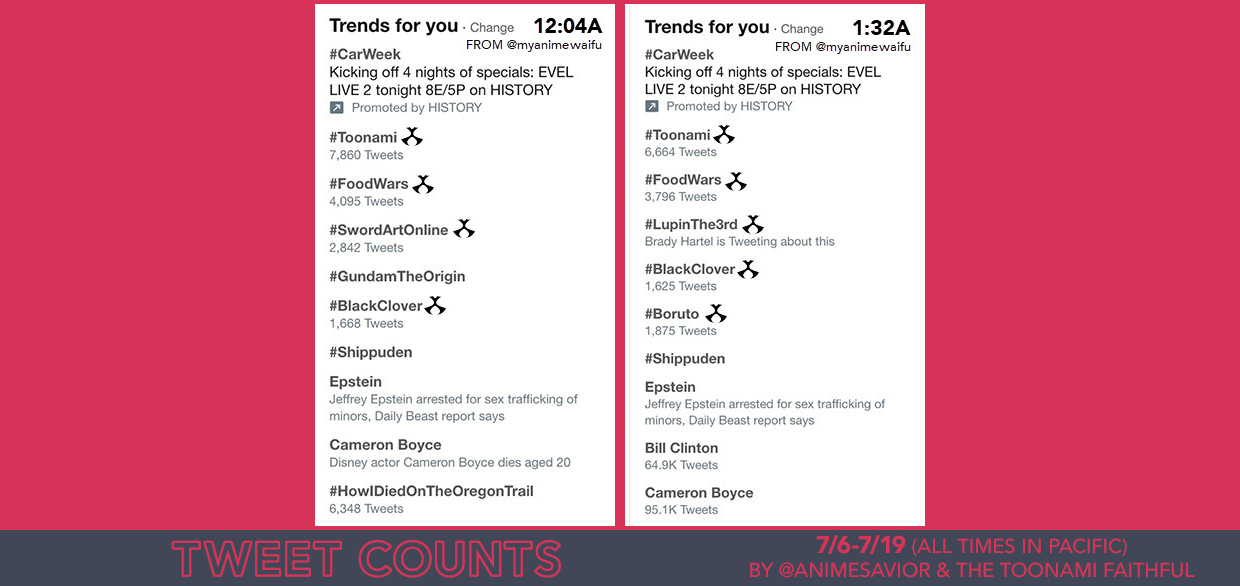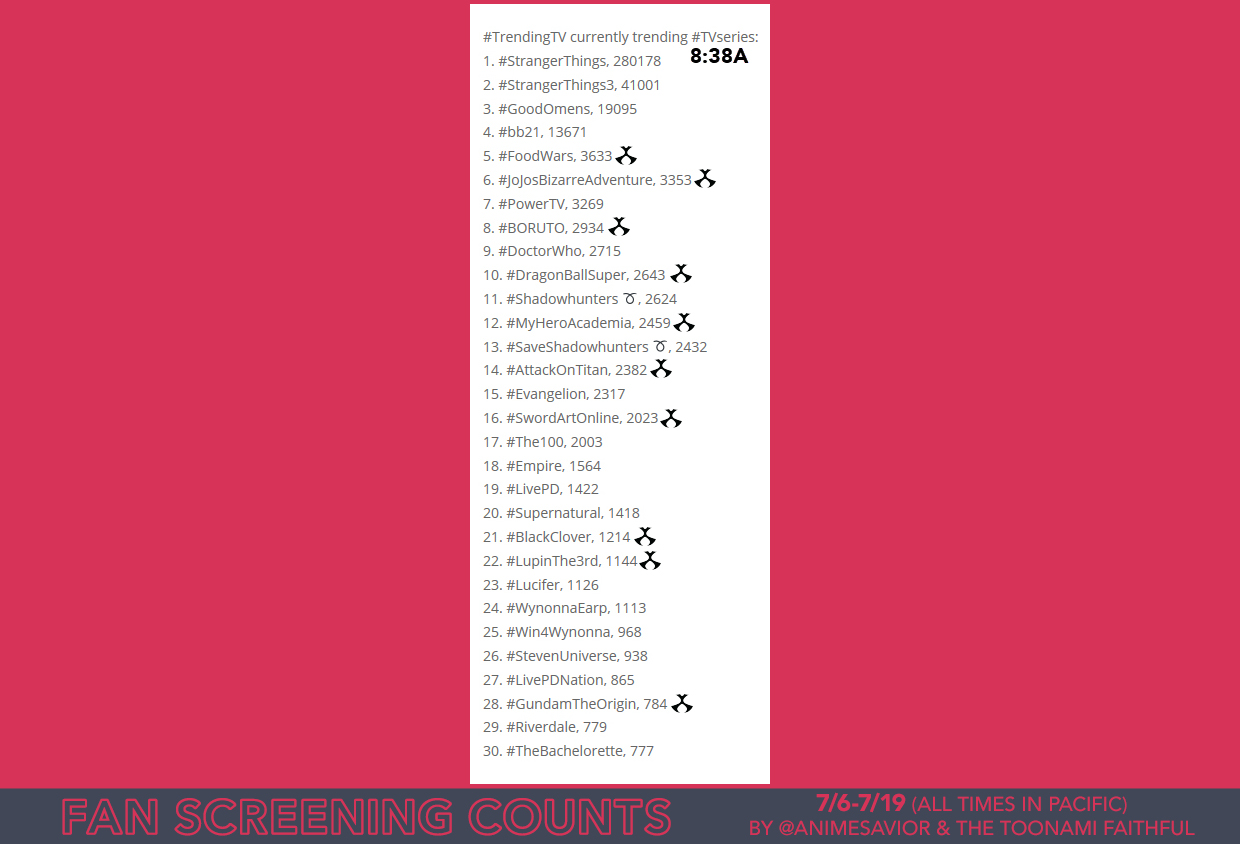 "The art of cooking is indeed a vast and stupefying spectrum, a wasteland dotted with endless examples of the delectable and the repulsive. And that is where I want to be, walking the reaches of the food universe."
–          Sōma Yukihira, Food Wars (Ep. 01)
The Toonami Trending Rundown for July 6-7, 2019. Food Wars joins the madness while Gundam returns to its US broadcast home in Toonami as we are introduced to Soma, and we are reintroduced to the infamous Char Aznable respectively, while Kirito and his new harem members feel the wrath of Quinella, and Eren and the scouts finally get to his dad's basement, among other great moments.
Food Wars would no doubt be the talk of the town, as it trended in the US on Twitter alongside every show on the schedule from SAO to Naruto. The full list including statistics and tweet counts from the twitter app and Amr Rahmy's Fan Screening analytics app can be seen below.
This week, we were at Anime Expo to get you all the news, events, and interviews related to all things Toonami. Of course, the big news this week was the hit anime series Demon Slayer will be joining the better cartoon show this fall, while the Rooster Teeth original gen:LOCK will be joining in August. Other news of note includes a teaser trailer for the 2nd half of Project Alicization, a third season of Food Wars being dubbed, an Akira anime remake in the works, among many others.
We'll have reports and interviews from the big event in the days and weeks ahead, but for now, make sure to tune in next week for the mid-season finale of Sword Art Online, among other great moments. Until next week, stay gold as always.
---
Legend: The shows listed are ordered based on their appearance on the schedule. Show trends are listed in bold. The number next to the listed trend represents the highest it trended on the list (not counting the promoted trend), judging only by the images placed in the rundown. For the Twitter tweet counts, the listed number of tweets are also sorely based on the highest number shown based on the images on the rundown.
United States Trends:
#Toonami [#8]
#SwordArtOnline [#23]
#SwordArtOnlineAlicization [Trended with #Toonami]
#LupinThe3rd [#20]
#FoodWars [#5]
#BlackClover [#21]
#Boruto [#20]
#Shippuden [#19]
Tweet Counts:
#Toonami [7,860 tweets]
#SwordArtOnline [2,842 tweets]
#LupinThe3rd [1,309 tweets]
#FoodWars [4,095 tweets]
#BlackClover [1,625 tweets]
#Boruto [1,938 tweets]
Fan Screening Counts:
#DragonBallSuper [#10 with 2643 tweets]
#AttackOnTitan [#14 with 2382 tweets]
#SwordArtOnline [#16 with 2023 tweets]
#LupinThe3rd [#22 with 1144 tweets]
#FoodWars [#5 with 3633 tweets]
#BlackClover [#21 with 1214 tweets]
#Boruto [#8 with 2934 tweets]
#GundamTheOrigin [#28 with 784 tweets]
#MyHeroAcademia [#12 with 2459 tweets]
Notes and Other Statistics:
Special thanks to @MikeMorse1017 and others I forgot to mention for spotting some of the trends on this list.
Only Toonami on [adult swim] on Cartoon Network.