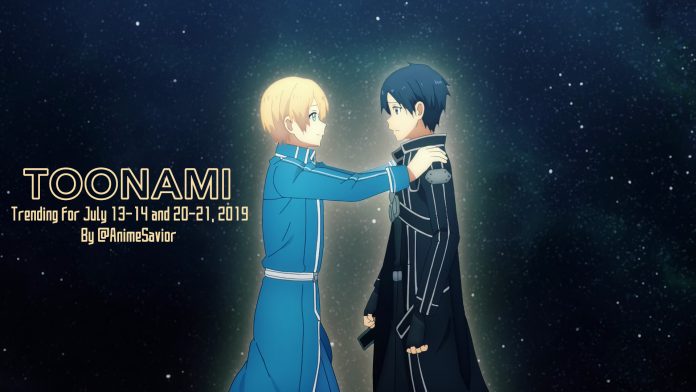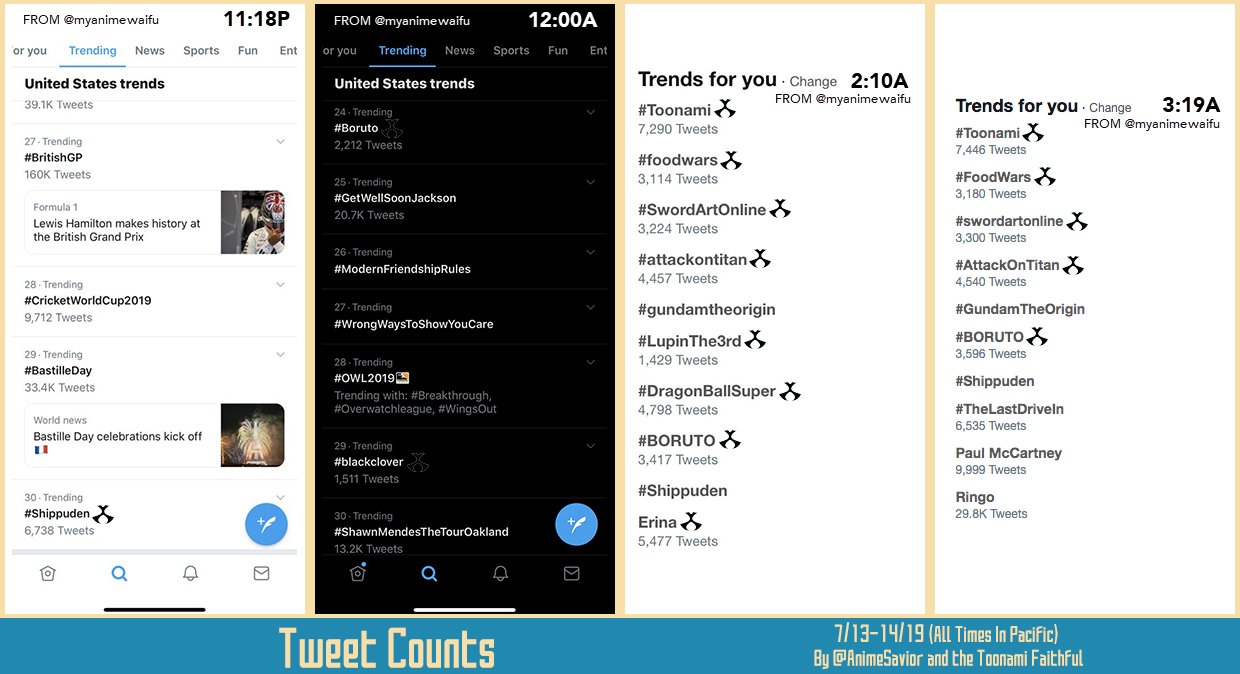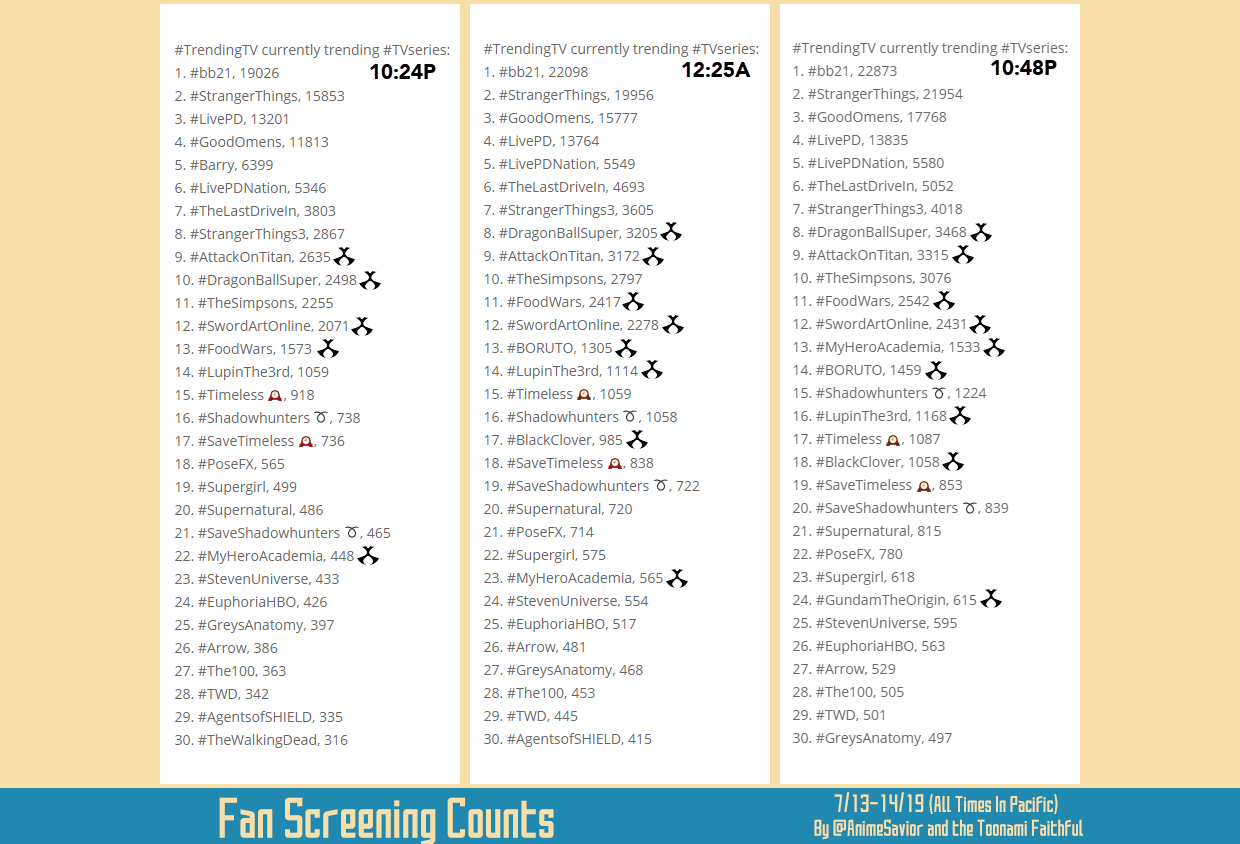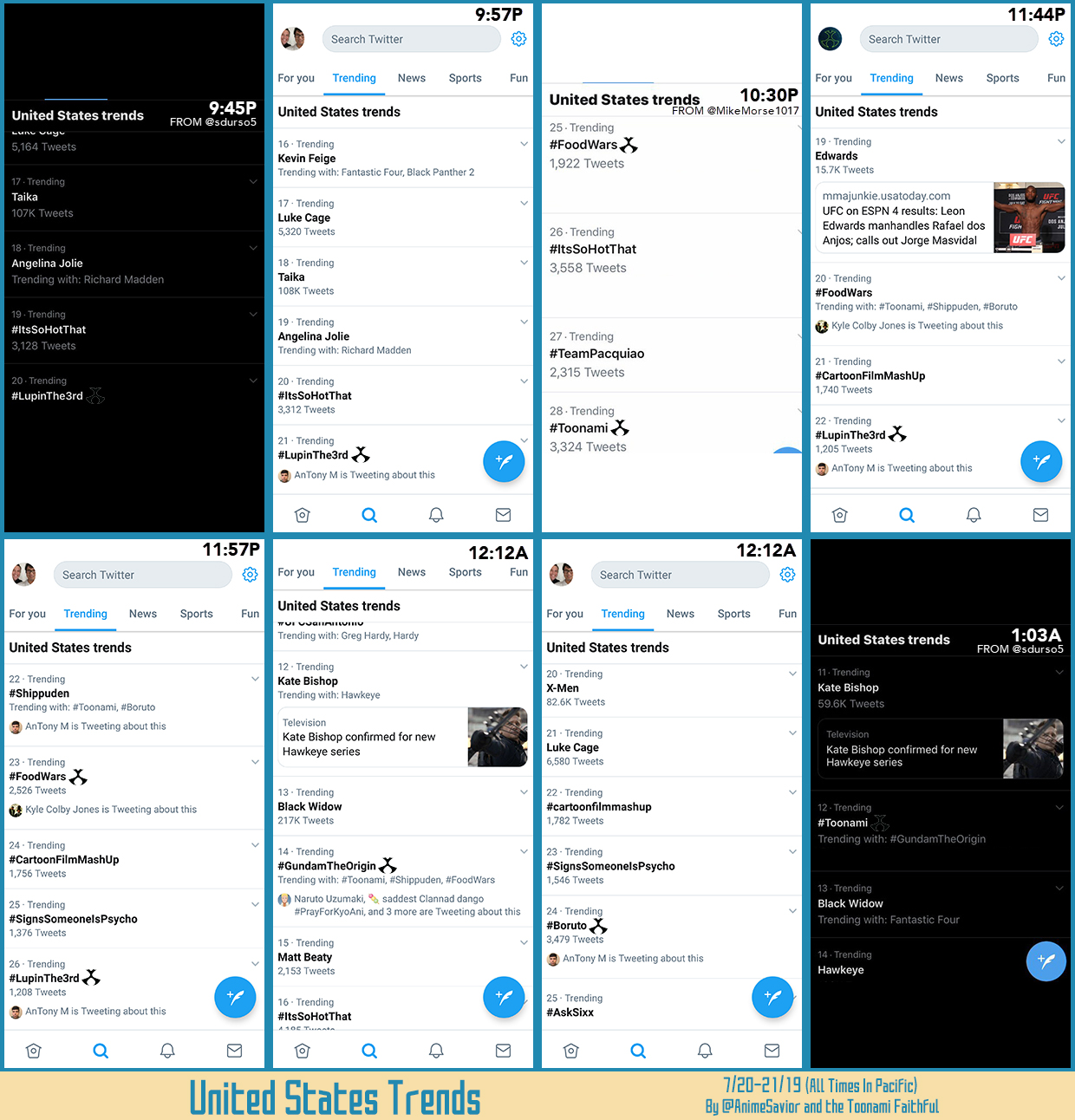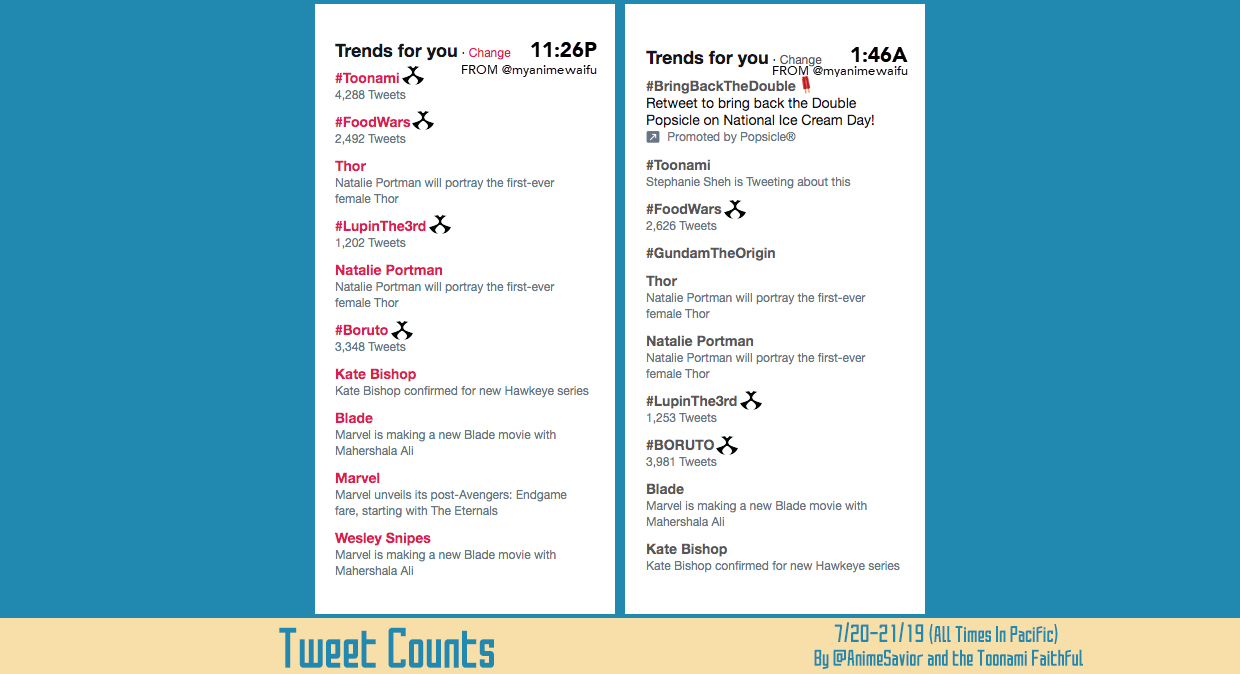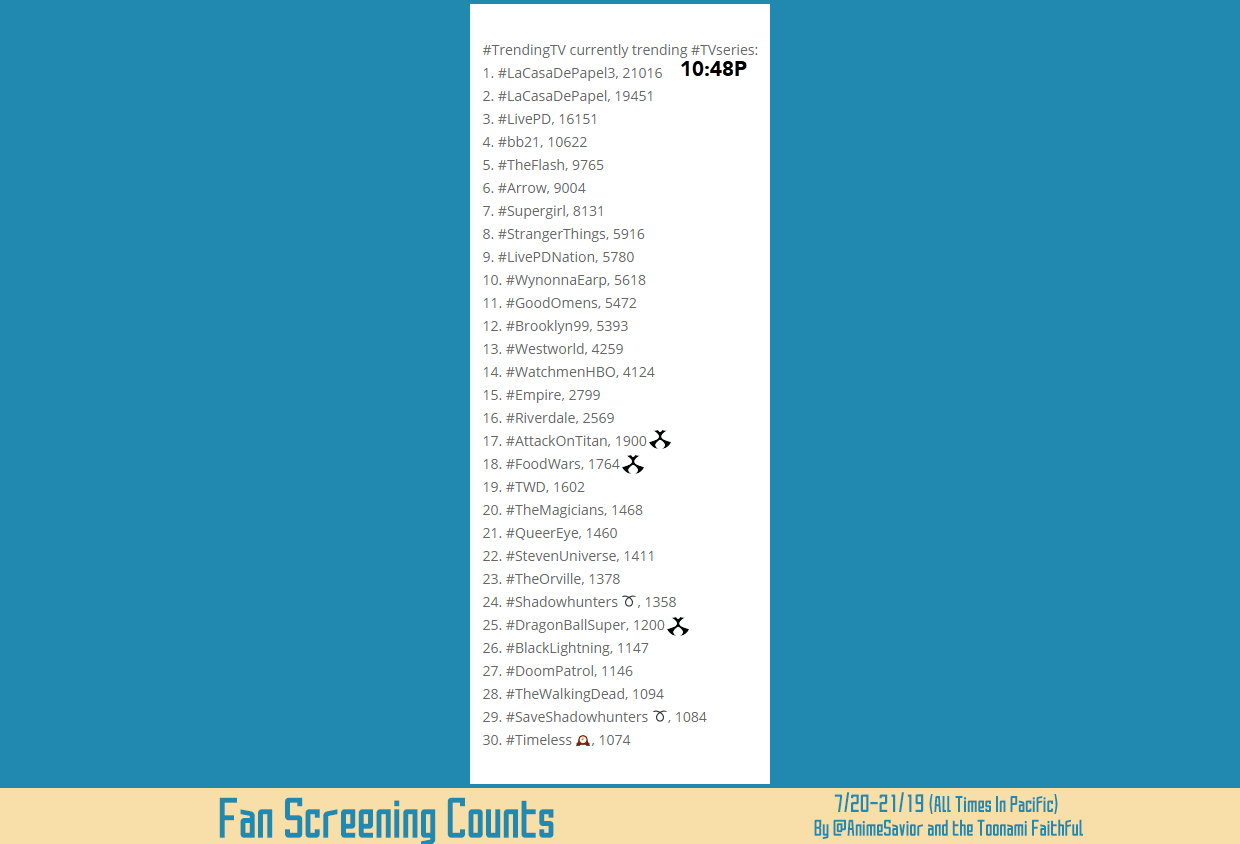 "You see, it's fine. So, don't cry, Kirito. [I'll be with you,] forever and ever. The best of friends."
–          Eugeo, Sword Art Online: Alicization (Ep. 24)
This week's Toonami Trending Rundown is a double-feature for the nights of July 13-14 and 20-21, 2019, as we reach the halfway point for Sword Art Online Alicization. And among other great moments, Kirito manages to defeat Quinella, but at the cost of Eugeo and Alice Zuberg (Alice Synthesis 30 does manage to survive), while Eren learns the truth of the Titans, and Soma enrolls at Totsuki Saryo Culinary Institute.
For the night of July 13, #Toonami every show except for My Hero Academia would successfully trend in the US on Twitter in some capacity alongside character trends of Erina (as she judged Soma's skills in his attempt to join the academy) and Mitsuki (as we looked a bit into his past), while #Toonami also trended on tumblr.
For the night of July 20, #Toonami would trend in the US on Twitter alongside Lupin, Food Wars, both Naruto shows, and Gundam. #Toonami and #AttackOnTitan also trended on tumblr. The full list including statistics and tweet counts from the twitter app and Amr Rahmy's Fan Screening analytics app can be seen below.
---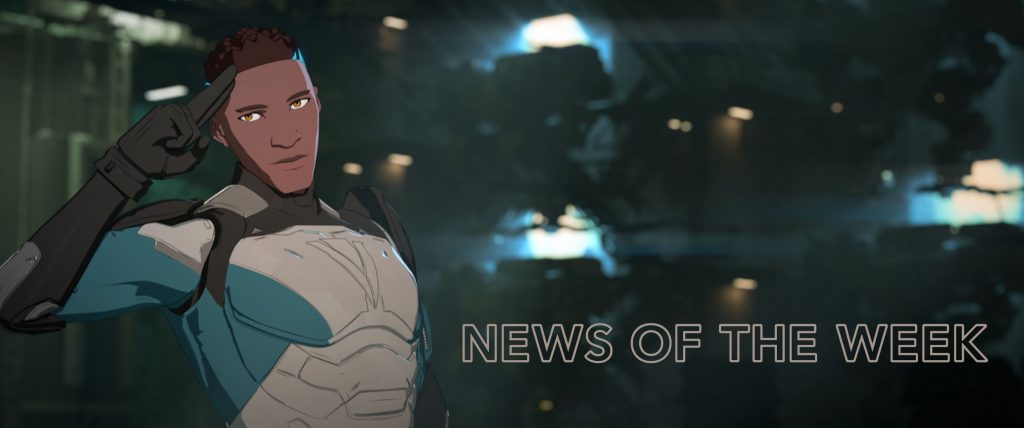 This week, I was in San Diego Comic-Con to get you all the news that relates to the better cartoon show. Some of the notable news from the week include:
During Preview Night, Sean Schemmel led hundreds of DBZ fans to attempt a Guinness World Record attempt of a record amount of people performing a Kamehameha. Representatives from the Guinness Book of World Records where there to accredit the event as the official count in the end was 784 fans successfully performing the attempt, beating the previous record of 250.
Ka-me-ha-me-HA!!! New record: Most people performing a Dragon Ball Kamehameha: 784. Congratulations to Dragon Ball World Adventure (USA) at San Diego @Comic_Con International 🔥 pic.twitter.com/gNSdPXXVa4

— GuinnessWorldRecords (@GWR) July 18, 2019
During the My Hero Academia panel, Funimation and IGN released the English Dub trailer for the highly anticipated 4th season of My Hero Academia, which you can see below. Fans that attended the panel also saw some preview clips of the first episode, unlike the fans at Anime Expo, which got to see the full episode. Regardless, all i can say is you're all gonna really like what this great franchise has in store next.
Rooster Teeth's first contribution to the better cartoon show will be gen:LOCK, and Toonami released the promotional trailer for the TV premiere of this web original series. The show will premiere on August 10, a week after Attack on Titan completes its 3rd season.
And of course, let's get to the big news of these last few weeks…
---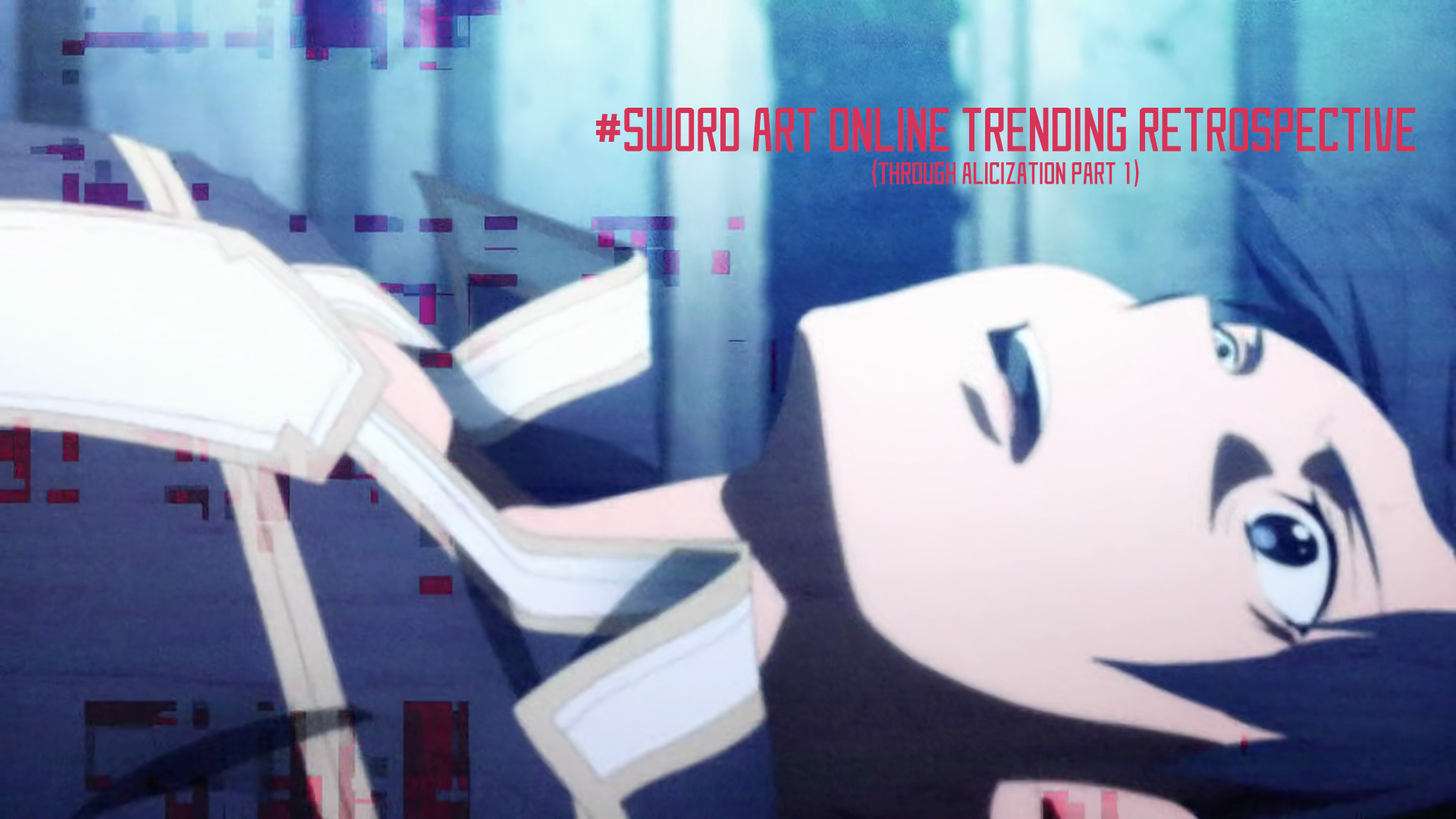 Eugeo: I guess, this is for the best, huh?
Alice: It is. We can leave the rest for those two now. I'm sure they'll guide the world in the right direction.
Eugeo: Okay. We'll then, you ready?
Alice: Yes…
You all probably heard me saying plenty of this season of Sword Art Online, with the SAO section in my AX 2018 article, my SAO season 3 preview article, my Episode 10 editorial, my AX 2019 article coming soon, and so forth, so we'll just cut to the chase. During the run of Part 1 of Alicization, the hashtag #SwordArtOnline trended on Twitter during 21 weeks of its run, including in the US during 20 weeks. #SwordArtOnlineAlicization also trended in the US during 8 separate occasions. The show also produced 4 different character trends with Kirito in 4 different weeks, Asuna in week 1, Shino in week 1, and Eugeo in Episode 21. And the show produced a count during all 24 weeks of season 1 on Fan Screening.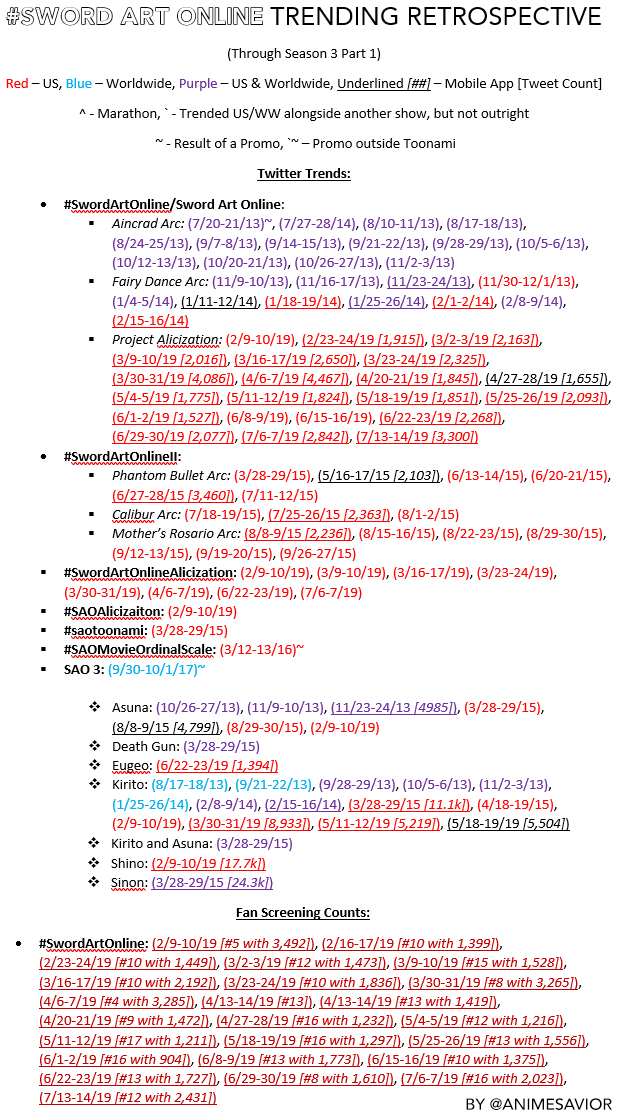 With all 24 episodes so far of Sword Art Online season 3 now completed, the show is presently now in a hiatus, scheduled to continue in Japanese airwaves beginning this October. During the Anime Expo panel, Aniplex revealed a trailer for the upcoming second half of Project Alicization, which you can see below.
Another trailer was also released just this week alongside a key visual, which is yet to be translated by Aniplex, but has been translated and captioned, which you can also see below.
Dub-wise, neither Toonami nor Aniplex have yet to reveal their plans for airing the second half as of now, though if the premiere pattern is assumed to be the same as with the first half, we should see SAO return to Toonami with new episodes around February 2020.
In the meantime, many other shows await their turn to get on the better cartoon show, and we just learned what will be taking SAO's place as it goes on its break…
---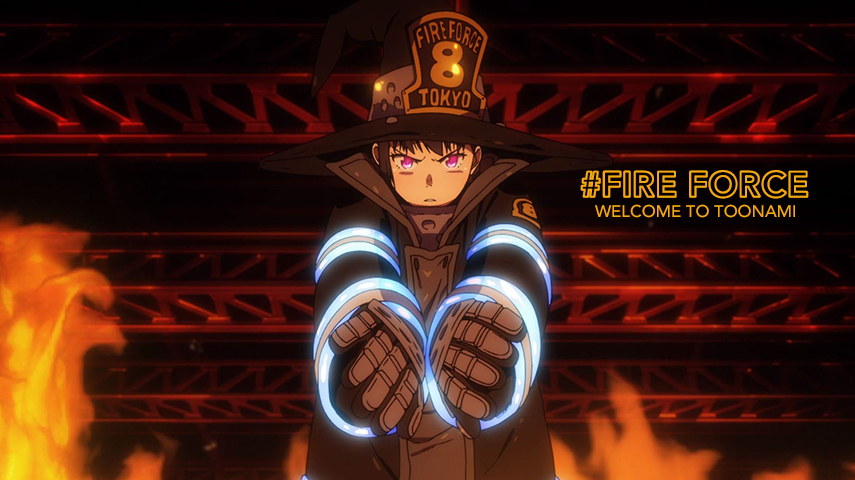 I was personally a big fan of Soul Eater when the show aired on Toonami back in 2013, and considering that show was a big hit among the Toonami Faithful, it probably comes at no surprise that Toonami picked up the creator's newest hit as well.
Created by Atsushi Okubo, the creator of Soul Eater, and animated by David Production, the animation studio behind JoJo's Bizarre Adventure, Fire Force will premiere this Saturday at 12:00 am Eastern. The rest of the block will continue on their regular scheduled time-slots for at least a week, as gen:LOCK's spot on the schedule is yet to be revealed.
Fire Force is one of Funimation's Simuldubs, dubs which have been released at the same time or several weeks after the Japanese broadcast, joining the likes Attack on Titan, Black Clover, and Dimension W in doing so. Fire Force was premiered in Anime Expo, and our friend and media partner Siddharth "LumRanmaYasha" Gupta created a review of it, which you can see by clicking here.
Anime News Network describes Fire Force as this:
In the year 198 of the Age of the Sun, Tokyo is a crowded cosmopolis. But the world's most populous city is threatened by devils that cause people to burst into flame at random. The only ones who can stop it are the Pyrofighters, a team of specialized firefighters. The young Shinra, blessed with the ability to ignite his feet and travel at the speed of a rocket, wants nothing more than to be a hero, and knows that this is the place for him. But he's not the best at following orders.
---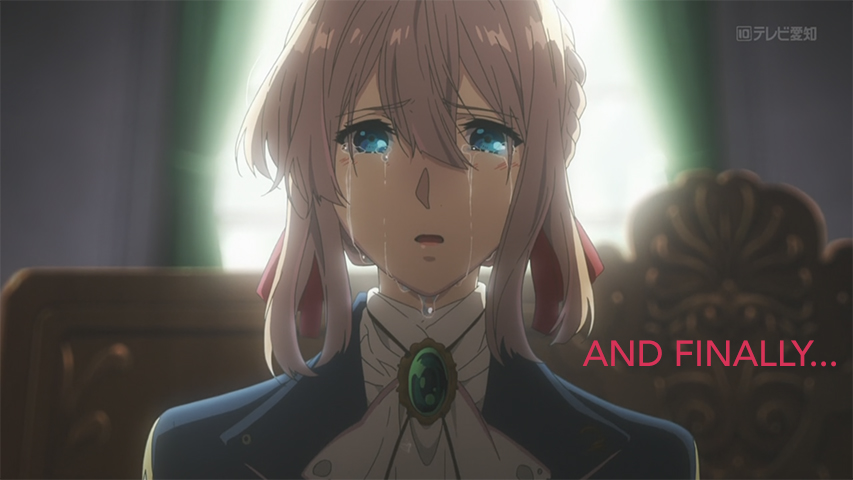 Somber news from Kyoto last Wednesday, as Kyoto Animation's Studio 1 was set ablaze by an arsonist and quickly became one of Japan's deadliest massacres since the end of World War II. 34 people have lost their lives from this attack, with another 35 people suffering significant injuries, and many of their production materials have been lost to history. The perpetrator has been arrested by police.
The events have shocked Japan and the entire anime community and while Kyoto Animation has yet to have a show air on the better cartoon show, as KyoAni focuses on slice-of-life stories compared to the primarily action-oriented stories Toonami airs, many of us are still gutted from this catastrophe just the same. My colleagues have made a separate article about KyoAni's impact to the anime community and loss.
Out of sympathy for the victims, Episode 3 of Fire Force was held off for a week on both Japanese broadcasts and streaming. This is not expected to affect the Toonami broadcast since it didn't go beyond a week, but if it did, Jason DeMarco says they will deal with the delays if they have to.
For those who want to donate to KyoAni's recovery efforts, Sentai Filmworks, a licensor of many of their works, has set up a GoFundMe, which has over 2 million dollars' worth of donations so far. Eleven Arts, who distributes some of their films, has asked fans to create and send them origami cranes, as the Japanese tradition of creating One Thousand Origami Cranes to bring a symbol of good luck, happiness, and recovery from illness and injury.
Our thoughts and prayers continue to go to the victims, their families, Kyoto Animation and the anime industry as a whole, as they continue trying to get through this.
---
Legend: The shows listed are ordered based on their appearance on the schedule. Show trends are listed in bold. The number next to the listed trend represents the highest it trended on the list (not counting the promoted trend), judging only by the images placed in the rundown. For the Twitter tweet counts, the listed number of tweets are also sorely based on the highest number shown based on the images on the rundown.
July 13-14, 2019
United States Trends:
#Toonami [#2]
#DragonBallSuper [#25]
#AttackOnTitan [#23]
#SwordArtOnline [#23]
#LupinThe3rd [#16]
#FoodWars [#6]
Erina (From Food Wars) [#18]
#BlackClover [#25]
#Boruto [#21]
Mitsuki (From Boruto) [Trended with #Boruto]
#Shippuden [Trended with #Toonami]
#GundamTheOrigin [Trended with #Toonami]
Tweet Counts:
#Toonami [7,446 tweets]
#DragonBallSuper [4,798 tweets]
#AttackOnTitan [4,540 tweets]
#SwordArtOnline [3,300 tweets]
#LupinThe3rd [1,429 tweets]
#FoodWars [3,180 tweets]
Erina (From Food Wars) [5,477 tweets]
#BlackClover [1,511 tweets]
#Boruto [3,596 tweets]
#Shippuden [6,738 tweets]
Fan Screening Counts:
#DragonBallSuper [#8 with 3468 tweets]
#AttackOnTitan [#9 with 3315 tweets]
#SwordArtOnline [#12 with 2431 tweets]
#LupinThe3rd [#14 with 1168 tweets]
#FoodWars [#11 with 2542 tweets]
#Boruto [#13 with 1459 tweets]
#GundamTheOrigin [#24 with 615 tweets]
#MyHeroAcademia [#13 with 1533 tweets]
Tumblr Trends:
Notes and Other Statistics:
July 20-21, 2019
United States Trends:
#Toonami [#12]
#LupinThe3rd [#20]
#FoodWars [#25]
#Boruto [#24]
#Shippuden [Trended with #GundamTheOrigin]
#GundamTheOrigin [#14]
Tweet Counts:
#Toonami [4,288 tweets]
#LupinThe3rd [1,253 tweets]
#FoodWars [2,626 tweets]
#Boruto [3,981 tweets]
Fan Screening Counts:
#DragonBallSuper [#25 with 1200 tweets]
#AttackOnTitan [#17 with 1900 tweets]
#FoodWars [#18 with 1764 tweets]
Tumblr Trends:
#Toonami
#Attack on Titan
Notes and Other Statistics:
Special thanks to @MikeMorse1017, @myanimewaifu, @sdurso5, and others I forgot to mention for spotting some of the trends on this list.
Stay Cool. Only Toonami on [adult swim] on Cartoon Network.
Toonami Tweets of the Night for July 13-14, 2019