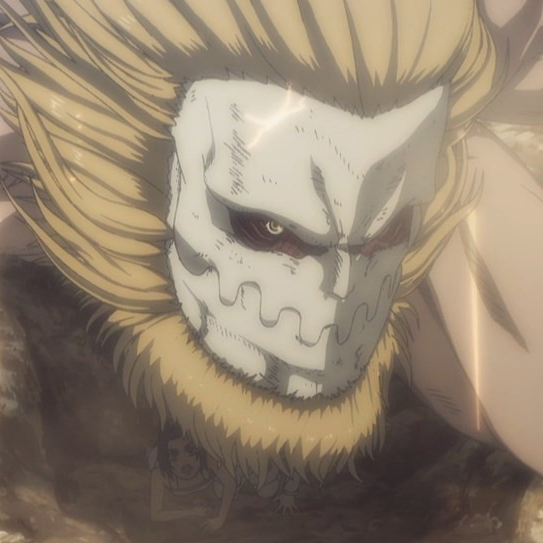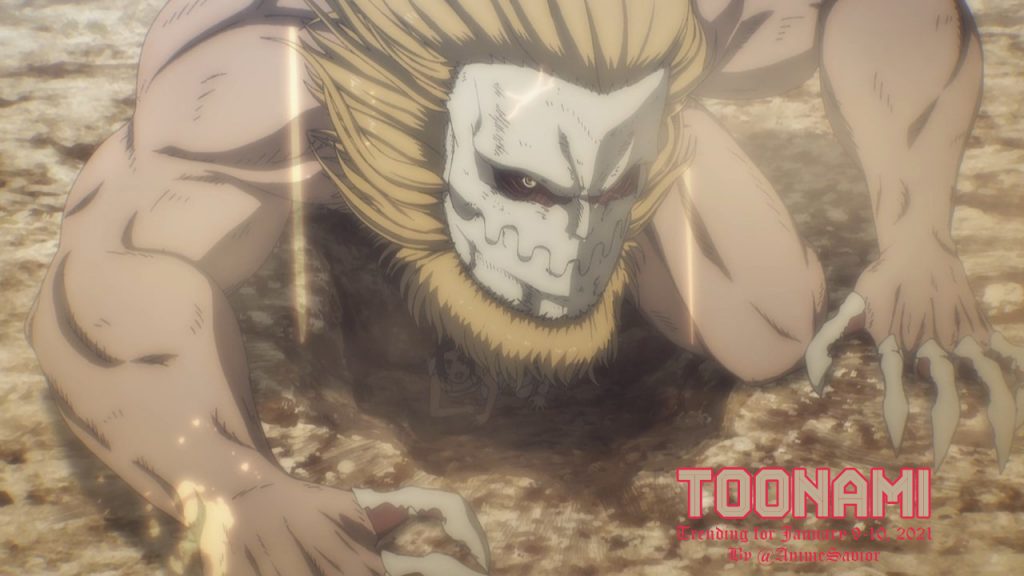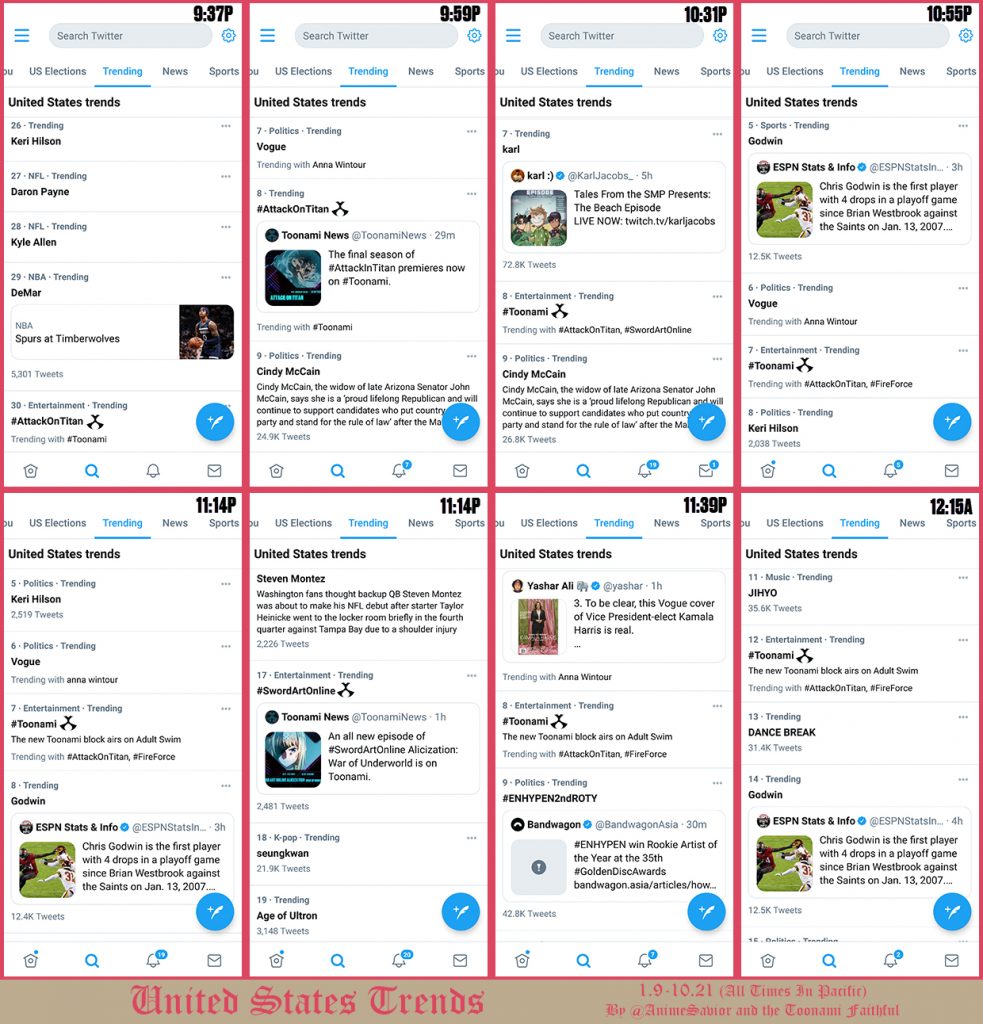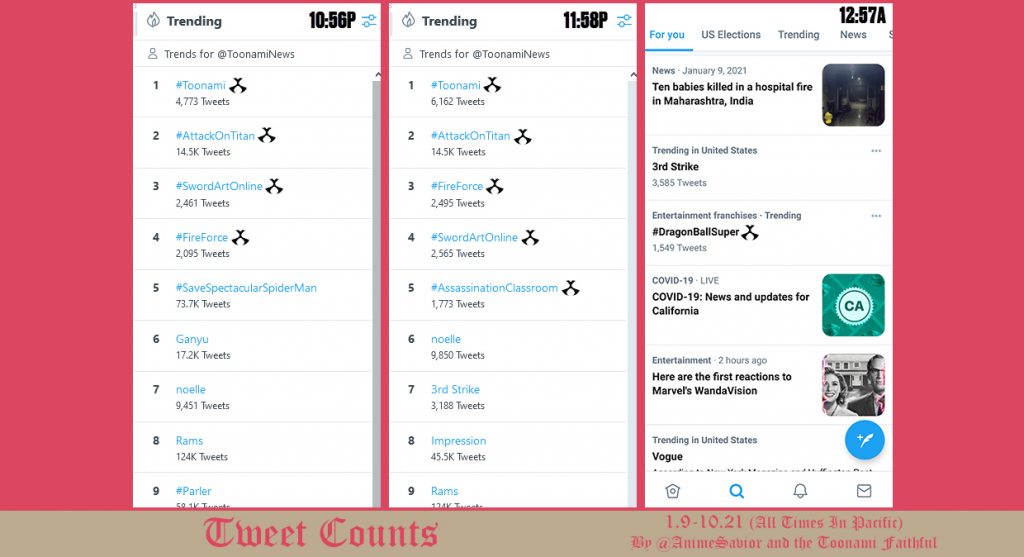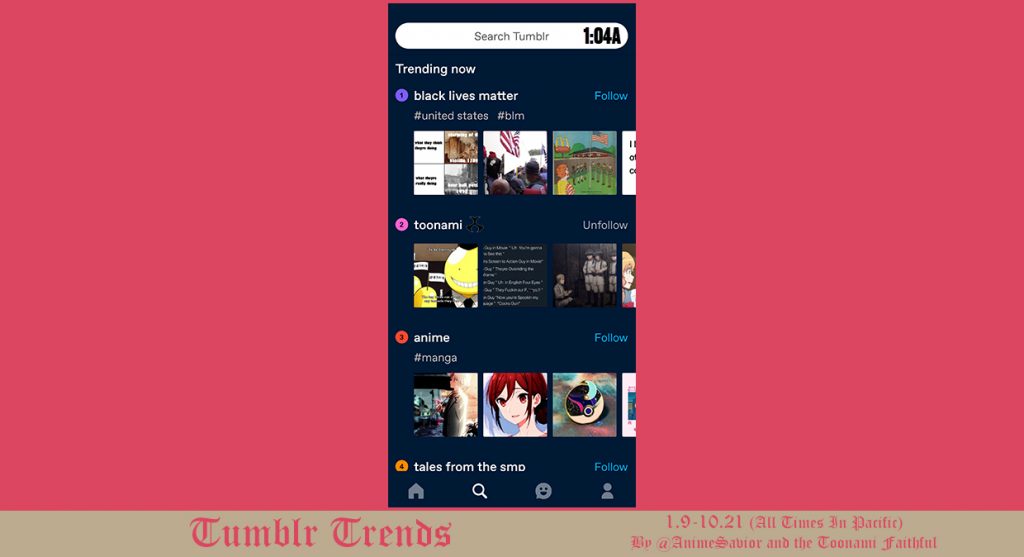 "Another wall. I'm sick and tired of all these walls."
–          Reiner, Attack on Titan (Ep. 60)
The Toonami Trending Rundown for Jan. 9-10, 2021. After a one-and-a-half-year hiatus, Attack on Titan returned to the Saturday night lineup to begin its highly anticipated fourth and final season. The show kicked things off with the Marley story arc. Meanwhile, fans bid farewell to Gemusetto Death Beat(s) for now, as viewers enjoyed the season's final two episodes.
Regarding Toonami's social media buzz, #Toonami would trend in the United States on Twitter alongside Attack on Titan, Sword Art Online, and Fire Force. #Toonami would also trend on Tumblr. The full list, including statistics and tweet counts from the Twitter app, can be seen below.
---

This week's feature was a new music video for "Jumpin Out" by Lousho and Cochise and animated by Ben Clarkson.
Dr. Stone fans are once again getting excited as the second season premiered in Japan this Thursday morning. Whether the English dub will rejoin Toonami much like the previous season did, is still uncertain. The first season made its Adult Swim debut a month and 19 days after the Japanese premiere. However, with COVID-19 continuing to cause delays in anime productions, fans will likely need to wait longer for everyone's favorite scientist to make his return. In the meantime, fans can check out the simulcast on Crunchyroll and FunimationNow. And of course, it doesn't hurt to send any show requests to Toonami's Facebook page or by directly messaging Jason DeMarco through his Ask.fm page or Twitter (@Clarknova1). We also recommend letting Funimation know through their respective social media outlets.
Tune in Saturday for the television premiere of SSSS.Gridman, among other great moments. Until next week, stay safe, be sure to visit blacklivesmatters.carrd.co to see what you can do to help the fight against social inequality, and continue to do your part to stop the spread of COVID-19 and protect others by following your local health advisories. Stay at home unless essential purposes require you to go out, practice social distancing by staying six feet/two meters away from one another if possible, and wash your hands thoroughly for at least 20 seconds.
---
Legend: The shows listed are ordered based on their appearance on the schedule. Show trends are listed in bold. The number next to the listed trend represents the highest it trended on the list (not counting the promoted trend), judging only by the images placed in the rundown. For the Twitter tweet counts, the listed number of tweets are also sorely based on the highest number shown based on the images on the rundown.
United States Trends:
#Toonami [#7]
#AttackOnTitan [#8]
#SwordArtOnline [#17]
#FireForce [Trended with #Toonami]
Tweet Counts:
#Toonami [6,162 tweets]
#DragonBallSuper [1,549 tweets]
#AttackOnTitan [14.5k tweets]
#SwordArtOnline [2,565 tweets]
#FireForce [2,495 tweets]
#AssassinationClassroom [1,773 tweets]
Tumblr Trends:
Notes and Other Statistics:
Only Toonami on [adult swim] on Cartoon Network.
Tweets of the Night is coming soon.
Did you enjoy this week's Toonami? Let us know by commenting below or directly on our social media. And be sure to follow us on @ToonamiNews and subscribe to our podcast on Soundcloud for future content and breaking news updates.