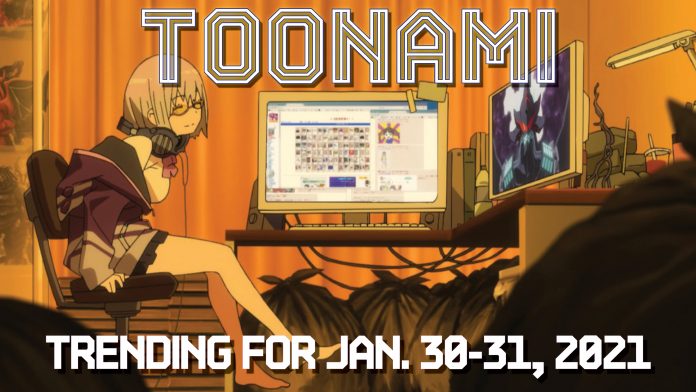 This week on Toonami, fans enjoyed a stellar anime line up that not only provided treats for the eyes but also gut-punches right in the feels. With the Sword Art Online: Alicization -War of Underworld- season finale looming on the horizon, fans were chomping at the bit throughout the week to know what would be replacing it.
#Toonami consistently trended high in the Entertainment category on Twitter's Explore page in the U.S., and it would later trend with #AttackOnTitan and #FireForce. #SwordArtOnline, #AssassinationClassroom, and #SSSSGridman also trended in the same category. The phrases "Falco," "Asuna," and "Kirito" trended during their respective shows.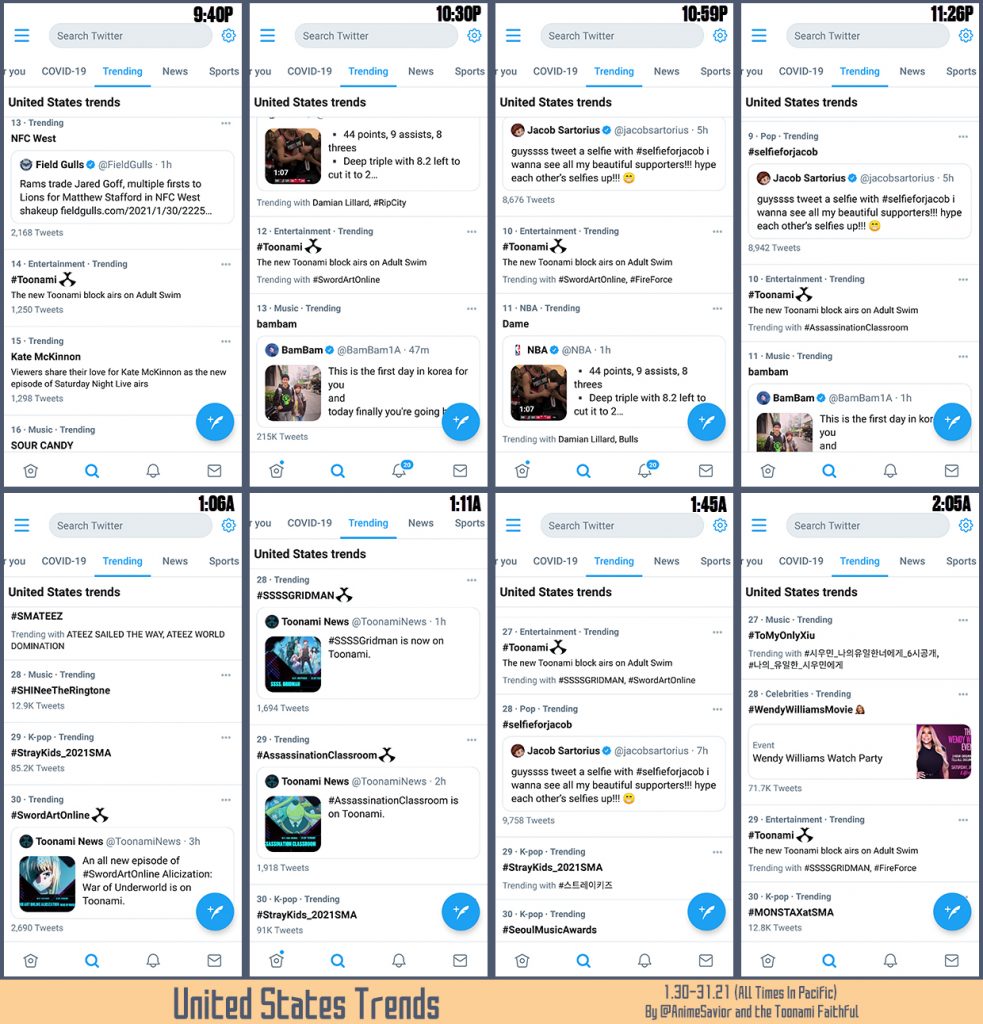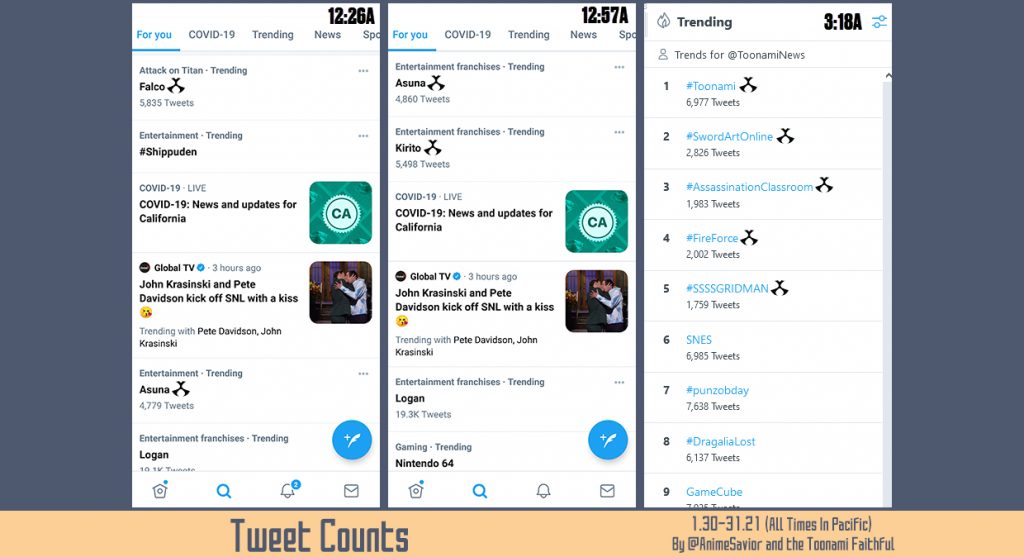 Legend: The shows listed are ordered based on their appearance on the schedule. Show trends are listed in bold. The number next to the listed trend represents the highest it trended on the list (not counting the promoted trend), judging only by the images placed in the rundown. For the Twitter tweet counts, the listed number of tweets are also sorely based on the highest number shown based on the images on the rundown.
United States Trends:
#Toonami [#10]
#AttackOnTitan [Trended with #Toonami]
#SwordArtOnline [#30]
#FireForce [Trended with #Toonami]
#AssassinationClassroom [#29]
#SSSSGridman [#28]
Tweet Counts:
Toonami/#Toonami [6,977 tweets]
Falco (From Attack on Titan) [5,835 tweets]
#SwordArtOnline [2,826 tweets]
Asuna (From Sword Art Online) [4,860 tweets]
Kirito (From Sword Art Online) [5,498 tweets]
#FireForce [2,002 tweets]
#AssassinationClassroom [1,983 tweets]
#SSSSGridman [1,759 tweets]
Notes and Other Statistics: #Toonami: @WhoTrendedIT reported that @MikeMcFarlandVA and @blumspew are responsible for the show trending in the United States.

During Toonami, a trailer aired for an animated non-canonical Total Immersion Event called Cosmo Samurai. The trailer features a heavily damaged TOM 3 floating in space surrounded by debris, apologizing to SARA as he faces what seems to be his end. The first part of the event airs on Feb. 6, 2021, at midnight during Toonami. Further details about the event have been reported by Toonami Faithful.
The music video for Chad VanGaalen's song "Samurai Sword" premiered during Toonami. It is animated by the artist himself and ends with a special dedication note to his father. VanGaalen noted in the YouTube description that he packed the video with Easter eggs from his previous works, and he has challenged viewers to identify as many as they can for a chance to win a special prize pack from his studio.
Toonami announced on their Facebook page that Black Clover is returning to the block on Feb. 13, at 2:00 a.m. and bringing a slight schedule shift with it. Assassination Classroom will be moving up to 1:00 a.m., and Fire Force returns to its original time slot at 1:30 a.m. However, Black Clover was still making headlines as the following day, the official Japanese Twitter account for the series announced that the final episode will air on March 30, 2021, in Japan. The post also teased at a special announcement following the broadcast of the last episode. Further details about Black Clover's return can be found in Toonami Faithful's report here.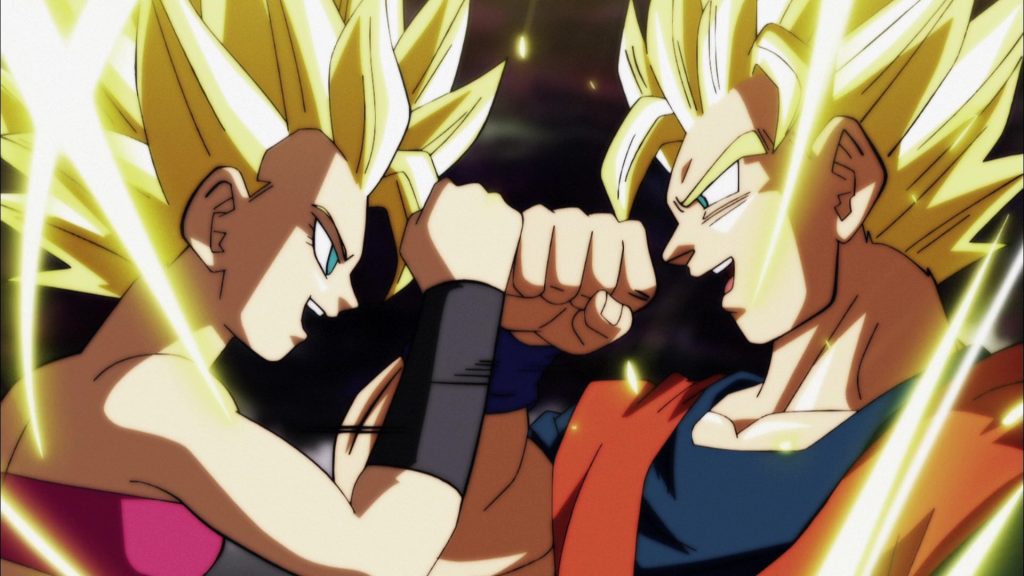 In Dragon Ball Super, the Saiyans from Universes Six and Seven face each other in the Tournament of Power. Caulifla brawls with Goku to test his power level and learn his secrets, but Kale goes berserk when she is overcome with jealousy over Goku's attention to her sister. Attack On Titan reunites Reiner and Eren during Willy Tybur's festival in the internment zone. Here, ambassadors, soldiers, and civilians alike gather to hear Tybur's plan to take on the Titans in Paradis. For more gritty details from this week's episode, be sure to check out the in-depth episode review from Toonami Faithful staff writer Umeko.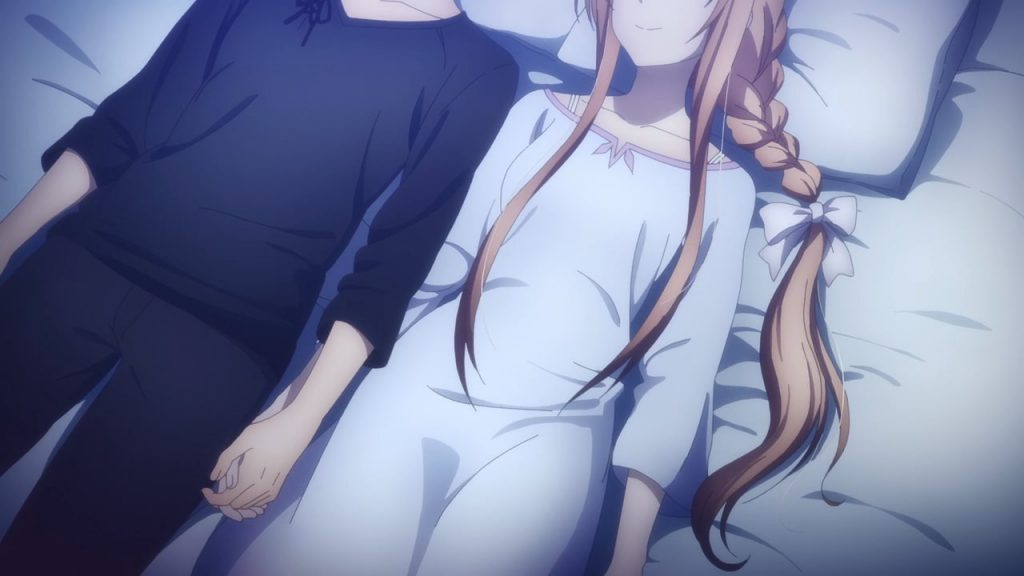 Alice is revealed as the first autonomous Artificial Intelligence during a real-world interview in Sword Art Online: Alicization -War Of Underworld-. Kirito regains consciousness and asks for his and Asuna's memories from their two centuries spent together in Underworld to be erased. Higa obliges but secretly makes a copy of Kirito's memories. Shinra destroys Tempe in Fire Force using one second of Adolla Grace bestowed upon him by the woman in black. Using the information Shinra learned when he traveled back in time, the team deduces that the Evangelist is plotting to instigate a second Great Cataclysm.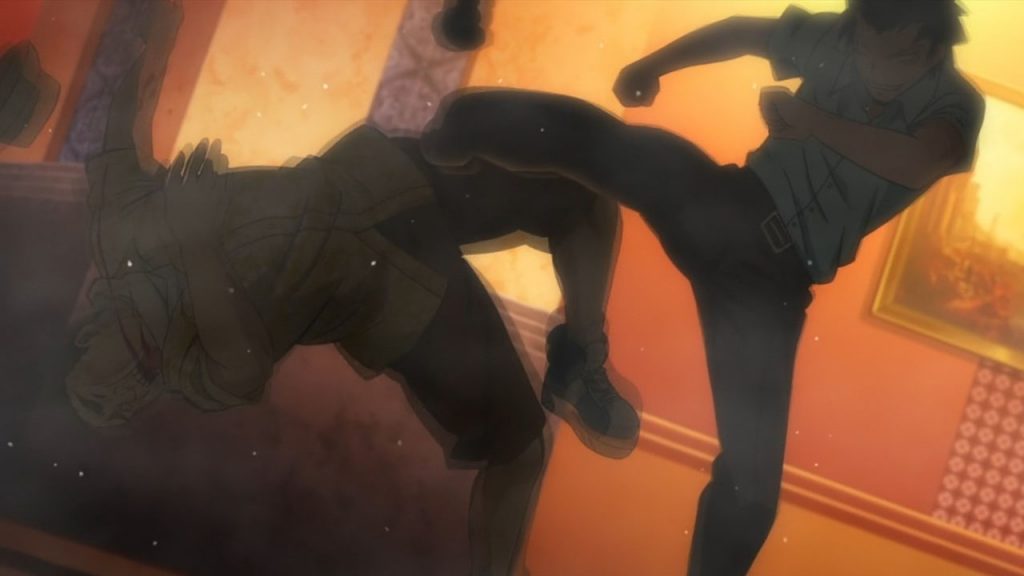 Class E's mission to obtain the antidote for their sick classmates continues in Assassination Classroom, featuring a masterful display of Erina Jelanovic's assassin skills. Koro-sensei and his students finally encounter the mastermind behind the illness, and Karma challenges him to a fight. A new Kaiju Gridnight appears in SSSS.Gridman, who can also show up in a humanoid form named Anti. Yuta and Samurai Calibur fight him as Gridman but are defeated and don't return from the computer. Utsumi and Rikka consider disbanding the Gridman Alliance, thinking their friend is lost forever, until the Neon Genesis Junior High Students arrive, a group of youths who can combine with Gridman like Calibur.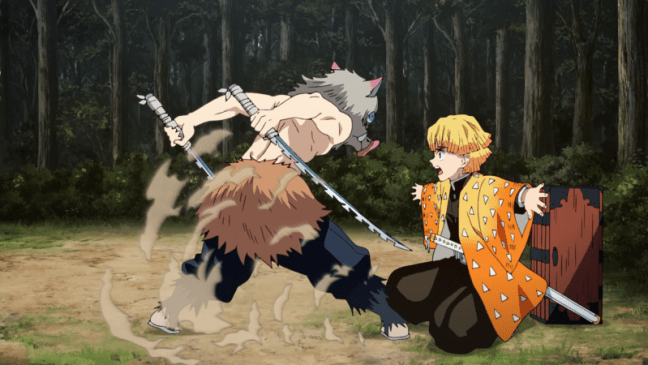 The Four-Tailed Beast swallows Naruto in Shippuden during the battle against Obito's Six Paths of Pain, where he learns that each Beast has a real name. Son Goku advises him to address the Nine-Tailed Beast by that name, Kurama, to build a bond with him and soothe his centuries-long hatred toward humans. Demon Slayer ends the night with Tanjiro defeating Kyogai's blood art technique. Meanwhile, Zenitsu protects Nezuko's box from Inosuke, stating that he must do so because it's more precious to Tanjiro than life itself.

Did you enjoy this week's Toonami? Let us know by commenting below or directly on our social media. You can follow us on Twitter, Instagram, and Facebook. You can listen to the Toonami Faithful Podcast on Soundcloud, iTunes, Spotify, etc. for interviews, discussions, and breaking news updates. Listen at the link below or on your podcast platform of choice:
Celia Rose is a social media manager for ToonamiFaithful.com. Feel free to follow Celia Rose on Twitter @planetstwinkle.