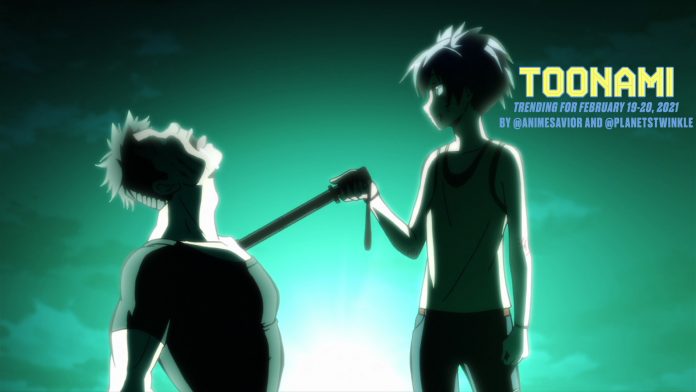 This week Toonami left viewers feeling bittersweet. There was excitement for Food Wars Season Three, which is due to premiere on the block the following week, and disappointment that Assassination Classroom was leaving the block so soon. Hopefully, Koro-sensei and Class 3-E will return in the future, along with the hijinks and heart-warming moments that made them so beloved.
That said, the season finale certainly made an impact on social media, at least on Twitter. #AssassinationClassroom trended in the Entertainment category in the United States, and the phrase "Nagisa" trended with it. #Toonami also trended on Twitter in the US, and on tumblr as well.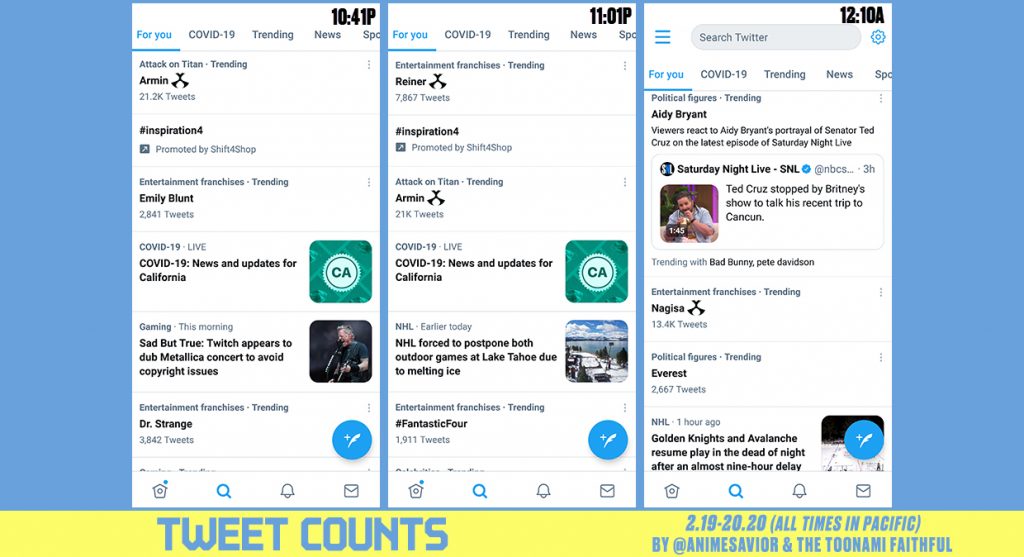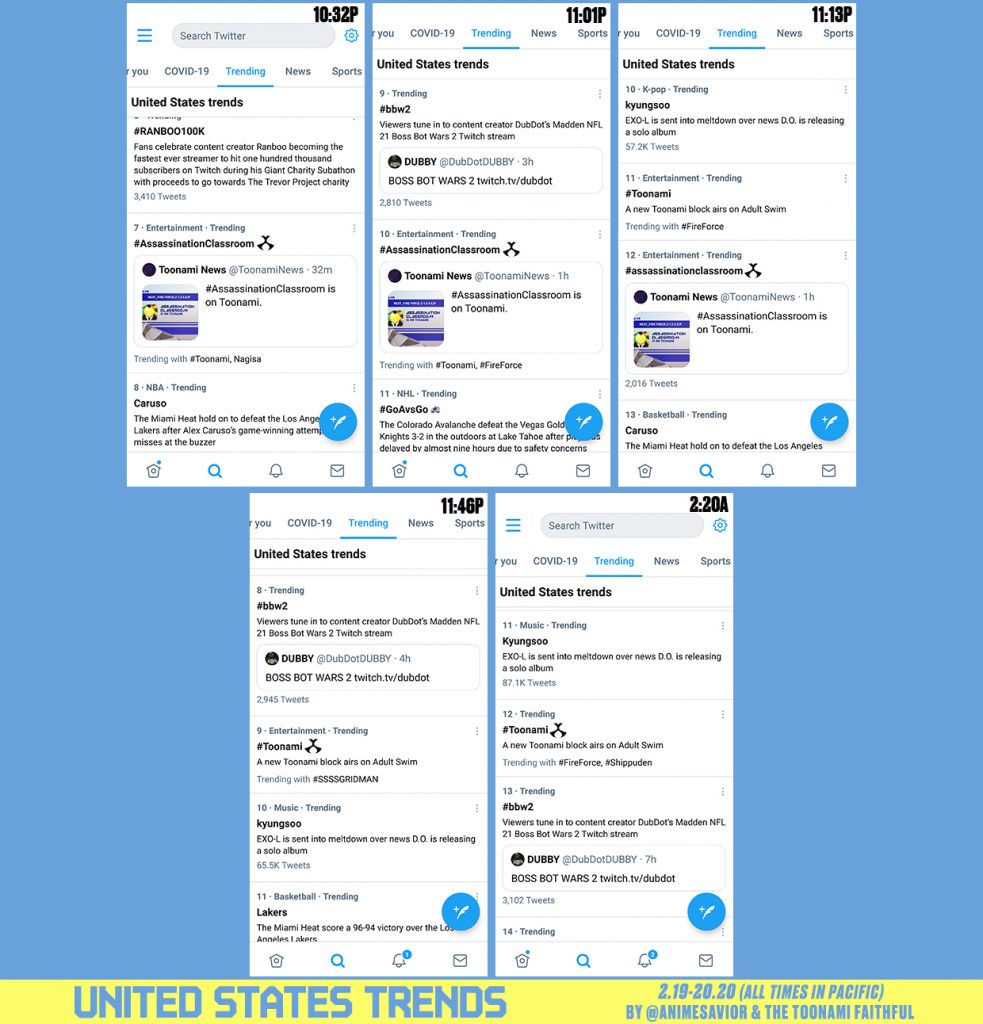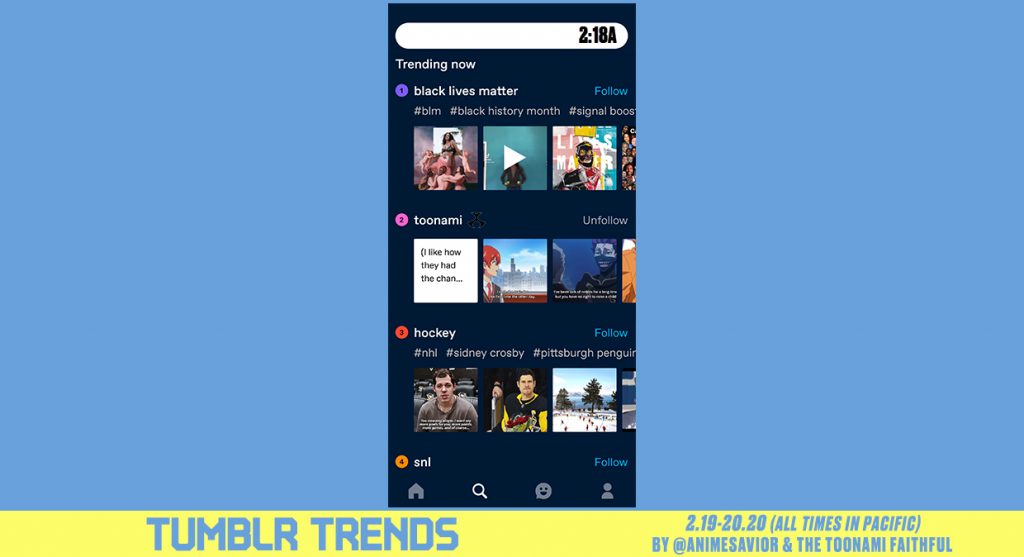 The full list, including statistics and tweet counts from the Twitter app and Amr Rahmy's Fan Screening analytics app, can be seen below.
United States Trends:
Toonami/#Toonami [#9]
#AssassinationClassroom [#7]
Nagisa (From Assassination Classroom) [Trended with #AssassinationClassroom]
#FireForce [Trended with #Toonami]
#SSSSGridman [Trended with #Toonami]
#Shippuden [Trended with #Toonami]
Tweet Counts:
Armin (From Attack on Titan) [21k tweets]
Reiner (From Attack on Titan) [7,687 tweets]
#AssassinationClassroom [2,016 tweets]
Nagisa (From Assassination Classroom) [13.4k tweets]
Tumblr Trends:

On Feb. 22, French electronic music duo Daft Punk released "Epilogue," a video that announced the end of their 28-year music career. Toonami viewers and anime fans may know them best for Interstella 5555, an anime film produced with Leiji Matsumoto that is made up of music videos for songs from their album "Discovery." Parts of Interstella 5555 aired on Toonami in 2001 as part of a special edition of Midnight Run, most notably the music video for "Harder, Better, Faster, Stronger," which premiered during the special. Daft Punk may no longer be making music together, but this intersection of art and music was life-changing for many Toonami viewers, and they will forever hold those memories in their hearts.
Toonami announced on their official Facebook page that the Attack On Titan episode "Assassin's Bullet" will rerun on Mar. 6 due to the recent weather conditions in Texas. The state was hit with a devastating winter storm, leaving thousands of residents without power and water for several days or longer. As a result, the dubbed episodes are taking longer to be produced at Funimation, which is located in Texas. At the time of writing this, Attack On Titan does not seem to be taking an extended break any time soon. Be sure to follow this news story as it develops. Toonami Faithful covered the initial report and will continue to follow if more news follows.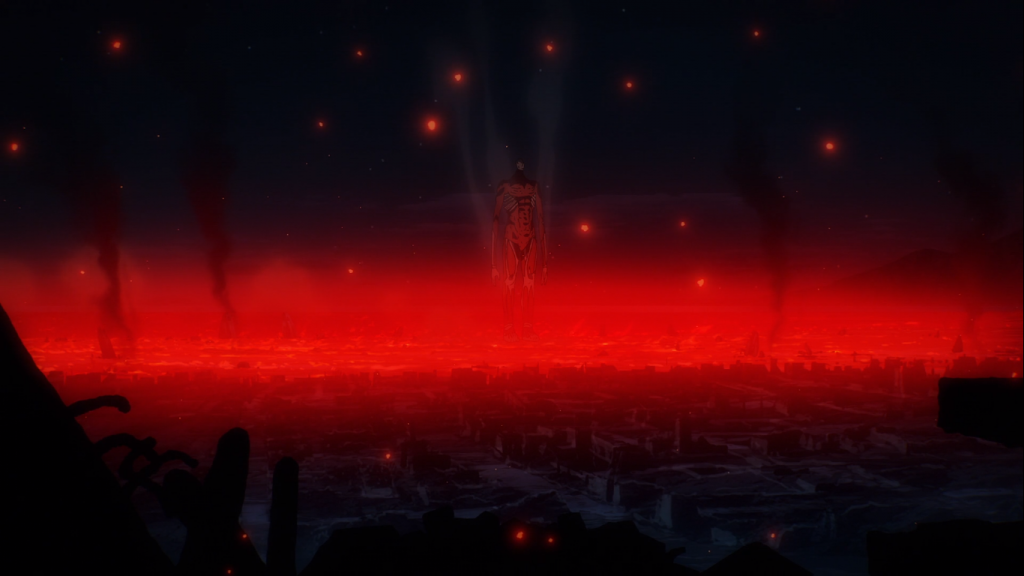 The 10th Universe bites the dust in Dragon Ball Super when Gohan and Piccolo eliminate their last two fighters from the match, making them the first complete Universe elimination in the Tournament of Power. After a vicious fight against the Titan Warriors in Liberio, Eren and the Scouts are victorious in Attack On Titan, successfully destroying the port and taking the War Hammer Titan's power before they begin their return to Paradis. This episode is not for the faint of heart, so be sure to check out Umeko's weekly review for the surprising plot twists and gritty details.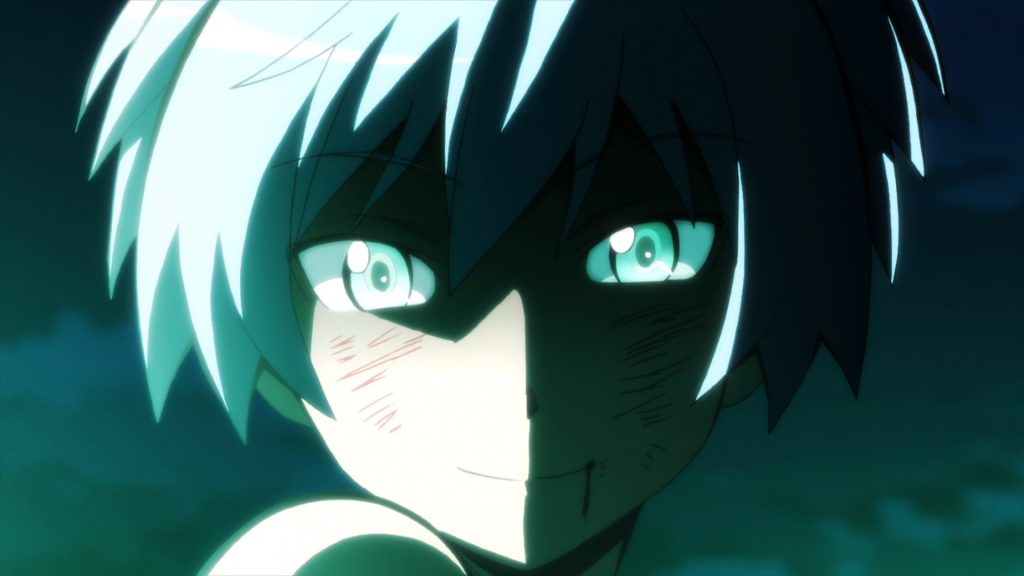 Despite Koro-sensei and his classmates' pleas, Nagisa decides to duel Takaoka in Assassination Classroom's season finale. The fight leaves him badly beaten, but Nagisa tricks Takaoka by emphasizing attention to the knife in his hand so he can attack with a stun gun instead. However, his victory is short-lived, however, when he and his classmates realize that there is not enough antidote to save the infected students. Takaoka's hitmen admit that Class 3-E was never in danger from a deadly virus because they swapped it with a fake one after they learned their boss never planned on sharing the antidote and didn't want to be responsible for killing innocent kids. This week's Fire Force episode, "A Pair of One-Eyes," is aptly named, as Commander Burns and Joker share their experience with the Adolla Link that robbed them each of one eye. Joker also reveals that he believes Hajima Industries is connected to the Evangelist. The head of Hajima Industries later calls upon his spy Victor to give a follow-up report on his last mission and then orders him to capture Shinra for the company.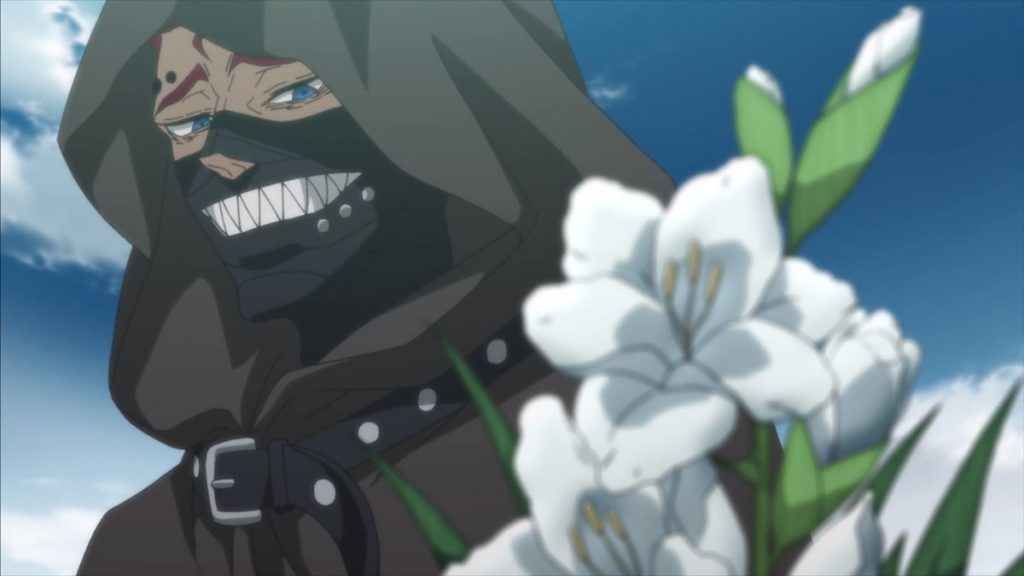 Zora's encounter with Ina, a young boy who wants to become a Magic Knight despite the barrier of his class, sends him on a walk down memory lane in Black Clover. He reflects on his father Zara's journey in becoming the first Magic Knight not born into wealth and nobility. Zora helps defeat a snooty father and son who try to bully Ina into giving up his dreams and even attempt to frame him for theft. In SSSS.Gridman, Akane doubles down on her assertion that Yuta is Gridman. She instructs Anti to kill Yuta, despite his protests that his only target is Gridman himself. She also attempts to draw information from Utsumi about Yuta, but to no avail. The lack of new Kaiju spawning in the area alerts Alexis Kerib that something is wrong with Akane, and he arrives at her apartment building to investigate.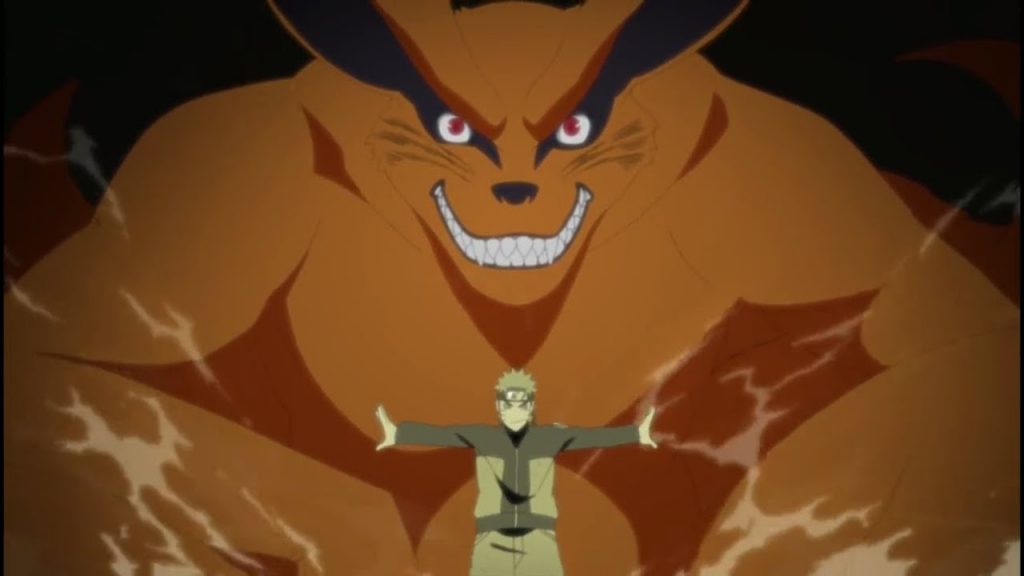 Kurama agrees to share his chakra with Naruto after witnessing the shinobi taking away the chakra receptor from Son Goku's Beast form to free him from Tobi's control in Naruto: Shippuden. To prove his trust, Naruto removes the gate separating him from Kurama, unleashing a level of chakra so strong that Kakashi initially recognizes it as the Fourth Hokage's energy before realizing it's emanating from Naruto. Naruto's new connection with Kurama allows him to converse with the other jinchuriki and beasts without Tobi eavesdropping. They vow to work together so Naruto can free them all from the villain's control. Tanjiro and Inosuke continue their trek through the woods in Demon Slayer as they search for the Mother Spider Demon. Near her hiding place, Mother strengthens her hold on her puppets and wields them haphazardly, fearing the wrath of Father Spider Demon should she fail to eliminate Tanjiro and Inosuke. Eventually, Tanjiro finds her, slaying her with a gentle water-breathing technique that causes her no pain and allows her to die peacefully.

Did you enjoy this week's Toonami? Let us know by commenting below or directly on our social media. You can follow us on Twitter, Instagram, and Facebook. You can listen to the Toonami Faithful Podcast on Soundcloud, iTunes, Spotify, etc. for interviews, discussions, and breaking news updates. Listen at the link below or on your podcast platform of choice:
Celia Rose is a social media manager for ToonamiFaithful.com. Feel free to follow Celia Rose on Twitter @planetstwinkle