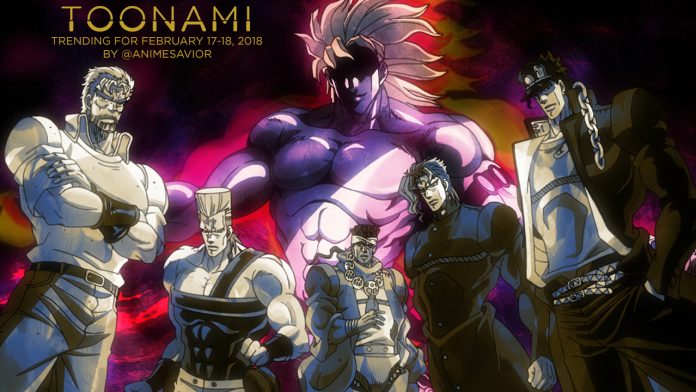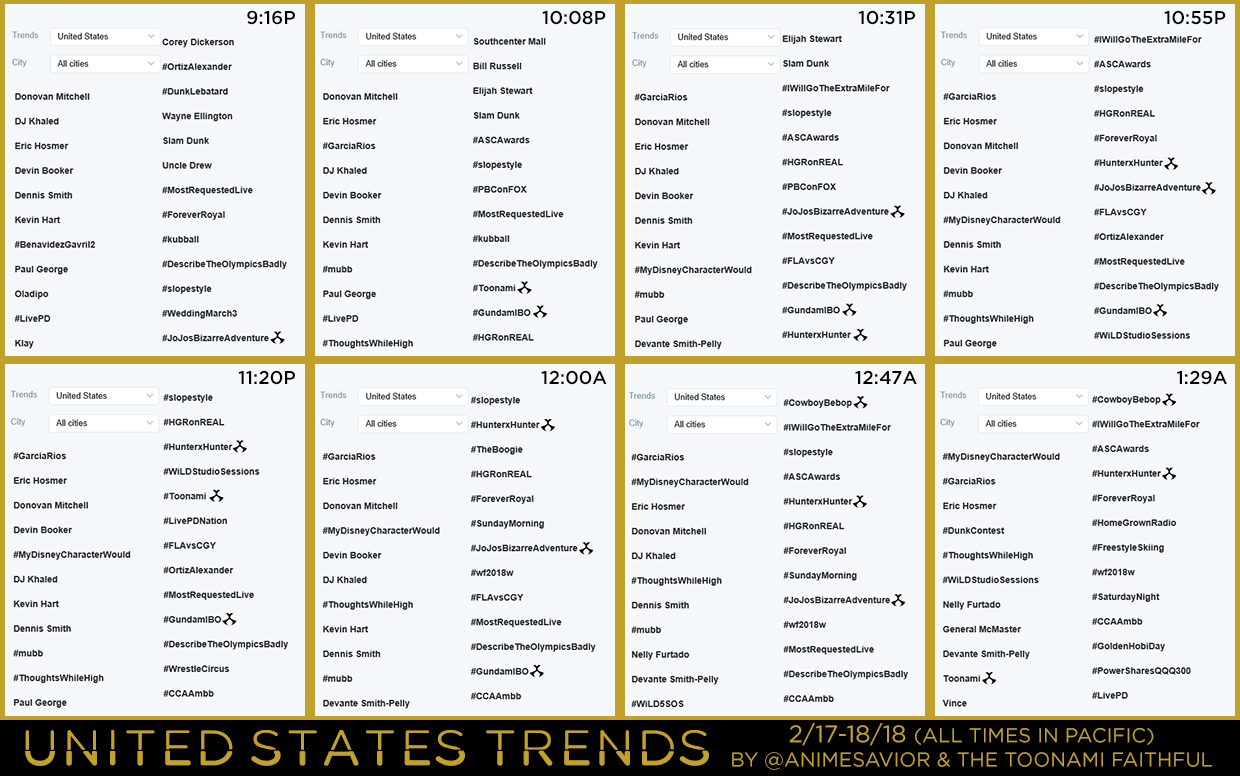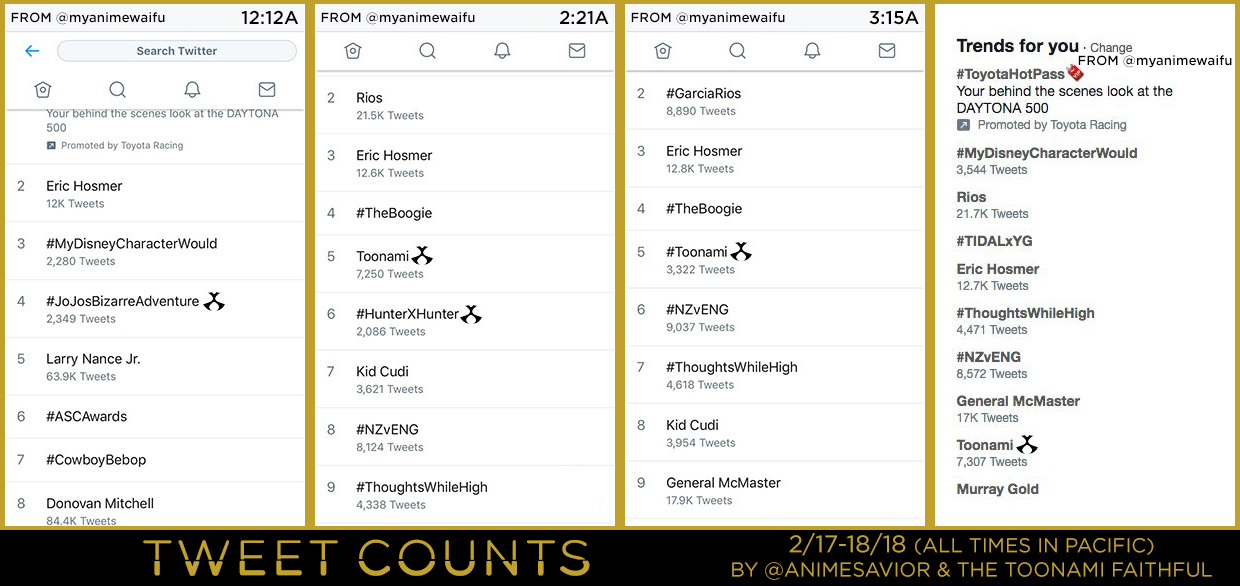 "From what I can gather, it seems that Dio's head hasn't been able to adjust to his new body yet. But that monster would never run from us. He's far too conceited for something like that. He'll do everything within his power to keep us out of Cairo."
–          Joseph Joestar, JoJo's Bizarre Adventure: Stardust Crusaders (Ep. 25)
"Good freakin' grief. We have to take out 9 stand users in 2 weeks, huh? Man, that is one hell of a whirlwind tour."
–          Jotaro Kujo
The Toonami Trending Rundown for February 17-18, 2018. After a several month long journey (or for us, 25 episodes), Jotaro and the gang make it to Egypt in their next step towards stopping Dio before Holy succumbs to his wrath. Meanwhile, among other moments, Trunks and co. devise a way to get to the future and stop Goku Black, while Iok and Jalsey implement their hostile takeover of Teiwaz and Gjallarhorn with the Tekkadan as their next targets, and Neferpitou, Colt, and the Chimera learn to unlock their Nen abilities.
It was a bit of a tough night of trending on twitter due to events relating to the NBA All Star game and the Olympics dominating the trends, with Toonami and only 4 (JoJo's, Gundam IBO, Hunter x Hunter and Cowboy Bebop) shows trending in the US on twitter, while on tumblr, Toonami would trend as well as Dragon Ball Super, JoJo's and Hunter x Hunter.
---

This week's feature was an Anime Music Video edited by Jonny Rej titled "Dispel the Darkness". You can check it out below.
Good news for Hunter x Hunter fans as Viz Media this week has released the dub for the feature film Phantom Rogue on DVD and Blu-ray. Originally premiering in Japanese theaters in January 12th, 2013, this film is an original story in the franchise involving Kurapika in his fight against the Phantom Troupe. The film is available to purchase from major anime selling retailers with the Blu-ray retailing with a $29.98 MRSP and the DVD available with an MSRP of $19.98.
#HunterXHunter: Phantom Rouge. Available 2/20/2018 from @VIZMedia. Review coming soon. pic.twitter.com/3eHnc3rIFs

— Toonami News (@ToonamiNews) February 15, 2018
In Tokyo Ghoul news, it has been announced that Tokyo Ghoul:re, is set to premiere in Japanese television on Tuesday April 3rd. No word yet on Funimation's plans are regarding simulcasting or a potential simuldub, or if Toonami has plans on having the series return for the new season as of now, but we'll keep you posted on those details ahead.
Next week will be an interesting one for Outlaw Star fans, as the infamous "Hot Springs Planet Tenrei" episode will be broadcasted for the first time in US television, among other great moments. See you again next week as always, and let's go Team USA.
---
Legend: The shows listed are ordered based on their appearance on the schedule. Show trends are listed in bold. The number next to the listed trend represents the highest it trended on the list (not counting the promoted trend), judging only by the images placed in the rundown. For the Twitter tweet counts, the listed number of tweets are also sorely based on the highest number shown based on the images on the rundown.
United States Trends:
Toonami/#Toonami [#10]
#JoJosBizarreAdventure (Also during the West Coast airing) [#18]
#GundamIBO [#21]
#HunterXHunter (Also during the West Coast airing) [#13]
#CowboyBebop [#12]
Tweet Counts:
Toonami [7,307 tweets]
#Toonami [3,322 tweets]
#JoJosBizarreAdventure [2,349 tweets]
#HunterXHunter [2,086 tweets]
Tumblr Trends:
#toonami
#dragon ball super
#jojo's bizarre adventure
#hunter x hunter
Notes and Other Statistics:
Special thanks to @myanimewaifu and others I forgot to mention for spotting some of the trends on this list.
Only Toonami on [adult swim] on Cartoon Network.
Toonami Tweets of the Night for for February 17-18, 2018