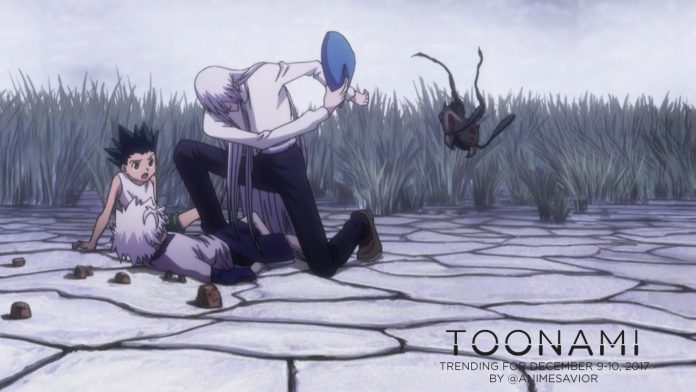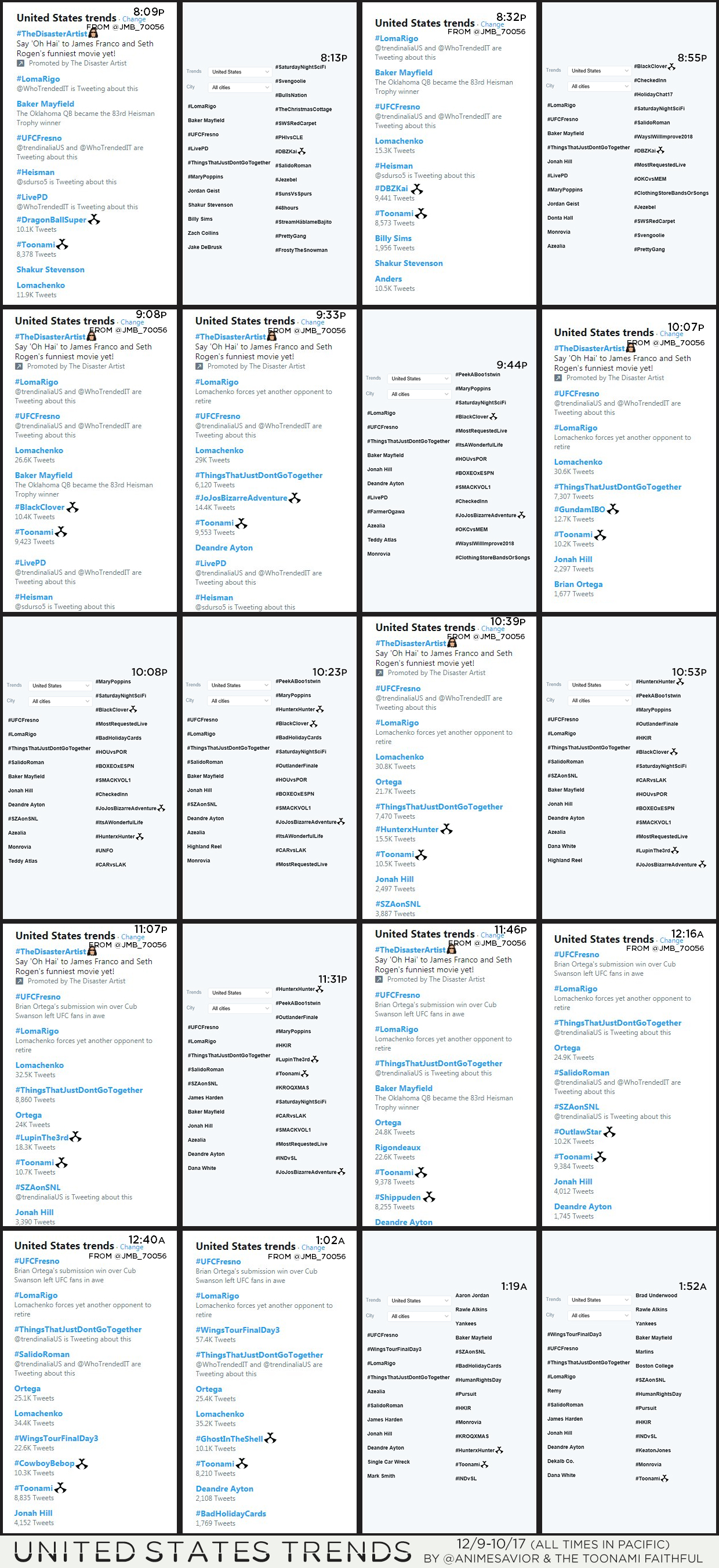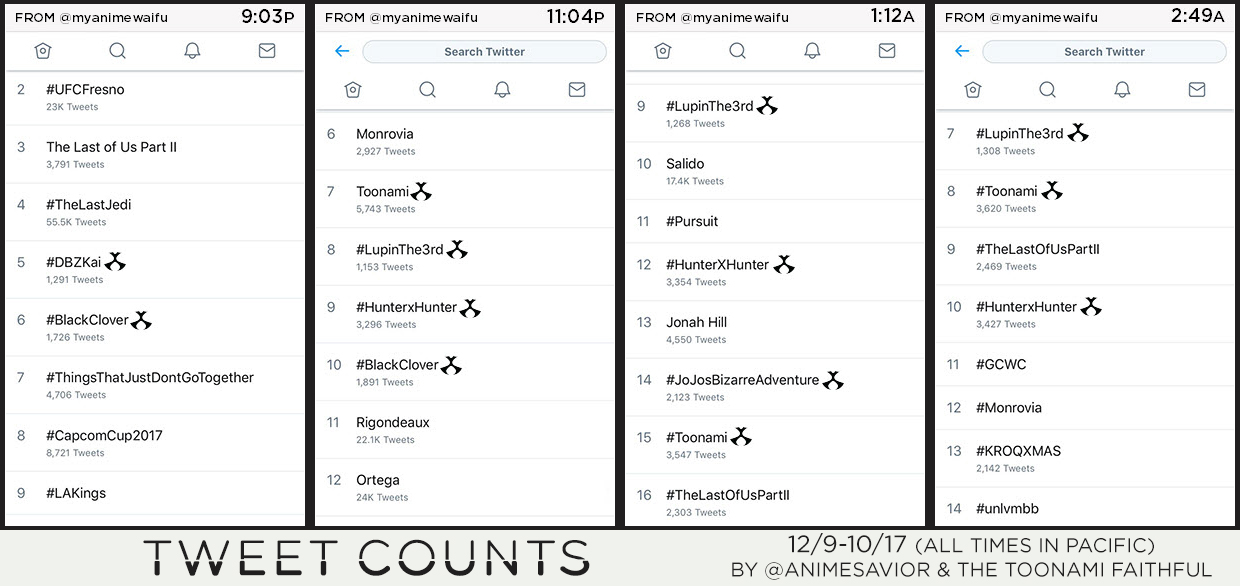 "That was no ordinary ant, it's a Chimera Ant. An aggressive carnivorous insect that has been designated Quarantine Level 1. They even attack humans from time to time. You boys didn't realize it, but you were standing in front of their nest. If I didn't fire the moment I did, an army of Chimera Ants would have consumed the both of you by now."
–          Kite, Hunter x Hunter (Ep. 76)
The Toonami Trending Rundown for December 9-10, 2017. Hunter x Hunter begins the highly acclaimed Chimera Ant arc as Gon and Killua meet Kite, while Buu's evil form awakens, and Jotaro has something to say about Dan's mischef, among other great moments.
On Twitter, every show would successfully trend in the US during their respective East Coast airings, while Hunter x Hunter also trended during their West Coast airings. Toonami and Dragon Ball Super would also trend on tumblr.
---

This week's feature was a game review of the critical acclaimed indie run-and-gunner in Cuphead for the Xbox One. It received a 9 out of 10 score.
In addition, during the commercial break of Naruto, Toonami showcased a new music video for Drowned Beast by the garage rock band Oh Sees. You can check it out below
For those wanting to add Gundam Unicorn to their Blu-Ray collections, Sunrise and Nozomi have been working on a Blu-ray set of all 7 episodes of the OVA series. While individual episodes have previously been available as they have been released simultaneously as Japan, this is the first time a boxset of all 7 episodes has been available for purchase. A release date is set for March 2018 and is available for preorder on Rightstuf with a $64.99 MSRP.
---
Legend: The shows listed are ordered based on their appearance on the schedule. Show trends are listed in bold. The number next to the listed trend represents the highest it trended on the list (not counting the promoted trend), judging only by the images placed in the rundown. For the Twitter tweet counts, the listed number of tweets are also sorely based on the highest number shown based on the images on the rundown.
United States Trends:
Toonami/#Toonami [#6]
#DragonBallSuper [#6]
#DBZKai [#6]
#BlackClover [#5]
#JoJosBizarreAdventure [#5]
#GundamIBO [#5]
#HunterXHunter (Also during the West Coast airing) [#6]
#LupinThe3rd [#6]
#Shippuden [#9]
#OutlawStar [#7]
#CowboyBebop [#8]
#GhostInTheShell [#7]
Tweet Counts:
Toonami [5,743 tweets]
#Toonami [3,620 tweets]
#DBZKai [1,291 tweets]
#BlackClover [1,891 tweets]
#JoJosBizarreAdventure [2,123 tweets]
#HunterXHunter [3,427 tweets]
#LupinThe3rd [1,308 tweets]
Tumblr Trends:
#toonami
#dragon ball super
Notes and Other Statistics:
Special thanks to @mmorse1017, @myanimewaifu, and others I forgot to mention for spotting some of the trends on this list.
Edit 12/23 @ 9:15 pm PST: Added tweet counts submitted late by @myanimewaifu.
Runnin' with the devil. Only Toonami on [adult swim] on Cartoon Network.
Toonami tweets of the night for December 9-10, 2017