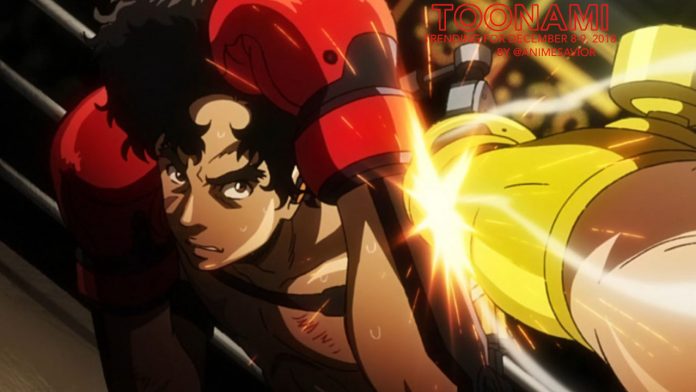 "Hey, Pops? If i said i wanted to stop throwing fights altogether, what would you do?"
–          Joe "Junk Dog", Megalo Box (Ep. 01)
The Toonami Trending Rundown for December 8-9, 2018. One of 2018's smash hit anime titles fights its way to the better cartoon as Megalo Box makes its English Dub debut. And among other great moments, we're introduced to Joe, the Junk Dog who has been throwing his fights for cash, but might be getting his big break to the big leagues, while Josuke and Okuyasu have to bail out Koichi from Rohan's grasps, and we see the finale of Asta and the Black Bull's fight with Vetto.
#MegaloBox would no doubt be the talk of the town on the night as it would make the US trends list along with Hunter x Hunter and Black Clover. Meanwhile on Tumblr, #Toonami would trend along with My Hero Academia and #JJBA. The full list including tweet counts for many shows (including a character trend in Josuke when we learn why he gets angry when people talk bad about his hair) can be seen in the list below.
---

This week's feature was a game review of the critically acclaimed Red Redemption 2. It received a 9 out of 10 score.
For the holiday break, Toonami will once again opt for encore marathons, with 14 episodes of Dragon Ball Super for the Christmas Marathon on December 22 and the first 11 episodes of Boruto for the New Years Marathon on December 29 (with the regular scheduled episodes of Pop Team Epic, Gundam IBO, and Samurai Jack to fill up the night).
Sad news for Ghost in the Shell fans this week, as it has been confirmed that Toonami has lost the bid to air the new Stand Alone Complex series (titled SAC_2045) to Netflix due to high costs, who will be adding the series as a "Netflix Original." This is especially unfortunate for those who wanted to see GITS and the new Blade Runner in the same block, as both are being made at roughly the same time, but as the old saying goes, you can't win em all. Combined with Funimation partnering up with Hulu to give them first dibs to co-distribute new titles (Although the latter's deal mostly involves subs, mainly as a move responding to the Funimation-Crunchyroll split), among other things, some fans have been rather restless to say the least, but Jason has assured everyone that Toonami isn't going anywhere, that they still maintain good relationships with Funimation, Sentai, Aniplex, and Viz Media, and that plans are in place for the future. We'll let you know what those plans are as they're announced, and as Spike Spiegel would say: "whatever happens, happens".
And speaking of Netflix, there have been rumors that Neflix might opt for doing a redub of the original Evangelion series when it joins the service in 2019. Fans have feared of a potential recasting of Spike Spencer, Amanda Winn Lee, and many of the franchises' regulars, and have created a petition in hopes of having them reprise their roles if it were to be needed. If you wish, sign this petition by clicking here as well as let Netflix know.
---

Next week will be the final regularly scheduled Toonami for the year, so make sure to tune in or set your DVRs. Until next week, congratulations to Atlanta United on winning MLS Cup, and Stay Gold.
---
Legend: The shows listed are ordered based on their appearance on the schedule. Show trends are listed in bold. The number next to the listed trend represents the highest it trended on the list (not counting the promoted trend), judging only by the images placed in the rundown. For the Twitter tweet counts, the listed number of tweets are also sorely based on the highest number shown based on the images on the rundown.
United States Trends:
Toonami [#9]
#MegaloBox [#7]
#HunterXHunter [#9]
#BlackClover [#12]
Tweet Counts:
#Toonami [5,060 tweets]
Toonami [8,501 tweets]
#Boruto [2,087 tweets]
#DragonBallSuper [7,503 tweets]
#MobPsycho100 [1,292 tweets]
#MegaloBox [2,742 tweets]
#JoJosBizarreAdventure [2,927 tweets]
Josuke (From JoJos Bizarre Adventure) [1,657 tweets]
#HunterXHunter [1,687 tweets]
#BlackClover [1,944 tweets]
Amr Rahmy Counts:
#MyHeroAcademia [#3 with 3,804 tweets]
#Boruto [#17 with 1,381 tweets]
#DragonBallSuper [#6 with 3,173 tweets]
#MobPsycho100 [#11 with 1,154 tweets]
#MegaloBox [#7 with 1,822 tweets]
#JoJosBizarreAdventure [#13 with 1,413 tweets]
#BlackClover [#13 with 2,383 tweets]
Tumblr Trends:
#Toonami
#My Hero Academia
#JJBA
Notes and Other Statistics:
Special thanks to @AmrRahmy, @myanimewaifu and others I forgot to mention for spotting some of the trends on this list.
See You, Space Cowboy. Only Toonami on [adult swim] on Cartoon Network.
Toonami Tweets of the Night for December 8-9, 2018