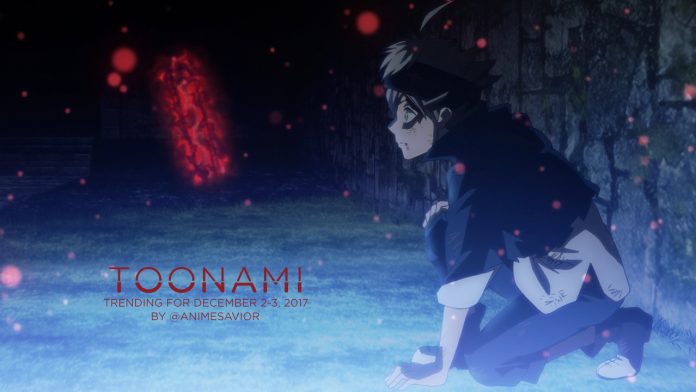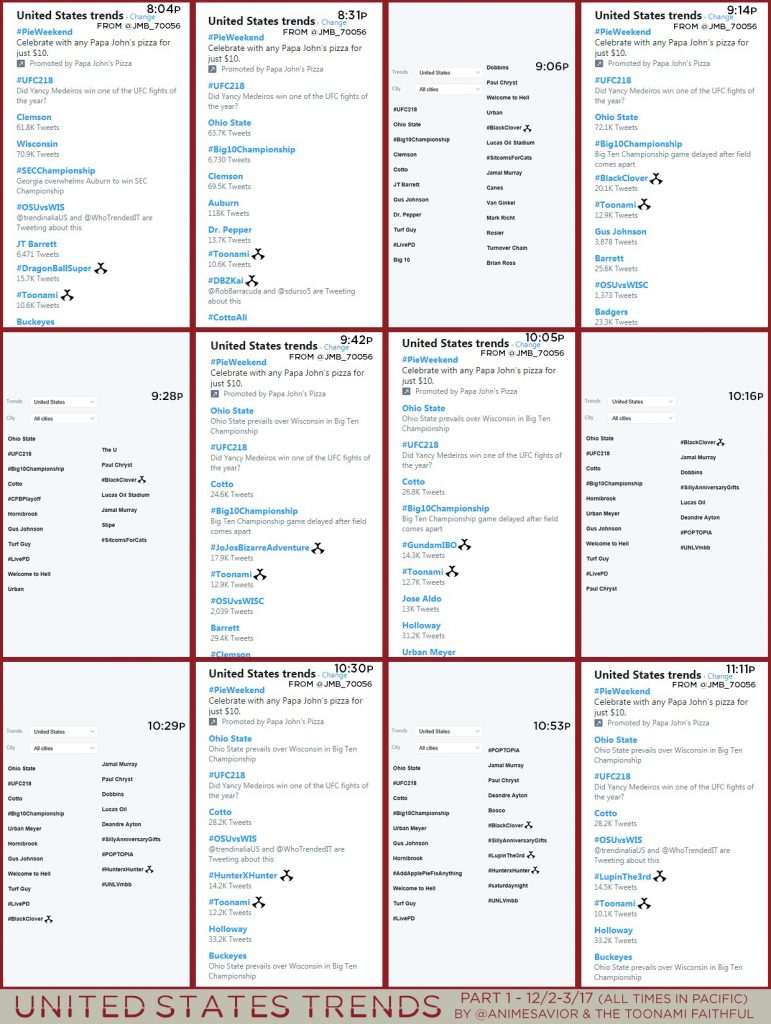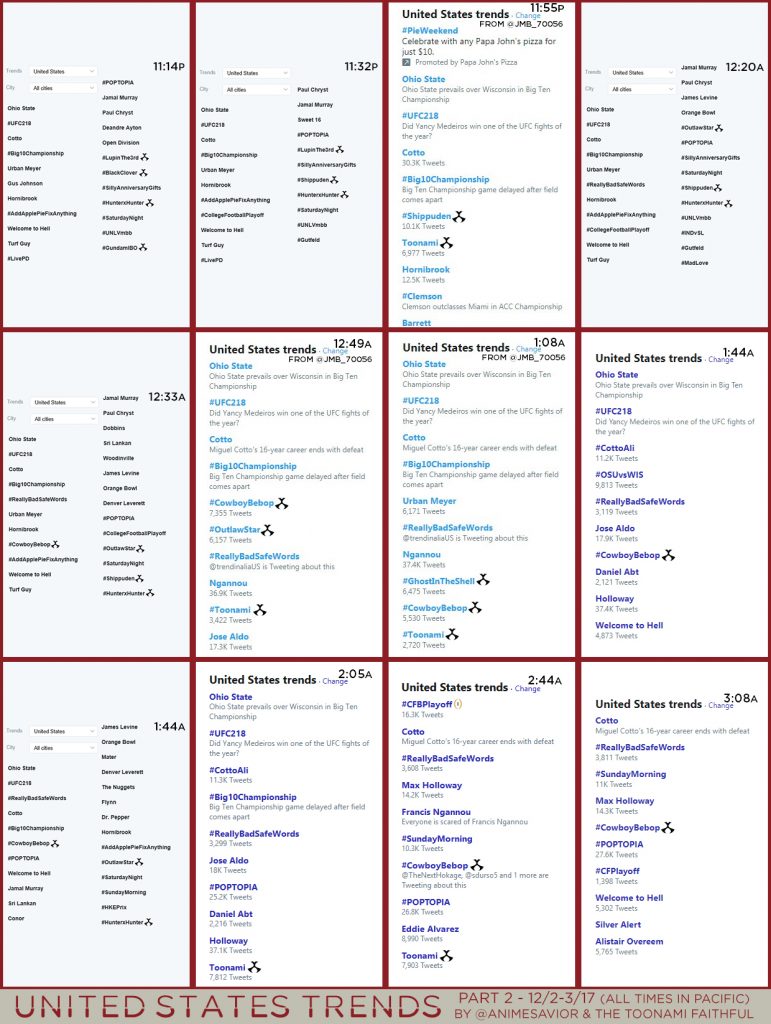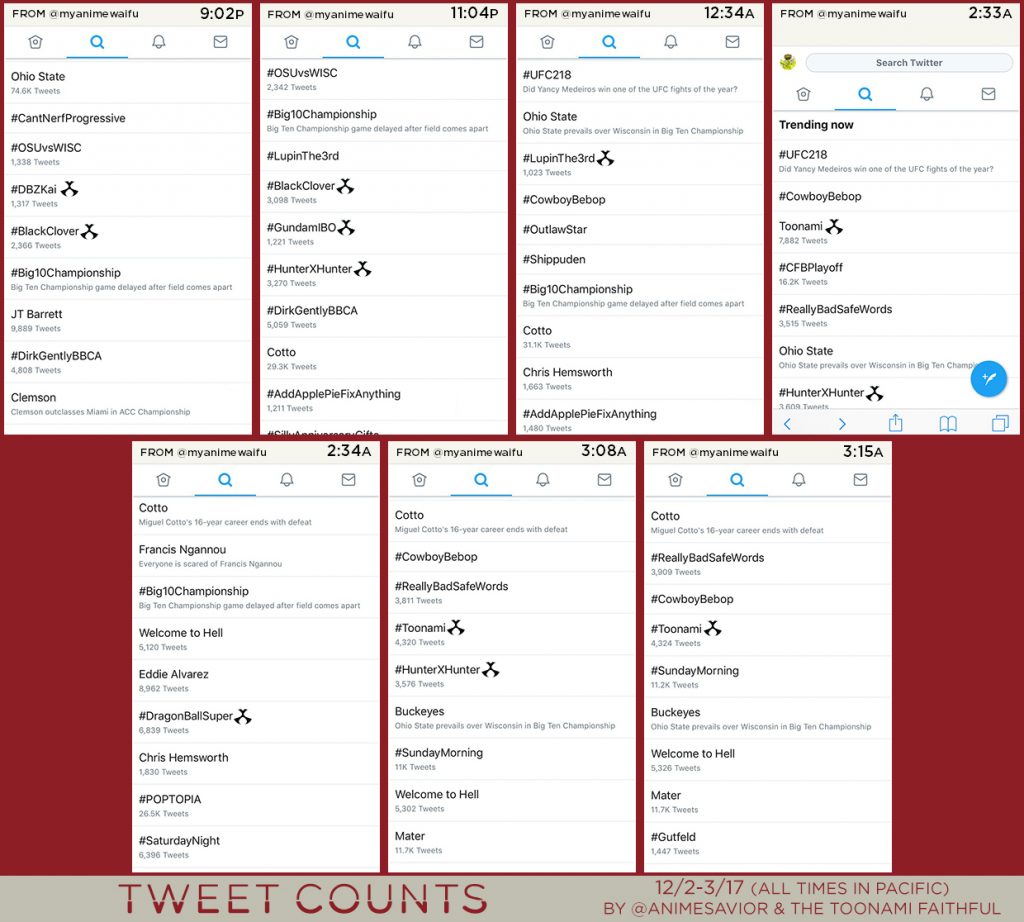 "Asta, it's true that you aren't going to become the wizard king, not ever. That's because I am going to be the Wizard King. You're wrong about Asta, Revchi, very wrong. Asta's no loser, he's my rival! "
–          Yuno, Black Clover (Ep. 01)
The Toonami Trending Rundown for December 2-3, 2017. Asta's quest to become the Magic Emperor begins as one of the rising stars in the shonen anime and manga scene in Black Clover makes its way to the better cartoon show. Meanwhile, Mr. Satan attempts to get Buu to stop his mass-murder-for-fun ways, and Gon, Killua, and Biscuit work on getting the final card to completing Greed Island among many others.
On Twitter, every show would successfully trend in the US during their respective East Coast airings including Black Clover as it began its run on a good note, while Hunter x Hunter and Cowboy Bebop also trended during their West Coast airings. On tumblr, Toonami would trend as with Dragon Ball Super, JoJo's Bizarre Adventure (including JJBA) and Hunter x Hunter.
Unfortunately due to a very busy night in the TV scene combined with the transition of Dragon Ball Super moving to 10:30pm (the prime-time DBS hour at 8pm was abolished to make way for the expansion) the show wouldn't make it to Nielsen Social's top 5 this week.
---


This week's feature was a game review of Gundam Versus for the PS4. It received a 7.5 out of 10 score.
Some of the other notable news of the week include:
For those wondering what Toonami will be doing for the holiday season, the block will once again be doing encore marathons during the Christmas and New Years weekends, with episodes 1-11 of Cowboy Bebop airing on December 23, followed by episodes 32-43 of Dragon Ball Super on December 30. A good time to catch up with all of your favorite shows for those falling behind.
And for those looking for other ways to catch up on or re-watch Dragon Ball Super, the first 39 episodes are available to view on FunimationNow, with plans to upload additional episodes on the service in 13 episode batches, each to launch two weeks after the last episode of the batch airs on Toonami. This goes along with other options including Adult Swim's on-demand and streaming services as well as the Funimation produced DVDs and Blu-Rays. Of course, premieres will continue to be on the better cartoon show weekly (holidays aside) as always.
Meanwhile, the acclaim keeps on coming for Samurai Jack, as the season finale has received several nominations for the Annie Awards, including Best General Audience Animated Television/Broadcast Production, Outstanding Achievement for Character Design in an Animated Television / Broadcast Production, Outstanding Achievement for Production Design in an Animated Television / Broadcast Production, and Outstanding Achievement for Editorial in an Animated Television / Broadcast Production. The ceremonies will take place on February 3rd and we wish Jack the best of luck.
---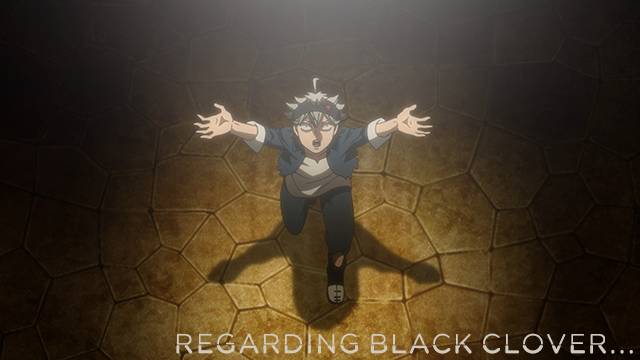 Toonami has had quite a history of helping many top Shonen shows reach prominence and with Black Clover now on the better cartoon show, there are high hopes for Black Clover to reach similar prominence as well. Considered to be a "spiritual successor" to Naruto by some (or a mix of Harry Potter and Naruto), Asta and Yuno's quest to the top of the wizard world has had many intrigued, as the Black Clover franchise is growing to become one of Shonen Jump's newest hits, with over 4.8 million manga copies in print, and since the anime premiered in Japan back in October, the series has seen respectable ratings and streaming numbers on Crunchyroll and FunimationNow, all culminating in Toonami picking up the show for TV broadcast. Not everyone is pleased however, with some critics have complained about the show's story and tropes being too formulaic and cliched to other hit Shonen Jump shows, among other things, some going as far as calling it one of the worst manga series to be released in 2016.
Yet despite this, Black Clover against all odds, found its way to the better cartoon show, beating out favorites such as My Hero Academia, Mob Psycho 100, and the Blue Exorcist Kyoto Saga to do so. Of course, the last part isn't exactly true, contrary to semi-popular opinion, Black Clover isn't here simply because Toonami chose it over the other three, and in a perfect world, those three shows would be airing alongside each other with Black Clover in the block.
Despite that the above mentioned shows were well requested and Toonami has looked into them, internal politics with the distributors and competition can sometimes hurt or stop a show's chances of making it to the better cartoon show, including legal rights hitting a snag that forbid a TV broadcast (ex. Macross, Megas XLR, IGPX before 2013), negotiations between the distributors fail (ex. when JoJo's was with Warner Bros, they didn't negotiate with Toonami unless they paid a fortune for TV rights), or in the case of the above three shows, competitors (ie. Hulu or Netflix) outbidding Toonami for exclusive premiere rights. When asked regarding My Hero Academia's possibilities a few months ago, Jason DeMarco responded: "I don't know if we'll NEVER get it, but we can't get it right now. A good rule of thumb: if something premieres on Netflix, you probably won't see it on TV any time soon….". There might be more to it than these reasons, but regardless, as with the situations with Sailor Moon Crystal and previously InuYasha The Final Act and Blue Exorcist season 1, Toonami will have to wait perhaps several years for those deals to expire to get its turn at airing those shows, assuming if there's still interest by then. With Toonami's success in helping to rejuvenate the anime industry, other companies have wanted their slice of the anime pie, something we also saw during the block's previous golden age. It stinks, but as the old saying goes, you can't win em all.
Meanwhile, while we're not privy to knowing how Toonami negotiates with the anime industry for shows, with Black Clover's creators and the Toonami crew seeing the show's potential and growing fanbase, it's safe to say that having the show air on Toonami with its prestige was a big priority for them and negotiations turned out to be successful. Say what you want about Shueisha and FUNimation trying to push the show to success, but to use a sports term, they wanted it more and got it done when it mattered most, while you could say My Hero Academia came up short. Remember, if you really want to see a show make it to Toonami, let them and the appropriate distributors know you want to see it there at their request outlets (ex. Toonami's Facebook and Tumblr message boxes, among other places). Sometimes things may not work out, but with enough demand, at least you're showing that they should really consider it. It sure worked for Black Clover and every show that has aired here.
Time will tell how Black Clover pans out, but all I can say is if you're liking what you're seeing, continue to enjoy this show, perhaps check out the manga as well, and look forward to its future potential. If not, all I can say is to vote with your eyeballs and stop watching and giving it publicity. There's a reason why Sword Art Online succeeded and likely will return despite vocal minority discontent while One Piece ultimately left Toonami despite all the love it has gotten. If a Season 2 of Black Clover ultimately does happen with a Simuldub on Toonami in the future, it will be because of the support of the fans. If not, the critics will be proven right and we'll move on to the next big thing. Black Clover is a show with plenty of potential ahead, and whether it could become the next Naruto and forms its own legacy or not during these 51 weeks and perhaps beyond, the viewers will be the ones who get to decide that.
Tune in tonight as Hunter x Hunter begins the Chimera Ant arc, among other great moments. Until then, stay gold as always.
---
Legend: The shows listed are ordered based on their appearance on the schedule. Show trends are listed in bold. The number next to the listed trend represents the highest it trended on the list (not counting the promoted trend), judging only by the images placed in the rundown. For the Twitter tweet counts, the listed number of tweets are also sorely based on the highest number shown based on the images on the rundown.
United States Trends:
Toonami/#Toonami [#5]
#DragonBallSuper [#7]
#DBZKai [#8]
#BlackClover [#4]
#JoJosBizarreAdventure [#5]
#GundamIBO [#5]
#HunterXHunter (Also during the West Coast airing) [#5]
#LupinThe3rd [#5]
#Shippuden [#5]
#OutlawStar [#6]
#CowboyBebop (Also during the West Coast airing) [#5]
#GhostInTheShell [#8]
Tweet Counts:
Toonami [7,882 tweets]
#Toonami [4,342 tweets]
#DragonBallSuper [6,839 tweets]
#DBZKai [1,317 tweets]
#BlackClover [3,098 tweets]
#GundamIBO [1,221 tweets]
#HunterXHunter [3,609 tweets]
#LupinThe3rd [1,023 tweets]
Tumblr Trends:
#toonami
#dragon ball super
#jojos bizarre adventure
#jjba
#hunter x hunter
Notes and Other Statistics:
Special thanks to @JMB_70056, @myanimewaifu and others I forgot to mention for spotting some of the trends on this list.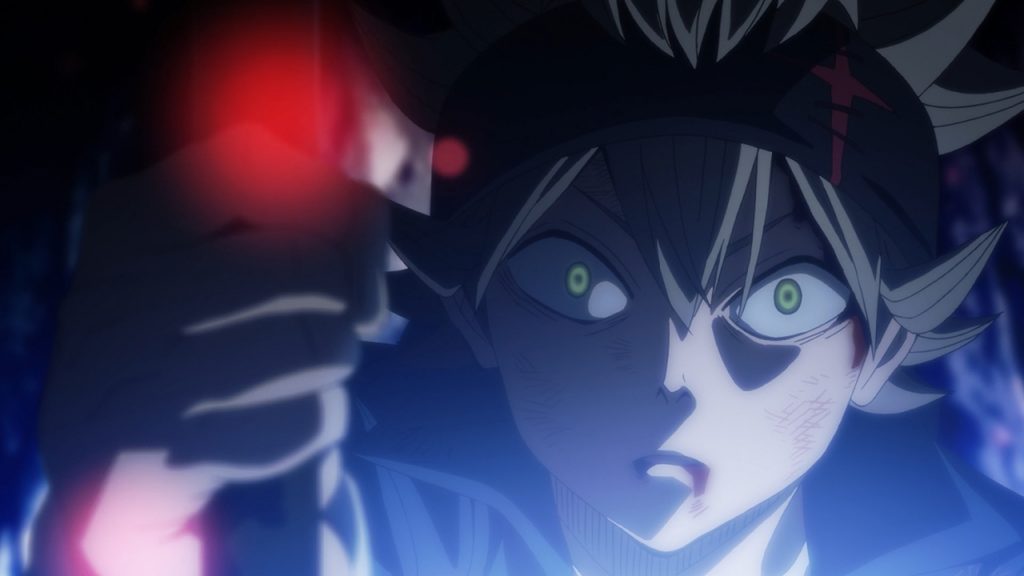 Gundam is life. Only Toonami on [adult swim] on Cartoon Network.
Toonami tweets of the night for December 2-3, 2017