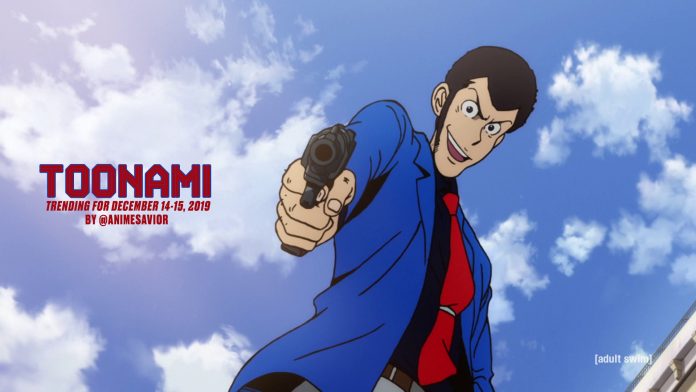 "Thanks for reminding me what good friends really mean to me."
–          Arsène Lupin III, Lupin the Third: Is Lupin Still Burning?
The Toonami Trending Rundown for Dec. 14-15, 2019. The final regularly scheduled Toonami in 2019 brings an end to The Forge and Lupin the Third Part V's run.
Among some of the notable moments from the night; Ruri reveals in Dr. Stone that she has learned of Senku's name from a tale she had heard from her mother. We then witness a flashback of Senku's father, Byakuya, as he tries to become an astronaut and get admitted to the Japan Aerospace Exploration Agency (JAXA). Senku assisted his dad by creating a special suit that would help him pass the swimming exam, which eventually helped him get into JAXA. Byakuya finally accomplished his dream as he and five others travel to the International Space Station (ISS). However, this occurred on the day of the petrification of humanity, and the ISS largely avoids the petrification light, leaving those six humans as the only ones left. Black Clover meanwhile saw Leopold and his squad continue to get pummeled by the elves until Fuegoleon wakes up from his coma. While he is not back to 100 percent, his presence and power is enough to slowly turn the tide back in the Magic Knights' favor. And we end Lupin the Third Part V with a bang as Toonami showcased the OVA "Is Lupin Still Burning?" which is a throwback to the very first episode of the franchise back in 1971. We watch as Lupin competes in the Hida Speedway, but is trapped by those intending to wipe Lupin from existence as he gets sent back to the past. Thus, forcing Lupin to prevent a butterfly effect from occurring.
On Twitter, Toonami would successfully trend in the United States alongside every show, except for My Hero Academia and Attack on Titan. On Tumblr, Toonami would trend alongside Kimetsu no Yaiba and #BNHA. The full list, including statistics and tweet counts from the Twitter app and Amr Rahmy's Fan Screening analytics app, can be seen below.
---

This week, Toonami showcased the final part of The Forge, which concluded the fight against Booger, and introduced a new ship and a new branding scheme for the block going forward. You can check it out below.
For the seventh part of our series of interviews from Anime Expo 2019, CJ and I got the chance to meet with Ryan Bartley. We discussed some of her Toonami-related roles including, Tsubomi in Mob Psycho 100, Yuna in Sword Art Online, Anne in JoJo's Bizarre Adventure, Komugi in Hunter x Hunter, and Gilda in The Promised Neverland.
With a new branding for Toonami also comes with a new set of swag. Following the broadcast of The Forge, Daylight Curfew released a new Toonami T-Shirt  as well as a new hoodie jacket for fans interested.
For the first time since the show was written-off by Cartoon Network, Sym-Bionic Titan has an outlet where you can legally watch the show online, as all 20 episodes have been put up on Netflix.
NEWS: #SymBionicTitan for the first time has appeared on a streaming service. Netflix currently has the first season of the series. Go watch it now if you haven't seen it. pic.twitter.com/N5d0LNropU

— Toonami News 🎉 (@ToonamiNews) December 15, 2019
Funimation has announced that the upcoming My Hero Academia feature film, titled Heroes Rising, will be premiering in select theaters in the U.S. and Canada sometime in Early 2020. Heroes Rising will be premiering in Japanese theaters on December 20.
Mike Lazzo, the head of Adult Swim and Williams Street, stepped down from his role this week as he retired after 35 years working at Cartoon Network. Keith Crofford, who was previously second-in-command at Adult Swim, will be promoted to take his place. Although he was somewhat of a controversial figure among Adult Swim fans, without his work, it would have been unlikely Toonami and Adult Swim would be the cultural juggernauts that they are today. So, on behalf of the Toonami Faithful, thanks for bringing back Toonami, and we hope you enjoy your retirement.
Thank you Mike Lazzo for your part in making Adult Swim the success it's been throughout the years. Enjoy your retirement! pic.twitter.com/FKNoqBzxWC

— [swimpedia] (@swimpedia) December 16, 2019
---
The most notable work of the late Kazuhiko "Monkey Punch" Katō, whom passed away earlier this year, the Lupin the Third franchise has left a lasting legacy on the anime industry for over 50 years. Leaving a mark that includes six television shows, six OVAs, eight films, and an untold number of spin-offs. And that legacy continued on Toonami with Lupin the Third Part V now in the books. During the show's run, the hashtag #LupinThe3rd trended during all 25 weeks it aired. In addition, #IsLupinStillBurning also trended during this week. And character trends were also spotted for both Lupin and Fujiko in different occasions. The full list of trends and statistics can be seen in this image below.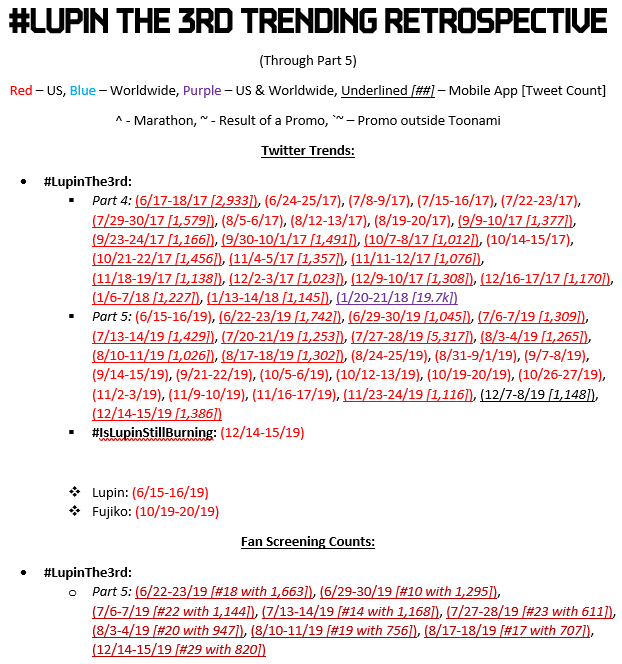 ---

The final two weeks of the year will consist of a marathon of Episode 13-22 of One-Punch Man for Christmas week, followed by episodes 7-16 of Dr. Stone for New Year's week. Since we don't see much trending during holiday nights as many use marathon nights to take a break, this will be the final trending rundown for the year.
It was a banner year for the better cartoon show, with the Total Immersion Event: The Forge, alongside the debuts of The Promised Neverland, Food Wars!, Fire Force, gen:LOCK, Dr. Stone, and Demon Slayer. These shows were accompanied by the return of Sword Art Online for Project Alicization, Lupin the Third for Part V, Gundam: The Origin, JoJo's Bizarre Adventure for Golden Wind, and My Hero Academia for its fourth season, along with all the other long-runners presently airing.
What will 2020 bring? For starters, Boruto's dub is expected to continue in the near future. Sadly, Toonami nor Viz Media have said anything as of now. Toonami's next original series, Junji Ito's Uzumaki, will premiere sometime within the following year. The series gen:LOCK has been renewed for a second season for when HBO Max launches in May. There will be a 90-day exclusive window before Rooster Teeth subscribers get to see it, and it's to be determined if and when Toonami will get their turn at airing the new season. Attack on Titan is scheduled to premiere its fourth and final season in Japan in the Fall, and if the SimulDub schedule follows the second and third seasons, it should be returning to Toonami a month after. Sword Art Online is presently airing the second half of Project Alicization in Japan. If the first half is any indication, we should be weeks away from the dub premiere of War of Underworld on Toonami. And what new and returning franchises are on the way, and what other surprises are in store? With Lupin the Third completing its fifth season, and One-Punch Man, Fire Force, and Dr. Stone scheduled to complete their respective seasons within the next month or two, it won't be long until we start finding out.
Finally, I'd like to say thank you to all of our readers as well as all of my colleagues at ToonamiFaithful.com, Toonami Squad, @MikeMorse1017, @myanimewaifu, and anyone else who has contributed to the trending rundown in any way shape or form. I've been contributing and cataloging the social media buzz of Toonami's revival for seven years. Seeing the continued adoration for Toonami and its shows from fans, actors, and production crews both online and at conventions, is an amazing spectacle to behold. I'm looking forward to seeing what the next decade brings.
Until next year, we wish you a Merry Christmas, Happy Hanukkah, Happy Kwanzaa, a Happy New Year, and stay gold.
---
Legend: The shows listed are ordered based on their appearance on the schedule. Show trends are listed in bold. The number next to the listed trend represents the highest it trended on the list (not counting the promoted trend), judging only by the images placed in the rundown. For the Twitter tweet counts, the listed number of tweets are also sorely based on the highest number shown based on the images on the rundown.
United States Trends:
#Toonami [#6]
#TheForge [#18]
#OnePunchMan [Trended with #Toonami and #TheForge]
#DrStone [Trended with #Toonami and #FoodWars]
#FireForce [Trended with #Toonami and #FoodWars]
#FoodWars [#19]
#DemonSlayer [Trended with #Toonami]
#BlackClover [Trended with #Toonami]
#JoJosBizarreAdventure [#22]
#LupinThe3rd [#9]
#IsLupinStillBurning [#28]
Tweet Counts:
#Toonami [9,245 tweets]
#TheForge [1,164 tweets]
#OnePunchMan [2,155 tweets]
#DrStone [3,807 tweets]
#FireForce [3,367 tweets]
#FoodWars [1,867 tweets]
#DemonSlayer [7,169 tweets]
#BlackClover [1,498 tweets]
#JoJosBizarreAdventure [3,964 tweets]
#LupinThe3rd [1,386 tweets]
Fan Screening Counts:
#MyHeroAcademia [#9 with 2,685 tweets]
#OnePunchMan [#13 with 1,358 tweets]
#DrStone [#10 with 2,191 tweets]
#FireForce [#14 with 1,863 tweets]
#FoodWars [#17 with 1,272 tweets]
#DemonSlayer [#9 with 3,297 tweets]
#KimetsuNoYaiba [#7 with 3,773 tweets]
#BlackClover [#24 with 918 tweets]
#JoJosBizarreAdventure [#15 with 2,053 tweets]
#LupinThe3rd [#29 with 820 tweets]
Tumblr Trends:
#Toonami
#BNHA
#Kimetsu no Yaiba
Notes and Other Statistics:
Special thanks to @myanimewaifu and others I forgot to mention for spotting some of the trends on this list.
Only Toonami on [adult swim] on Cartoon Network.
Toonami Tweets of the Night for December 14-15, 2019