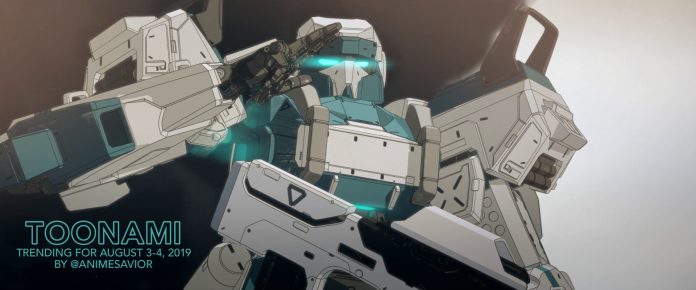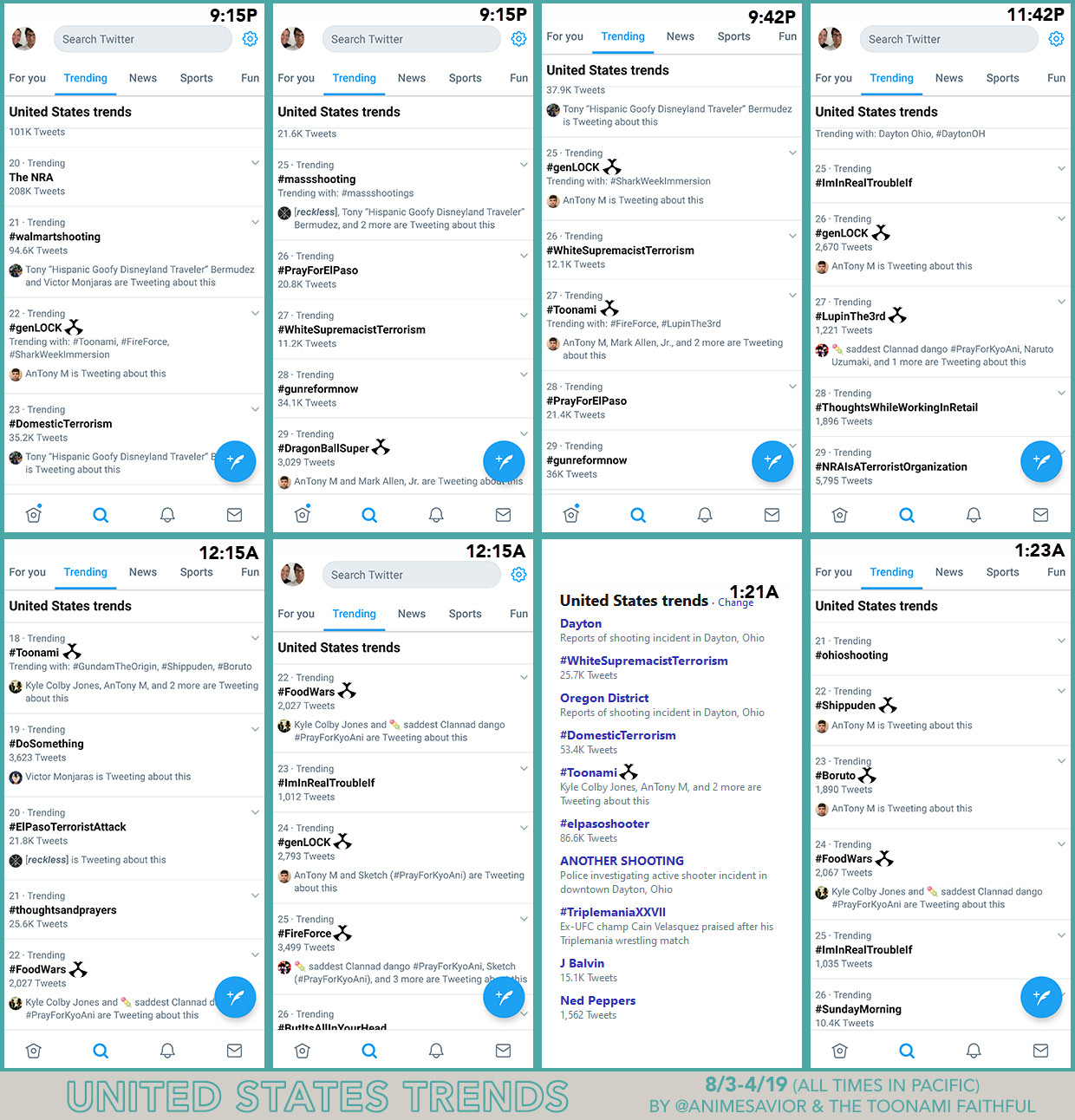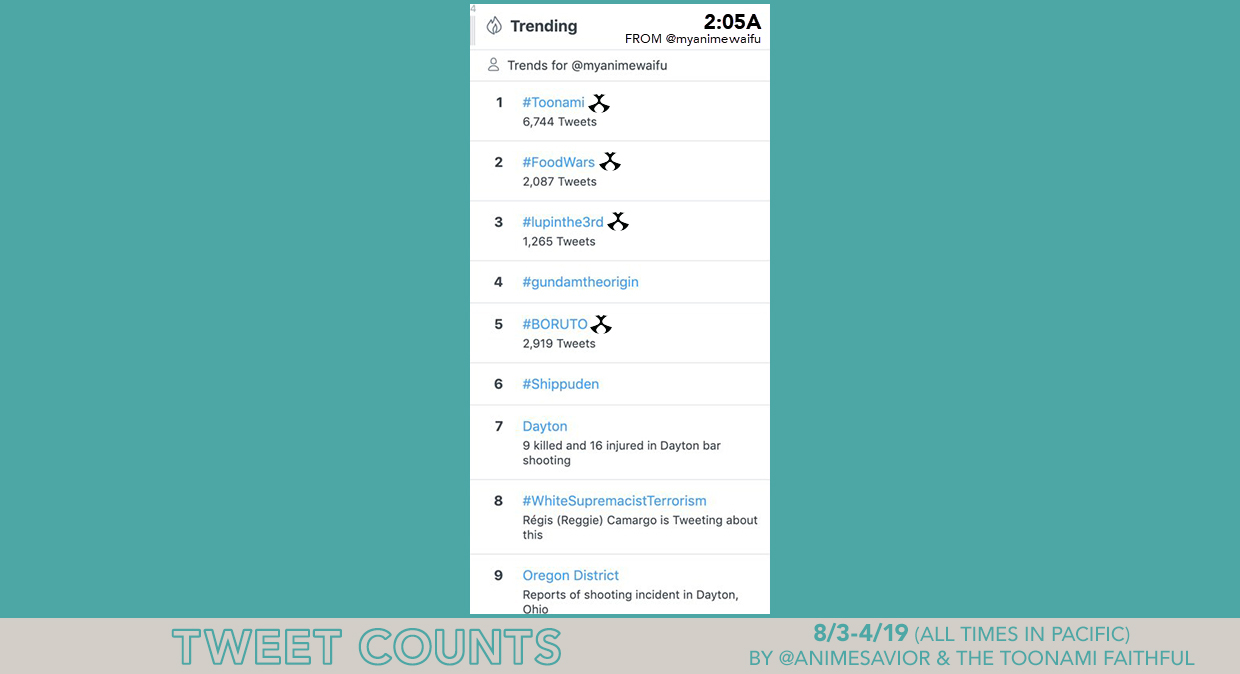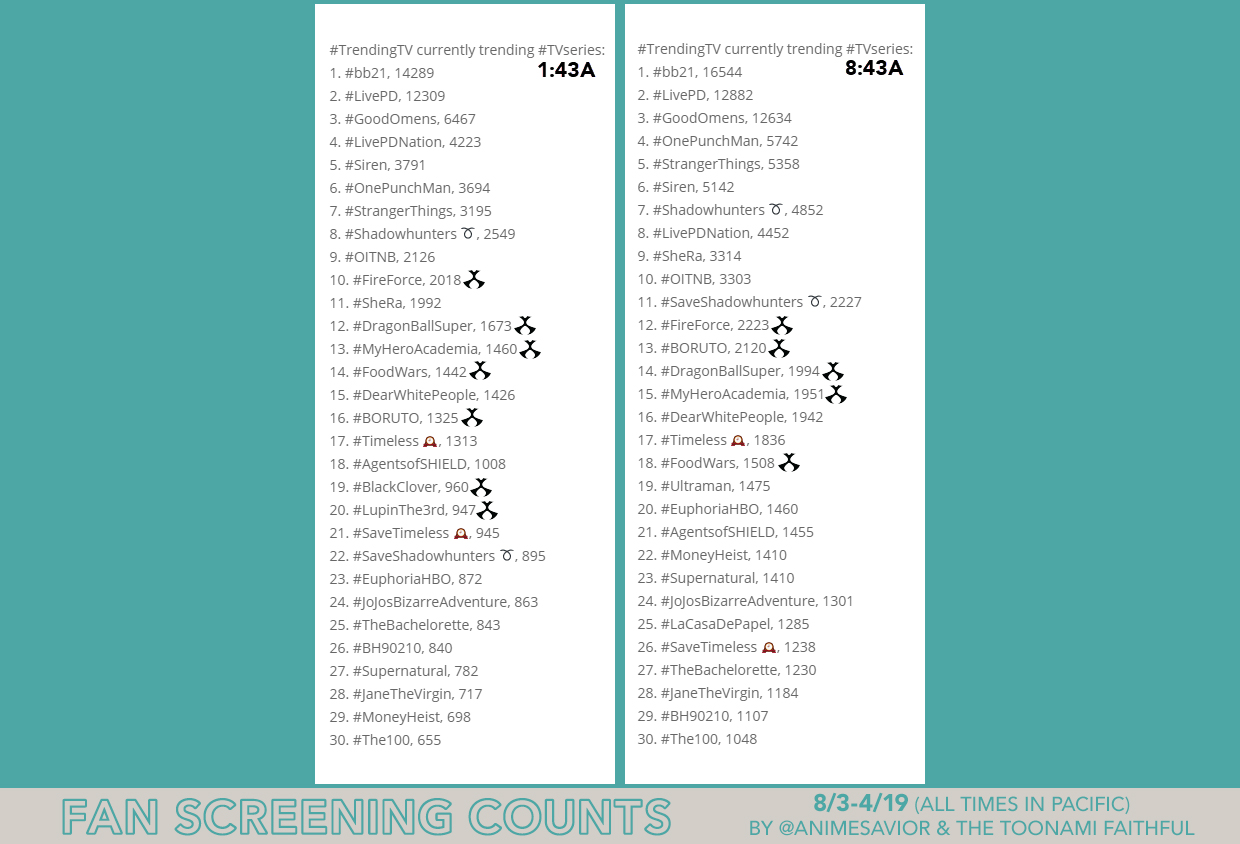 "Let the Good Times roll, am I right?"
–          Julian Chase, gen:LOCK (Ep. 01)
The Toonami Trending Rundown for August 3-4, 2019. In a night that stoked much of the political and social anger in recent times, to say nothing of the innocent lives affected and lost, Toonami provided a break from it all in a showcase of unity and good times, as Rooster Teeth made its debut on the better cartoon show with the hit web cartoon gen:LOCK. And among other great moments, we are introduced to Julian Chase, a soldier who goes missing in action after an invasion of New York City, and then somehow reappears 4 years later, while the 7th and 11th Universes battle it out as the last two standing, and Bakugo fights Deku after learning the origins of his quirk.
gen:LOCK would make its debut with a bang as #genLOCK as well as every show with the exception of Black Clover and My Hero Academia trended in the US. On the other hand, no trends were spotted on tumblr. The full list including statistics and tweet counts from the twitter app and Amr Rahmy's Fan Screening analytics app can be seen below.
---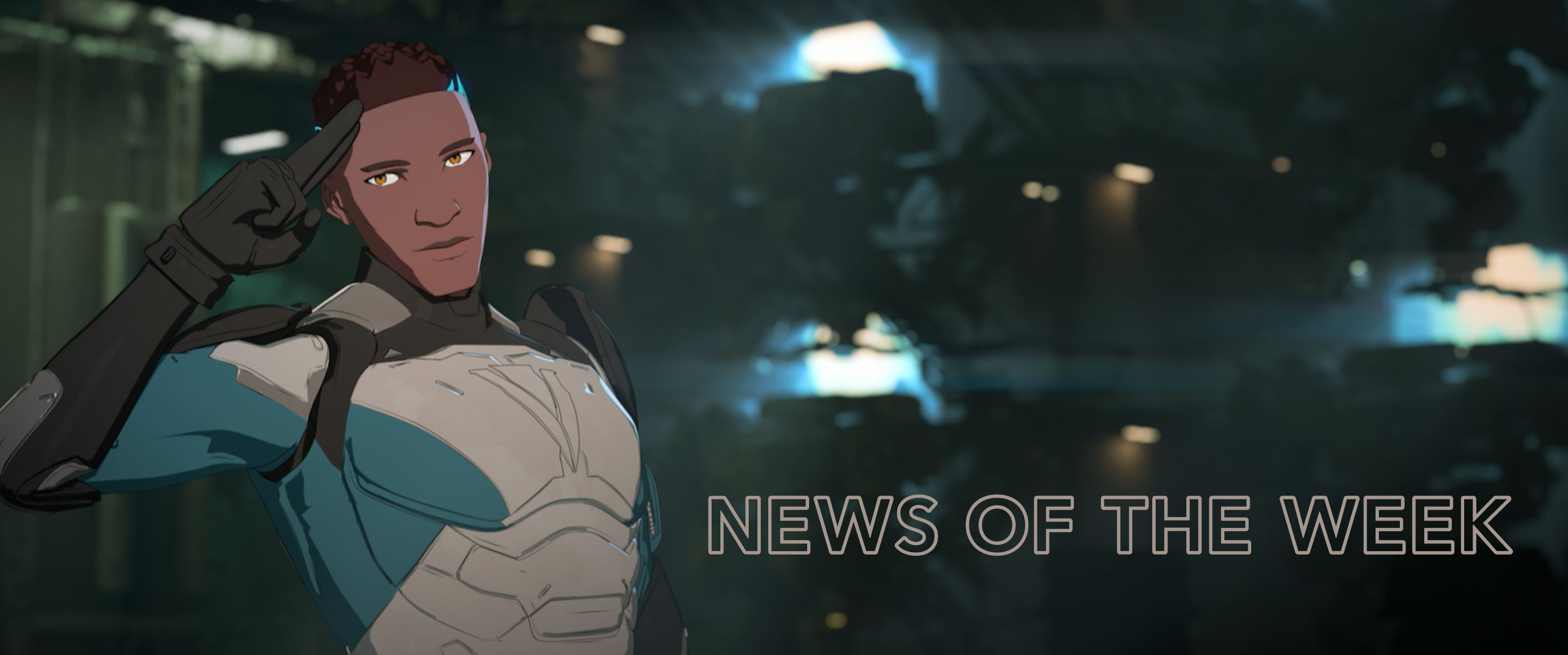 This week's feature was a music video for Starlight Brigade by TWRP feat. Dan Avidan. You can check it out below.
Last week, Jason DeMarco answered an ask.fm question regarding what are the most requested shows for Toonami lately. He mentioned that the Toonami crew has fulfilled many of their show requests as of late, but they have been getting a decent number of requests for acquiring Dr. Stone, renewing JoJo's for Part 5, and bringing back Mob Psycho 100 for season 2. If you have anything in mind for Toonami to show in the future, you can send your show requests by post comment on Toonami's Facebook page, sending a question to Jason Demarco's ask.fm, or send a tweet to @Clarknova1.
For those wanting to add Attack on Titan season 3 to their Blu-ray and DVD collections, the first half is now available to purchase in a Blu-ray and DVD combo pack, with the regular edition costing $29.99 on Funimation's website, and the limited edition costing $63.94.
Last Thursday, Sentai Filmworks completed their #HelpKyoAniHeal fundraiser campaign, as they along with the help of the anime community, raised over $2,370,690 USD. Sentai is working with Kyoto Animation to make sure that all donations from this as well as other campaigns will be delivered to get the company and its employees back up on their feet. No doubt it's a bright light from in the mist of some pretty dark times, and our thoughts and prayers continue to go to all those affected.
Not much else to say other than we'll see you again next week for another round of the better cartoon show. Later.
---
Legend: The shows listed are ordered based on their appearance on the schedule. Show trends are listed in bold. The number next to the listed trend represents the highest it trended on the list (not counting the promoted trend), judging only by the images placed in the rundown. For the Twitter tweet counts, the listed number of tweets are also sorely based on the highest number shown based on the images on the rundown.
United States Trends:
#Toonami [#5]
#DragonBallSuper [#29]
#genLOCK [#22]
#FireForce [#25]
#LupinThe3rd [#27]
#FoodWars [#22]
#Boruto [#23]
#Shippuden [#22]
#GundamTheOrigin [Trended with #Toonami]
Tweet Counts:
#Toonami [6,744 tweets]
#LupinThe3rd [1,265 tweets]
#FoodWars [2,087 tweets]
#Boruto [2,919 tweets]
Fan Screening Counts:
#DragonBallSuper [#12 with 1994 tweets]
#FireForce [#10 with 2223 tweets]
#LupinThe3rd [#20 with 947 tweets]
#FoodWars [#14 with 1508 tweets]
#BlackClover [#19 with 960 tweets]
#Boruto [#13 with 2120 tweets]
#MyHeroAcademia [#13 with 1951 tweets]
Notes and Other Statistics:
Special thanks to @myanimewaifu and others I forgot to mention for spotting some of the trends on this list.
Only Toonami on [adult swim] on Cartoon Network.
Toonami Tweets of the Night for August 3-4, 2019