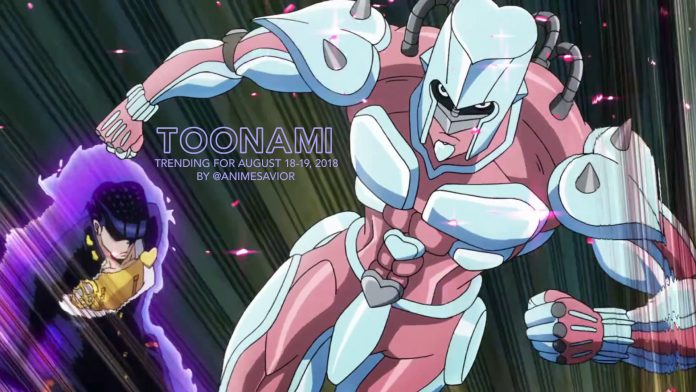 "Mr. Jotaro was telling the truth all along. Something's happening in this town. It's almost as if i can feel it in the air. Whatever found its way into Morioh, it's…it's monstrous."
–          Koichi Hirose, JoJo's Bizarre Adventure: Diamond is Unbreakable (Ep. 01)
The Toonami Trending Rundown for August 18-19, 2018. For the first time in the modern era of the block, a respective Toonami-aired franchise has been successfully renewed for a third season, two in fact, as Attack on Titan returns for season 3 as a civil war brews over Eren and Historia, and JoJo's Bizarre Adventure continues on to air Part 4 in Diamond is Unbreakable as we are introduced to the 4th JoJo, Josuke Higashikata.
On Twitter, Toonami would trend alongside JoJo's Bizarre Adventure, Hunter x Hunter, Black Clover, and Cowboy Bebop. On Tumblr, Toonami would trend alongside Attack on Titan and My Hero Academia (including BHNA).
---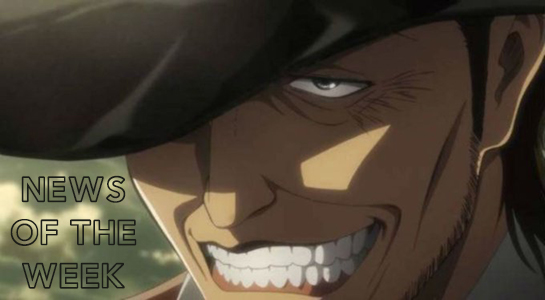 This week's feature was a game review for Hollow Knight for the Nintendo Switch. It received a 9 out of 10 score.
This week, I posted my Anime Expo highlights article including all the news that relates to Toonami as well as first impression reviews on the world premieres of My Hero Academia: The Two Heroes and JoJo's Bizarre Adventure: Golden Wind, what to expect with Sword Art Online Project Alicization, as well as panel highlights from those three shows, FLCL, and Attack on Titan.
In addition, after several issues that needed to be ironed out, my Comic-Con interview with Steve Blum has finally been published. Among other things, we talk about his commitment to the block and how people continue to be inspired through his work, his work and legacies on Cowboy Bebop, Naruto, and FLCL, and some of the general voice actors' ways of life and their current issues.
---


With FLCL Progressive's encore run coming to an end, and FLCL Alternative still over 2 weeks away, next week Toonami will showcase an encore airing of the premiere of Attack on Titan season 3 at its regular time at 11pm EDT, followed by the premiere of the second episode at 11:30. The rest of the block will continue on as scheduled.
Not much else to say other than see you again next week for another round of the better cartoon show. Later.
---
Legend: The shows listed are ordered based on their appearance on the schedule. Show trends are listed in bold. The number next to the listed trend represents the highest it trended on the list (not counting the promoted trend), judging only by the images placed in the rundown. For the Twitter tweet counts, the listed number of tweets are also sorely based on the highest number shown based on the images on the rundown.
United States Trends:
#Toonami [#8]
#JoJosBizarreAdventure [#3]
#HunterXHunter [#3]
#BlackClover [#5]
#CowboyBebop [#4]
Tweet Counts:
#Toonami [7,623 tweets]
Toonami [11.4k tweets]
#DragonBallSuper [3,896 tweets]
#AttackOnTitan [3,646 tweets]
#PopTeamEpic [5,867 tweets]
#JoJosBizarreAdventure [4,502 tweets]
#HunterXHunter [1,801 tweets]
#BlackClover [1,236 tweets]
Naruto [61.4k tweets]
#OnePunchMan [1,195 tweets]
Tumblr Trends:
#Toonami
#My Hero Academia
#BNHA
#Attack on Titan
Notes and Other Statistics:
Special thanks to @myanimewaifu, @sdurso5, and others I forgot to mention for spotting some of the trends on this list.
Dig Deep. Only Toonami on [adult swim] on Cartoon Network.
Toonami Tweets of the Night for August 18-19, 2018