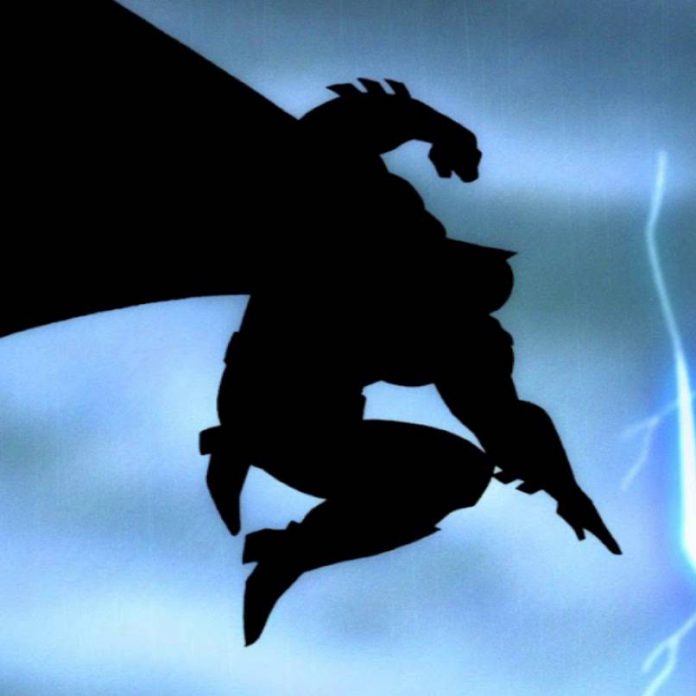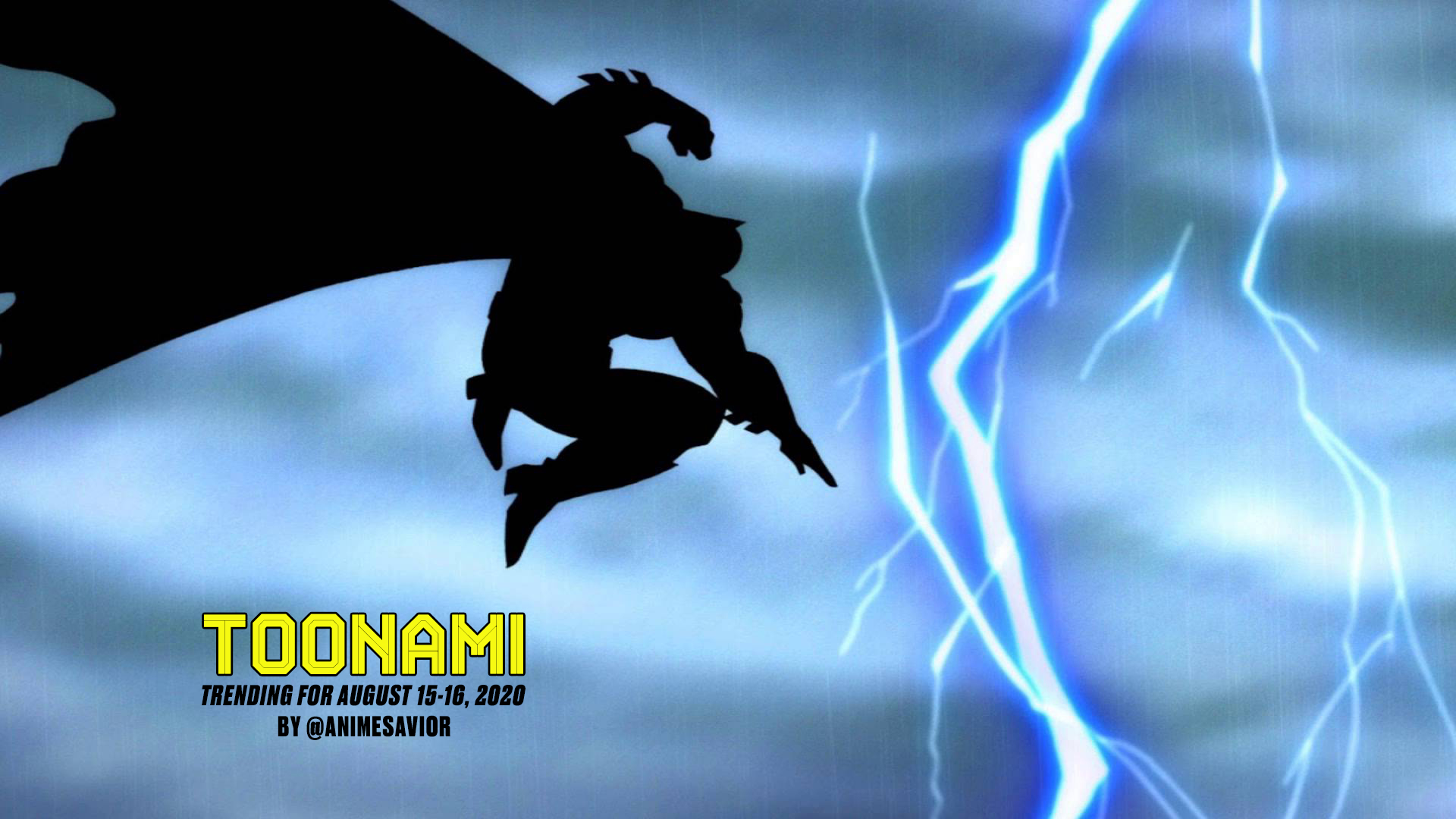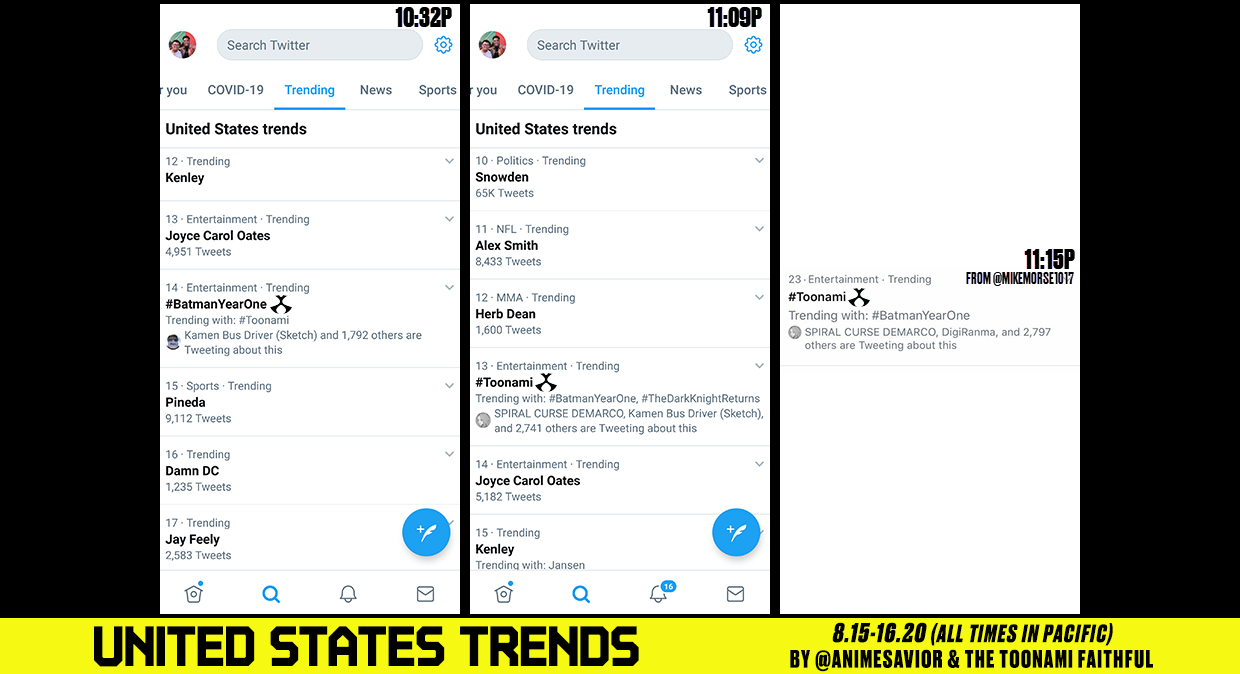 "This ain't no mud pit, this is an operating table. And I am the surgeon."
–          Batman, The Dark Knight Returns: Part I
The Toonami Trending Rundown for August 15-16, 2020. Bruce Wayne returns to the block for the first time since 2014, as Toonami aired Batman: Year One and the first part of Batman: The Dark Knight Returns, as part of a two-week event commemorating DC Fandome.
On Twitter, #Toonami trended in the United States alongside #BatmanYearOne and #TheDarkKnightReturns. On Tumblr, #Toonami trended for the night. The full list, including statistics and tweet counts from the Twitter app and Amr Rahmy's Fan Screening analytics app, can be seen below.
---

This week's feature was a video game review of The Last of Us II for the PlayStation 4. It received a perfect 10/10 score. You can check it out below.
Toonami fans south of the border received some very good news this week. Cartoon Network Latin America and Crunchyroll have announced that they will be partnering up to bring back a Central and South American version of Toonami for the first time in 13 years. Branded as "Toonami: Powered by Crunchyroll", the block will begin its revival on Aug. 31. and will initially run every Monday through Friday for an hour. The lineup will consist of Dragon Ball Super, followed by a series curated by Crunchyroll, starting with Mob Psycho 100. The block will broadcast their programming with Spanish and Portuguese dubs.
Este 31 de agosto, ¡Toonami regresa a Latinoamérica de la mano de Crunchyroll y Cartoon Network (@CartoonLA)!

✨Más detalles: https://t.co/PDXiAetrI9 pic.twitter.com/ugOOb6n89A

— Crunchyroll.la #GodOfHighSchool (@crunchyroll_la) August 18, 2020
Adult Swim Games released the video game Samurai Jack: Battle Through Time today. For those interested, it's available to purchase on the Nintendo Switch, PlayStation 4, Xbox One, and PC (via the Epic Games store and Steam) for $39.99.
The quest begins now. Get Samurai Jack: Battle Through Time today on PlayStation 4, Nintendo Switch, Xbox, and Windows PC. @SamuraiJackGame pic.twitter.com/scXU8feHGK

— adultswim (@adultswim) August 21, 2020
And finally, Toonami announced that Koro-sensei and the students of Class 3-E will finally be making their debut on the block. Assassination Classroom will be joining the lineup beginning on Aug. 29, at 1:00 a.m. Eastern. The encore run of Fire Force will be moved to 2:00 a.m., replacing the spot vacated by Ballmasterz 9000.
Tune in Saturday as Toonami airs the anime anthology Batman: Gotham Knight at midnight, followed by the second part of Batman: The Dark Knight Returns at 1:45 a.m. 
Until next week, stay safe, visit blacklivesmatters.carrd.co to see what you can do to help the fight against social inequality, and make sure you do your part to stop the spread of COVID-19 and to protect others by following your local health advisories. Stay at home (unless you need to leave), practice social distancing by staying six feet/two meters away from one another, if all possible, and wash your hands thoroughly for at least 20 seconds.
---
Legend: The shows listed are ordered based on their appearance on the schedule. Show trends are listed in bold. The number next to the listed trend represents the highest it trended on the list (not counting the promoted trend), judging only by the images placed in the rundown. For the Twitter tweet counts, the listed number of tweets are also sorely based on the highest number shown based on the images on the rundown.
United States Trends:
#Toonami [#13]
#BatmanYearOne [#14]
#TheDarkKnightReturns [Trended with #Toonami]
Tweet Counts:
Notes and Other Statistics:
An Eye for an Eye, Makes the Whole World Blind. Only Toonami on [adult swim] on Cartoon Network.
Did you enjoy this week's Toonami? Let us know by commenting below or directly on our social media. And be sure to follow us on @ToonamiNews and subscribe to our podcast on Soundcloud for future content and breaking news updates.