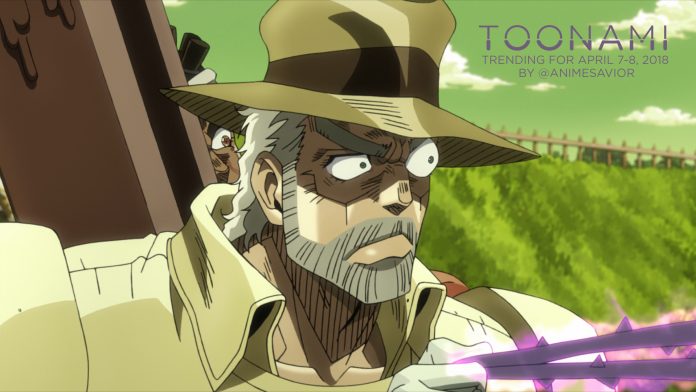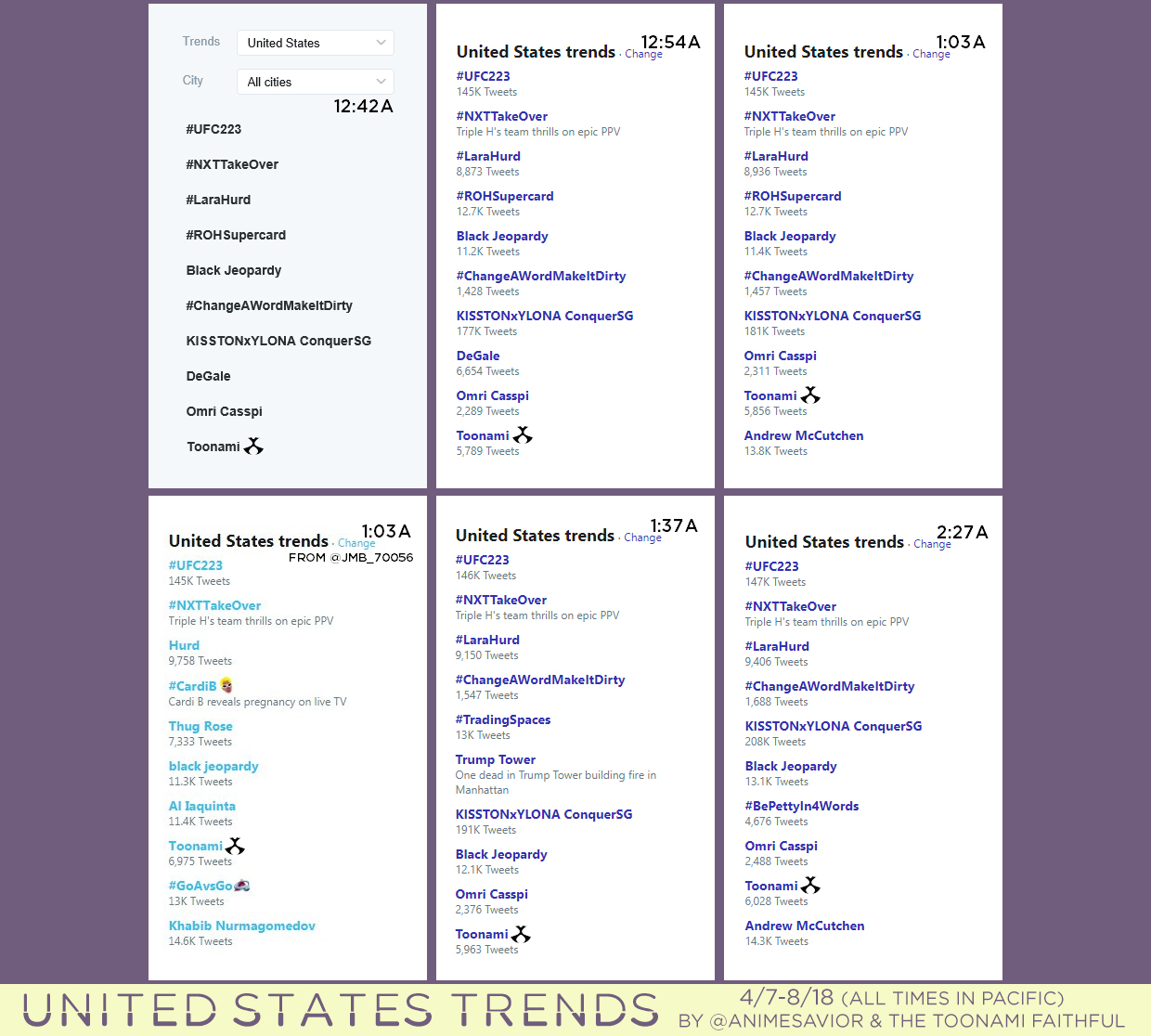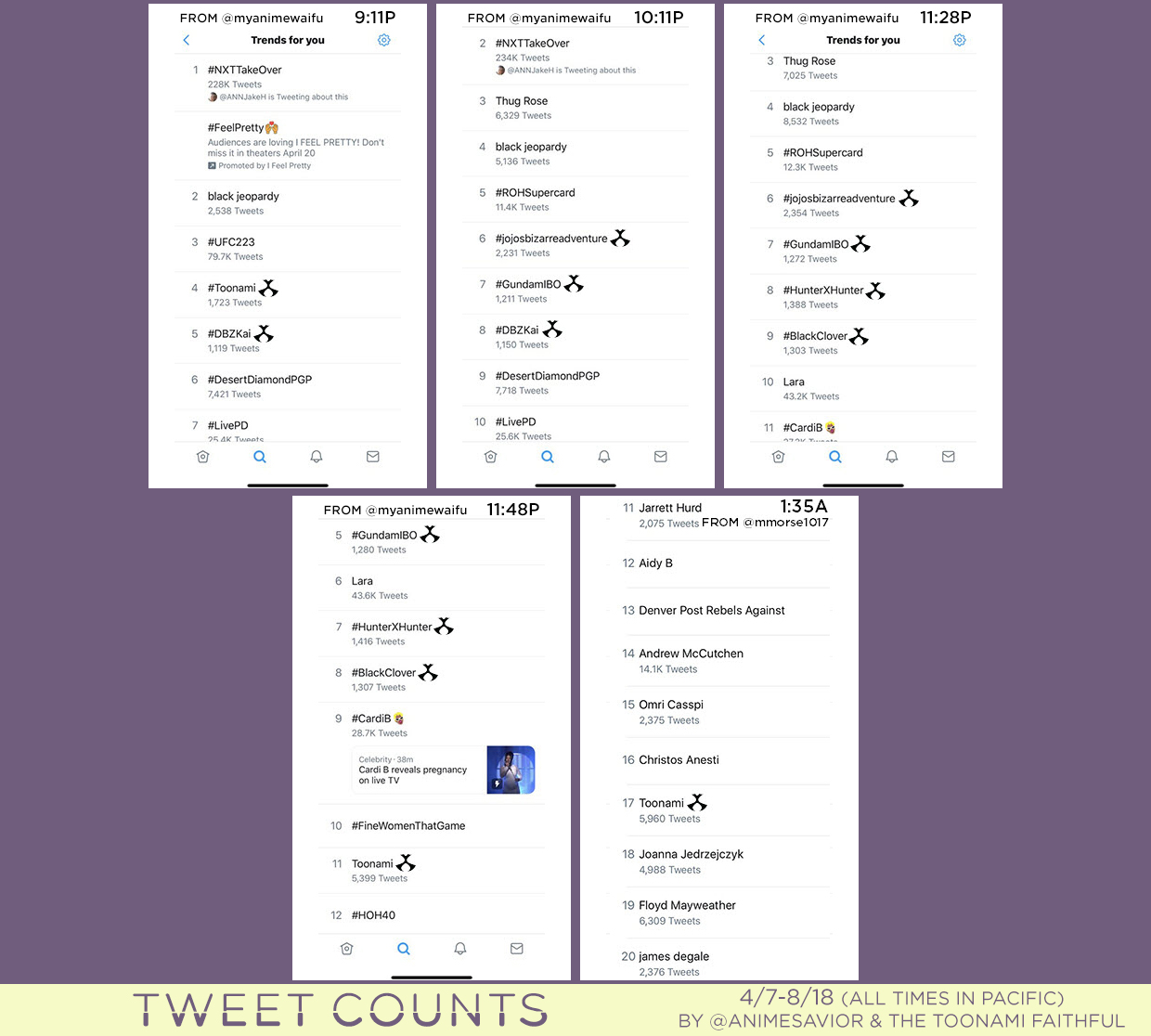 "I've run away from fights before, but I've only done so when running was part of the overall strategy. No matter how hopeless things look, Joseph Joestar never throws in the towel. The real showdown begins now!"
–          Joseph Joestar, JoJo's Bizare Adventure: Stardust Crusaders (Ep. 31)
The Toonami Trending Rundown for April 7-8, 2018. After the craziness of April Fools, the countdown to FLCL's revival continues, as Joseph and Avdol have a tough time going against Mariah's magnetic stand to say the least, while Rustal and Iok wage war on the Tekkadan, and Asta's team helps out Yuno's team against the Diamond Mage, among other great moments.
It would be a bit of a tough night for trending as on Twitter, only Toonami would manage to trend in the US. Things were a little better on Tumblr, as Toonami would trend along with Dragon Ball Super and JoJo's Bizarre Adventure (including JJBA).
---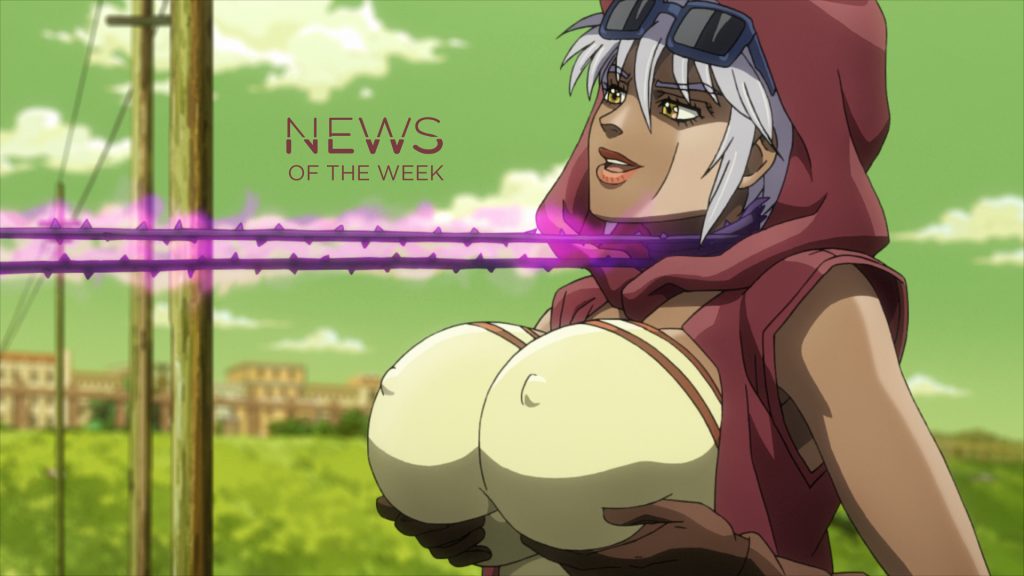 This week's feature was a new anime music video titled "Hell is Near." You can check it out below.
Toonami and Production IG had a panel at the C2E2 expo in Chicago last Friday as Mitsuhisa Ishikawa, Maki Terashima-Furura, Jason Demarco, and Kari Wahlgren answered questions with members of the audience regarding the new sequels. Fans that were lucky enough to be in the building were also shown a preview of the first episode of FLCL 2 Progressive. If you missed the panel, SyFy has reposted the panel online, which you can see below.
Meanwhile in JoJo's news, Viz Media is working on releasing set 2 of the Blu-rays, which will contain the first 24 episodes of Stardust Crusaders, set to be released on July 3rd. With the limited edition including artwork and other features still to be announced, the set is available for preorder at Rightstuf for $62.99.
Jotaro Kujo and Joseph Joestar stand together against a fiendish enemy who's returned stronger than ever! #JJBA

Pre-order JoJo's Bizarre Adventure, Set 2 – Stardust Crusaders ➡️ https://t.co/crQldyTazu pic.twitter.com/NgP0UkAqX0

— VIZ (@VIZMedia) April 7, 2018
Finally, for those that want to see what the fuss of FLCL is all about, or for those that want to watch it again, Toonami will be airing all 6 episodes of season 1 for the next 6 weeks beginning Saturday at 11:30pm EDT in anticipation for season 2 coming on June 2nd. We're also down to the final 3 episodes of Iron Blooded Orphans, and how will the Tekkadan manage to get out of this jam? Tune in and find out. No word yet on what the new acquisitions will be arriving within the coming weeks, but Jason DeMarco has hinted that "One of them is gonna get ppl super psyched, one is gonna confuse ppl, and one is gonna be "right in the pocket" as they say."
Not much else to say other than see you again next week for another round of the better cartoon show. Later.
---
Legend: The shows listed are ordered based on their appearance on the schedule. Show trends are listed in bold. The number next to the listed trend represents the highest it trended on the list (not counting the promoted trend), judging only by the images placed in the rundown. For the Twitter tweet counts, the listed number of tweets are also sorely based on the highest number shown based on the images on the rundown.
United States Trends:
Tweet Counts:
Toonami [5,960 tweets]
#Toonami [1,723 tweets]
#DBZKai [1,150 tweets]
#JoJosBizarreAdventure [2,354 tweets]
#GundamIBO [1,280 tweets]
#HunterXHunter [1,416 tweets]
#BlackClover [1,307 tweets]
Tumblr Trends:
#Toonami
#Dragon Ball Super
#JoJo's Bizarre Adventure
#JJBA
Notes and Other Statistics:
Special thanks to @JMB_70056, @myanimewaifu, @mmorse1017, and others I forgot to mention for spotting some of the trends on this list.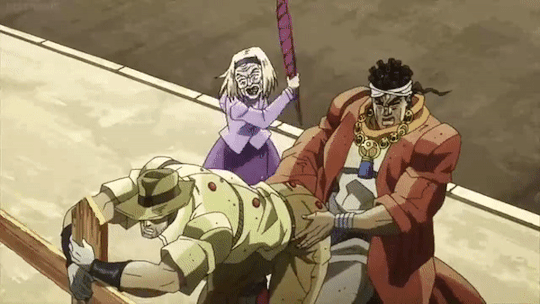 Better Get Used to It. Only Toonami on [adult swim] on Cartoon Network.
Toonami Tweets of the Night for April 7-8, 2018