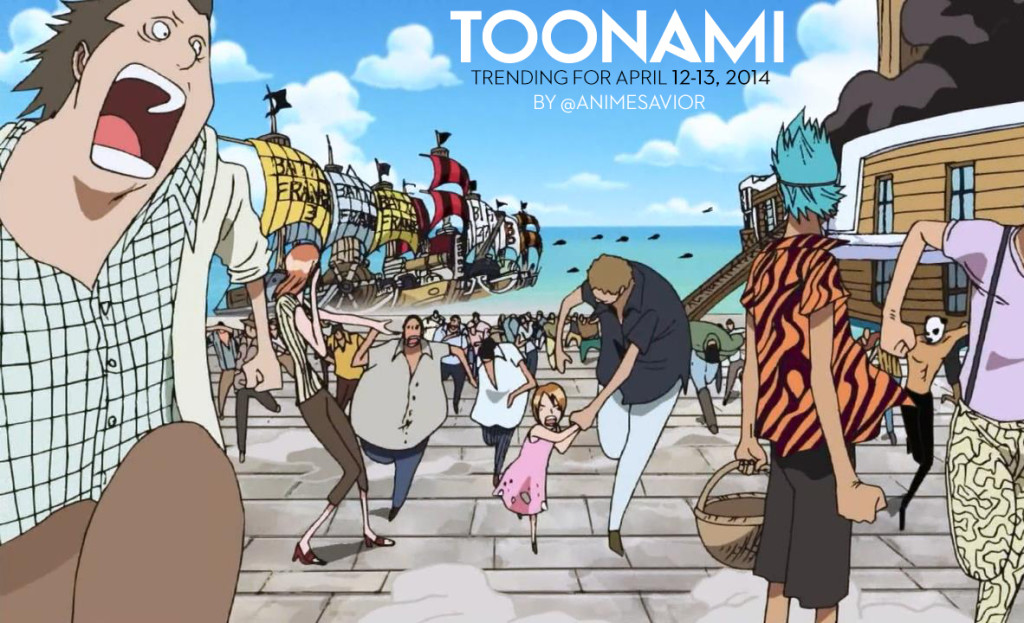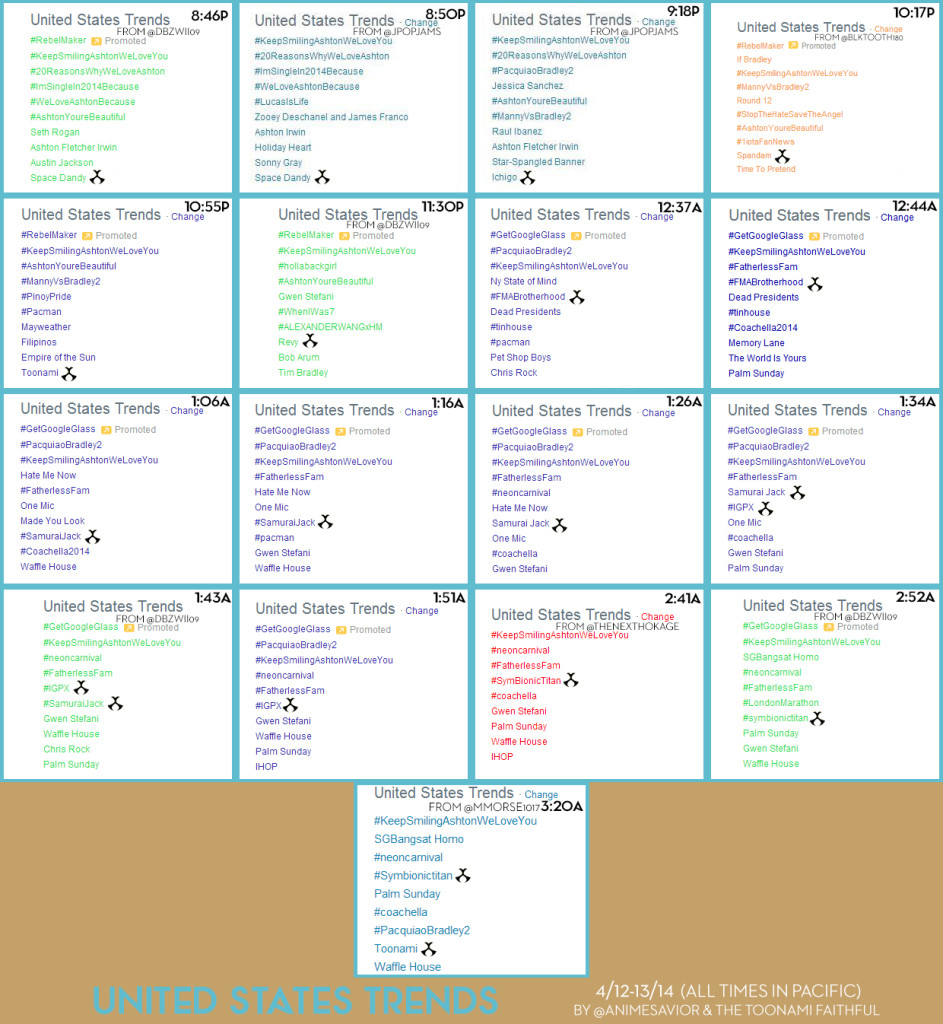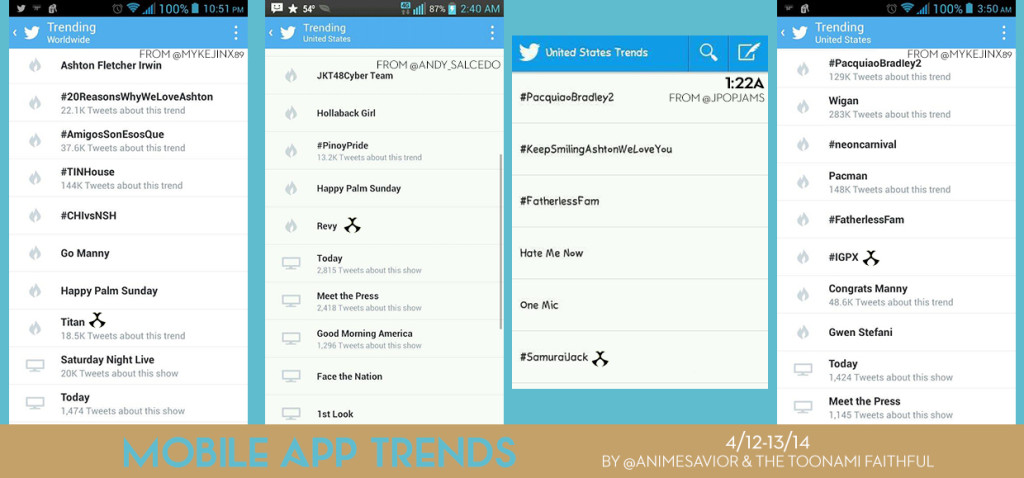 "It's your fault this happened [Franky]. It was that intelligence agent, he used your damn battleships to attack people at the harbor. […] I told you this would happen, but you don't listen…"
–          Iceberg, One Piece (Episode 249)
The Toonami Trending Rundown for April 12-13, 2014. Not an easy night for trending with Pacquiao's revenge victory over Bradley dominating the trending list, but Toonami managed to make it's own buzz regardless as Space Dandy, FMA Brotherhood, Samurai Jack, IGPX and Sym-Bionic Titan managed to reach the US trending list. We also got character trends from Bleach, One Piece and Black Lagoon, with Ichigo (as he loses his hollow powers while fighting Oko, but with the help of the rest of the society and Nozomi interveining, manages to get back into the match), Spandam (as he attempts to re-convict TOM and co. after being acquitted for completing the sea train), and Revy (as she goes diving with Rock to search for an old Nazi Germany era painting).
Finally we also got a trend of Titan on the mobile app list as Toonami announces it's newest acquisition, Attack on Titan. Yep, you heard that right. AOT will be coming to Toonami on May 3rd at 11:30pm Eastern. On the down side, this will bump Space Dandy to 12:30am and every show between Shippuden to Samurai Jack down a slot while IGPX will be off the schedule after this run for at least the interm, so for those that only watch the premieres or a specific show, be prepared to stay up a bit later than usual. But on the bright side, we'll be having 6 different premiere shows including 2 dub premieres and once July comes, Dandy will make it 7. And while this was likely a foregone conclusion like SAO was last year, Attack on Titan's arrival shows that things sure are looking up for both Toonami and anime as a whole.
In the meantime, tune in next week as Bleach shows the penultimate episode of the Gotei 13 Invading Army arc among other great moments from the other shows. Till next week, stay gold.
Legend: The number next to the listed trend represents the highest it trended on the list (not counting the promoted trend), judging only by the images placed in the rundown. For the mobile app trends, the listed number of tweets are also sorely based on the highest number shown based on the images on the rundown.
US Trends:
Toonami (During Blue Exorcist and Sym-Bionic Titan) [#8]

Space Dandy [#9]

Ichigo (From Bleach) [#9]

Spandam (From One Piece) [#8]

Revy (From Black Lagoon) [#7]

#FMABrotherhood [#3]

#SamuraiJack/Samurai Jack [#4]

#IGPX [#4]

#SymBionicTitan [#4]
Mobile App Trends:
Titan (During Space Dandy) [#9]

Revy (From Black Lagoon) [#9]

#SamuraiJack [#6]

#IGPX [#7]
Special thanks to @Andy_Salcedo, @blktooth180, @DBZWii09, @JpopJams, @mmorse1017, @MykeJinX89, @TheNextHokage, and others I forgot to mention for spotting some of the trends on this list.
Brace Yourselves. Titans Are Coming. Only Toonami on [adult swim] on Cartoon Network.