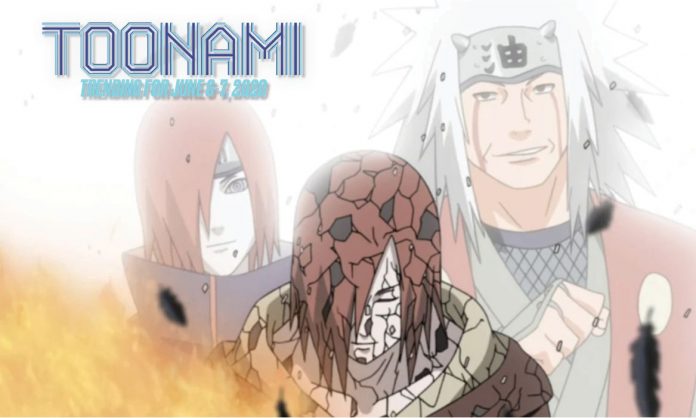 Here's the report on the social media buzz and news from the Toonami broadcasts of June 6-7, 2020.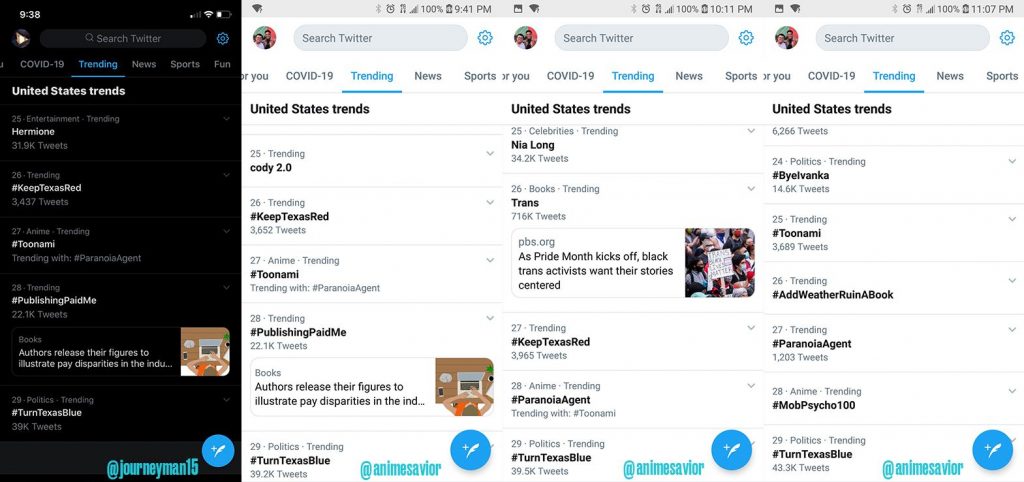 This week Toonami was impacted by COVID-19 production delays in more ways than one. For the third week in a row, an encore episode from My Hero Academia aired on the block. Additionally, this was the debut of Ballmasterz: 9009, which took the spot JoJo's Bizarre Adventure was in for the time being, as the popular series also faces delays.
On Twitter, #Toonami trended in the U.S. alongside Paranoia Agent, Mob Psycho 100, and Naruto: Shippuden.
#Toonami [#27, #25]
#ParanoiaAgent [#27]
#MobPsycho100 [#28]
#Shippuden [ranking unavailable]

Highlights for the night included a special opening video from TOM and SARA aired at the beginning of the block featuring Toonami's speech about equality from 2013. Additionally, bumpers between shows featured tracks from the newly released album 'RTJ4' from Run the Jewels, which TOM name-drops in the intro. When Gentle Criminal surrenders to pro heroes Ectoplasm and Hound Dog in My Hero Academia, Midoriya vouches for him by claiming that they resolved a small disagreement over a prank and that there is no threat to UA, which allows the school festival to go on as planned. Class 1-A's dazzling (literally, thanks to Aoyama) musical performance finally brings a smile to Eri's face for the first time in her life. Black Clover wrapped up the Reincarnation arc, with Asta and company defeating the devil and bringing the Elf Wars to an end, including a tearful farewell to the Wizard King Lumiere. Itachi breaks from Kabuto's control and allies himself with Naruto and Killer B in Naruto: Shippuden to defeat Nagato. Naruto finds himself humbled when Itachi reminds him to find strength in relying on others and warns of the dangers of striving for power to be acknowledged.

Toonami announced that new episodes of My Hero Academia would not be airing after the three-week encore previously announced. In the interim, Toonami is allowing fans to curate a collection of episodes they would like to see air again by commenting and voting on posts from Toonami's official social media. However, FUNimation did tweet that episode 87 will stream on FUNimationNow on June 14. We are unsure if Toonami will continue to run encore episodes, but Toonami Faithful will update you when we get any new information.
The Promised Neverland may soon receive a live-action adaptation through Amazon. The project will be executive produced by actor and digital effects artists Masi Oka (NBC's Heroes, CBS's Hawaii Five-O). Rodney Rothman (Spider-Man: Into the Spiderverse) will be directing, and Meghan Malloy (The Jungle Book) is set to write the script.
Storyboards for the first episode of the upcoming UZUMAKI anime were previewed on the show's official social media accounts, featuring art from the manga as guides to demonstrate how much care is being taken in adapting one of Junji Ito's most famous works.
Sword Art Online – Alicization: War of the Underworld will be returning to Japanese TV and simulcast on July 11, 2020, after a brief hiatus due to COVID-19 affecting production. Episodes will be available Saturdays on Crunchyroll, FunimationNow, Hulu, and HIDIVE.
As always, do your part to prevent the spread of COVID-19 by following advisories from your local health authorities, practicing social distancing, not touching your face, and washing your hands. You can even sing along with your favorite anime OP or ED theme to help you remember to wash for at least 20 seconds. Until next week, stay safe and stay gold.

Did you enjoy this week's Toonami? Let us know by commenting below or directly on our social media. And be sure to follow us on @ToonamiNews and subscribe to our podcast on Soundcloud for future content and breaking news updates. This week, Paul Pescrillo and CJ Maffris interviewed Chris Whekamp, who voices Shouta Aizawa/Eraserhead in My Hero Academia and Takehisa Hinawa in Fire Force. Check it out in the player below.