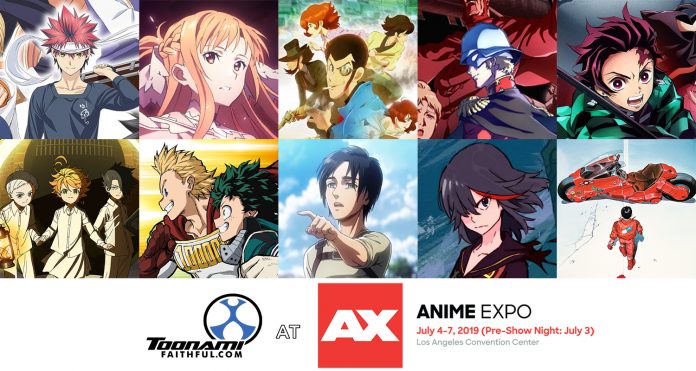 Being one of the biggest and most prestigious anime conventions in the world, Anime Expo is a hotbed for world premiere events as well as big news, reveals, and announcements. While there wasn't a direct presence from Toonami at the con this year, the Toonami Faithful received plenty of news from several Toonami-aired franchises. Properties like Akira, Food Wars, Lupin the Third, My Hero Academia, The Promised Neverland, and Sword Art Online, plus the announcement of a new show in Demon Slayer: Kimetsu no Yaiba joining the fray; all had a large presence at the convention.
As one of the curators of @ToonamiNews, I made sure to gather all the insight and news from AX. We prioritized Toonami-related events to attend and keep track of for potential news, and made sure to get plenty of interviews from industry members as well as photographs of some amazing cosplayers. To give our readers the full experience of AX, our mission was to make our coverage bigger and better than last year. A previous article published earlier by my colleague CJ Maffris showcased some of the general news and highlights of what happened during AX, but this article will stick to the highlights and news that relates to Toonami programming. Included are some of the big news announced, as well as reactions from our staff and the fans.
Food Wars
A week before Anime Expo, Sentai Filmworks announced that the popular series Food Wars would be joining Toonami. The first episode premiered on the Saturday of Anime Expo adding another level of excitement at the convention.
Fans have been requesting Food Wars since the anime came out in 2015. Despite this being a Shonen Jump franchise, it was a stretch for Toonami to acquire this show at the time due to its non-action nature. Plus, some of its nudity and sexual content could have the channel's Standards and Practices department scratching their heads. But as Toonami expanded and began to welcome in more genres of anime into the fray, Shokugeki no Soma felt like a no-brainer.
During the Sentai Filmworks panel, the company announced that they would be dubbing the third season of Shokugeki no Soma, titled "The Third Plate." A trailer for the new season was released, featuring Alejandro Saab taking on the role of Terunori Kuga.
Akira
During the Sunrise panel, Akira creator Katsuhiro Otomo revealed that a new anime on the Akira franchise is presently in the works, and will be animated by Sunrise. Otomo said that the new series would be following the story of the original manga, which goes into a deeper dive into the story, lore, characters and the setting of Neo Tokyo and the Akira universe. Additional details, including a time-frame for release, is still to be announced. However, it's somewhat unclear if this will be a TV series, an OVA, or a movie.
Toonami previously aired Akira during the holidays back in 2013 and 2014. Knowing Jason DeMarco, I think it's safe to assume this could be a top candidate for Toonami to air in the future. Of course, this depends on if it's made into an anime series, and if Toonami will be able to acquire the U.S. broadcast license.
❗️❗️❗️❗️❗️ https://t.co/oGqKc7ek2B

— SPIRAL CURSE DEMARCO (@Clarknova1) July 5, 2019
Sunrise also announced that the original 1988 film will see a 4k remaster. It is expected to be released in Japanese shores in spring 2020, with a western release still to be determined.
This latest project was going to go along with the live-action remake in production by Director Taika Waititi and Warner Bros. The film was scheduled for release in theaters on May 21, 2021. But on Tuesday, July 16, it has been revealed that Akira would be delayed as Director Taika Waititi would focus on directing the next Thor movie. As of this writing, it is to be determined if Warner plans to go forward with the delays or replace Taika as director.
The Promised Neverland
The Promised Neverland completed its dub premiere of season one the week before AX. Now fans will have to wait for season two and eagerly await what happens next for the kids of Grace Field House now that they have escaped from Mom's grasps.
Erica Mendez (Emma), Jeannie Tirado (Norman), and Laura Stahl (Ray) were joined on stage by their Japanese counterparts, Sumire Morohoshi, Maaya Uchida, and Mariya Ise respectively as well as series director Mamoru Kanabe.
This week's #TBT takes us back to our "The Promised Neverland Panel" at Anime Expo 2019! We had a great time with our special guests director Mamoru Kanbe and both the Japanese and English voice cast of Emma, Norman, and Ray and wanted to thank all the fans who attended! pic.twitter.com/z9YQTVNUA3

— Aniplex USA (@aniplexUSA) August 8, 2019
No news was revealed other than the voice actors got to meet with their foreign counterparts. The panelists discussed their experiences recording the season, as well as their anticipation for season two. Unfortunately, the room's electronics ban (despite that it's not a premiere event) made it difficult for me to take notes. This particular event is a bit of a blur in my memory, so I can't go into much detail.
Aniplex showcased the opening scene of Episode 1, with a mashup of both English and Japanese languages by the dubbing team at Bang Zoom!. The cast then took a group photo with the audience, before they were on their way.
Thank you coming THE PROMISED NEVERLAND panel at ANIME EXPO 2019!!
Please look forward to the 2nd season!! pic.twitter.com/iKM6BC2Vxo

— 『約束のネバーランド』公式 (@yakuneba_staff) July 5, 2019
On a related note, we got the opportunity to talk with Ryan Bartley and Cedric Williams Jr. on Sunday to talk about their characters including Gilda and Don respectively.
@RyanBartley and @cedwilliamsjr has some kind words to the Toonami Faithful! And keep showing your support for The Promised Neverland! pic.twitter.com/u5Ze2fLZbk

— Toonami News (@ToonamiNews) July 8, 2019
My Hero Academia
Despite Adult Swim's schedule producers moving My Hero Academia to the end of the block for the last few episodes of Season III, My Hero Academia-mania remains strong from the Toonami Faithful and across the anime community. With Season IV set to premiere this Oct. 2019, fans were excited to see what would be up next for our heroes in training.
The line to the #MyHeroAcademia #AX2019 panel. It's a long one. pic.twitter.com/0ti9bQHz32

— Toonami News (@ToonamiNews) July 6, 2019
Much like last year's panel, due to the high anticipation of fans wanting to see the premiere, Anime Expo required prospective attendees for this and the Pokémon panel to reserve an admission wristband online roughly a week before AX and to pick it up onsite sometime before the event. The wristband guaranteed you entry provided you didn't remove or tamper with it. To no surprise, the wristbands were picked up like hotcakes, and it was a sold-out crowd instantly. Fortunately, I requested and was granted press access by Funimation's PR department to attend the panel.
✨SOON✨

The My Hero Academia Season 4 Premiere & Panel at #AX2019 is ABOUT TO BEGIN!! #MyHeroAX pic.twitter.com/5M5XqsJxJ6

— My Hero Academia (@MHAOfficial) July 6, 2019
The panelists included Kaori Nazuka the Japanese voice of Toru, as well as several of the English voice actors including E. Jason Liebrecht (Dabi), Ricco Fajardo (Mirio), Kellen Goff (Overhaul), Justin Cook (Kirishima), David Matranga (Todoroki), and Patrick Seitz (Endeavor).
Kaori Nazuka, the Japanese voice of Hagakure, is first on stage. #MyHeroAcademia #AX2019 pic.twitter.com/PKMpSwlPln

— Toonami News (@ToonamiNews) July 6, 2019
. @ElCidRecords @RiccoFajardo @kellengoff @Seitz_Unseen @DavidMatranga1 and Justin Cook on stage. #MyHeroAcademia #AX2019 pic.twitter.com/QkWGoEaS8g

— Toonami News (@ToonamiNews) July 6, 2019
Since My Hero Academia became a Toonami show last year, we've seen this franchise continue to grow in popularity among those watching on Toonami or streaming the series. Kaori was amazed to see the 3000 or so fans that were lucky enough to enter the panel saying, "To see that My Hero Academia is so popular outside of Japan is truly amazing." The sentiment was echoed among the other panelists, with David Matranga saying, "I'm glad so many people are as invested in this show as we are."
Season Four will introduce the newest villain Overhaul. From what we've seen in Season Three and this premiere, I'm sure he'll be a character you will love to hate. Kellen Goff has been an avid My Hero Academia fan long before he was cast into the show. And after researching and getting invested into his character, he says in regards to voicing Overhaul: "It's just been so fun getting into the darker part of the spectrum." Jason Liebrecht also echoed this in regards to voicing his character Dabi saying, "Like Kellen, I tap into the deep, dark emotional hurt within me [to prepare for recording]." He is also looking forward to learning more about Dabi and his development, or in his words, "Who the heck I am?"
One of my favorite aspects about My Hero Academia is the character development of the cast, including the determination and relatability of the characters and how it inspires people. Justin Cook says in that regard, "We try to make our work as exciting and relatable, and seeing the fans respond to that is incredible." Ricco Fajardo also enjoys the character development Hoshikori brings to the My Hero Academia franchise, saying "There's a lot of stuff to every character in this show. You can really connect with them."
. @RiccoFajardo: "Someone believing in you and believing in yourself is everything. " #MyHeroAcademia #AX2019 pic.twitter.com/tZFKAlmi7a

— Toonami News (@ToonamiNews) July 6, 2019
Kaori was impressed by how All Might's voice actor, Kenta Miyake, took it to the limits during his battle against All for One in Season Three; mentioning how Miyake became weary after that particular session. Kaori went on to hint that Season Four will see a lot of intense and fun aspects similarly in that regard and is looking forward to seeing the battles next season.
David Matranga can relate to the pressures of expectations Todoroki feels. Being the son of one of the universe's most powerful hero, Todoroki does have some high expectations set on himself by others, despite being a robust prospect. The fact that Endeavor is also a jerk doesn't help matters. Todoroki is a big fan favorite among My Hero Academia fans, and watching his character develop and the fans respond to him overcoming his struggles, he says, "I'm so invested in voicing Todoroki, and seeing fans invested in him makes me feel like going in the booth feel heroic." Going forward in the story, one of the things David would love to see for his character is "For Todoroki to do something that he actually feels proud of. Having a quiet feeling of pride." Patrick Seitz is a bit more sympathetic towards Todoroki compared to his character saying, "I see why people put up with Endeavor, it's just not the people skills."
Such an amazing panel! @AnimeExpo https://t.co/uXeLGZkAAp

— David Matranga (@DavidMatranga1) July 6, 2019
While Season Four won't be premiering in Japan until Oct. 2019, Funimation to the surprise of many completed the dub of the first episode, and it debuted to the audience during this panel. The episode covers chapters 125-127 of the manga.
Click Here to expand for Plot Summary. (Spoiler Warning)

The action starts right off the bat as the episode begins with Overhaul meeting with Shigaraki and the League of Villains to form a potential alliance with Overhaul and his group, the Shie Hassaikai. While the villains are united in saying that this hero society needs to be taken down, that's where the similarities end. Overhaul wastes no time in saying that he is not a fan about the run-down quality of the League of Villain's operations. Shigarashi wants to gather members and bring down the current hero society with their combined power. Overhaul, however, wants to see a successor to All for One that would be feared by the populous and wants the League of Villains to work under him.

Magne charges after Overhaul, saying that the League of Villains has no interest in being subordinate to anyone. Overhaul responds by using his quirk that makes his enemies explode by touching them, thus killing Magne. Mr. Compress charges after Overhaul in retaliation, but Overhaul blows up his arm in response. Furious, Shigaraki dashes after Overhaul and prepares to disintegrate him. But Overhaul calls upon his subordinates and one of them takes the bullet, as Shigaraki disintegrates him instead.

With casualties on both sides, Overhaul and his squad retreats, but not before telling Shigaraki and the League of Villains to cool down if they want to consider a potential alliance again seriously. Overhaul also informs them that the League is having too much of a temper tantrum to negotiate appropriately. Overhaul leaves Shigaraki with his business card. Shigaraki tells the remaining League members to stand down and responds with "You'll pay for this!" as the scene ends, leaving the audience stunned.

Meanwhile, with most of Class 1A passing their Provisional Hero License exams, (except Todoroki and Bakugo, who will be doing a retake exam), students will begin to look into a Hero Work Studies program. While some instructors were against doing Hero Work Studies due to the rise in crime due to All Might's retirement, they ultimately allowed the students to take internships with hero organizations with good track records.

Deku pleads to All Might and Mirio that he wants to intern under Sir Nighteye (Mirio currently works for him) since Nighteye has worked with All Might back in the day. Despite All Might thinking that he's not cut out for it yet, as he has known Nighteye and his work ethic, Deku still presses on. Deku wants to get stronger in his quest to succeed All Might in being the World's Greatest Hero and feels this is the best course of action. All Might would eventually give in as he tells Mirio to refer Deku to Nighteye.

Mirio mentions that while Nighteye is quite strict, he is also a man of humor. Mirio warns Deku that if he has any chance of accepting, he will have to make him laugh at least once. Mirio takes Deku to Nighteye, who was busy talking with his assistant Bubble Girl about receiving a tip regarding the incident between Shigaraki and Overhaul. Nighteye was not impressed with the lack of humor in her report and responded by giving Bubble Girl a bit of a tickle as Mirio and Deku came in.

Deku attempts to make him laugh with his All Might impression. This did not impress Nighteye, and criticized Deku for making fun of him. As it turns out, Nighteye is also a big All Might fan and noted that Deku's expression of him was a bit off. Deku explained that his appearance was based on the Vinegar Suicide incident, where All Might saved a boy whose quirk was changing water into vinegar, from drowning. As he was posing with the press, the vinegar did have All Might's eyes squinting for a while.

Nighteye was impressed that he knew this, considering that such a fact is rarely known even among All Might's biggest fans. And while Nighteye was impressed at Deku's knowledge of All Might's history, he was not impressed enough to hire him. Nighteye warns Deku that his internship is harsh and requires a lot of time and commitment, informing him that his studies will suffer as a result.

But despite Deku still pressing on, Nighteye refuses to stamp his contract, feeling that the addition of Deku wouldn't be much of a benefit to his company. He challenges Deku to take the signature stamp away from him in three minutes by any means necessary. As Deku activates One for All and charges at him, he learns that there is a catch. Nighteye's quirk, Foresight, gives him the ability to predict a person's actions for a time when he touches and has eye contact with them. And if Deku really wants to have an internship with Nighteye, he's going to need to overcome this as well.
While the crowd was bummed at the cliffhanger, they were electric at what they saw. Seeing the excitement as attendees exited the room, it's safe to say that fans cannot wait for what's in store. All I can say is that My Hero Academia fans will be in for a real treat this Oct. 2019, and whenever Season IV airs on Toonami.
THANK YOU @AnimeExpo FANS!

Thousands of you in one room for the special premiere of Season 4!!!

Our hearts are so full! 💜💜💜 pic.twitter.com/LljpeNLn4Q

— My Hero Academia (@MHAOfficial) July 6, 2019
What a panel. This was among the greatest days of my life. Thank you so much @FUNimation and @AnimeExpo for having me, and to everyone who was up on that stage with me to share that moment. I'll never forget this. Thank you from the bottom of my heart. #AnimeExpo2019 #MHAAX2019 pic.twitter.com/Q0PMXGJAtR

— Kellen Goff 🔜 AVC Anime Festival (@kellengoff) July 6, 2019
On a personal note, I ran into David Matranga and Patrick Seitz when I was getting lunch after the panel had ended. David told me that he found it cool that I live-tweeted the event and thanked us for helping spread the My Hero Academia and Toonami news.
Lupin the 3rd
TMS and Discotek showcased a double feature world premiere of the English dubs of Lupin the 3rd films Goemon's Blood Spray and Fujiko's Lie. Goemon's Blood Spray will be available to purchase on Sep. 24, while the release date for Fujiko's Lie is still to be announced.
@VLordGTZ and his brother @LumRanmaYasha were able to attend the premieres, and you can see his review here.
Thanks to everyone who joined us at AX for the #LUPIN THE IIIRD screening this year! And those of you who couldn't, we know you were there in spirit. Let's do this again soon! pic.twitter.com/DF8m9pQWsy

— TMS Entertainment (@tmsanime) July 11, 2019
Sword Art Online
Several hours before the penultimate episode of the first half of Project Alicization aired, Aniplex hosted a Sword Art Online panel on Saturday afternoon to commemorate the events of Part One, and to look forward to the second part coming to Japanese airwaves and streaming Oct. 2019.
Bryce Papenbrook and Cherami Leigh once again co-hosted the panel to a packed crowd at the Petree Hall; joined by ADR Director Alex von David, series director Manabu Ono, character designer Shingo Adachi, and Hiroe Tsukamoto, one of the producers of the show.
Ai Kayano, the Japanese voice of Alice, couldn't make it this year. She did sent a video message for those attending the panel, giving them her regards and telling fans to look forward to Part Two. Kayli Mills, the English voice of Alice however, was in the room among the audience along with fellow cast members Michelle Marie, Jennifer Losi, and Deneen Melody.
I mean, I'm here if you need a stand-in… 😛

— Kaylo Kills 🔪🎃🕸 (@KayliMills) July 6, 2019
The ladies of @SwordArtUSA Alicization supporting everyone at the Special Event at @animeexpo! Great stuff, especially to our dub crew @alexvondavid, @BrycePapenbrook, & @CheramiLeigh! #SAOAlicization #SwordArtOnline #AnimeExpo pic.twitter.com/DDuF31Ij8J

— 🎃Deneen the Pumpkin Queen🎃 (@DeneenMelody) July 7, 2019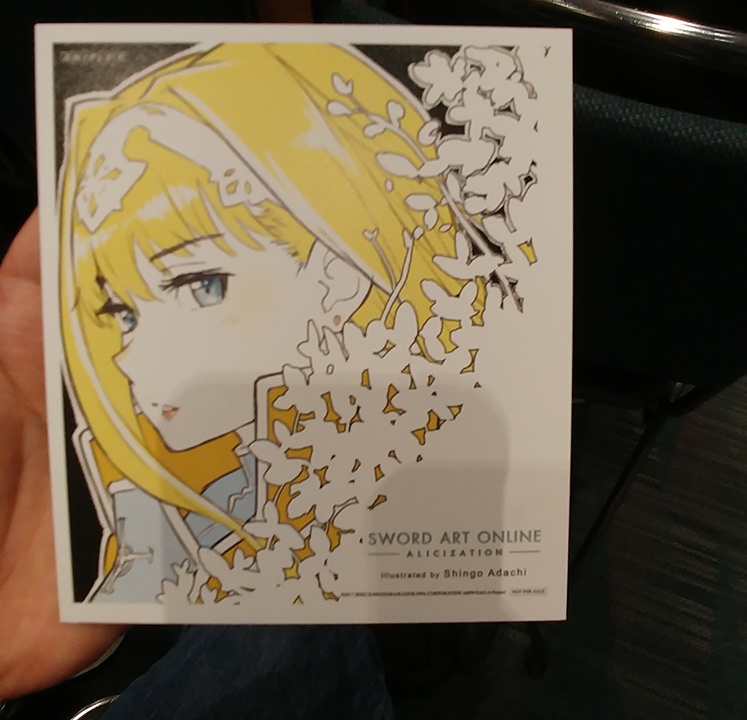 Aniplex released a new teaser trailer of the second half of Project Alicization (which you can see below). It's looking like Kirito is going to be in more of a predicament than he already is, if his situation in the Underworld wasn't bad enough, and it looks like Asuna and Alice are going to have to step it up if they want to get him out of this mess.
The panelists discussed and answered questions regarding the production of Project Alicization. Alex von David previously mentioned before that he won't be doing any Simudubs in the frequency that Funimation has in the near future due to the difficulties he had previously ran into when experimenting on a broadcast dub for Durarara x2. Nonetheless, he and the production crew managed to produce the English dub for the Toonami audience a lot quicker than the previous two seasons; with only a four-month wait between the Japanese premiere to the Toonami premiere, compared to a year for Season One and seven months for Season Two. Although he did mention that adapting part one of Alicization was a bit of a grind, he said that "It doesn't feel like so much time has passed since we started recording. It just went by in a blink of an eye."
Adachi-san mentioned that Aniplex and A-1 Pictures were fully committed to adapting the Project Alicization story arc and greenlighted development as early as midway through the production of Season Two in 2014. However, as Kawahara was still writing Project Alicization at the time (and it would not be until 2016 until the final novel of the story arc was published), the project was shelved for a while as the anime crew focused on creating Ordinal Scale, which premiered at theaters in 2017.
What would you do if you were stuck in the Underworld?

Ono: Cutting wood.
Adachi: not cutting wood.@alexvondavid: dubbing wood.#SwordArtOnline #AX2019

— Toonami News (@ToonamiNews) July 6, 2019
The panel showcased storyboard drafts of the first opening of season three, ADAMAS by LiSA. Bryce remarked that he listened to the song about a hundred times before recording.
ADAMAS storyboard #sao_anime pic.twitter.com/nx5y91DSuR

— タカ ☔️🌲🕊 (@takasakinozomi) July 7, 2019
A fun trivia about Kirito and Eugeo's secret handshake; the idea of two BFFs doing a secret handshake was initially thought up for the Sleeping Knights during the Mother's Rosario story arc, possibly for Asuna and Yuuki. However, things didn't work out at the time, and the idea was shelved until this season. Secret handshakes are a bit of a foreign concept to the Japanese, so the production crew took inspiration from American YouTubers.
Before Anime Expo, Aniplex released a survey for fans to fill out and they revealed the results during the panel.
Top 5 Favorite New Characters
Eugeo
Alice
Cardinal
Quinella the Administrator
Tiese
Eugeo has turned out to be a popular character among Sword Art Online viewers. During my interview with Brandon Winkler on Sunday, I asked him why he thinks his character is so endearing to the SAO viewer:
"I think the most endearing thing about Eugeo is his growth. When you first meet Eugeo, he's kind of an insecure, quiet, but still loving person. He's a very sweet individual and I think that's what really makes the fans love him so much. Because you know, Kirito is kind of this hard-headed, stubborn, I know what I'm doing type of person, while Eugeo is just like "you know, you got what you need" that sort of thing. He's just a really loving individual and I think when you have something that you can root for who's growing and growing and growing, and he constantly wants to be like Kirito, I think when you have that underdog complex, that's kind of like it reminds me of Deku from My Hero Academia, in the sense of like "we're rooting for you", and that's why I think that we love Eugeo in particular so much especially in this fandom. Plus, I love his storyline and how he just becomes so much better than what he was."
Tiese's voice actor, Kimberly Woods, meanwhile was pretty happy her character made the Top Five.
Yay!! 💙👯‍♀️

— Kimberly Woods (@kimberlywoods) July 8, 2019
Favorite Integrity Knight:
Alice Synthesis Thirty
Eugeo Synthesis Thirty-Two
Bercouli Synthesis One
Fanatio Synthesis Two
Eldrie Synthesis Thirty-One
Favorite Integrity Knight. #SwordArtOnline #AX2019 pic.twitter.com/Aju3DuG5Oj

— Toonami News (@ToonamiNews) July 6, 2019
Favorite Member of Kirito's Harem:
Asuna (37%)
Eugeo (31%)
Sinon (13%)
Alice (7%)
Leafa (3%)
Asuna and Eugeo the members of the harem lol. Bryce seems pretty happy Eugeo is up there lol pic.twitter.com/RLLdUDXgeZ

— Brandon (@KoharuHonda) July 24, 2019
The harem aspect of the show has been a common criticism for many critics and fans, mostly due to Kirito's love interests outside of Asuna and Yui typically being a one-sided affair. Nonetheless, Aniplex asked the question to the fans on who "belongs" to Kirito. Both Bryce and Cherami were hoping that Asuna would come out on top. Fortunately, and to no surprise, Asuna came out on top with over a third of the vote. The two newest additions to Kirito's harem, Eugeo and Alice, ended in second and fourth place respectively. Sinon's popularity remains pretty strong as she came in third. And Suguha/Leafa rounded off the Top Five.
Cherami was slightly confused that Eugeo was among the options, to which Bryce replied: "Why not?" Cherami just said "That's fair" before formally welcoming Eugeo as the first boy to Kirito's infamous harem (unless you count Klein).
😂😘 @BrycePapenbrook Looks like I'm giving @CheramiLeigh a run for her money #Eugeobestwaifu https://t.co/ouTwOrYeBO

— BOO-randon Winckler🎃👻 (@BWincklerVA) July 7, 2019
Top 5 Favorite Scenes:
Kirito vs Eugeo Synthesis 32 (Episode 21)
Kirito and Asuna kiss (Episode 01)
Kirito meets Eugeo (Episode 02)
Kirito and Alice climb the tower (Episode 17)
Eugeo vs Bercouli (Episode 18)
The top 5 favorite scenes from the survey. #SwordArtOnline #AX2019 pic.twitter.com/5yziCHtnch

— Toonami News (@ToonamiNews) July 7, 2019
Aniplex revealed the top three scenes dubbed on-screen before showing the full list. When they showed the scene of Kirito and Asuna inviting her to go to America with him and sharing a kiss, Cherami said: "Kirito and Asuna, lovers forever." Bryce jokingly responded with "Kirito and Eugeo, lovers forever." Cherami was not amused.
This season has not been kind to Asuna as she has been sidelined from much of the action and forced to helplessly watch Kirito recover from Johnny Black's assault. Granted, while Asuna has been actively trying to get Kirito out; it doesn't help that we haven't seen much from her perspective so far. This isn't helped by the fact that due to the Accelerated Fluctlight mechanic, the story so far has only taken place over a few days, while inside the Underworld, it's been a few years. Regardless, it's gotten to a point where Cherami even pleaded to Manabu Ono to see if he can do something so Kirito and Asuna can be back working together once again. Thankfully, Ono assured Cherami that Asuna will have a much more significant role in the second half.
Throughout the panel, Shingo Adachi created beautiful sketch drawings of Kirito, Sinon, Asuna, and Klein, on Japanese Art Calligraphy Boards. The illustrations were raffled out to fans, who were given raffle tickets before the panel and Bryce drew the winning numbers out of a pot. It was also his birthday on the day of the event, so everyone in the room sang Happy Birthday to him. During Anime Expo week, Aniplex published an artbook titled "Shingo Adachi Artworks" featuring 200 pages of artwork and commentary from his work in SAO and other titles he has been involved with including Working!! and Galileidonna.

Finally, no Sword Art Online panel is complete without a blooper reel, as fans were treated to a new set of outtakes from Part One of Project Alicization. You heard funny moments from the entire SAO cast, including tongue twisters, sexual innuendos, Kirito needing to kiss Eugeo to break Quinella's spell, and plenty more hilarious moments.
The cast thanked the fans for their support, before getting the crowd to chant S-A-O as the panel came to a close.
SAO! #SwordArtOnline #AX2019 pic.twitter.com/elyjYgMVqr

— Toonami News (@ToonamiNews) July 7, 2019
Following the panel, we were able to talk with Alex von David, Bryce Papenbrook, Kayli Mills, and Jeff Burns regarding their work in Sword Art Online. We also had the opportunity to have interviews with Deneen Melody, Jennifer Losi, Michelle Marie, Brandon Winckler, and Jackie Lastra, who all also worked on the show this season.
Thank you to all the amazing fans who came out to the Sword Art Online Alicization Special Event at Anime Expo 2019! We hope you had an amazing time! pic.twitter.com/cPo5wpv67W

— Sword Art Online (@SwordArtUSA) July 8, 2019
Two weeks after AX, Aniplex released a second trailer for Part Two as well as a Key Visual featuring Alice, Kirito depressed from the loss of Eugeo, and Asuna in her Underworld avatar, which you'll learn the backstory of once we get started with the 2nd half.
Demon Slayer
Ever since the anime's run began in spring 2019, Demon Slayer had quickly become one of the biggest anime hits of the year and became a highly requested and odds-on favorite for Toonami to eventually air when its respective dub is ready. Many fans, including our crew, had a hunch that Demon Slayer would be announced for Toonami at the Aniplex panel on Thursday. That hunch turned out to be correct one as during the Aniplex panel, after they were promoting the simulcast of Demon Slayer, they released the bombshell that the series would be joining Toonami in the future.
BREAKING NEWS: And guess what's coming to Toonami from Aniplex next? It's #DemonSlayer! pic.twitter.com/JEMwHvPqnf

— Toonami News (@ToonamiNews) July 5, 2019
Demon Slayer will be the third Toonami show from Aniplex since Sword Art Online returned for Project Alicization, and the sixth franchise overall that has been acquired from Aniplex in the modern era. While a few folks predicted that Kimetsu no Yaiba would replace SAO in the lineup as the latter went into it's "off-season", Toonami that night revealed Demon Slayer would be scheduled to premiere sometime in the fall. The show that eventually replaced SAO would be Fire Force (which was announced during SDCC week).
I got to speak with an Aniplex official off the record regarding Demon Slayer's acquisition after the panel on Saturday. They mentioned to me that they have yet to start the dubbing process at the time. And while they didn't see the Facebook post by Toonami, they did say that a fall release was "about right." Another Aniplex official told CJ that the announcement was greenlit several hours before the panel began. @Sketch1984 meanwhile learned from Alex von David that he was pitched to be the ADR Director, but had to turn it down due to other commitments.
A few hours after the Sword Art Online panel ended, Aniplex hosted the Demon Slayer panel. Being one of the hottest shows in 2019, Room 408AB would quickly prove to be too small for the anticipated crowds. According to Kuro and several other people in the general attendee line, the staff in charge of organizing the line were not exactly helpful.
@AnimeExpo this is a situation your staff member created. By unnecessarily blocking off an EMPTY line for the DemonSlayer panel, she made this chaos, and a potential safety issue. Very disappointing. #AX2019 pic.twitter.com/7psI7LTQK7

— Happy Kuro Kitty #KyoAniStrong (@HappyKuroKitty) July 7, 2019
Hey @AnimeExpo once again amazing job with the #DemonSlayer panel we tried to line up in advance but your staff wouldn't let us and soon it was a mass of people. Then people who waited for over 2 hours didint get in n people who just got their got in instead #animeexpo2019 pic.twitter.com/PeSRxQWAHP

— wheres_polo (@wherespolo1) July 7, 2019
In the line to get into the line to get into the mosh pit where you were selected for the random lottery. winners got seats for the Demon Slayer panel at Anime Expo. pic.twitter.com/vBIYZbSTmA

— here comes daniel with the spooky vans (@mudakingdom) July 8, 2019
Fans who were lucky enough to be admitted into the room were treated to a special world premiere showing of the then-upcoming episode of Demon Slayer. It was episode 15, which covered chapters 28 and 29 of the manga. Following the screening, the panel introduced the audience to Kimetsu no Yaiba producer Yuma Takahashi, who took a short video of the excited crowd.
Thank you AnimeExpo. We will continue to work hard to create Demon Slayer Kimetsu no Yaiba.
アメリカ・ロサンゼルスで先週末に開催された「AnimeExpo」で、トークイベントの壇上から撮影した一幕。日本にも世界にも楽しんで頂ける様に頑張ります。
#AnimeExpo pic.twitter.com/nuxFqgMcZA

— 鬼滅の刃公式 (@kimetsu_off) July 12, 2019
Aniplex showed a video clip of the Japanese cast including Natsuki Hanae (the voice of Tanjiro), Akira Kito (the voice of Nezuko), Hiro Shimono (the voice of Zenitsu), and Yoshitsugu Matsuoka (the voice of Inosuke) as they sent the audience their regards and thanked them for their support.
Studio ufotable has been known for their high-quality animation productions, most notably in their previous work in Kara no Kyoukai and several titles in the Fate franchise. Takahashi then showcased some exclusive footage of a step-by-step creation of this very scene below in particular by the animators at ufotable. This specific scene showcases some of the fluid animation, very detailed backgrounds, and the motion and detail the animation studio is known for creating.
STOP SLEEPING ON THIS ANIME. DEMON SLAYER ANIMATION IS CLEAN AF. #DemonSlayer

— SPOOKSTVR 🧢🎃 (@BLVCKxSTVR) June 23, 2019
As the panel came to a close, fans were given a Kimetsu no Yaiba themed postcard upon leaving the panel. Everyone was also given a raffle ticket for the chance of winning one of four scripts signed by director Haruo Sotozaki.
Thank you AnimeExpo.
会場内でお会いした方々、イベントにご来場いただいた皆様、です。
#AnimeExpo pic.twitter.com/fMzkmf4kT9

— 鬼滅の刃公式 (@kimetsu_off) July 12, 2019
I don't watch a lot of subtitled simulcasts, so I'm not as ingrained in the Kimetsu no Yaiba franchise as my other colleagues are. But I see why fans wanted this show on Toonami, and believe that this show rightfully earned its spot. The animation, music, and designs are beautiful, and the story looks to be a very intriguing one. Tanjiro and Nezuko are very charming protagonists, and there's a lot of engaging and fun personalities with Zenitsu and Inosuke as well as the rest of the cast.
Some people might say that this is a "safe" choice for Toonami. But if opportunity knocks for a popular and well requested show to join the block, you can't say no, right? I feel that this show should feel right at home and connect with the Toonami audience, and I think this could this be the next InuYasha in terms of battle action shōnen set in the Feudal era.
Cosplay
Cosplaying is a popular tradition during conventions, and Anime Expo was no exception as we saw plenty of cosplayers during the week. Kuro and I made sure to take plenty of pictures of the amazing costumes were got to see.
Many cosplayers congregated around the entrance to the South Hall, where professionals and amateurs alike hung out and got photographed by photographers, journalists, other cosplayers, and general attendees alike. Anime Expo also set up several designated cosplay gathering areas around the grounds outside as well as the West Hall, where cosplayers can pose and take photos at dioramas.
There were so many from Toonami shows like My Hero Academia, Demon Slayer, JoJo's Bizarre Adventure, The Promised Neverland, Sword Art Online, as well as non-Toonami shows like Cells at Work, Konosuba, Re:Zero, The Seven Deadly Sins, and everything in between. Fans came out to represent cosplaying their favorite characters, and some of the cosplay we saw can be seen in this twitter moment below as well as on our Instagram page.
Interviews
One of the things I wanted to do for our AX coverage starting this year was to help CJ Maffris and the crew conduct some interviews. I've only been doing interviews at 3 events since I started doing this at last year's San Diego Comic-Con, but I really wanted to get some experience so I can cover other events and conventions in the Southern California region more effectively, and possibly beyond in the future. Plus, being able to talk with these folks in real life as the co-curator and representative of @ToonamiNews was fun and an honor.
We did 13 interviews, over triple of what CJ and Sketch did last year, and I was able to put together and be involved in some way with 9 of them. While Kuro was getting concerned that we were overdoing it, and I'm sure it wasn't fun for CJ to haul a camera and tripod around for 5 straight days, doing these were among the highlights of my convention, and if we had to do it again, I would have no issue. The interviews also did give us some connections, which could hopefully make future interviews and follow-ups a little easier.
We got to learn and discuss some cool things, including their experience growing up as a Toonami Faithful and how does it feel to have contributed to the block, why they decided to do what they do, how they do it, talking about the shows they are in and their characters, and so on. While I kind of wish I could have redid a few of them now that I have more experience, and there are still plenty of questions I would like to ask some of the people we interviewed, but couldn't due to time constraints, nonetheless I'm pretty satisfied with what I did and learned some valuable experience doing these interviews, and I hope to improving and refining my interview techniques as I cover future Anime Expos, Comic-Cons, and other events.
Stay tuned for our various interviews from AX 2019 coming soon. For those interested in seeing early access, the interviews are available to view for those who subscribe to the Toonami Faithful Pass on the podcast's Pateron page.
Some of the other notable news from Anime Expo include:
We heard rumblings of a potential announcement from Rooster Teeth while we were covering Anime Expo, but it was at the Rooster Teeth Expo in Austin, Texas (which was happening on the same weekend), where the news of the other new Toonami acquisition was revealed. On Sunday morning, Rooster Teeth announced gen:LOCK would be joining on Aug. 3.
Arc System Works had the upcoming Kill la Kill video game, titled "IF," available for fans to demo at their booth. The game was released on all major platforms except for the Xbox on July 26, 2019.
Fire Force was not revealed to be a Toonami show until San Diego Comic-Con, but fans did see the premiere of the dub at Anime Expo. LumRanmaYasha created a review of it, which you can see here. Series creator Atsushi Ohkubo also attended as a special guest on the panel, and Funimation released an interview with him publicly, which you can see below.
Check out this exclusive interview with the Creator of Fire Force and Soul Eater–Atsushi Ohkubo– at Anime Expo 2019! 🔥 pic.twitter.com/zfFWZ0g32N

— Funimation 🏴☠️ (@FUNimation) July 31, 2019
Thank you, Ohkubo-sensei! We had too much fun playing "rock-paper-scissors" with you. 🧡 pic.twitter.com/vAYjwbv3kp

— Fire Force (@FireForceAnime) July 5, 2019
Crunchyroll announced that they will be partnering up with Viz Media to distribute their titles on home video and digital purchase. Viz Media has its home video distribution handled with the help of Warner Home Entertainment, which will allow for better corporate synergy. Crunchyroll previously worked with Funimation for this purpose, and while they still do for some titles, they had shifted away from this when their partnership ended last year.
During Anime Expo week, the Los Angeles Dodgers invited the Colossal Titan to throw out the first pitch during their game on July 6 against the San Diego Padres. For some reason, the Dodgers' announcers referred to him as "Titan Man."
Play ball! ⚾️

The Colossal Titan breached Dodger Stadium to throw the first pitch on last Friday's game against the Padres. #attackontitan pic.twitter.com/X3dhtzlOya

— Funimation 🏴☠️ (@FUNimation) July 12, 2019
Dr. Stone was not announced to be a Toonami show until Aug. 16, but fans got to see the world premiere on the Thursday of Anime Expo. Crunchyroll gave the franchise a huge advertising push during AX week, including billboards around Downtown Los Angeles and the badge lanyards that were given to attendees were Dr. Stone themed.
Overall, attending Anime Expo was a fantastic experience. It's tough to put into words the feeling the excitement of being there. Getting to meet a lot of good people to help enjoy all that is great about anime and manga. I especially liked checking out all the cool swag. And while standing in lines can be a total pain, there's something special about being apart of the audience of a large panel room. Hearing and reacting together to a significant announcement or seeing a colossal premiere; as opposed to just reading the events online. It's something that cannot be replicated anywhere else.
From the events and announcements we saw during AX week, it is no doubt a great time to be an anime fan and a Toonami Faithful. I've been enjoying Food Wars and gen:LOCK so far, as with the other shows; and i'm equally excited to what Demon Slayer and the next chapters of My Hero Academia, Sword Art Online, and The Promised Neverland have in store once they air on Toonami in the future.
I along with the rest of the crew would like to thank all of the guests who took the time to have an interview with us. And we want to say thanks as well to those who also wanted to talk with us, but couldn't due to other commitments. Also, a special shout-out to reader Jefferies Herrera as well as another reader whom we met after the SAO panel (we didn't get his name), for noticing and saying hi to us. And for everyone who represented the Toonami Faithful community at AX this year, we hope you had a good time. And of course, thank you to everyone who helped and appreciated our coverage. We look forward to be back at it again next year.
The @ToonamiNews team were an absolute treat to hang out with at Anime Expo. Can't wait to watch all the interviews they recorded basically non-stop at #AX2019. https://t.co/IRmxCmCf4K

— Jennifer Losi (@JenLosi) July 8, 2019
Stay tuned for our various interviews from AX 2019 coming soon. And stay tuned for my Highlights and Musings article from San Diego Comic-Con 2019, which is coming soon.
Special thanks to CJ Maffris, @Sketch1984, @HappyKuroKitty, @VLordGTZ, and @LumRanmaYasha for their assistance on the creation of this article.
Edit 8/16 @ 6:00 pm EDT: Added Dr. Stone news, fixed typos.