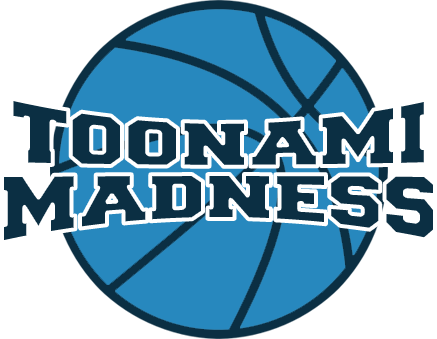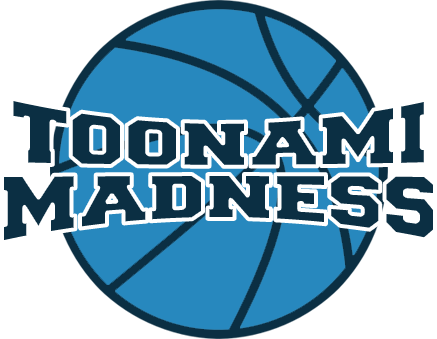 It's March 2016, which is a huge deal in the sports world. College basketball is getting close to reaching its primary attraction, that being the NCAA March Madness tournament. This event is circled by every college basketball and sports fan, as many of them will be filling out brackets for huge prizes. Anime fans should be used to hearing the word "tournament", and we here at Toonami Faithful thought it would be a fun idea to have our own tournament and bracket competition, where a winner is decided by the fans. That's right, we have selected a total of 32 shows that will battle it out to decide which show is the king of Toonami.
There are two brackets that Caboose Jr. has created; one including shows that aired when Toonami was broadcast on Cartoon Network, and the other filled with Adult Swim Toonami shows. For a show to make the cut, it had to have finished its original run or air for more than 50 episodes. Sadly, that means Parasyte and Samurai Champloo did not make the cut in this bracket challenge (maybe next time). Because if both had finished their original run on Toonami that would have made the Adult Swim bracket look different. But for series like Dragon Ball Z Kai (DBZ Kai), Naruto Shippuden, and One Piece, it would feel odd not having any of these shows in the bracket challenge, because of their overall legacy, and how well DBZ Kai has performed since joining the lineup.
For a show to enter the bracket, it had to have aired specifically on Toonami at some point, whether it be back when Toonami began or now while it's on Adult Swim. So while Cowboy Bebop has been a staple of anime during the early 2000's, it didn't air on Toonami until the block was revived in 2012, placing it in the Adult Swim bracket. All shows that are in the Cartoon Network bracket aired at some point on Cartoon Network's Toonami. That was how Darrell and I were able to separate each series and create the brackets used for this event.
Just like in college basketball, the match-ups will emulate what is seen in a traditional March Madness bracket. The one seed will face the 16 seed, the two seed will meet the 15 seed, and we keep going until we reach the eight and nine seeds facing off in the first round. This way, we hope to have the true juggernauts of Toonami match up closer to the finals. So with all of that said, here is how we broke down the seeding of the shows for Toonami Madness.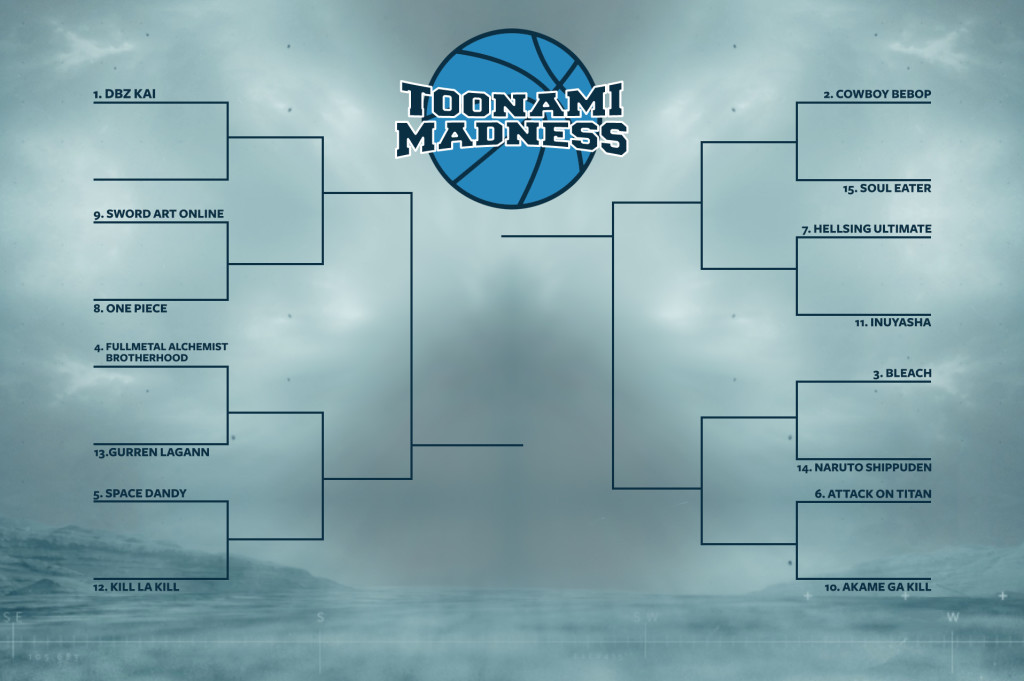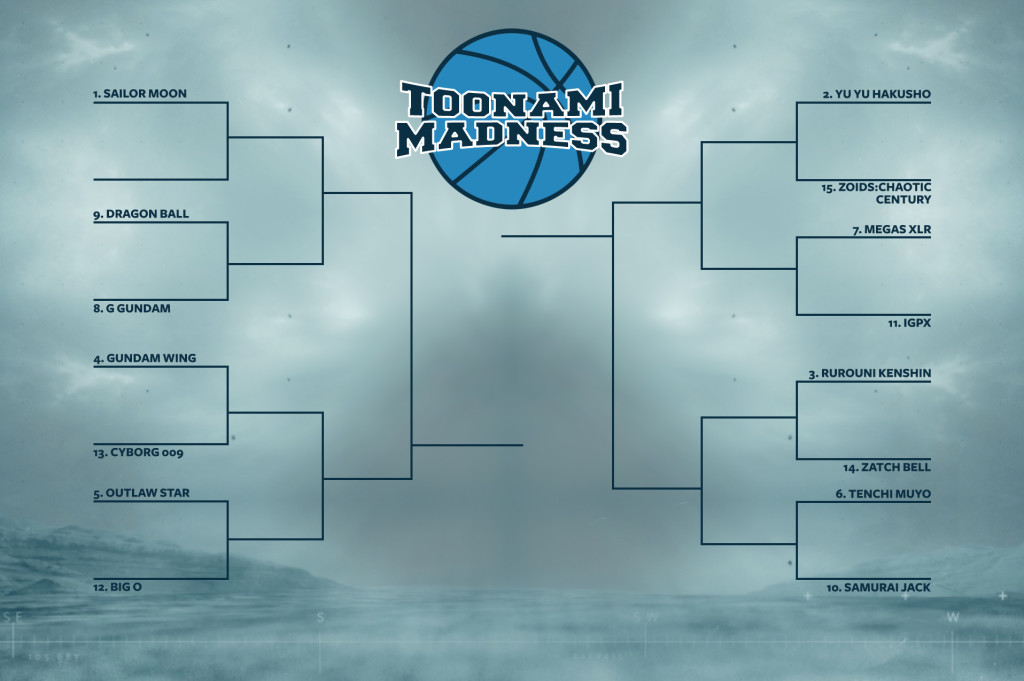 The One Seeds: Dragon Ball Z Kai & Sailor Moon
The Two Seeds: Cowboy Bebop & Yu Yu Hakusho
The Three Seeds: Bleach & Rurouni Kenshin
The Four Seeds: Fullmetal Alchemist Brotherhood & Gundam Wing
The Five Seeds: Space Dandy & Outlaw Star
The Six Seeds: Attack on Titan & Tenchi Muyo
The Seven Seeds: Hellsing Ultimate & Megas XLR
The Eight Seeds: One Piece & G Gundam
The Nine Seeds: Sword Art Online & Dragon Ball
The Ten Seeds: Akame ga Kill & Samurai Jack
The Eleven Seeds: InuYasha & IGPX
The Twelve Seeds: Kill la Kill & Big O
The Thirteen Seeds: Gurren Lagann & Cyborg 009
The Fourteen Seeds: Naruto Shippuden & Zatch Bell
The Fifteen Seeds: Soul Eater & Zoids: Chaotic Century
The Sixteen Seeds: ???? & ????
Feel free to debate the rankings and which series made the cut (which can be a fun talking point!) as Toonami Madness begins. How this will work is that the Twitter account @ToonamiNews will be posting polls for the fans to vote, and decide which show moves on to the following round (don't forget to use the hashtag #ToonamiMadness). These polls will be posted each Thursday and Friday, with Thursday's focused on the Adult Swim bracket and Friday's focused on the Cartoon Network bracket. On Saturday, I'll recap every match-up and give my predictions on who will win the next round. However, neither myself nor anyone at Toonami Faithful has a say in what show will move on. That is squarely on the fans.
One last note: you might have noticed that the 16 seeds were left blank. That is because on Tuesday we will have a vote-in round, with four shows vying for the last spot to join Toonami Madness. Those shows will be revealed on Tuesday, so feel free to speculate and get ready, because March will not solely belong to sports fans. Depending on how well the event is received, this could become an annual thing at Toonamifaithful.com. So let the madness begin!
Stay Faithful.
*Huge shoutout to Caboose Jr., Darrell Maddox, and the entire Toonami Faithful team for helping out and green-lighting this idea.
C.J Maffris is an editorial writer for Toonamifaithful.com. Feel free to debate/talk about the rankings and the overall idea of Toonami Madness on Twitter @SeaJayMaffris