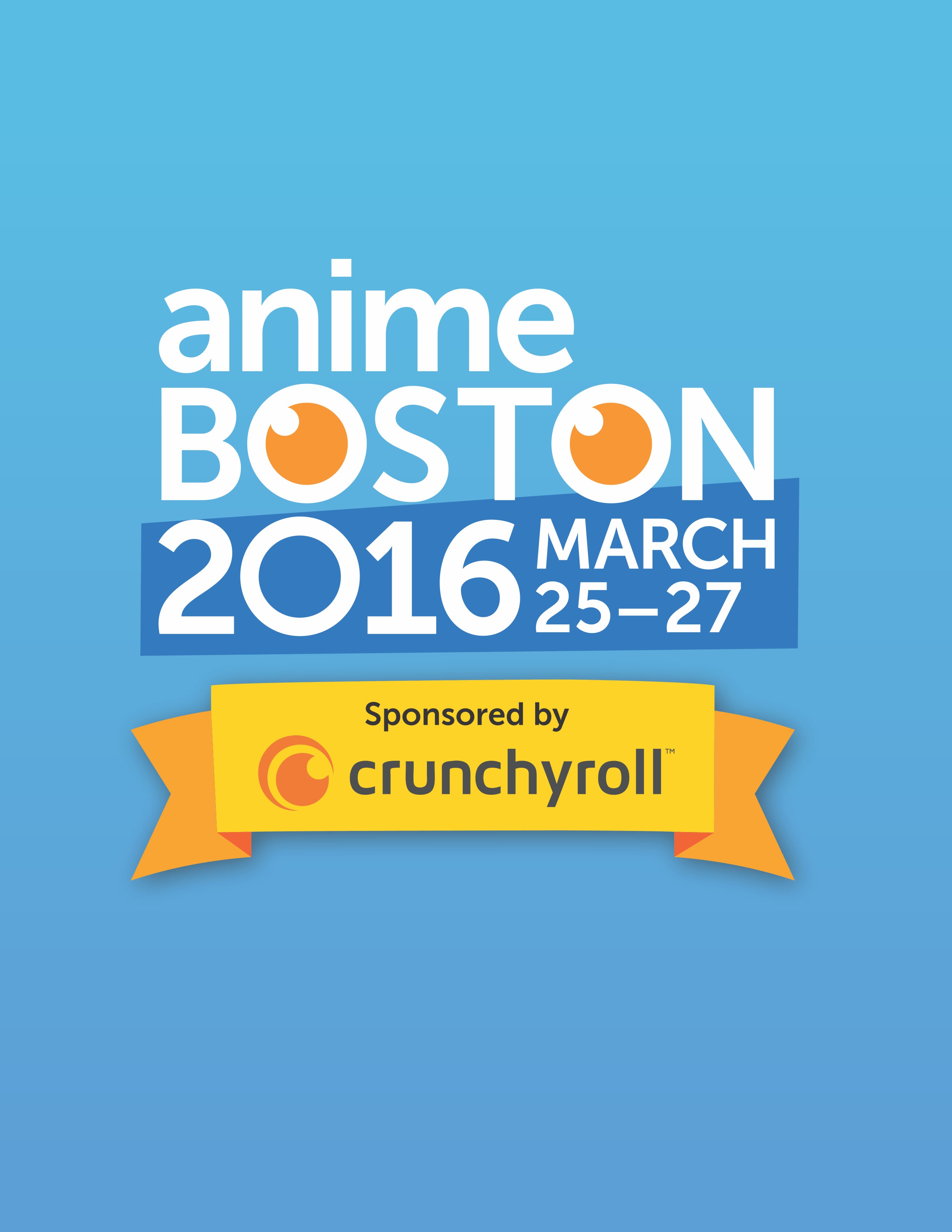 It was a busy weekend for Toonami Faithful at Anime Boston. There were so many panels, interviews, and pictures that kept Jim Nelson and me occupied for many hours. It was enjoyable to share all kinds of announcements and content with the Toonami fans out there. We were able to do a lot and help out when need be, and it was a complete success for both of us. So I'm here to write an overview of what went down and how we felt during the convention, although I'm pretty sure you can guess how we feel about this year's event.
It certainly seemed like there were more people at the event than last year. Due to the volume of attendees at the convention lines. As well as the added security at the Hynes Convention Center, it was tough moving back and forth from the Sheraton Hotel to the Hynes Convention Center. The line to enter the convention center was the longest I've ever been in. To be fair, I found out that the people planning Anime Boston didn't know about the added metal detectors until much, much later, which is what caused a lot of the congestion. However, after getting through that line, access to events at the Hynes Convention Center or Sheraton was a breeze.
Anime Boston also had an impressive guest list for the event. Of course, the big sell for Anime Boston was on Your Lie in April. Not only did the convention bring in some of the English voice cast such as Max Mittelman, Erica Lindbeck, Patrick Seitz, and Carrie Keranen, but they were able to book the director of the series, Kyohei Ishiguro, and character designer Yukiko Aikei. There were many panels involving this series and it was heavily promoted by the convention planners, showing they were "all-in" on the series which didn't surprise me.
Thank you Ishiguro-san and Aikei-san for a wonderful #AnimeBoston ! We hope you enjoyed your first convention in… https://t.co/cyeaJUNuGc

— Aniplex USA (@aniplexUSA) March 28, 2016
While this was just my second time going to a convention (second straight Anime Boston), it seems that Anime Boston and Aniplex of America have an excellent relationship. Last year, many fans were treated to an early peek at a couple of episodes of Sword Art Online II, with announcements about its home media release. And there were a few more panels about Puella Magi Madoka Magica, since a lot of guests that year worked on that series as well. Jim even informed me how Aniplex of America announced at Anime Boston that Sword Art Online was going to air on Toonami back in 2013. So, this year Anime Boston decided to promote the series Your Lie in April heavily. Not only were fans given a large launch event, but also a few more panels involving the English dub cast, as well as the director and character designer. Panels included a drawing demonstration, and one where fans could meet the cast collectively.
Thank you to everyone who came out to our #YLiADUB Launch Party at Anime Boston! We had a full house! It was… https://t.co/p5mFpvLWvm

— Aniplex USA (@aniplexUSA) March 27, 2016
Speaking of healthy relationships, Crunchyroll became the premium sponsor for Anime Boston, which I found to be cool. I'm not sure if this is something that the two sides have done before, but I did think it was a huge help to the convention to keep its stronghold as one of the premier conventions (it is considered the largest convention on the east coast). Crunchyroll sent out some of their best staff members to their panels, and even made some cool announcements about simulcasts that will be on their website (like the new Berserk series). Plus, anyone with a Crunchyroll premium membership was able to receive some nice perks at the convention. Hopefully, this is something that will continue in the future, because I enjoyed this partnership.
But what content was Toonami Faithful able to procure as the convention went on? We would have loved to interview every guest that came to the convention if we could. In all, Toonami Faithful was able to get approved for six interviews that all varied in length. If you were on Twitter, you are aware that I was allowed to send out a teaser picture with the guests that we interviewed. Those guest were Monica Rial, Carrie Keranen, Patrick Seitz, Masao Maruyama, Erica Lindbeck, and Tony Oliver. All of them were an absolute pleasure to get to know and I found out some fascinating tidbits of information in the process. Those interviews will be up soon, so be on the lookout for those. And as a special bonus, Toonami Faithful was able to help out Zach Logan and Erin of the One Piece Podcast and record their panel for them (which was fun to be a part of).
There were a couple of premieres at Anime Boston available for fans to see. FUNimation had a dub premiere of Garo: The Animation that was exclusive to those at Anime Boston (but sadly, we were not able to check it out due to a scheduling conflict). Crunchyroll also had a world premiere of Studio Trigger's newest project Kiznaiver. Only three spots in the world were able to watch the first two episodes of the series early (Anime Boston, Sakura Con, and a theater in Japan). For those who do not know what Kiznaiver is about, it's a story that involves six students who can all share the same pain. I won't go into too much detail to avoid spoiling anything about the series, but I did find the first two episodes intriguing (one more than the other). The artwork on the show is up the usual standards of Studio Trigger, as the characters all look beautifully drawn. So fans can expect to see the simulcast on Crunchyroll in April, and Garo: The Animation, Part One should be available for purchase in April as well.
There was one thing that I felt Anime Boston lacked this year, and that was announcements. I wasn't expecting the sheer volume that Anime Expo would get, but it felt underwhelming for those looking for new stuff to talk about with fans. The panel that gave a lot more information than most was the VIZ Media panel. They were able to give attendees a ton of information about  the Jojo franchise. They will be releasing new volumes soon for those who read the manga. They have Part One and Part Two of the anime series that was recently distributed by Warner Brothers. Also, VIZ Media wants to release Stardust Crusaders for home media in the U.S. That, to me, is a huge deal, because while it was with Warner Bros. the probability of Stardust Crusaders being dubbed or even released for home media seemed bleak. That won't be the case, as VIZ Media usually dubs the titles they own, and so although it will be a while, expect Part Three to reach the U.S. at some point. Not to be left out of the party, Terra Formars Season One will also be released soon for home media in the U.S. with an English dub. It was something I was wondering about, since Season Two is about to premiere (not to mention that the manga seems to be very popular). I was wondering if the first season would even get a home media release in the U.S., simply due to how long it's been since the previous season finished. Finally, there was one little mention that was made that I'm surprised didn't get a huge reaction at the panel.
Viz Media just said they ARE working on an English dub for One-Punch Man #VizPanel

— CJ Maffris has No Game No Life (@SeaJayMaffris) March 26, 2016
It was said that a One-Punch Man dub is in the works. Now this could mean that this project was just started on the Monday before the convention, but it's still promising that the series will be getting a dub. The panel didn't say much about this since it's newer (no cast list yet), but it is something to keep an eye on for the future. Other than that, fans were treated to a dubbed clip of Hunter x Hunter, where they could hear Leorio (Matt Mercer), Kurapika (Erika Harlacher), and Gon (Erica Mendez). Let me just say that I am looking forward to this dub when it airs on Toonami April 16.
Funny thing about the block's latest acquisition. Jim and I were told that VIZ Media pitches almost every show they license to Toonami. Yes, they do have a partnership with Hulu, with Neon Alley being hosted there, but those who we talked to seemed interested in having more VIZ Media series air on Toonami (which clearly is the case with Hunter x Hunter set to join). So could that possibly mean that JJBA and One-Punch Man are in play? I give that a resounding yes, and it could be the boost that some wish for when it comes to variety on the block.
Other than VIZ Media's industry panel, nothing else really wowed me when it came to new announcements. Sentai Filmworks gave out a few announcements about new licenses they've acquired, and Aniplex of America plans for home media releases of a few shows, but there was nothing that threads the needle when it comes to big breaking news in the anime community. In fact, FUNimation didn't give out any new information at all.
Sound off, friends! Who wants this? #DiscussionsAtAnimeBoston #MonsterMusume https://t.co/t0Yp70lkwD

— Sentai (@SentaiFilmworks) March 26, 2016
A little detail about Toonami was that not much was said about the block. FUNimation talked about their shows that have been on the block since its revival and hyped up Dimension W, but nothing else was said. And while Jim thought the response to Dimension W was non-existent, it wasn't as bad as he made it out to be. However, I did find the lack of Toonami talk interesting, considering they are reviving Samurai Jack and producing two new seasons of FLCL. You'd think the block would have been mentioned more by others, and I started to wonder what might be the cause of this lack of presence.
Maybe it's due to the repetitiveness of series making it on the block. During our interview with Monica Rial, she mentioned how a lot of Toonami shows are just the same thing over and over. More recently the block seems darker than usual to her, but overall it feels like the same kind of series are on again and again. Of course, when you're an action cartoon block, shows will seem repetitive. That sentiment was also mentioned after I asked a question to Chris Beveridge of the Fandom Post about Toonami during his panel. He was hosting a Q & A, and I wanted to know his (as well as his other writers') opinion about the block. They all like the theory of Toonami, and even the block itself, as it is excellent exposure for anime. However, due to how Toonami repeatedly plays the same type of series he believes they limit themselves. I also think those at the Fandom Post panel oversold streaming anime, but it certainly was interesting to listen to (which will be a topic I dive into later).
While industry panels weren't talking about Toonami, there were quite a few fans who were ready to ask Jim and me about our thoughts on FLCL getting two new seasons. Fans told us how they feel about the news, and it seemed mixed. Some are fine with Toonami adding more episodes, while some think that something as perfect as FLCL didn't need more content. I won't get into this topic too much in this article, but I certainly found it amusing how everyone had something to say about this when it will not debut for a while (looking like late 2017 or early 2018). All I can say for sure is that people will be watching Toonami when this does become available.
There were a ton of fun events that Anime Boston hosted, such as AMV's that blew fans away, cosplay games like Family Feud, Chess, and Deathmatch (where the winner is chosen via audience cheering). There were a lot of panels for those who want to work in the anime industry, such as an engineering department panel, voice acting panels, and Crunchyroll presenting information about working in the industry. Of course, one Anime Boston event that always occurs is Anime Unscripted, which is a "Whose Line is it Anyway"-type event that really delivered this year. It was super funny to watch Greg Ayers, Carrie Keranen, Erica Lindbeck, and Monica Rial show their improv talents, which were impressive. Not to mention that Eric Vale's improv in his panel "Eric Vale is not himself" was hysterical. He impersonated some of his closest friends, like Todd Haberkorn, Christopher Sabat, and J. Michael Tatum. Vale even did an exaggerated version of himself which was funny, especially when he broke out of character to answer a silly question about how many cheeseburgers he's eaten in one day (he loved all of the funny questions he was getting). There was a Jojo-style posing panel, art galleries, theory panels, and adult content, which made it a convention with something for everyone.
It was an incredible fun-filled three days. Anime Boston did a phenomenal job, and I hope Toonami Faithful will be able to go again. It went very smoothly for convention staff and ourselves, and security couldn't have been nicer and more helpful to the  press members. While there wasn't much news when it came to Toonami, there was still plenty for us to accomplish. Thank you, Anime Boston.
(Also, special thanks to Greg Maffris for the help he provided for Jim and me, and special thanks to our press liaison Angie Mills).
C.J Maffris is an editorial writer for Toonamifaithful.com. It was a lot of fun to work at a convention and hopes to do it again soon! Have any questions about the convention? Feel free to ask C.J on Twitter @SeaJayMaffris