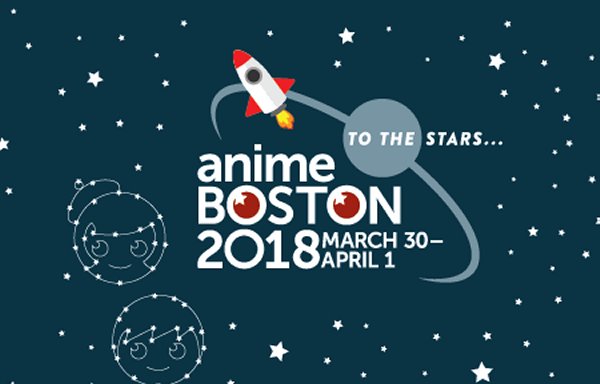 As you may have heard from Twitter, Toonami Faithful will once again cover the largest anime convention in the North East that is Anime Boston. I will once again cover the huge convention that has always turned out to be such a fantastic time the few years I've attended. I have no doubt that this convention will once again bring smiles to not only my face but many anime fans around the world. So what will Anime Boston to doing that will garner a lot of fan interest?
So far when it comes to big events announced, Anime Boston has a few that will probably entice a lot of fans. The big event that comes to mind is the Sailor Moon SuperS Midnight Masquerade that is presented by VIZ Media. As the Anime Boston website describes the event as a "showcase of cosplay like nothing you've seen before." There will be a chance to win "thousands of dollars" in cash prizes and a premiere of a never before seen episode and more included. Plus, members of the Sailor Moon cast will be in attendance. And to go along with that, there is also another Sailor Moon official panel that VIZ Media will also do at the convention. With Sailor Moon being one of the more recognizable franchises (as well as a pretty popular one), I can only imagine how many people will be attending each of those events.
Oh! I guess you all should know…. the Guardian Cosmos costume I'm building on stream will debut at the @AnimeBoston Sailor Moon SuperS #moonlightmasquerade ! I'll be hosting AND doing an impression of a parade float. 💖https://t.co/bDGZ0Q4oUV

— ✨CHAR✨ZARD✨@ GDC ✨ (@tristencitrine) February 14, 2018
Sentai Filmworks will also get into the action by putting on two significant No Game No Life panels with the voices of Sora (Scott Gibbs) and Shiro (Caitlynn French) on center stage. First up is a special screening of the series which will involve the cast. Nothing states that it's a screening for the recent movie of No Game No Life but that could be in the cards for that specific panel. It will be followed by a Q & A with the cast members that will have many fans excited. There is also a HiDive game night presented by Sentai Filmworks who promise a fun interactive experience with both Scott Gibbs and Caitlynn French, to which I'm sure will be a great time for those who go to the convention. Not to mention that I'm sure there will be a lot of HiDive promotions throughout the three days, considering that Sentai Filmworks will be joining the quick dub turnaround with "DUBCAST".
Watch anime dubs such as Food Wars! The Second Plate, No Game No Life, Flip Flappers, and hundreds more on HIDIVE. Get an ad-free monthly subscription with 2 streams and 1080p for only $3.99 when you sign up before April 9th!https://t.co/c5gYpD7KBB

— Anime Boston (@AnimeBoston) March 22, 2018
Crunchyroll will once again be bringing in all kinds of excitement to Anime Boston. Not only will they have their industry panel, but will have spring Simulcast announcement panel, a premiere panel of spring simulcast shows, and a premiere of the Bungo Stray Dogs: Dead Apple movie. Crunchyroll has been a sponsor of the convention before, and so I have to believe that the relationship between the two entities is as strong as ever. It will be interesting as to what new shows the streaming website will announce and get to show to those who will attend Anime Boston. Last year fans got to have a sneak peek at the romantic comedy Love Tyrant as well as the polarizing Berserk series. Fans could be in store for a ton of cool shows that will be streaming very soon. And if you have heard of a show called Re: Zero, FUNimation will be giving fans a sneak peek of the much anticipated English dub. With the panel looking to be about two hours long, that should be enough to check out the first four episodes, which is very exciting.
Join us as Crunchyroll Movie Night presents the NA premiere of Bungo Stray Dogs – DEAD APPLE -!
Produced by studio BONES, this anticipated film features a brand new story with the original voice cast & staff from the TV series.
For more info visit: https://t.co/V6zfY2kR5J pic.twitter.com/OqjNC1aOom

— Anime Boston (@AnimeBoston) March 23, 2018
For those who are interested in the musical aspect of what Anime Boston is bringing will probably be excited to hear about some exciting panels that will occur. Sony Music Entertainment (Japan) will be holding their own industry panel at the convention, to which I'm sure many fans will show up to hear about the latest news of the music scene in Japan. Plus Sony Music Entertainment (Japan) will host a video concert of LiSA LiVE is Smile Always LiTTLE DEViL PARADE at the convention. This is something that fans of the singer will not want to miss. And for those who are more interested in orchestral music, there will also be a concert on Easter Sunday that will feature both Karou Wada and Jeff Williams.
When it comes to guests, Anime Boston once again will be bringing a star-studded list of people who fans will surely be excited to see. Some of the English guest list includes big names like Steve Blum, J Michael Tatum, Stephanie Sheh, and Mary Elizabeth McGlynn among others. And on the Japanese guest list side, Anime Boston will be bringing in Kazuki Yao (the Japanese voice of Franky from One Piece), Yuji Muto (the director of Shin-chan), Kaoru Wada (composer for anime like Inuyasha and D.Gray-man), and Katsuyuki Sumizawa (anime screenwriter and novelist for titles such as Mobile Suit Gundam Wing, Dragonball Z, Sailor Moon, Yu Yu Hakusho, and Naruto) among other guests. So fans must be pleased with all the stars that Anime Boston will be bringing to their latest convention.
Excited to be going to @AnimeBoston FYI the Sailor Moon autographs will be limited to licensed Sailor Moon items but fear not I will have additional autograph sessions in the dealer's room

— Stephanie Sheh (@stephaniesheh) March 9, 2018
As it is accustomed for the few years I've covered Anime Boston, there isn't anything hinting that there will be a panel that involves Toonami at the convention. There have been a few things here and there where Toonami was mentioned at the convention (such as when Sword Art Online II was announced at the convention). However, all of the major North American anime companies will have industry panels at the convention so there could be a chance there will be some announcement, with a couple of shows close to ending on the block. It isn't that far-fetched to think that any one of them might make an announcement that involves one of their shows to air on the block soon. Not to mention, that Steve Blum will also be in attendance, which means anything can happen. I'll be working the convention by myself but I will try my best to stay informed with anything that could relate to Toonami.
I am beyond excited to by covering Anime Boston once again. I look forward to all the industry panels, fun interactive game panels, as well as their staple show of Anime Unscripted. I'll be all over the place, but hopefully, I'll get a chance to not only get some great content for all of our followers but to also meet up with any of our fans at the convention. I hope to see you all there and enjoy all the cool premieres, interesting panels, and fun times!
C.J Maffris is an editorial writer for Toonamifaithful.com. Feel free to follow C.J on Twitter @SeaJayMaffris