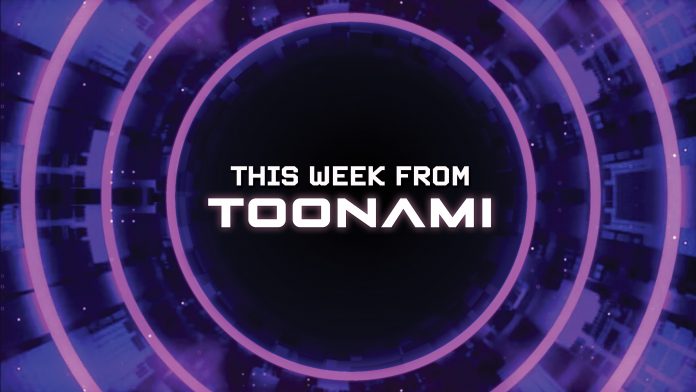 A new schedule announcement was made by Toonami this week, highlighting what the block will look like leading up to the latest original to debut FLCL: Grunge. A few marathons to get everyone up to speed on all three FLCL series should help build up to the latest season. Other than that, fans were treated to a new ID bump that looked amazing, and a brand new episode of the Toonami Faithful Podcast was published to discuss all the news that came out from San Diego Comic-Con. And if you continue reading this article, some plus ultra announcement involving the hit series My Hero Academia was also made. So enjoy this latest edition of This Week From Toonami!

On their Facebook page, Toonami announced how the lineup will look starting Aug. 19 as they prepare for FLCL: Grunge's premiere. The finale of the original FLCL series will air in its entirety on Aug. 19, pushing back One Piece, Naruto Shippuden, and My Hero Academia back by 15 minutes, while My Adventures With Superman and Dr. Stone are unaffected by the lengthier episode. The following Saturday (Aug. 26), both My Adventures With Superman and Dr. Stone will air at their standard times, but the rest of the block will marathon the entire FLCL: Progressive series extending Toonami to end at 4 a.m. Finally, on Sep. 2, My Adventures With Superman will lead off the block, but the rest of Toonami will be FLCL: Alternative marathoning. All of this is to get fans "caught up" and ready for the newest FLCL series to debut on Toonami on Sep. 9.
Another Toonami ID bump was broadcast during the latest Toonami airing, and it is one that we have been replaying over and over. These bumps have been spectacular since a new one seems to premiere every week, and we love the art and effort put in, despite how short they may feel. The work is impeccable, and we enjoy every surprise we get! This bump especially since it shows T.O.M and S.A.R.A traveling in a small aircraft around space with landmarks that spell out Toonami when put together. It was such a nice touch. Plus, it gives us a feeling of nostalgia as every spot the two visits could be viewed as a different era of Toonami combined into one. Such a wonderful little extra, and we cannot wait to see the next one!
A fourth My Hero Academia film was announced this weekend, adding more content to the popular franchise. Not only will there be a seventh season for the iconic series, but now a new film supervised by Kōhei Horikoshi. According to Anime News Network, the film will be an original story taking place around the same time the TV anime is currently, with the collapse of safe society. Not much else has been revealed, but we will keep our eyes on it when more information becomes available about the latest installment of My Hero Academia.

A new episode of the Toonami Faithful Podcast was published this week, giving details about all the news from San Diego Comic-Con. Thankfully, one of our staff members who attended Toonami on the Greens, Varun "VLordGTZ" Gupta, could inform the rest of the gang of all the details from the event and critical moments that had him and Sakaki and LumRanmaYasha in awe. Andrew "Sketch" Hingson hosts and both are joined by Bryan "LaserKid" Johnson and Darrell Maddox to discuss something we have wanted to discuss for some time. NEWS! Sadly that isn't often the case for us, so the fact that new content from trailers and announcements makes us incredibly happy, and we hope that our readers feel the same way. Many new originals are coming to the block, and we break it all down in the latest episode that you can check out now!

Did you enjoy this week's Toonami? Let us know by commenting below or directly on our social media. You can follow us on Twitter, Instagram, and Facebook. You can listen to the Toonami Faithful Podcast on Soundcloud, iTunes, Spotify, etc. for interviews, discussions, and breaking news updates. Listen at the link below or on your podcast platform of choice:
C.J Maffris is the Editor-in-Chief at Toonamifaithful.com. He also produced and directed the Toonami documentary, What Toonami Means To Me. Feel free to follow CJ on Twitter