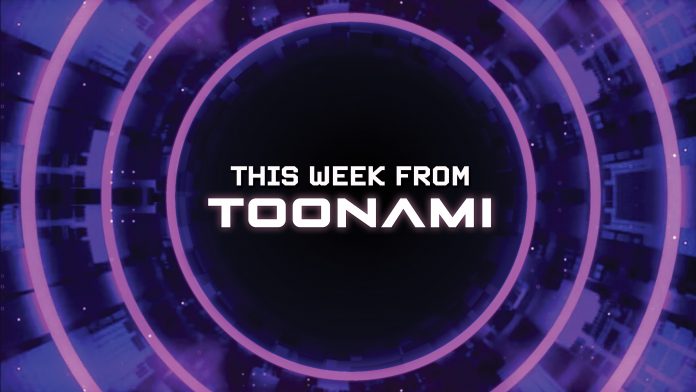 Toonami fans were gifted a ton of news regarding their original series that will make their way to the block. From a brand-new greenlit series in Lazarus to having a premiere date for FLCL: Grunge, Toonami on the Green was the place to be at San Diego Comic-Con this week, and it did not disappoint. So we have a ton of information to break down and tell all of our fans and readers to keep you up to date on what will be happening at Adult Swim. Plus, we want to thank both staff members, Varun "VLordGTZ" Gupta and Sakaki, who covered the event for us (along with VLord's sibling LumRanmaYasha!).

What shocked every Toonami fan this week was the announcement of a brand new series ordered by Adult Swim that was greenlit in Lazarus. It will be an original series made for the block produced by MAPPA and directed by the great Shinichirō Watanabe. A press release sent by Adult Swim informed everyone about the staff involved in making this project, as well as the synopsis of the series. This series was probably considered the headliner at the Toonami on the Green event this weekend at San Diego Comic-Con, as fans were treated to a special anime trailer before it was revealed on Adult Swim's YouTube page. Attendees could also get a first look at character designs, boards, and scenery pictures, creating a palpable anticipation for Lazarus. Watanabe was also present at the event praising the soundtrack as being one of the best anyone will hear in anime, and happy he could create something different from what he's done in the past. Being a little tongue and cheek, Jason DeMarco mentions how he thinks Lazarus will be a big hit with more seasons, but we will have to wait and see if it turns out the way that he and the Toonami Faithful hope. It was exciting for Toonami fans there and online, but it wasn't the only announcement made during the event!
Four Toonami Originals were also highlighted at Toonami on the Green, sparking a massive change from what the block used to be to now. It's less about acquiring anime and more about making their own, and it seems fans are excited. First, FLCL: Grunge will be debuting on the block this year on Sep. 9 (no timeslot was announced). A new trailer was shown to fans and posted on Adult Swim's YouTube page, showing this latest installment's unique animation. Plus, attendees saw a new trailer for the other FLCL series (FLCL: Shoegaze) which still needs a release date. It will be interesting to see how each series will play out and how fans will receive it when they debut. But for now, it's time to mark your calendars for Sep. 9 because that's when we will start the latest FLCL adventure on the iconic action cartoon block.
However, FLCL wasn't the only series we saw an update about, as fans got an update on Uzumaki and Ninja Kamui, with both having new trailers up on Adult Swim's YouTube page. Fans could check out some clips of what to expect from Uzumaki's production, and fans lost it at how excited they were to see the finished product. From what you saw in the clips, the time to animate Junji Ito's masterpiece, and having the tone perfect with it being black and white, is something that we're sure many are pleased with, despite the long wait. It looks great, and the new trailer excites us about the finished anime, which we are still unsure when it will premiere. Plus, getting a first look at what Ninja Kamui will look like was a welcomed surprise considering how there's been little information about the progress of the series. While fans will have to wait till 2024, witnessing an accompanying trailer for this latest original should put a smile on Toonami fans' faces, as it looks like the patience will be rewarded.
During the latest Toonami broadcast, a new game review debuted with T.O.M. and S.A.R.A checking out a horror-themed fishing game (you heard that right), Dredge. You play as a fisherman, trying to meet your quota of fish to catch while unraveling the mystery of Marrow Bay. It seems like any ordinary fishing game where you collect fish, materials, and treasure during the day to pass the time. But when nighttime rolls around, a fog settles in, and fish of the deep start to fight back that could make quick work of your ship. It's a pretty exciting game for Toonami to highlight, and glad they did, as it is something we might check out sooner rather than later, especially since it received an 8/10 score from our favorite hosts.
The official Twitter account for the Naruto and Boruto franchise announced the latest installment of the Boruto manga. Accompanied by a new illustration and arc title, a brand new arc titled Two Blue Vortex will debut on Aug. 21, which should excite many Boruto fans. From the looks of the illustration, it looks like some time has passed since we last saw the main cast from Boruto, meaning we could have a new "Shippuden" going on with the property that's familiar with this type of storytelling. It will be interesting to learn more once the manga resumes from hiatus and continues to tell the story many have invested in consuming.
To celebrate One Piece Day, a live stream event this weekend revealed a brand-new trailer for the live-action One Piece that is set to debut Aug. 31. More characters are shown within this video, and fans get more chances to peek at our main cast of the series. It's looking better and better thanks to every new video we get, and we cannot wait to see how it'll play out when we have a chance to watch it!
Crunchyroll Games announced a new online multiplayer action game for One-Punch Man titled One-Punch Man: World with a new trailer revealed to get fans interested in pre-registering for it. The nearly three-minute video shows off what you can do in the game, such as fights and progress a story, and how it will look when you play. According to Anime News Network, the game features heroes from the series, and players can take on missions at the Hero Association, potentially team up with others for raids, and also have side activities and minigames for you to spend time doing. The battle system features timed dodges, skill combos, and ultimate abilities. The game will be available in 2023 on PC, iOS, and Android with cross-platform play and progression. It will be free-to-play with in-app purchases.

We wanted to thank VLord and Sakaki for covering Toonami on the Green for us! The two have been busy, as many of our readers can tell, and we hope that you give both a follow to see all the wonderful and fun events they have been going to a San Diego Comic-Con!

Did you enjoy this week's Toonami? Let us know by commenting below or directly on our social media. You can follow us on Twitter, Instagram, and Facebook. You can listen to the Toonami Faithful Podcast on Soundcloud, iTunes, Spotify, etc. for interviews, discussions, and breaking news updates. Listen at the link below or on your podcast platform of choice:
C.J Maffris is the Editor-in-Chief at Toonamifaithful.com. He also produced and directed the Toonami documentary, What Toonami Means To Me. Feel free to follow CJ on Twitter