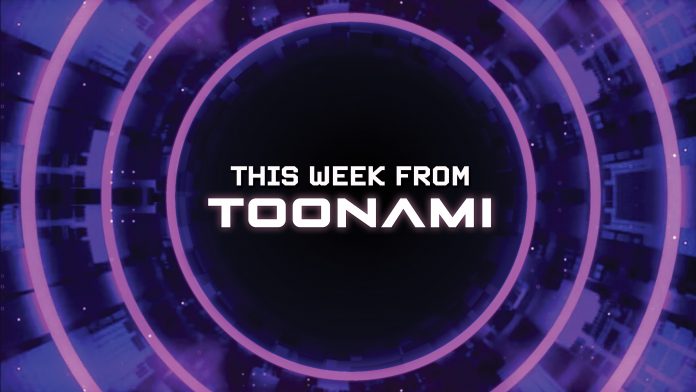 We are back! After taking a week off on vacation, This Week From Toonami returns in full force as we condensed all the essential news of the past two weeks into one article! Time to catch up on anything you have missed, including a lineup update, convention information, and reassurance about a Toonami original still happening. Yeah, a lot has happened, so take a seat, relax, and enjoy our latest weekly piece keeping you up to date on all things Toonami!

Toonami made a lineup announcement earlier this month, as the original FLCL anime will return to the block. On July 15, fans can expect the timeless anime at 1 a.m. now that My Adventures with Superman will only air one episode at a time. Some fans speculate that this could mean that the two new FLCL series (FLCL: Grunge and FLCL: Shoegaze) could make their way to Adult Swim as soon as this can serve as an appetizer for fans. And while this news could be better, Jason's announcement could give fans what they want regarding new content coming to the block.
While there wasn't much to report about at Anime Expo for Toonami, Jason DeMarco did take to Twitter to tell fans about the Adult Swim Festival. It will happen from July 20-22, and DeMarco and Gill Austin will host a special panel on Saturday. There will be special guests, announcements, news, and everything under the sun for everyone to have a good time. Fans have penciled that day on their calendar as it brings hope to what should be showing up to Adult Swim and will inject some excitement that has dwindled for some time. We cannot wait to hear what will be announced, so ensure you're following Toonami Faithful on all our social media platforms to stay connected and informed.
During a panel at Anime Expo, Maki Terashima-Furuta wanted to share a message for fans patiently waiting for the Toonami original Uzumaki. There might have been rumors floating around that the series' production has been halted or canceled outright. Terashima-Furuta quickly wanted to dispel any worry and informed fans that unless news came out of the mouth of her or DeMarco, expect the Uzumaki series to happen. We wondered if there were rumblings about the series being dropped, but it is nice to know that things are progressing.
There's now a place for One Piece fans to check out the dub of the iconic series. After a long wait, Crunchyroll now has episodes 1-976 available on their platform so that you can start your adventure on the grand line. One Piece at Anime Expo celebrated having 1000 episodes dubbed in English, and now you can nearly binge the entire series. It is quite an accomplishment, and we are happy that if you aren't a fan of watching One Piece once a week, you have a place you can go to to get that pirate content we all know and love.
Another massive highlight from Anime Expo was a new trailer for the final(?) season of Attack on Titan. During the MAPPA x Crunchyroll panel on Sunday, fans were treated to a new trailer to spotlight what fans should expect from the final season of the acclaimed property. Slated to premiere in the fall, fans are getting pumped at how the series looks to put a bow on Attack on Titan. There still needs to be an update if any of the final season will air on Toonami, especially considering how MAPPA has these last chapters as special episodes instead of a typical season. But there will always be hope regarding Attack on Titan on Toonami, so it could be possible.
There was a lot of news regarding Naruto, especially to commemorate the original anime's 20th anniversary. The official Twitter account for Naruto announced that four "brand new" episodes of the original anime will debut in Japan on Sep. 3. The first of the four new episodes will also get a live screening at Makuhari Messe event hall in Chiba on that date. VIZ Media also joined in on the fun announcing at Anime Expo that they will publish Masashi Kishimoto's new one-shot manga featuring Minato Namikaze, on July 17 due to him winning the Naruto popularity poll earlier in the year. VIZ Media also mentioned that Naruto Shippuden will become available on Blu-ray for the first time, getting fans excited to see their favorite ninjas in higher definition. And fans were given an update for Naruto x Boruto Ultimat Ninja Storm Connections. Bandai Namco Entertainment released a new trailer to showcase the game's story mode and two new original characters, both in Japanese and English. You should expect to see this game released this year, and it should have one of the largest rosters any Naruto game has ever had.
Bandai Namco Entertainment revealed a new trailer for the Sword Art Online: Last Recollection game during Anime Expo on Saturday. The trailer highlighted a playable original characters for the game, drawn from previous games from the beloved property. The game will be available in the U.S. on Oct. 6, with the staff mentioning this game will have the most extensive roster of playable characters for Sword Art Online. It should quickly become a huge favorite, and we will have to keep our eyes on this for a possible playthrough in the future.
Fans now have a window when the latest My Hero Academia game (My Hero Ultra Rumble) should be released to play. Slated to become available this fall courtesy of Bandai Namco Entertainment, players will have a shot at this new twist to a battle royale game with eight teams of three duking it out to reign supreme. The free-to-play game will be playable on PlayStation, Xbox, Nintendo Switch, and PC, allowing anyone to join the fun. Plus, an open beta test launched in May to help work out any issues. It will be an exciting game to check out, and hopefully, it'll add something new to a genre that has been saturated to the brim.
One of the big announcements from Anime Expo came from the Warner Bros. Japan/WIT Studio panel. The two sides unveiled a new anime project, with it being a Suicide Squad Isekai anime. In the trailer below, fans got a sneak peek at what will happen with Harley Quinn and Joker taking center stage. At first, some Toonami fans felt that this would be premiering on the block after Jason DeMarco teased the panel. However, DeMarco noted that it wouldn't be premiering there, and he isn't sure if it will show up on the block at all (as of now). It makes sense for this property to debut on the block, but other plans were made on this latest news. But we will keep our eyes peeled if we find out if the Suicide Squad Isekai will be on Toonami later.

Kicking things off for the past two weeks is a new episode of the Toonami Faithful Podcast. Andrew "Sketch" Hingson hosts and is joined by both Paul Pescrillo and Varun "VLordGTZ" Gupta as they discuss My Adventures with Superman. The conversation also dives into some announced projects coming Adult Swim's way, including Primal Season 3, Get Jiro!, and Scavengers: Reign. Plus, the gang shoots some ideas for possible shows for the Checked Past nostalgia block for Adult Swim. It's a fun episode, and we hope you can check it out when you can!
Our columnist for ratings, Colt "AmbientVirus" Buhr, wrote a short thank you article to Showbuzz Daily, as it was announced they would no longer post new traditional ratings data from now on. Buhr details his speculation about why that is and hopes that more data on the television audience can become available, much like it was in the old days. However, ratings aren't going away yet as he still has one last resource to continue to provide that outdated metric, but he will keep his eyes on it until there is nowhere to go.
We wanted to offer a huge shoutout and congratulations to our staff writer VLordGTZ as he will be a featured panelist at San Diego Comic Con. He will be part of a panel discussing the best and worst manga of the year, joined by an elite staff of manga gurus. We couldn't be more proud of VLord's efforts in bringing unique content when the media of manga is involved, and we hope that any of our readers or fans will join this panel to show their support for one of our own!

Did you enjoy this week's Toonami? Let us know by commenting below or directly on our social media. You can follow us on Twitter, Instagram, and Facebook. You can listen to the Toonami Faithful Podcast on Soundcloud, iTunes, Spotify, etc. for interviews, discussions, and breaking news updates. Listen at the link below or on your podcast platform of choice:
C.J Maffris is the Editor-in-Chief at Toonamifaithful.com. He also produced and directed the Toonami documentary, What Toonami Means To Me. Feel free to follow CJ on Twitter @SeaJayMaffris