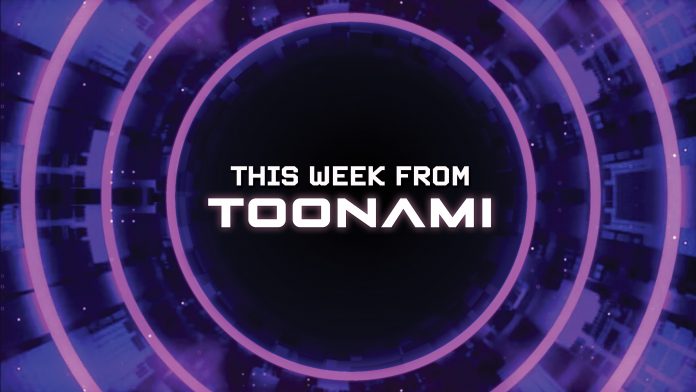 And with that, we hope you enjoyed your meal. Food Wars! is officially done, as the final episode aired on Toonami this past broadcast. And while fans reminisce some of their favorite moments, everyone will have their eyes on the schedule for what Toonami will look like now that the Faithfuls have graduated from Tōtsuki Academy. Plus, everyone had a chance to get a glimpse at the trailer for the live-action One Piece series on Netflix, and it seems promising! But that wasn't the only news we wanted to share, so continue reading the latest edition of This Week From Toonami to learn more!

On the latest broadcast, Toonami debuted another game review! This time, T.O.M and S.A.R.A check out Dead Cells: Return to Castlevania. You set out to storm Dracula's castle as you try to rid the world of the ultimate evil, Dracula. But to do that, you must fight through all the levels and take on bosses in an excellent hack-and-slash game that will surely be a favorite among many. Sure, the grind can take a while, but that just means you'll have more hours to play through and enjoy the process of slaying the most iconic vampire known to man. Toonami scored the game an impressive eight out of ten.
Fans finally had the chance to see a trailer for the upcoming One Piece live-action series that Netflix is producing, and it has many people optimistic. The 90-second video highlights what viewers will see in the eight-episode season. This trailer did a lot to capture the essence of One Piece, and we absolutely love what Luffy, Zoro, and Nami are like. Hopefully, another trailer will show more of Usopp and Sanji, cause at least appearance-wise, they both look fantastic. And whoever did the makeup for Buggy the Clown deserves a raise! We cannot wait to see how it all plays out and hope it turns into something anime fans will cherish.
Toonami fans have to be excited about the return of Dr. Stone, and there's more good news about that on the horizon. A second cour is scheduled to premiere in Japan this October, meaning there will be more scientific adventures for everyone to watch when an English dub is produced. So the eleven episodes in this first part won't be all fans will get to watch on the block, which should have everyone pumped for the future.
The Black Clover film (Black Clover: Sword of the Wizard King) finally debuted after being delayed due to COVID-19. Fans were surprised to hear the original Dallas cast of the popular title, with many highlighting how rare that can be. The film's first four minutes can also be found on YouTube, where you can hear it in eight languages (with more options for subtitles) to give you a little taste of what to expect from the property's first major movie. So far, we've seen many viewers praise the project, and it could be the start of a massive boon of popularity for the Weekly Shonen Jump favorite. Hopefully, you've had a chance to check it out, and feel free to tell us what you thought about it!
More new characters continue to be announced for the latest Naruto x Boruto Ultimate Ninja Storm Connections game. Bandai Namco Entertainment streamed a new trailer highlighting that Boruto (Karma), Kawaki, and Jigen will be playable characters in the new release. A release date still isn't known, but it should be out at some point this year. Be on the lookout for when you'll be able to pick up this colossal game that any Naruto fan would want.

On the next episode of The Demon Slayer Podcast, Varun "VLordGTZ" Gupta and Bryan "LaserKid" Johnson discuss the latest chapter in the Demon Slayer anime. The two cannot get enough of the epic conclusion of Muichiro's battle against Gyokko. They praise the animation of this fight, especially the breathing technique, and enjoy the closure they get from the action. The two cannot rave enough at the quality and how much they love this arc being adapted. Plus, the two go off on a tangent about the announcement of a new anime in 2023. If you have time, listen to this episode!
If you enjoy our other podcast projects and are a patron of the Demon Slayer Podcast, you are in for a treat. You'll have the chance to listen to the latest Saturday Night Shoggy episode before the general public can! If you are a fan of VIZ Media's recent Shogakukan licenses, you'll be in for a colossal treat listening to VLordGTZ, Marion "microwaevy" Peña, and Sakaki. If topics like this interest you, check out their Patreon page and see if you want to subscribe to their content.

Did you enjoy this week's Toonami? Let us know by commenting below or directly on our social media. You can follow us on Twitter, Instagram, and Facebook. You can listen to the Toonami Faithful Podcast on Soundcloud, iTunes, Spotify, etc. for interviews, discussions, and breaking news updates. Listen at the link below or on your podcast platform of choice:
C.J Maffris is the Editor-in-Chief at Toonamifaithful.com. He also produced and directed the Toonami documentary, What Toonami Means To Me. Feel free to follow CJ on Twitter @SeaJayMaffris