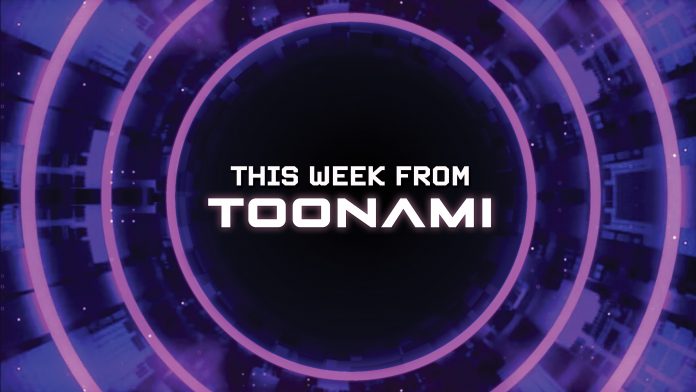 Toonami Fans! We at least know how July will start this year, with the block announcing the lineup for the next couple of weekends. However, we are still left to wonder what will replace the timeslot that Food Wars! leaves behind. And while we wait on that, we have a brand new Toonami Faithful Podcast episode we hope you check out and listen to! And what else is happening in the anime world? Read the latest edition of This Week From Toonami to find out!

This week Toonami announced what their schedule would look like for the first two weeks of July. Unicorn: Warriors Eternal will have another marathon for the Fourth of July weekend, where fans can check out how the series ends during the holiday. However, many fans noticed that a new series would join the block the following weekend (July 8). My Adventures With Superman will begin its encore run on Toonami, taking over the midnight hour. Of course, with Food Wars! finished, one other spot is available when this double episode premiere concludes, leaving fans wondering what will be joining later. It's a development Toonami fans are used to by now, and we hope to find out more in the coming weeks when more information is published.
The One Piece manga will take a four-week hiatus to allow Eiichiro Oda time to heal from having eye surgery to repair astigmatism. It's uncommon for Oda to take time off, but he mentioned how his vision has been blurry, making his job challenging. So now he has to make sure he can recover from his procedure, which means fans will have to wait a bit for the next chapter of the iconic manga. We hope that Oda's surgery is successful and want him to take all the time he needs to make a full recovery.
VIZ Media announced this week that they would publish the special One Piece: Shokugeki no Sanji next spring. The six original chapters will be in English and is done by the creative team for Food Wars! So if you enjoy cooking and One Piece, this might be something you'll have to pick up when you can!
Another trailer for the Black Clover film (Black Clover: Sword of the Wizard King) was posted by Netflix to continue building excitement. In this latest video, fans can check out some of the previous evil Wizard Kings who will appear in the movie. Apparently, they did something to have their status as Wizard King revoked, and now everyone will be able to learn the dark past of the Clover Kingdom. The stakes have been raised, and we are pumped to see what Asta must do to stop these former leaders. It's a promising story, and we hope fans can enjoy the film when it is available on the streaming platform.

The Toonami Faithful Podcast has returned with a two-part episode combined into one! To start things off, Andrew "Sketch" Hingson is joined by Paul Pescrillo, Varun "VLordGTZ" Gupta, and Bryan "LaserKid" Johnson. In the first part of the conversation, the gang discusses the June lineup for Toonami and the expansion Adult Swim is having on Cartoon Network, which begins at 6 p.m. It has been interesting to see the changes happening at the station, and our experts have a lot to say regarding the subject. In the second part, CJ Maffris joins to discuss the Dr. Stone Ryusui episode that wouldn't air on Toonami and why viewers need to check it out. Everyone cannot rave enough about the series and are pleased to see the third season return to Toonami. Make sure you check this out when you have a chance!
On the latest episode of the Demon Slayer Podcast, VLordGTZ and LaserKid return to discuss all the happenings with the eighth episode of the Swordsmith Village Arc. Both are moved by the backstory of Tokito. It evoked brutal and powerful emotions for viewers, and our hosts talked about how amazing it was to see this part of the manga animated. Seeing how rough Tokito's life was with all the misfortune that fell on his shoulders, our guests cannot rave enough at how moving this part has been so far. If you're curious about what they had to say about the newest Demon Slayer episode, make sure you check this episode out when you can!

Did you enjoy this week's Toonami? Let us know by commenting below or directly on our social media. You can follow us on Twitter, Instagram, and Facebook. You can listen to the Toonami Faithful Podcast on Soundcloud, iTunes, Spotify, etc. for interviews, discussions, and breaking news updates. Listen at the link below or on your podcast platform of choice:
C.J Maffris is the Editor-in-Chief at Toonamifaithful.com. He also produced and directed the Toonami documentary, What Toonami Means To Me. Feel free to follow CJ on Twitter @SeaJayMaffris