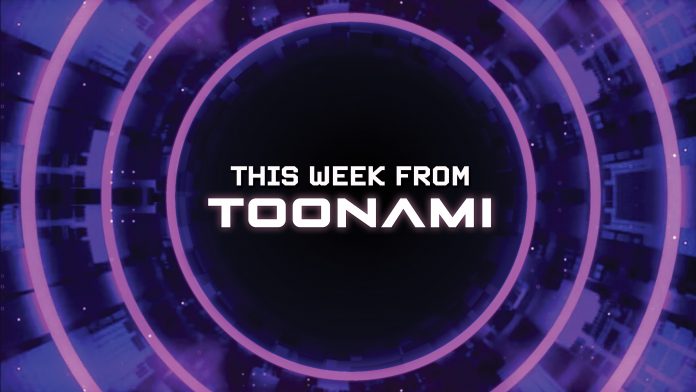 There is little to talk about regarding Toonami this past week. Sure, a new ID bump is always a welcomed sight (this one was incredibly cool). However, we don't have much information on stuff that involves the block directly. But, One Piece will be hitting a huge accomplishment that will be celebrated at this year's Anime Expo. And who knows, in 2030, Toonami fans will be able to catch up to what this event is marking. So check out everything we want you to know in This Week From Toonami.

Toonami debuted a new ID bump for viewers, and this one knocked it out of the park! These bumps have been fun, and we love seeing them. But this latest one was vibrant and grabbed your attention from the jump. The cassette being slammed into T.O.M's head was also a cool touch, especially with the close-up of the Toonami logo. These continue to be a massive highlight for fans, and we hope that Toonami doesn't stop soon!
If you are a One Piece fan heading to Anime Expo, the series will celebrate dubbing its 1000th episode at the largest convention in the U.S. Fans can attend the event even if they don't have a badge which will take place on July 2 at the Grammy Museum at L.A. Live Roof Top Terrace in Los Angeles. Toei Animation and Crunchyroll announced everything happening during the festivities, including an autograph session with Sonny Strait, Patrick Seitz, and Ian Sinclair. There will also be a live Q&A and drawing showcase with animators from the series. Fans will have a chance to play some games at demo stations, and there will be giveaways to celebrate this momentous occasion. It will be a lot of fun, and we hope everyone has a blast while they experience all the One Piece fun at the convention.
Netflix released a new character promo video to highlight the Black Clover film Black Clover: Sword of the Wizard King. Now it's Yuno's turn to take center stage, showcasing his strength and popularity amongst fans. The film will be available to stream on the platform on June 16, and we cannot wait to see how it will look, considering the movie was delayed due to COVID-19.
If you are a Sword Art Online fan and are interested in the upcoming Sword Art Online Last Recollection video game, a new trailer was dropped from Bandai Namco Entertainment that will grab your attention. The video highlights gameplay, customization, skills, and weapons. The game looks great from this trailer, and we cannot wait for Oct. 6, when it will be released. We are optimistic that it will continue the trend of great games that involve series that have been on Toonami, and this might be the best one yet.
And we hope you enjoy music JoJo fans because a stage musical for Phantom Blood will be happening in Tokyo in February. There's not much else to say, but we thought it would be fun to mention it, considering how popular JoJo is.

A new episode of The Demon Slayer Podcast dropped this week, with everyone's favorite personalities Varun "VLordGTZ" Gupta and Bryan "LaserKid" Johnson taking center stage. The two discuss a fantastic Demon Slayer episode highlighting Tanjiro and Tokito. The conversation starts with the fight in the episode dealing with the "Hatred" Demon and Tanjiro duking it out like any other shonen anime. Both then detail what's happening with Tokito, getting out of a bubble, and how touching and heartwarming particular scenes were with Tokito seeing others help encourage him to leave. Plus, everyone watching got a face reveal for Haganezuka (eat your heart out, Kakashi). We recommend you take some time to listen to this latest episode and listen in on what our experts have to say.

Did you enjoy this week's Toonami? Let us know by commenting below or directly on our social media. You can follow us on Twitter, Instagram, and Facebook. You can listen to the Toonami Faithful Podcast on Soundcloud, iTunes, Spotify, etc. for interviews, discussions, and breaking news updates. Listen at the link below or on your podcast platform of choice:
C.J Maffris is the Editor-in-Chief at Toonamifaithful.com. He also produced and directed the Toonami documentary, What Toonami Means To Me. Feel free to follow CJ on Twitter @SeaJayMaffris