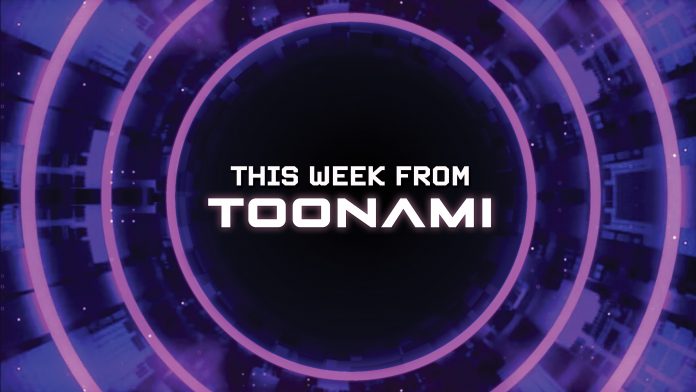 Welcome to our latest installment of This Week From Toonami. Not much is happening in the anime world regarding Toonami-related series. However, Adult Swim apologized for how late they've been in releasing their schedule and offered some exciting news of what they plan to do while they wait to solidify some deals they have in place. It was a fun week, so allow us to give you all the information you need to know!

We warned fans that there could be a lot of late schedule announcements to prepare for to start 2022 due to what Jason DeMarco mentioned on Twitter during an "AMA" thread he had. That certainly was the case, as it wasn't until Thursday where Toonami announced what their schedule on Jan. 8 would look like. However, the most significant tidbit from that announcement was that for the next "month or so," Toonami will be premiering a new show every week. We aren't sure what that exactly means at this moment. Will it be a solo episode of a new show? Could it be an hour-long? How many new shows at one time can show up? Many questions arise from that piece of information. But luckily, Toonami Faithful will keep you covered on how the lineup will look as we begin 2022.
While Toonami didn't have any schedule announcements to make during its most recent broadcast, it did have a game review to share with fans. This week, TOM and SARA gave an in-depth look at A Short Hike. While it can look like Animal Crossing, the game doesn't have the same commitment or longevity as the former. The main objective is to climb to the top of Hawk's Peak. As Sara pointed out, you could fly to the top since you play as a bird, right? Not at the start. As you climb, you collect golden feathers to help you reach the top. Once you reach the top, you can descend to finish the game or backtrack for some optional tasks. Overall, it looks like a relaxing game for anyone to give a shot, and at eight dollars, it doesn't sound like a bad thing to check out. Toonami rated this video game a score of 8/10.
The anime landscape continues to change in a way that I'm sure many fans either don't recognize or didn't believe possible. Anime is significant money now, which is even more apparent due to AMC Networks purchasing Sentai Filmworks. In a press release, AMC made the acquisition official, which includes the streaming service HIDIVE and the member interests of the public-private Japanese company Cool Japan Fund, Inc. Right now, we aren't sure what this might mean for Sentai Filmwork's series, especially when looking at a potential Toonami broadcast. Could this also mean that an anime block could show up on any of AMC's networks down the line? Anything is possible, but it certainly looks like Sony's move earlier in the year with FUNimation caused other companies to look into investing in the anime market. And perhaps the success of Mugen Train made companies aware of the money that comes with anime and its consumers. It's a crazy time to be an anime fan, and this purchase certainly is something I'm sure many did not see happening.
Readers curious about the Hunter x Hunter attraction coming to Universal Studios Japan in March can now learn some more information about it! Announced this week, the amusement park released a statement saying they will show the first-ever theatre attraction inspired by the manga called "Hunter x Hunter the Real 4-D" from March 4 to Aug. 28, 2022. It will be held as part of "Universal Cool Japan 2022," a limited-time event that brings Japan's leading entertainment properties such as "Detective Conan World" and "Monster Hunter World: Iceborn XR WALK." It will be a 20-minute show that will tell an original story starring Gon, Killua, and Kurapika as they infiltrate a mafia auction house where Hisoka should appear. Fans will experience all kinds of great moments during this attraction in ways never before experienced. 
The Fire Force manga was said to be in its final arc in October of last year, and Atsushi Ohkubo gave fans a more precise picture in a live stream that he only has two chapters left to draw of the hit property. During his stream of Dark Souls (on Dec. 31), the manga will end in a few chapters, and that the last two volumes will be the final ones. So it would appear that the rumors and hints about Fire Force ending were confirmed, and it certainly has been an exciting ride for the title. It's a massive favorite among Toonami fans, so it is both happy and saddening that Fire Force will be coming to a close for good in terms of the source material. Hopefully, that will mean more anime adaptations, but only time will tell if that is the case. 

This week the webmaster of Toonami Faithful, Alpha Khaos, decided to step down from his role with the publication. We cannot be more thankful to him for all the work he put into making our website as great as it is. While he isn't gone entirely (in case of emergencies), Alpha Khaos would like to focus more on his family and his ever-growing streaming career! If you can, make sure you drop a follow on his Twitch page, and make sure you mention Toonami Faithful sent you. Thank you for everything, Alpha Khaos!
On the latest Toonami Faithful Podcast episode, Host Andrew "Sketch" Hingson is joined by Paul Pescrillo, Varun "VLordGTZ" Gupta, and Bryan "Laser Kid" Johnson as they talked about Toonami's most recent schedule announcement, which includes the news about premiering a different show every week for the next month or so. It doesn't stop there, as they discuss exciting anime news (AMC buying Sentai Filmworks), episodes seven and eight of Blade Runner: Block Lotus, and The Animatrix that Toonami recently aired on the block. It's a rather lengthy episode, but one that has some interesting commentary from our panelist that you do not want to miss. So make sure you check out the episode when you can!
Once again, Toonami Faithful is here to bring you another review of Blade Runner: Black Lotus. Sadly, this episode was more of a recap of the first seven episodes, which is a bit of unfortunate timing since last week a marathon of the series played, which made fans a bit more irritated. While viewers were given a chance to see how things played out through the eyes of Officer Davis instead of Elle, much of what played were events that we had already seen. Still, staff writer Umeko Long enjoyed having the episode center around our hard-boiled cop and was glad to find some interesting information about the officer, such as her failing the Blade Runner exams. Toward the end, the investigator interrogating her seemed to believe her story and found the area where the doll hunt took place. However, it would appear that Officer Davis was taken off the case and suspended due to her own "delusions" about this investigation. And now she's off to find answers on her own. Check out everything Long had to say in her latest review here!
A brand-new episode of our sister podcast, The Demon Slayer Podcast, released a new episode discussing the thoughts of feelings of episodes four and five and the pacing of the Entertainment District arc. You're in for a wild ride as VLordGTZ is joined by Laser Kid, Alien Renagade, JMac, and Meowth900 in what only can be described as friends enjoying a property, and remember that they are on a podcast. It's an entertaining episode, and we hope you can find some time to listen to this fantastic group of Demon Slayer experts!

Did you enjoy this week's Toonami? Let us know by commenting below or directly on our social media. You can follow us on Twitter, Instagram, and Facebook. You can listen to the Toonami Faithful Podcast on Soundcloud, iTunes, Spotify, etc. for interviews, discussions, and breaking news updates. Listen at the link below or on your podcast platform of choice:
C.J Maffris is the Editor-in-Chief at Toonamifaithful.com. He also produced and directed the Toonami documentary, What Toonami Means To Me. Feel free to follow CJ on Twitter @SeaJayMaffris