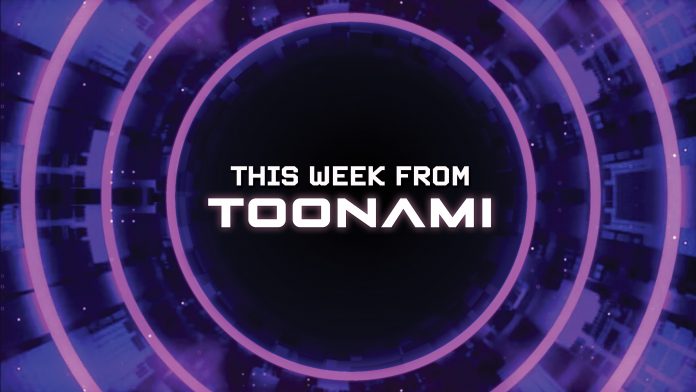 Toonami Faithful hopes you are all having a wonderful holiday season! And while you're resting up getting ready for the start of a new year, we are hard at work to bring you all the information you'll want to know about Toonami! While the holidays generally have fewer news-related items, fans were teased with what's going on for Uzumaki and get ready to be upset on a new season of Pop Team Epic. We have all the details you'll want to know for this week's installment of This Week From Toonami!

The official Twitter account for the Uzumaki anime had a special Christmas treat for fans. In a two-minute video, fans got to see author Junji Ito provide his voice for the upcoming anime! We don't know who he will be voicing, but the crew seems to be delighted with what Ito delivered for them! The series is scheduled to debut on Toonami in October of 2022, so we will have to wait as we get closer to the premiere to know who will be a part of the cast!
An incredible new Blade Runner: Black Lotus promotional video was seen on Twitter this week that Adult Swim will be using! Jeremy Polgar stated how they did everything on their own, and Toonami Faithful cannot express how impressed we are with their work! We thought it was very well done and wanted to give our readers and fans a chance to check this out if they haven't already.
A new promotional video of Attack On Titan The Final Season Part Two was released this week! In it, we are given scenes of what looks to be the final bout between Eren, Reiner, and Zeke as we head to a climactic finish with bloodshed to follow. Probably most highlighted is the battle between Eren and Reiner, which looks gruesome for both sides and can finally put a close to the Attack on Titan phenomena that took over the anime world. The new part will be coming out this January, and hopefully, that will mean a Toonami showing (when the English dub is being produced) relatively soon!
Are you upset that the second season of Pop Team Epic was announced? We are not upset. A teaser video revealed that a new season was green-lit for next year! Not much else is known about what to expect, but we can only assume more memes and choosing between chicken or beef will be on the menu for a new installment. And who knows, maybe the second season can find its way to Toonami when it is finished.
Demon Slayer: Mugen Train continues to be one of the biggest anime films of all time. This week, Oricon reported that the film is the first to top the annual DVD chart in 12 years since Studio Ghibli's Ponyo back in 2009. According to Oricon, the film sold an estimated 633,426 copies on DVD, the first anime film to sell over 500,000 copies since Ponyo. And for Blu-ray, the movie sold an estimated 459,173 copies (according to Oricon), ranking second for most Blu-ray Disc sales in one year for an animated film, only behind Frozen (2014). These are insane benchmarks to reach, and for Mugen Train to be in a similar category to mega-hits like Ponyo and Frozen is no laughing matter.
And for all of the sneakerheads out there, the shoe company FILA will be introducing a new limited-edition Dragon Ball Super x FILA collection with designs for Trunks, Beerus, and many others! As of now, the shoes are still available, which you can check out at Foot Locker's website here! If you love collecting sneakers, this might be the perfect chance to get some fantastic Dragon Ball Super swag for the holidays!

A fan-made Toonami-inspired AMV caught our attention this week! Mark Guerrero edited a mash-up that included all kinds of Toonami series and lines from the Charlie Brown Christmas special! It's an incredibly well-made video, and we hope that fans can appreciate it for the holidays!
Crunchyroll this week featured an editorial talking about Goku becoming a Super Saiyan for the first time and how it was a defining moment for the cliched power-up scenes fans come to know and love. Senior Writer Daniel Dockery explains why this moment is as iconic as it is and how it is ingrained in the minds of anime fans and even casual fans still to this day. It's a historical moment, and the fact that this inspired many other popular characters to follow suit is something we need to thank Dragon Ball Z for as the "grandfather" of the power-up moment. Give it a read if you can in the link here to see everything Dockery had to say!
If you would like to see your work featured in this section, tag us on our social media pages or contact us via email. We can't wait to see what you've been working on!

On the latest episode of The Toonami Faithful Podcast, Andrew "Sketch" Hingson and Paul Pescrillo are joined by Happy Kuro Kitty and Colt "Ambient Virus" Buhr as they have a bevy of things to discuss. The gang starts things off by mentioning the schedule news announced by Toonami, including all the marathons and the final episode of Yashahime: Princess Half-Demon. After they tackled that topic, everyone saved some room in their stomachs to give their thoughts about the fourth season of Food Wars! (thankfully, the clothes of our panelists stayed intact as they talked about the explanation of foodgasms). They also discussed the strengths and weaknesses of the more recent season. And finally, everyone gave their opinion on the last two episodes of Blade Runner: Black Lotus. It's a two-hour episode jam-packed with interesting commentary that we suggest checking out when you can!
While the intensity from episode six died down, the next one still had many unforgettable moments for fans! The identity of Dr. M was revealed as Elle was able to infiltrate his base of operations. After she runs away from Joseph, who we learn to be a former Blade Runner! Tension is in the air, and while Elle seems to want to know more about which memories are real and which ones aren't, she can mark down another one of her targets. Staff writer Umeko Long gives readers her point of view from watching this episode and brings up an interesting point of why certain motives of the antagonists of Blade Runner: Black Lotus has her more down than usual. She was also a bit disappointed with some of the reveals in this latest episode and hopes that the animation can help maximize the emotional appeal fans generally have in anime projects. Be sure to check out everything she had to say in her newest review that you can check out here!
Our sister podcast, The Demon Slayer Podcast, debuted another episode this week discussing the last two episodes of the Entertainment District arc. Meowth900 and JMac join host Varun "VLordGTZ" Gupta, and they cannot get enough of Uzui. They found many scenes hilarious, especially when the central trio put on makeup for their mission, making them look less pretty (unlike Uzui, who is irresistible). The group has such a fun time talking about these latest episodes, and we recommend you take some time to join in on the Demon Slayer fun!
Our friends over at Another Day, Another Adventure Podcast debuted a new episode this week. Both Sakaki and Colton are joined by Grant Jones to talk about episodes 14-16 of Dragon Ball! They set off on a new arc, as Goku begins his training under Master Roshi along with his new rival, Krillin! But even before they can start, they have to prove themselves worthy by finding Roshi a lady friend to abduct and live with him. That sounds a lot worse than how it turns out in the anime. But if you enjoy both Colton and Sakaki's podcast projects, as well as the work Grant does, you should hear what they had to say about these recent episodes of the classic Dragon Ball series.

Did you enjoy this week's Toonami? Let us know by commenting below or directly on our social media. You can follow us on Twitter, Instagram, and Facebook. You can listen to the Toonami Faithful Podcast on Soundcloud, iTunes, Spotify, etc. for interviews, discussions, and breaking news updates. Listen at the link below or on your podcast platform of choice:
C.J Maffris is the Editor-in-Chief at Toonamifaithful.com. He also produced and directed the Toonami documentary, What Toonami Means To Me. Feel free to follow CJ on Twitter @SeaJayMaffris