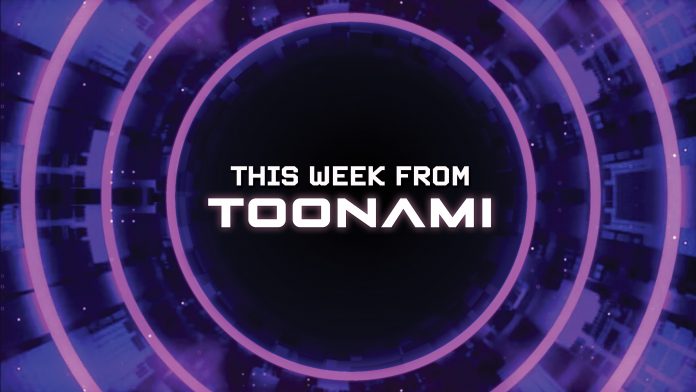 Welcome Faithfuls as we break down everything you'll need to know about Toonami this week! There was some significant news in the lineup department as Toonami looks to finish Yashahime: Princess Half-Demon this month, and the staff at Toonami Faithful has been busy. Curious about what went down? You've come to the right place, so check out the latest installment of This Week From Toonami!

Adult Swim announced their schedule for the next couple of weeks for December. On Dec. 11, fans will get to see the last three episodes of Yashahime: Princess Half-Demon back-to-back-to-back, with the rest of the night staying the same, beginning with Naruto Shippuden at 2 a.m. On Dec. 18, after an all-new episode of Blade Runner: Black Lotus, Toonami will air a special showing of The Animatrix from 12:30 a.m. to 2:45 a.m., followed by some Rick and Morty shorts and a single episode of Dragon Ball Super. There are still two weeks unaccounted for, and Toonami Faithful will keep you up to date to know what to expect down the line for the block's schedule!
Many of us know who Steve Blum is. Not only has he voiced many iconic cartoon characters over the years, but he has been known as the voice for the Toonami block for quite some time as its host, T.O.M. Many have felt that Blum is part of their family, beloved by fans across the country, considering how often the block's host would sit and chat with fans! However, in a recent article, we learned that his performance as Spike Spiegel from Cowboy Bebop that help land him this one-of-a-kind role that he's had for years. The report provided gives some beautiful insight into how Cartoon Network sought after Blum due to the success of Cowboy Bebop, how Blum felt he wasn't qualified to be a host when first approached, and how he even got a free beer if he came to the audition. It's a wonderful piece, and I feel that all Toonami fans should check it out!
It would appear that Blade Runner: Black Lotus has developed a massive fanbase in Canada. JustWatch revealed that top series and movies streaming in Canada and the Toonami original series landed in the number one spot! Pretty exciting to hear and one that Adult Swim has to be happy with knowing. Hopefully, the series can keep this momentum and possibly garner more attention in other parts of the world too!
It's the moment Demon Slayer fans have been waiting for since ufotable announced the second season. The series has finally reached the much-anticipated Entertainment District arc, and fans were treated to a trailer to this chapter in the following episode preview. A visual was revealed to continue to bring excitement to Demon Slayer fans worldwide, as it premiered on Dec. 5. Our friends over at the Demon Slayer Podcast have been waiting for this arc, so make sure you follow them to get their thoughts as the series plays out!
More information will be released for the upcoming anime continuation of the hit property Bleach! It will get a special live-streamed only stage at Jump Festa 2022 for the Thousand-Year Blood War arc, but more details were revealed that an event called the "Super Stage EX 'BLEACH'" will show off the first trailer and visual on Dec. 18 that has fans going crazy on what to expect. Bleach fans have been begging for the final to be adapted, and their wish will be coming true soon as many cannot wait to see how the new arc will look animated!
You can smile again, Hunter x Hunter fans! Fans in Japan will see a new attraction coming to Universal Studios Japan in 2022. As of now, it is unclear what this will entail, and the only thing we have is the photo in the tweet below, but it should be an exciting addition to the amusement park for fans of the property. We hope it isn't a real-life Hunter Exam cause that could get a little dangerous for the kids.
Yuki Tabata will be the judge Jump New World Manga Award ceremony this December! Aspiring manga artists will get the chance to have their work looked over by one of the giants in the industry and could win some fabulous prizes if chosen as a winner (which you can check out here). Who knows, the next hit in manga could come from this competition, and it's quite the honor to have Tabata look over, considering how massive a hit Black Clover has become. 

FUNimation posted a fun video on YouTube called FUNimation Flashbacks hosted by Cheyenne The Geek, where she talks about one of her favorite series (and ours!) FLCL! Cheyenne correctly nails the feeling of not entirely understanding the series the first time viewing it (especially if you were on the younger side when it was airing late-night on Adult Swim) and how fans probably felt after seeing it multiple times. Cheyenne would go on about the series and how it is all over the place. But FLCL did that on purpose and why this approach was such a gem when it debuted. It's a beautiful trip down memory lane for one of the most iconic anime series on the planet, and why you should be watching this video (you can thank us later for that one FUNimation).
The publication Manga Mavericks are passionate about, well, you guessed it, manga. And while some of their staff has joined Toonami Faithful on podcasts and vice versa, we've never really given a fair shot out for all their hard work. We noticed an article from them this week stating the hard-hitting facts that Black Clover is a can't miss series! We couldn't agree more as the writer talks about both the anime and manga and why they should be included with the top titans of the anime and manga world. They go on about how the power scaling of the series isn't eye-roll inducing and about the stunning artwork Tabata does for the manga. All the points made, but the author is hard to refute, and so for all the Black Clover fans out there and those who are still unsure if they should check it out, give this piece a read to help push you in the right direction! 
There are a few certainties in life: death, taxes, and the sub vs. dub debate in anime. Den of Geek writer Shamus Kelley dives deep into the heated discussion and explains why watching anime dubbed isn't a bad thing. It's a great piece going into the thought process of how a great English dub can help enhance the viewing (like Yu Yu Hakusho) and how it's unfair to go after dubbing companies for not giving a one-to-one translation due to needing to match lip flaps. Of note, Kelley was able to bring in some wonderful guests in this piece which include Bardy Hartel of Discotek Media, Marissa Lenti, who is known for both voice acting and ADR Directing for multiple studios, and the SVP of anime and action series at WarnerMedia and Adult Swim, as well as the co-creator of Toonami, Jason DeMarco. For those curious about what it was like to dub anime back when it wasn't as popular as it has become now, we suggest checking this piece out!

On the newest episode of The Toonami Faithful Podcast, Andrew "Sketch" Hingson is joined by fellow staff members Darrell Maddox, Varun "VLordGTZ" Gupta, Bryan "LaserKid" Johnson, and former host Jose Argumedo as they talk about all things Blade Runner. Jose has been an avid supporter of the franchise and loves getting the chance to discuss the property. The gang dives into episodes three and four of Blade Runner: Black Lotus, the animated short Blade Runner: Black Out 2022, and the featured film Blade Runner 2049, which aired on Toonami; during a Friday! And lastly, they mentioned that if you want to check out the original movie, you should make sure it's the final cut of the acclaimed film. The podcast lasts for two hours, so if you want to know everything discussed, you'll want to save some time cause our panelists talk a ton here!
Many fans have been upset toward Toonami due to the lack of new acquisitions to the block. Sadly due to some unforeseen circumstances, Adult Swim has had to get creative with what their schedule has looked for quite some time, forcing them to double up and even triple up on series to fill out the lineup. And while we can understand some frustration, it's unfair to go crazy at Toonami for what they are trying to do, especially since fans on the outside are privy to all the details. That's where COO Sketch authored a piece discussing the elephant in the room and mentions how fans need to relax a bit and realize how complicated things still are due to COVID-19 (among other things). It's a beautiful article that gives both sides a fair and reasonable explanation and something we implore our fans to read!
Toonami Faithful is back with episode reviews of an original series debuting on the block. Initially, VLord wrote a nice preview/review piece of the first three episodes of Blade Runner: Black Lotus. Sadly, due to real-life constraints, he would not be able to follow along with the series. But luckily, staff writer Umeko Long is back to review another series for our fans and readers. You might remember her pieces before, back when Toonami got to air the English dub premieres of Attack on Titan, so you know what to expect for these pieces. For the fourth episode, we get the total flashback of what Elle went through before the events of Blade Runner: Black Lotus began. Being a replicant, she was attacked by a significant group of people (one being Senator Bannister). Our heroine remembers how she and her fellow replicants were hunted down for sport. Thankfully, something fundamentally changed within Elle and allowed her to fight back and kill her would-be assailant. Now our girl is on the hunt to find those responsible. You'll have to check out Long's review here to get all the details!
A new behind-the-scenes interview was published from the documentary What Toonami Means To Me. In this latest installment, we hear what voice actor Joe Hernandez had to say about hearing his voice on a block that helped inspire him to pursue his career and the level of passion anime fans have toward the medium. The importance of anime having a home on television cannot be overstated, and Hernandez talks about how great that is for admirers and those who work in the industry today! It's an insightful interview and one we hope you can check out when you have the chance on our Patreon page!
On the latest Demon Slayer Podcast, host VLord is joined by LaserKid as they discuss the final TV cut of the Mugen Train arc. Sadly they both believe that the film is the best way to experience this arc and were getting restless toward the eventual debut of the Entertainment District arc. But, despite those feelings, it is a good thing that there's a way to see the story that's more format for television instead of just skipping it entirely. This choice could bode well for Toonami viewers if the second season does find its way on the block (fingers crossed). Curious about everything that our hosts had to say? Well, there's only one place to find out!
Our friends over at Another Day, Another Adventure Podcast released their latest episode with special guest Marion "microwaevy" Peña! The tweet below has a very hilarious clip about this episode's topic about where the panties that Oolong wished for originated. If this is any indication of how the episode goes, we can only assume fans are in store for a roaring good time! Make sure you take some time to listen to the podcast that asks the IMPORTANT questions involving Dragon Ball!

Did you enjoy this week's Toonami? Let us know by commenting below or directly on our social media. You can follow us on Twitter, Instagram, and Facebook. You can listen to the Toonami Faithful Podcast on Soundcloud, iTunes, Spotify, etc. for interviews, discussions, and breaking news updates. Listen at the link below or on your podcast platform of choice:
C.J Maffris is the Editor-in-Chief at Toonamifaithful.com. He also produced and directed the Toonami documentary, What Toonami Means To Me. Feel free to follow CJ on Twitter @SeaJayMaffris