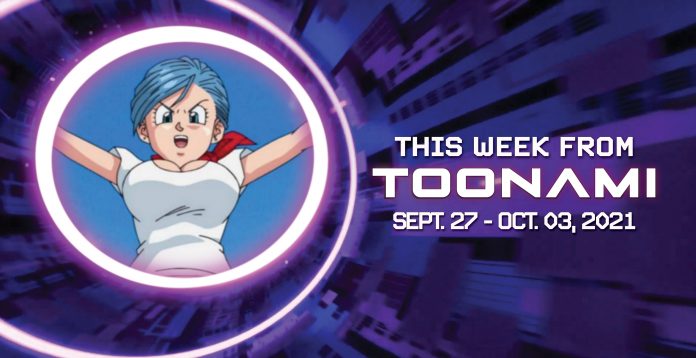 Toonami schedule changes are on the horizon; the new Sword Art Online movie finally has a U.S. premiere date; and, Ronin Warriors is available on Blu-ray – oh my! Read on to get the details for all that and more in this installment of This Week From Toonami.

Some big news came from Toonami this week as the lineup looks to have some significant shifts in the coming weeks. First, on Oct. 9, Black Clover will air its last two episodes back-to-back to end its nearly four-year run (Dec. 2, 2017-Oct. 9, 2021) on Adult Swim. To make room, Naruto Shippuden will be taking the week off that day. However, every series (except Fena: Pirate Princess) will also be taking a week off on Oct. 16 to celebrate DC FanDome again! Much like last year, Toonami will air two DC films! The movies in question will be the Batman Ninja anime film and Batman: Under The Red Hood (both have been highly praised). To round out the night, a Rick and Morty short will air at 4:15 a.m. that day titled The Great Yokai Battle of Akihabara. There still hasn't been any word about what will be replacing Black Clover, but Toonami Faithful will keep you informed whenever that news breaks!
FUNimation published a brand new English dub trailer of the My Hero Academia film World Heroes' Mission! As fans get excited about the franchise's third movie, convention-goers to New York ComicCon will get to see a sneak peek of the film before anyone else in the U.S. So far, World Heroes' Mission has had a resounding success story financially. The excitement level is only growing as more fans are anxious to see why it has been so popular in Japan. And for those who are going to the theater to check it out, a special booklet will be available on its opening weekend (Oct. 29-31) in every country but New Zealand and Australia.
We finally have a premiere date for Sword Art Online the Movie -Progressive- Aria of a Starless Night. On Dec. 3, fans in the U.S. will get the chance to see Kirito and Asuna on the big screen or IMAX in Japanese and English. The project is based on the Sword Art Online: Progressive light novel series the focuses more on the floors from the first season of Sword Art Online with more attention given to Asuna. Fans should be excited to see what happened on those levels as the anime glossed over them initially. 
Dr. Stone fans should feel excited since Weekly Shonen Jump announced that the manga is heading to its final arc! We are unsure how long this final arc will go on, but it's a fun prospect learning that the title is nearing its conclusion! The manga will also be taking a week off to allow the creators to do a bit of research as Senku and friends head toward the climax of their story.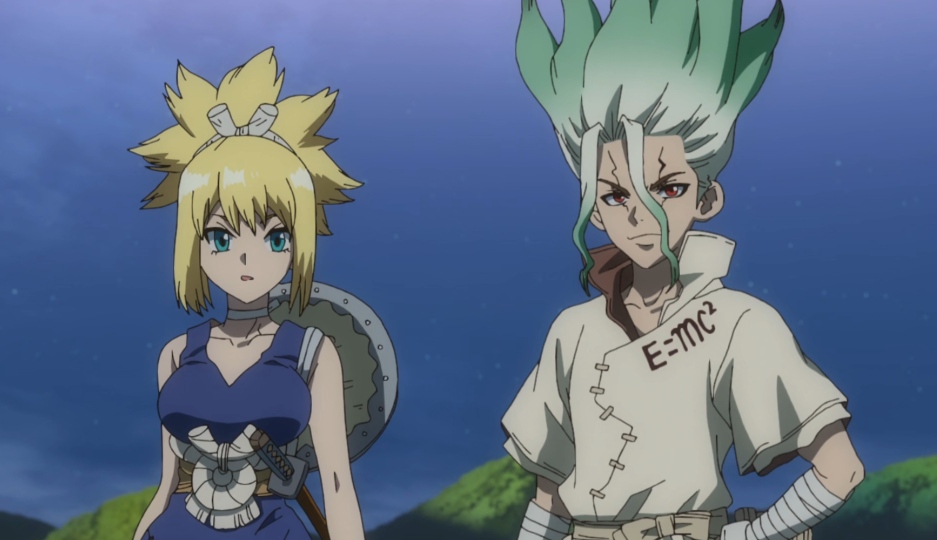 Sony's Playstation YouTube page posted a new trailer for the upcoming Demon Slayer video game, The Hinokami Chronicles. In it, the trailer spotlights the adventure mode showing similar moments and famous scenes from the anime that players will get to fight in when the game (as well as the Mugen Train film). Viewers also get a chance to see the "v.s. mode" in a stunning trailer that many Demon Slayer fans will love to watch. Oct. 15 is when you'll be able to get your hands on it, and so far, fan reception to the trailers has been rather positive!
Any old-school Toonami fans excited about Discotek's home media release for Ronin Warriors? You won't have to wait too long to get your hands on the product as they announced that the Blu-ray will be available on Dec. 28. It will include all 39 episodes and 3 OVA sequels and have the English dub (which many have been waiting to have for quite some time). Discotek poured so much into making this a reality, and it'd be a perfect addition to any Toonami fan's home media collection!
Artist Posuka Demizu (best known for their work in The Promised Neverland) recently posted an image they drew to help promote the sci-fi film Dune. In the picture, we see Paul (the main character) and others, as well as a sandworm! Demizu gave the film high praise in a statement citing how intense it was while the director of the Dune film was in awe at Demizu's artwork! We found it to be a cool side story to share with fans, and hopefully, you'll have a chance to check it out soon as well!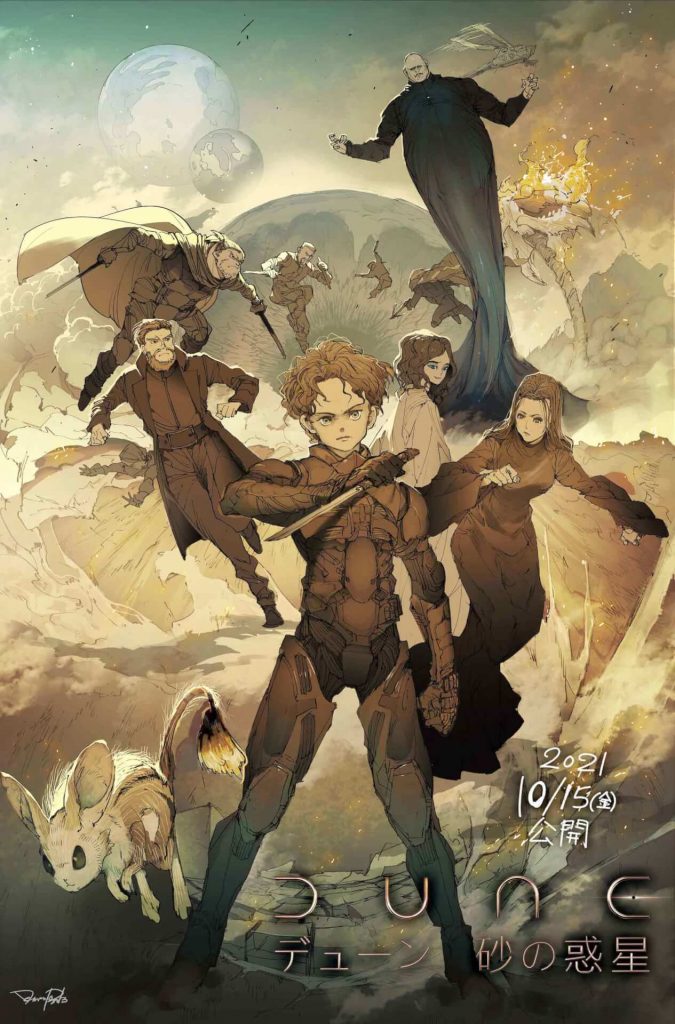 Toonami Faithful is saddened to learn of the passing of voice actor French Tickner. Many should know his voice for characters such as Watari in Death Note (an Adult Swim Action staple), Kagome's grandfather in Inuyasha, and Gundam's Dolze Zabi. He passed away on Aug. 26 and lived to be 91 years old. We want to offer our condolences to his family, friends, fans across the world learning about this sad news.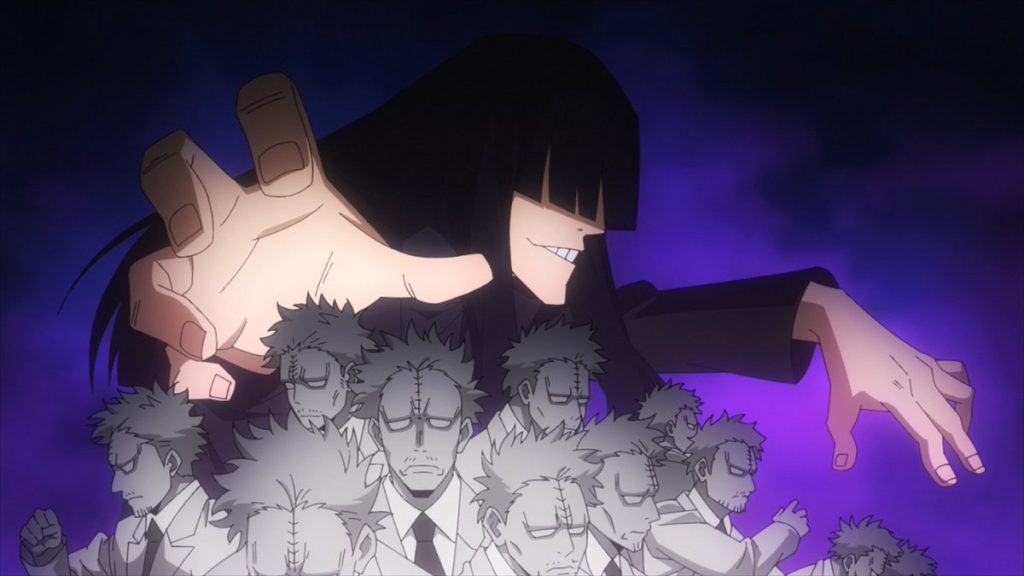 Fena: Pirate Princess went on a journey to the past when Abel Bluefield was a young boy. While wandering the palace grounds, he encounters an enchanting girl dancing in the garden named Helena. The two become fast friends and sparks of romance flicker between them. However, everything changes when Abel discovers that Helena has not only eloped with the butler Franz Houtman, but she is also pregnant with the king's child. Years later, the guards alert him of a new arrival at the palace prison. There he finds Helena, sans her long blonde locks, awaiting her execution. She admits to Abel that she did everything as Hanz told her for La Pucelle's sake and that Abel was the only person she truly loved. Later at her execution, Helena smiles at Abel in her last moments before being burned alive. Abel decides that there's nothing left in the world worth living for, and he pledges to be reunited with Helena soon. Meanwhile, in the present, Yukimaru and Fena realize that the song from her childhood is a secret code for finding Eden. The League of Villains is overwhelmed by the Meta Liberation Army in My Hero Academia while Shigaraki buys time for Gigantomachia to awaken. Skeptic attacks with puppets made to look like Twice. They restrain Twice and force him to watch as the other puppets attempt to kill Toga, weaponizing his psychological trauma against him. The puppets break Twice's arms per Skeptic's orders, but when he feels the pain of his injury, Twice realizes that he is the original, not one of his doubles. He breaks free of the puppets and begins creating doubles of himself to rescue Toga. His doubles also make doubles repeatedly until they fill the streets in a Sad Man's Parade. The flood of Twice doubles doesn't phase Re-Destro, but a mysterious black spot begins to grow on his head. Shiagaraki and Spinner run for Re-Destro's tower while Dabi and Mr. Compress aide the Twice Doubles in holding back the Meta Liberation Army soldiers. Some Doubles reach the building first and create doubles of the League members, including Shigaraki, and they try to fight Re-Destro. The real Shigaraki reaches the tower and uses his quirk to make it crumble to the ground. Re-Destro emerges from the rubbles, now enlarged from his quirk, and asks Shigaraki if he's the boss. Elsewhere, Dr. Ujiko decides to wake Gigantomachia early, and he sends him to assist the League of Villains.
Riku rescues a young girl named Tamano after she flees from Lord Homura, a fire-breathing demon who kidnapped her in Yashahime: Princess Half-Demon. He brings her to the Corse Dealer Jyubei, where she hires Towa, Setsuna, and Moroha to slay Homura. The trio confronts Homura at his castle, but suddenly he recognizes Setsuna and Towa. He tells them that he was responsible for the forest fire that separated the sisters years ago, and Homura resolves to kill them now since he failed to when they were children. While they're fighting the demon lord, Tamano arrives with Riku and Takechiyo, and she tells Homura that she will never come back to him. Homura despairs and sets his entire castle and himself on fire until he and the grounds are nothing but ash. The fourth bout of the regimental food war begins in Food Wars! The Fourth Plate, as the Ice Queen Erina faces off with master patisserie Momo Akanegakubo to create a dish using brown sugar. Momo wows the judges with her sponge cake castle, featuring handcrafted candy decorations and cute animal motifs. However, Momo's aesthetics prove to be no match for Erina's skill for balancing flavor thanks to her god tongue. Erina creates a pancake dish with brown sugar azuki bean paste in the center, which resembles the textures and flavors from Megumi's dorayaki from the previous bout. The judges overwhelmingly declare Erina the winner.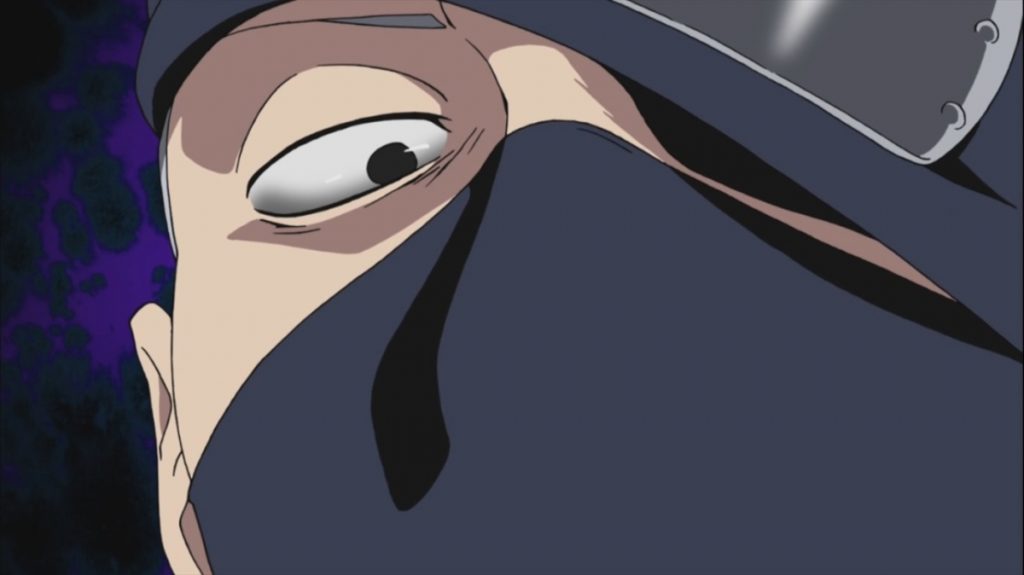 Asta and the Black Bulls recoup after failing to stop the Dark Triad from wreaking havoc and kidnapping Captain Yami in Black Clover. Asta decides to leave the hospital after Yami's katana appears in his grimoire, but a mysterious figure stops him. The figure reveals himself to be Nacht Faust, the vice-captain of the Black Bulls who has been acting as a spy in the Spade Kingdom. He takes Asta with him to an emergency captains' meeting. The captains attack Nacht at first until he reveals his true identity and that he controls four devils. He tells them they must act quickly before Yami and Vangeance are sacrificed for the Tree of Qliphoth. Nacht declares that he will teach Asta how to control his devil magic and increase his strength in the two days leading to the rescue mission. Yuno insists on going with them to save Vangeance, but the captains hesitate because of his Spade kingdom royal lineage. Meanwhile, Noelle awakens in the Heart Kingdom and finds herself face-to-face with former members of the Eye Under the Midnight Sun. In Naruto: Shippuden, Kakashi reflects on the bell test from Minato while conducting the same test on his first group of students. Disgusted by the lack of teamwork displayed by his students, Kakashi pledges never to let students who don't work together as a team become full-fledged shinobi. A new crop of students (and familiar faces) graduate from the academy to train with jonin instructors. Might Guy finds joy and success in teaching Team Guy, but Kakashi continues to fail his students as Obito's philosophies echo in his mind as he wanders the village; Kakashi questions if he is teaching the right things. Suddenly, he encounters his previous students, who tell him they learned a lot from their time with him. Hearing their gratitude helps Kakashi realize that his teaching style isn't so bad after all. Little does he know, the most challenging and rewarding genin team of his career is about to turn his life upside down.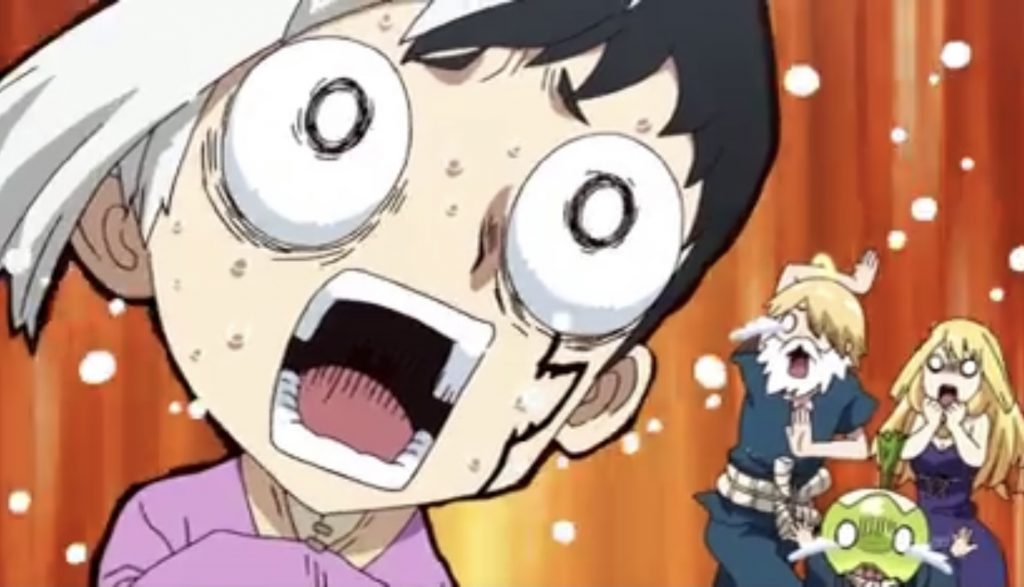 The Kingdom of Science continues work on their steam engine in Dr. Stone, which Gen is tasked with driving since he is the only one with a driver's license. Suika goes into detective mode and looks for clues of where Chrome might be. She finds him in the bamboo prison where Tsukasa locked him away and rushed to Senku to tell him. Chrome quickly realizes that Tsukasa has set a trap for Senku and his friends, and he decides that he must save them himself by using the power of science. Preparations for the tournament between Beerus and Champa begin in Dragon Ball Super. Champa selects an uninhabited planet between Universe 6 and Universe 7 to host the tournament. While Vados constructs the tournament arena, Goku and Vegeta contemplate how to recruit participants for their team. Back on Earth, Whis asks Bulma to use her Dragon Radar to locate the final Super Dragon Ball on Earth. Bulma summons Shenron instead to ask him to find it, but the great dragon admits that locating Super Dragon Balls is beyond his power. Bulma builds a new detection system, the Super Dragon Radar, to track the Super Dragon Ball before someone else does.

Evangelion has been on the minds of anime fans for years, and even more now after the latest Rebuild films. So considering that the iconic series did air on Toonami, host Andrew "Sketch" Hingson thought it'd be prudent to discuss the property on the latest Toonami Faithful Podcast. He was joined by Varun "VLordGTZ" Gupta, Bryan "LaserKid" Johnson, and Celia Rose, the four dive deep into their feelings (and passion) about all things Evangelion. For those who are big fans, you'll want to hear how the panelist felt about it and the cultural importance of the show.
Toonami Faithful also debuted the newest episode of FenaCast this week! Sketch hosts and is joined again by LaserKid and Celia Rose, but the crew was also joined by the other half of the original team that created Toonami Faithful Jose Argumedo! It is always an honor and a pleasure to have Jose join us, and for old-time fans, it's an episode you'll want to hear! Jose has been vocal about his praise for the series, and he was excited to talk about all the twists and turns, seeing the backstory of Shitan, and dive into the motives of Abel since he seems to be obsessed with Fena's mother, Helena. A lot of questions are left unanswered, but our guests do their best to break everything down for your enjoyment.
The eighth episode of Fena: Pirate Princess was a bit of a mixed bag for Editor-in-Chief CJ Maffris. While he enjoyed seeing Shitan's backstory and his revealing about the mission of killing Fena, he felt that this episode was at a standstill. The plot of finding Eden seemed to have taken a back seat, with the series focusing more on the interpersonal relationship between Fena, Shitan, and Yukimaru. It led to some riveting moments that fans had to have lost their minds (and some excellent acting by Nicholas Corda), but our reviewer felt there needed to be more story-driven moments to balance things out. Curious about everything CJ had to say? Make sure you check out his full review here!
A new episode of the Demon Slayer Podcast was published as hosts VLord and LaserKid discuss the recent news about the property (which there was a ton). The two talk about the debut date of the second season (as well as how ufotable will separate the season), the video game Hinokami Chronicles, and the home media release of the critically acclaimed film Mugen Train! It's a short episode but full of many goodies for fans of Demon Slayer all around the world to hear!
Editorial writer for Toonami Faithful Sakaki is also the Editor-in-Chief at Weekly Shougakukan Edition! So he and his crew do all sorts of wonderfully written projects for fans to enjoy. This week staff writer of the publication, Jecka1021, published their review of VIZ Media's Animal Crossing manga, Deserted Island Diary! As they describe, "…overall, Animal Crossing: Deserted Island Diary volume 1 is a fun, lighthearted read for all ages. Fans both new and old can find something they like about the series. The manga comes at a great time to rekindle the lost motivation for the game." If you are curious about all of Jecka1021's thoughts, definitely check out their review below! And it might be time to boot up the game if you own it as well as a Nintendo Switch.
Director of Social Media Celia Rose, Chad from the Macross Mecha Manual, and EXO from Macross Fan Central discuss the first teaser for the Macross Frontier short film, Labyrinth of Time, which will run in cinemas double-billed with the Macross Delta: Zettai Live!!!!!! movie. There's a lot to unpack in the short preview! Check it out on YouTube below:

Did you enjoy this week's Toonami? Let us know by commenting below or directly on our social media. You can follow us on Twitter, Instagram, and Facebook. You can listen to the Toonami Faithful Podcast on Soundcloud, iTunes, Spotify, etc. for interviews, discussions, and breaking news updates. Listen at the link below or on your podcast platform of choice:
C.J Maffris is the Editor-in-Chief at Toonamifaithful.com. He also produced and directed the Toonami documentary, What Toonami Means To Me. Feel free to follow CJ on Twitter @SeaJayMaffris
Celia Rose is the Director of Social Media for ToonamiFaithful.com. Feel free to follow Celia Rose on Twitter @planetstwinkle.