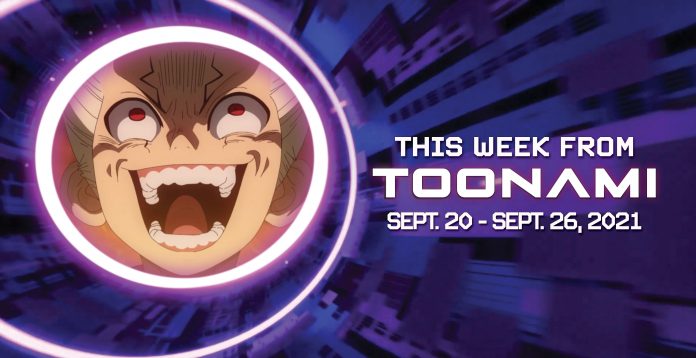 Welcome back to another installment of This Week From Toonami, your weekly round-up of everything Toonami-related that happened within the past week! Let's get into it! Check out the news below to see what you may have missed, as well as highlights from this week's Toonami and projects from our staff.

Toonami reviewed a new game this week titled Golf Club Wasteland! This cute $10 game seemed to become a favorite for T.O.M and SARA (who both enjoy a good golf game now and then). T.O.M specifically mentions how even if you aren't a fan of the sport, you might find this game pretty fun and relaxing. Add in some funny commentary and addictive nature to get that perfect shot; Toonami gave this game an excellent review for fans to check out. Golf Club Wasteland was given a score of 8 out of ten!
As the excitement for Fena: Pirate Princess continues, a new key visual for the series dropped this week in anticipation of its debut on Japanese television! A nearly three-minute trailer also accompanied the new art (that looks stunning) and one I'm sure many fans admire. With eight episodes finished, it feels safe to say this has been a worthwhile endeavor for Adult Swim and Production I.G. And we can't wait to see how fans overseas react to the original!
In news that shouldn't come as a surprise to anyone, Studio Bones officially announced a sixth season for My Hero Academia. With the fifth season finishing its broadcast run in Japan, fans were quickly met with a notice that more of the mega-hit manga would be adapted. It will be a bit before it debuts (considering that My Hero Academia started to popularize taking breaks in between seasons instead of just continuing to make more episodes). Still, fans are pumped that more of the story will be hitting the small screen at some point! And Toonami fans will be patiently waiting when (or if) this latest season will find a home on the block!
The wait for the anticipated second season of Demon Slayer is almost upon us! While it is slated to begin Oct. 10, studio ufotable announced that the first few episodes of the next season would adapt the story arc from the film Mugen Train! So if you haven't seen the movie (like C.J) or only wanted to watch it on Toonami (if it airs on the block), you're in luck. The beloved Entertainment District Arc (the next story arc from Mugen Train) will be adapted by the studio on Dec. 5. It's an interesting move by the studio, considering how fans generally react to anime episodes recapping a film (hello, Dragon Ball Super). But this is certainly a development that Adult Swim has to be pleased with, due to how unlikely Mugen Train would have aired on the network.
Netflix released a new trailer to get fans excited about the live-action Cowboy Bebop series, which will debut on Nov. 19. While the trailer had mixed reviews, it was interesting to see how faithful this opening was to the anime. There will always be a stigma when an animated property gets a live-action adaptation. And while we wouldn't mind seeing this property do things a bit differently to separate itself from the anime, it isn't as bad as we thought. We anxiously await November to see how this project lives up to the legacy of one of the most acclaimed anime series on the planet. (Also, we want more Ein content!).
Quite a bit of Lupin The Third news dropped this week that has fans talking and excited. First, TMS Entertainment dropped a new trailer featuring everyone's favorite Fujiko Mine! With all that said, fans won't have to wait long as the next installment of Lupin The Third will debut this October. But what was shocking for many was that Sentai Filmworks and TMS Entertainment are collaborating to host a world premiere of LupindThe Third Part One. That's right, an English dub. Episode one of Lupin the Third Part One will be getting a brand new dub to get fans pumped for the latest season, which could be happening at a theater near you! If you want to know more about this historic event, Sentai Filmworks has all the relevant information and locations for this event on their website here!
One-Punch Man artist Yūsuke Murata posted a nearly two-minute animated short of Saitama. In it, the beloved hero finds out that a supermarket is having a great sale, and he must do whatever he can to make it there in time. While the short is silent, it's a rather cute little good for One-Punch Man fans to enjoy (especially with the usual hijinks that occur in this series). In the tweet, Murata also apologized to fans about the delays on the latest chapter due to various circumstances. This short was issued as a thank you for the fan's patience, and hopefully, will be able to bring more One-Punch Man to fans worldwide.
Can you believe it's been 20 years since the beloved film Spirited Away debuted on the big screen? Neither can we. And to celebrate the occasion, the Studio Ghibli giant is making a return to select theaters on Oct. 3, 4, and 6! But it doesn't stop there; going to their website here, you can see that more Studio Ghibli films will also make a limited return! Others films involved are Howl's Moving Castle, Castle In The Sky, and My Neighbor Totoro! All dates are included on the website when you hit the link!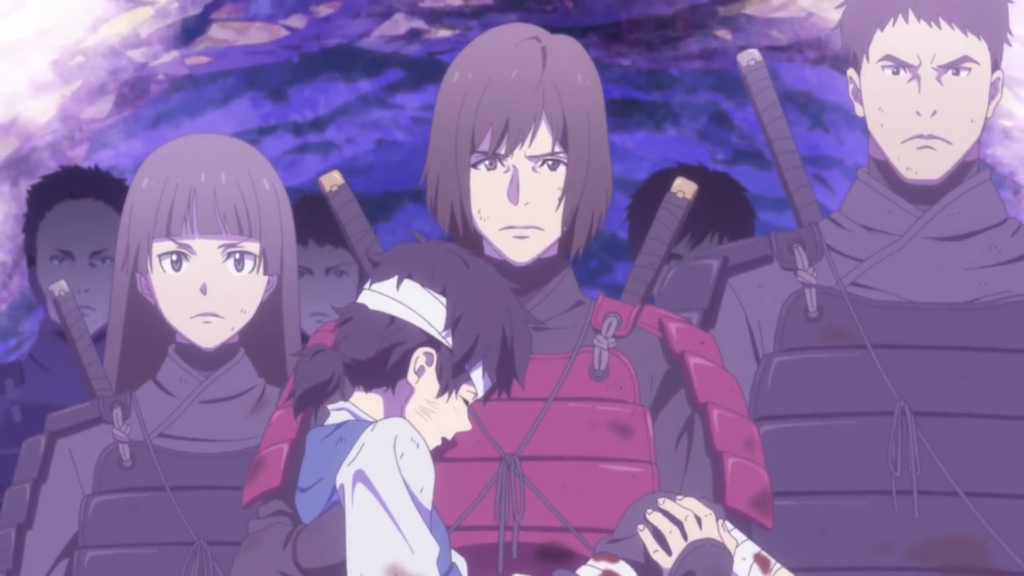 Thanks to his friends' quick thinking and Fena's care, Yukimaru survives his fatal gunshot wound in Fena: Pirate Princess, but he isn't the only one who needs healing. Shitan, angry about his friend's dire situation, accuses Fena of being a witch and reveals that Yukihisa has ordered him to kill Fena. He storms away from Yukimaru's room, finding solace on a cliff overlooking the sea. He reflects on feelings of shame and rejection as a young boy learning swordsmanship alongside Yukimaru until he took up archery using one of Makaba's defective bows. Eventually, Fena finds Shitan on the cliffside, and they reconcile over shared feelings of uselessness despite the urge to be Yukimaru's support. Later, Yukimaru wakes up to find Fena asleep with her head on his legs. They venture to the rooftop together, where Yukimaru pledges to stay by Fena's side and protect her at all costs, sealing his promise with a kiss on her hand. The Meta Liberation Army reveals their hand in My Hero Academia when Re-Destro orders an attack on Shigaraki and the League of Villains at their rendezvous point in Deika City. Himiko Toga fights Chitose "Curious" Kizuki, a journalist and Liberation Army member who attempts to persuade her to join their side while simultaneously weakening her if she refuses. Toga reflects before joining the League of Villains when people called her a monster and treated her like a beast because of her Quirk's nature. When Kizuki corners her, Toga transforms into Uraraka and then accidentally uses her zero-gravity Quirk. Toga quickly realizes her newfound power and begins touching Liberation Army members to make them float so she can escape. Meanwhile, Shigaraki also unlocks a higher level to his powers when his decay Quirk spreads to the person he is touching and the people touching that same person. Mr. Compress realizes that the League has been split up by the fighting and begins to locate everyone in their party.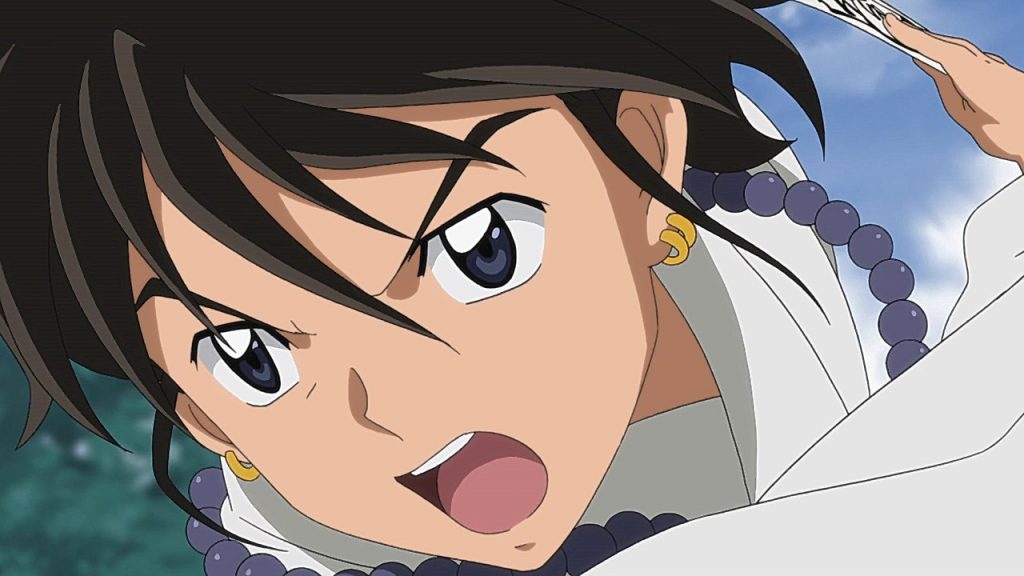 A monk-eating demon is on the loose in Yashahime: Princess Half-Demon, so Kohaku sends Towa and Setsuna with Hisui to seek out monks and protect them, starting with his brother-in-law Miroku. Hisui and the princesses venture into the mountains, where Miroku is 800 days into his 1000 days of training to unlock divine spiritual power. Hisui's sister Gyokuto is also at the temple when they arrive, having been sent by their mother to bring a care package to the monk. At first, Hisui is less than pleased to see his father, angry that the monk abandoned his family instead of staying to protect them in an honorable way. Setsuna has a brief moment of clarity and remembers that she has met Miroku before. Suddenly, the monk-eating demon Totetsu appears, and he reveals that he is one of Kirinmaru's Four Perils who also possesses a rainbow pearl. He then activates his power to suck things into his mouth with powerful force, much like Miroku's wind tunnel curse. Towa and Setsuna hold Totetsu off with spicy foods until Hisui attacks him with demon poison. However, Totetsu blows the poison back, making Hisui sick instead. At her request, Miroku releases the seal on Setsuna's hand. Her demon powers are unleashed, and she attacks Totetsu with poison claws. Totetsu flees the scene, and Miroku seals Setsuna's powers away once more. The third bout of the regimental food war heats up as Soma and Saito face-off with butter as their themed ingredient. Saito displays his skills as a sushi chef once more, which he learned from his mother growing up in her sushi restaurant. His jewel butter seafood bowl is a hit with the judges, and Soma expresses concern that he might not win against Saito. However, in true Yukihira fashion, Soma comes in clutch with his butter pilaf inarizushi, which Soma prepared using all of the cooking styles he encountered from chefs at Totsuki Culinary Academy, including Saito's own sushi technique. Saito likens Soma to a samurai who tried out many different swords before settling on the one that suits him best. He decides that his methods follow bushido philosophy, making him a true warrior. The judges are wowed by his use of Takumi's cheese blend and Megumi's apple butter, exclaiming that utilizing his teammates' strengths is key to success in the regimental food war. They declare Soma the winner, and the third bout comes to a close.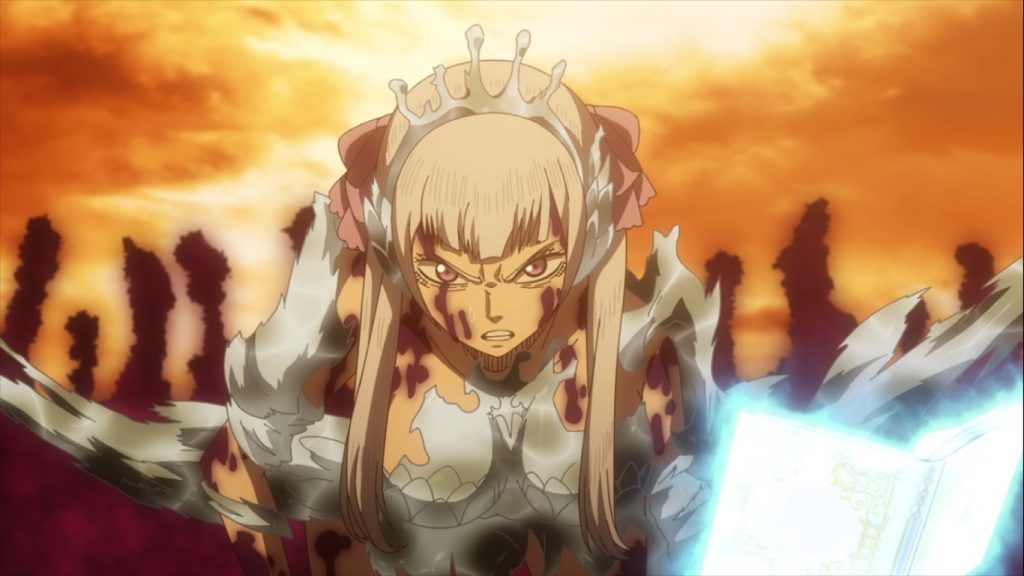 The fight is far from over in Black Clover, as the Dark Triad unleashes their Devil powers upon the Black Bulls. Vanica and Megicula decide to take Lolopechika hostage to the Spade Kingdom, but not without taunting Noelle about her mother's death first. Vanica activates a curse that turns her Dark Disciples into bombs, detonating them as she flees the scene. Meanwhile, Asta and Yami fight Dante, who increases his Devil power more and more as the fight goes on. Asta speaks to the Devil living within himself and calls upon him to share his strength so they can defeat Dante. The Devil agrees but takes Asta's arm in exchange. With only 50 seconds until the Devil's power fades, Asta and Yami attack Dante with their greatest combined strength. Despite this, the two magic knights failed to stop Dante, and he successfully captured Yami to bring him back to the Spade Kingdom and begin the ceremony for the Tree of Qliphoth. Naruto: Shippuden revisits the tragedy of the Uchiha clan once more and the days leading up to it. Two years have passed since Itachi joined Kakashi's ANBU team, and now he has been appointed as a captain. Kakashi congratulates him and warns him not to get tied up in the political games of the powers that be. The Third Hokage calls upon Kakashi to inspect the barrier placements around the village after a masked man managed to bypass the barrier nearly undetected. The tension is palpable as Guy and Kakashi investigate the Uchiha district, noting that the clan acts unfriendly toward outsiders. Elsewhere, Itachi reports to Danzo that the people are planning to revolt. Danzo gives Itachi a choice to either allow his clan to follow through on their plan and risk annihilation for all, including himself and his family, or he can assassinate the clan before the coup begins and save his brother Sasuke. Itachi accepts the latter choice, and he kills everyone with assistance from the masked man who snuck across the village borders. The ANBU arrive too late to stop the massacre, and instead, they're tasked with cleaning up the aftermath. Itachi warns Danzo that if any harm comes to Sasuke, he'll share all of his classified knowledge with every nation, including the truth behind the Uchihas' tragedy. Later, the Hokage approaches Kakashi to tell him that his time in the ANBU is at an end and that he will begin a new life as a joint teacher at the ninja academy.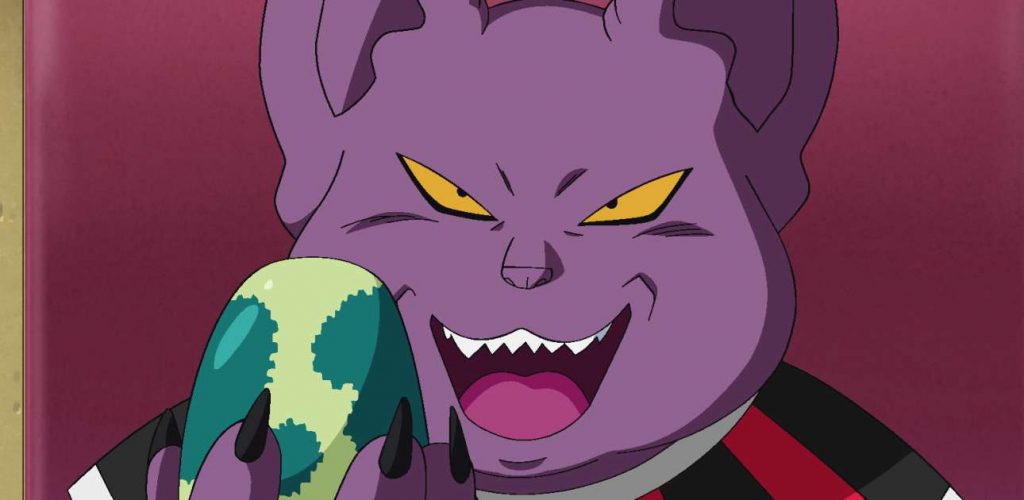 Senku takes on his biggest science project yet in Dr. Stone when he decides to build a steam engine car, likening the assembly process to that of a model kit. Meanwhile, Chrome surrenders to Ukyo, Tsukasa's sharp-eared marksman who developed his sense of hearing when working as a sonar technician for the Navy before the petrification. Chrome comes face-to-face with Tsukasa for the first time when Ukyo brings him back to his base camp, where he declares that he will show Tsukasa just how excellent science is. Instead, Tsukasa interrogates him and asks Chrome to betray Senku for the sake of the village's safety. Frieza has been defeated once again, and life returns to normal in Dragon Ball Super. However, this peace is short-lived when Champa and Vados appear before Goku and Vegeta while training with Whis on Beerus' planet. Quickly, they learn that the pair are siblings to Beerus and Whis, respectively, and come from another universe entirely. Vados explains that Champa came to Universe 7 because he was jealous of the delicious food on Earth since the Earth in Universe 6 was destroyed in a war ages ago. Champa challenges Beerus for the ownership of Earth, offering his super dragon balls as collateral if he loses. The two decide to hold a martial arts tournament to reduce the risk of their godly powers destroying the universe. Beerus immediately recruits Goku and Vegeta for his team and thus begins their search to scout the remaining three members.

On the latest episode of the Toonami Faithful Podcast, host Andrew "Sketch" Hingson talks about the early success, decline, and new resurgence of the Gundam franchise. Joined by fellow Gundam fans Paul Pescrillo, Darrell Maddox, and Bryan "LaserKid" Johnson, the group discusses all the highs and lows and their favorites among the illustrious franchise. Fans will not want to miss out on this discussion, not by a long shot.
For September, our interview with Tiana Camacho was published from her involvement in the documentary, What Toonami Means To Me. This behind-the-scenes look gives fans insight as to why Toonami was a big deal in Tiana's life and her family history involved with the block. She would also talk about how the performances she watched as a kid helped spark her passion for pursuing voiceover work. This interview is one of C.J's favorites and is a must-listen over on our Patreon page!
Staff member Sakaki's latest episode for Another Day, Another Podcast was published, as he and @sniperking323 discuss episodes 7-9 on the series Dragon Ball! Both hosts look back at Goku and Krillin asking Master Roshi for help and fighting a rabbit? You'll have to listen to get the full effect, as well as hearing some interesting voice actor trivia along the way!
Director of Social Media Celia Rose, Chad from the Macross Mecha Manual, and EXO from Macross Fan Central are back to discuss the latest teaser trailer for the film Macross Delta: Zettai Live!!!!!!, which premieres in Japanese cinemas on Oct. 8. A new galactic threat is on the horizon, and Tactical Sound Unit Walküre meets their match when the mysterious group Yami_Q_Ray appears. Fans of Macross and Robotech alike won't want to miss this episode! Check it out!

Did you enjoy this week's Toonami? Let us know by commenting below or directly on our social media. You can follow us on Twitter, Instagram, and Facebook. You can listen to the Toonami Faithful Podcast on Soundcloud, iTunes, Spotify, etc. for interviews, discussions, and breaking news updates. Listen at the link below or on your podcast platform of choice:
C.J Maffris is the Editor-in-Chief at Toonamifaithful.com. He also produced and directed the Toonami documentary, What Toonami Means To Me. Feel free to follow CJ on Twitter @SeaJayMaffris
Celia Rose is the Director of Social Media for ToonamiFaithful.com. Feel free to follow Celia Rose on Twitter @planetstwinkle.