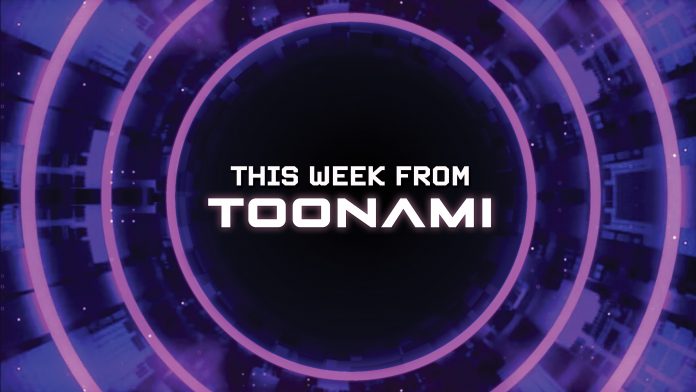 Once again, we are sadly given very little news to talk about this week. While Toonami itself had a couple of nuggets for fans (some good and some bad), there hasn't been much news going around that we feel would interest our readers regarding shows that are either on or have been on the block. Not having much to discuss can be depressing since we love finding funny little things to highlight for fans to check out, whether it be hard-hitting news or a fun fan project. Hopefully, that can change soon, or we might see a different overhaul of these weekly pieces in the future. So sit back, enjoy whatever you are doing, and check out the latest news in the newest installment of This Week From Toonami.
This week Toonami announced on their Facebook page what the schedule will look like for the next three weeks, and fans had a lot to say about it. Sadly, Adult Swim is still waiting to promote what they have coming for fans and are stuck with having to fill the block with what they can while they wait. This past Saturday, the Toonami started with an hour of Primal reruns, with My Hero Academia finishing at 2:30 a.m. Thankfully, Toonami will get Unicorn: Warriors Eternal to debut two days after its world premiere on Thursday, May 6. But the next weekend (May 13), Primal will follow Unicorn: Warriors Eternal with no other new series joining (at least yet). If you want all the information on how the schedule will look, check out our coverage in the link here. Jason DeMarco and even Toonami's Facebook post hope that fans stay patient while they finish this deal that they believe will have fans pumped. But it certainly caused a stir when everyone saw what the lineup would look like. We noticed a considerable dip in posting on social media when Toonami's latest broadcast aired. It's something to keep an eye on, and we hope that a new and fun series will be able to join the block soon!
So while fans were off doing other things during the Primal hour, a new Toonami ID bump was featured that looked absolutely gorgeous. While we enjoy the music videos, promos, or lineup videos, the ID bumps produced have been a treat for us and their fans. This latest one highlights Toonami with nature as we see T.O.M and S.A.R.A work together to analyze if the water is "Toonami enough" in a newly discovered area, fitting the Primal aesthetic perfectly. It was wonderfully done, and we love the quality put into making these.
Everything wants to collaborate with One-Punch Man; it would seem. We can now add Summoners War: Chronicles to the list as the hit property makes its way into the popular mobile game for a limited time. Eight characters will appear in the game as monsters, including Genos, Terrible Tornado, King, and other fan favorites. Funny enough, Saitama isn't a monster but an NPC encounter in dungeon quest cutscenes. Fans will have their chance to collect the "monster" characters from the collaboration, so you'll have to start grinding now to have your chance at getting them. 
Another episode of the Demon Slayer Podcast was released this week, and our regular host Varun "VLordGTZ" Gupta, brought a new guest to join him! His old college friend Harshal joins the podcast to discuss the key moments of this season so far and if the anime might be a better experience than reading the manga. It's a debate that anime fans will never be able to escape, so our two panelists compare the two so far, leading to a fun and thoughtful conversation. We hope you find time to listen to this episode and send your thoughts to the Demon Slayer Podcast so they can learn which way you find more fun to experience the franchise!
Up next on Ep.7 of #FoodWars, I remind Soma of the importance of good hygiene in the kitchen. If you're not already there, tune into #Toonami now and #PleaseEnjoy! #FoodWars #AdultSwim #anime @KyleColby @shepard_blake @SentaiFilmworks @ToonamiNews @FoodWarsAnime pic.twitter.com/aBpgZeCBbc

— Jay Hickman (@JayHickmanMD) April 30, 2023
You can follow us on Twitter, Instagram, and Facebook. You can listen to the Toonami Faithful Podcast on Soundcloud, iTunes, Spotify, etc. for interviews, discussions, and breaking news updates. Listen at the link below or on your podcast platform of choice:
CJ Maffris is the Editor-in-Chief at Toonamifaithful.com. He also produced and directed the Toonami documentary, What Toonami Means To Me. Feel free to follow CJ on Twitter @SeaJayMaffris