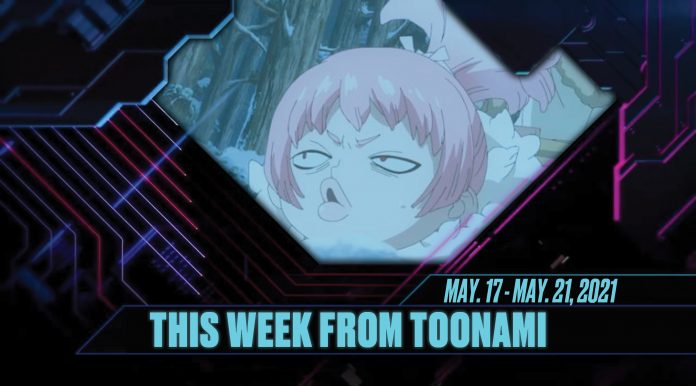 What a week! From line up changes and the devastating loss of a master artist, to a new Batman animated series and a My Hero Academia mobile game, Toonami Faithful has got you covered. Are you ready? Let's dive into it!

In a shocking turn of events, Toonami announced a significant lineup change this week. Starting May 29, Dragon Ball Super will no longer lead the block. Instead, it has moved to 3:30 a.m., and My Hero Academia will once again lead off the night. It's a massive moment for Toonami as they looked primed to try something new despite how valuable a lead Dragon Ball Super has been. If this move proves fruitful, this could mean Toonami's original series will get to start the block when they are ready!
Toonami Faithful reported earlier about Fena: Pirate Princess being showcased at the Annecy Film Festival, and a date and time has been set for when that will happen. On June 15, 5:30 p.m. in France (11:30 a.m. on the east coast), attendees at the event (and hopefully viewers online) will get a chance to see what Adult Swim has in store for fans. Hopefully, this will indicate that Fena: Pirate Princess will be coming to Toonami sooner than fans expected!
Mugen Train continues to break records as it has become the second highest-grossing anime film in U.S. box office history. Grossing over $43 million, Mugen Train has surpassed Pokemon: The Movie 2000, which has held that title for over 20 years. So the question is, will this film overtake the top spot in the box office? Only time will tell, and it's incredible to see history unfold for a new anime property like Demon Slayer. Speaking as an anime fan from years past, it fills our hearts with joy seeing more and more people become anime fans due to Demon Slayer.
Black Lagoon will be turning 20 years old in April 2022, and to celebrate, a special exhibition will happen this July! At the exhibit, a bunch of original drawings from the creator, Rei Hiroe, will be on display. And in the article below, Hiroe drew many female characters from Black Lagoon in special dresses to get fans pumped about the event. (And they all look flawless!).
If you're a fan of Lupin The Third, you'll want to hear about this. The Lupin The Third The First film is getting a post-pandemic theatrical release on Aug. 29 and 30. The cast from previous seasons (Lupin The Third Part IV and V) will reprise their roles once again for the big screen as everyone's favorite gentleman thief is seen with a new look (3-D). You do not want to miss this chance to see the featured film in theaters!
Batman and Cartoon Network? That's right; action cartoons are returning to the network as HBO Max and Cartoon Network have made a series commitment for an all-new animated series Batman: Caped Crusader. Interestingly enough, the series will be produced by Warner Bros. Animation, Bad Robot Productions, and 6th and Idaho, with executive producers Bruce Timm, J.J. Abrams, and Matt Reeves. It's fantastic to see something other than comedy made in animation, and many should be keeping their eyes on how this series will look for viewers.
My Hero Academia: The Strongest Hero mobile game is available now! The new MMORPG rolled out this week, and fans have been excited to try this one out. Mobile games have been a massive success in the gaming sphere, and it looks as if the popular shounen series is entering the fray to create even more fans of the popular property. From a glance, it does seem to have favorable reviews, so now might be a great time to test the waters and try this out.
This week, the manga world was shaken to the core after the death of author Kentaro Miura was made public. Miura passed away May 6, but it wasn't until this week where his death was made public. Miura was best known for writing the story Berserk and has profoundly impacted anime, manga, video games, etc. While Berserk never aired on Toonami (primarily due to how graphic the series is), the story had influenced many creators of series that have been on the block (Attack on Titan and Demon Slayer, to name a few). Fans of Berserk are still grieving from this tremendous loss and hope that his legacy can continue due to how incredible his story is. Miura died of acute aortic dissection. He was 54 years old.
When Anime News Network's (ANN) executive editor Zac Bertschy passed away in May 2020, friends, colleagues, and fans alike came together to grieve and reminisce about his contributions to the anime community and the many ways he changed their lives. Zac was also an inspiration for many of our staff at Toonami Faithful. On the anniversary of his passing on May 21, ANN set up a fundraiser in his honor at The Trevor Project, an organization that Zac supported as well. In an astonishing display of generosity, anime fans donated over $9000 to the fundraiser in less than 24 hours. At the time of this writing, fans have raised over twelve thousand dollars in Zac's name, and it is the second-highest-ranking fundraiser currently at The Trevor Project. ANN founder Chris MacDonald shared in an update that he was "completely blown away by your amazing generosity, and Zac would be as well."
If you are interested in donating, check out the fundraiser here.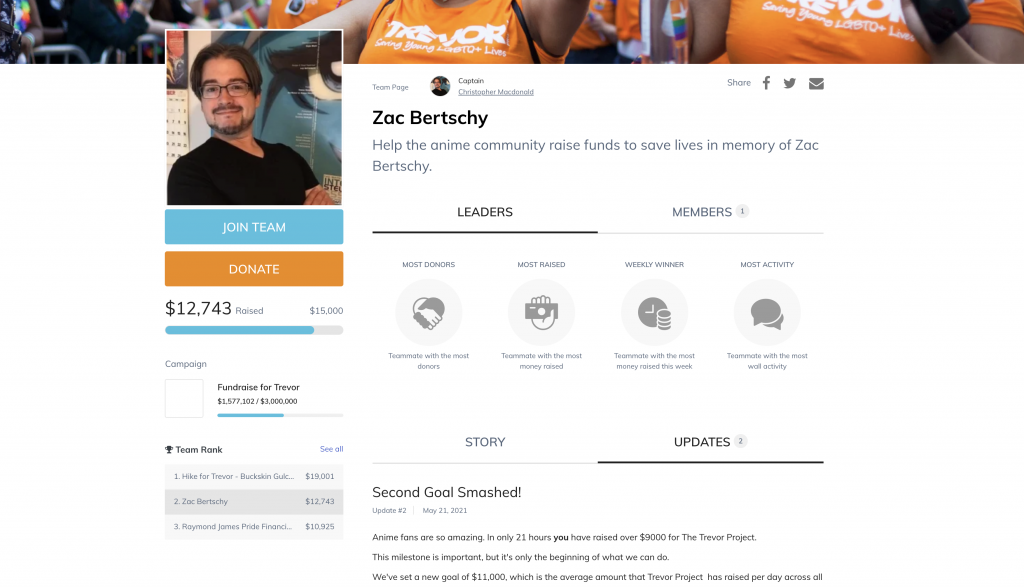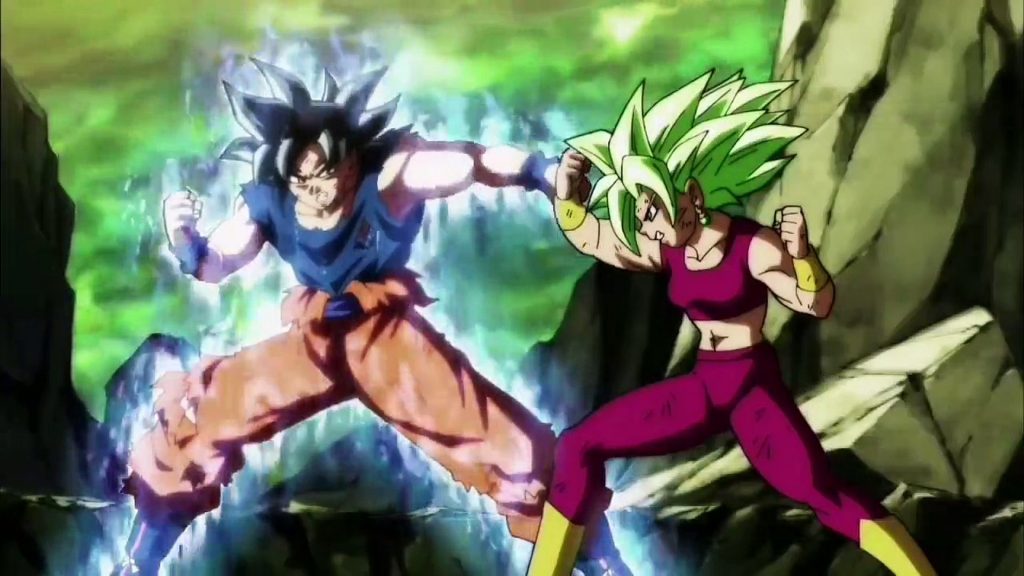 The Tournament of Power may be winding down, but the fight between Kefla and Goku heats up in Dragon Ball Super. Having absorbed the energy from Kefla's attack, Goku reactivated Autonomous Ultra Instinct. Kefla also levels up, activating Super Saiyan Level 2. As they exchange blows, the two warriors egg each other to keep expanding the energy of their attacks, which wakes Jiren from his meditation. At last, Goku charges with a Kamehameha blast, knocking Kefla out of the ring and disqualifying Kale and Caulifla at once. However, Goku is completely drained of energy again, and Jiren is ready to fight. In My Hero Academia, Iduzku seeks All Might's help to understand his dream, but the retired hero is at a loss for answers. Meanwhile, Class A and Class B prepare to face each other in team battles, including the newest transfer to the hero program, Hitoshi Shinso, who has been training with Aizawa. In his first battle, Shinso reveals that his new mask is for more than looking cool; instead, it's a voice modulator that allows him to activate his quirk.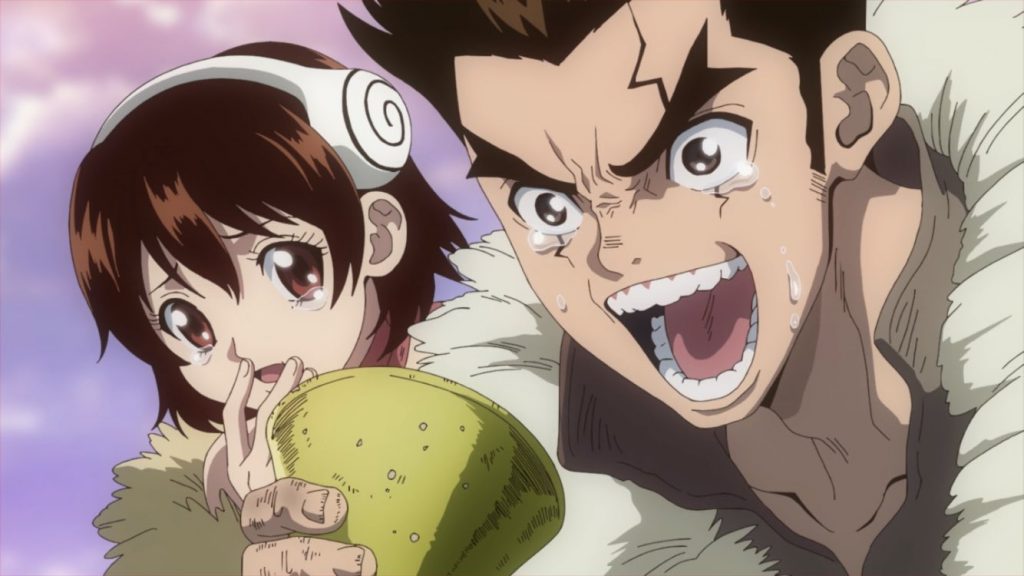 In Dr. Stone, Senku and his friends capture Homura using a flash grenade and hold her captive, so she won't catch up to Gen, Chrome, and Magna, as they bring the other phone to a dedicated site as instructed by Senku. However, Homura quickly escapes. Meanwhile, Gen and the others install the phone at Senku's gravesite. Later, Taiju and Yuzuriha find the phone, and both parties tear up at the sound of each other's voices. When things seem to be settling at Totsuki Academy, the advancement exam rears its ugly head in Food Wars! The Third Plate. Now that Azami is in power, the exam has only one objective: cook according to the curriculum taught by Central. Students who fail to do so will be expelled. At Kyokusei Dorm, Erina bares her heart to Soma, feeling at a loss for what to do next. Soma uses the opportunity to prepare one of his father's beloved dishes for her to eat. When Erina tastes his dish, she immediately remembers Soichiro's cooking. Feeling reinvigorated by the freedom of cooking, Erina resolves to help the students of Kyokusei Dorm pass the advancement exam.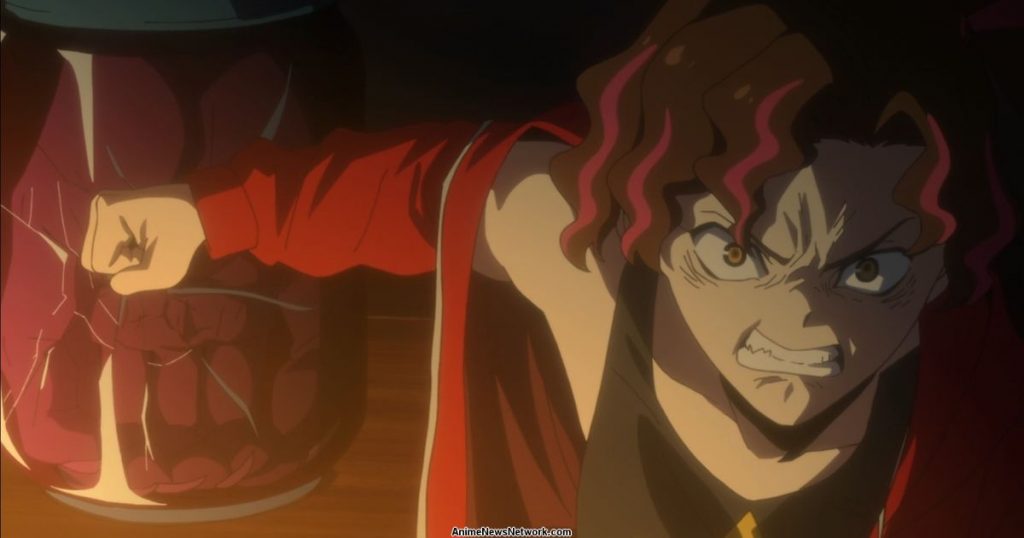 The reunion between Emma, Norman, and Ray quickly turns sour in The Promised Neverland, when they learn that Norman wants to annihilate all demons. He reveals the truth about Mujika, a demon whose blood can prevent degeneration in others of their kind. However, the demons she healed with her blood were eaten by demon royalty to protect themselves and maintain control over demon society. After hotly debating with Emma, Norman finally agrees to delay administering the degeneration drug by five days. When he's back at the hideout, he tells Lambda that he has no intention of delaying his plan at all. Training continues in Black Clover, but now it's the Magic Knight captains' time to shine. Wizard King Julius pits the captains against each other in a crystal destruction match to demonstrate the peak power of the Clover Kingdom, both as a morale booster for the other magic knights and to reassure the kingdom's people of the captains' capabilities. Flashy fight after flashy fight, the battle ultimately ends in a tie because Yami's final attack destroys both crystals, much to the captains' dismay.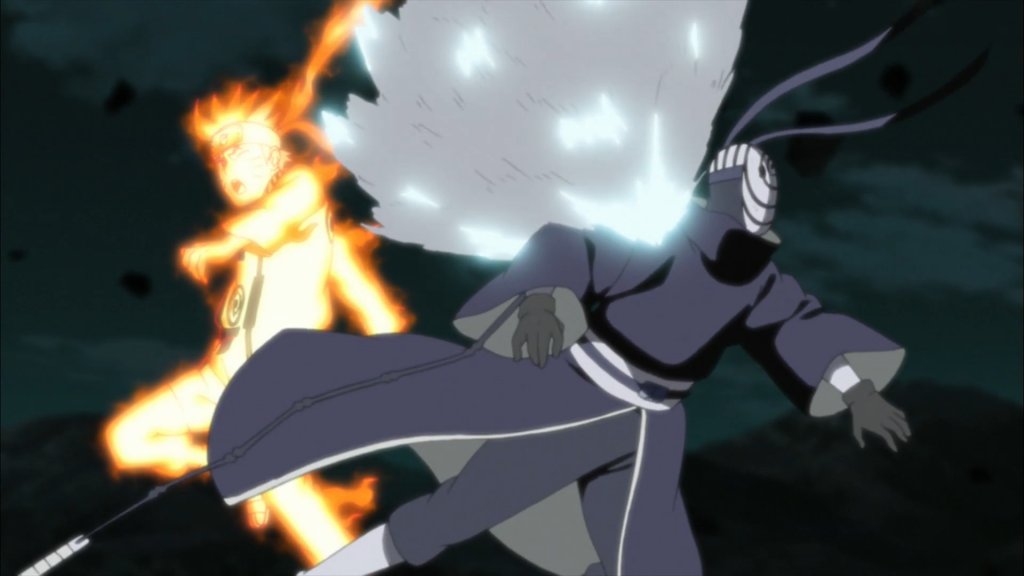 Naruto, Kakashi, and their friends continue to hold off Tobi's attacks and the Demonic Statue in Naruto: Shippuden. Kakashi learns that the Sharingan's Kamui technique can warp time and space using the same dimension that Tobi's technique utilizes to dodge attacks. Tobi declares that there's no hope left for the world. Kurama tells him that he was sealed inside Naruto to defeat Tobi, and he lends his chakra to Naruto for a charged attack. Attack On Titan brings us down memory lane as Reiner reflects on his journey to becoming a Titan Warrior. His desire to help his mother and himself become Marleyans fueled his motivation, even though he is not as strong or athletic as his peers. When he is granted the Armored Titan power, he is berated by other Warrior candidates. Salt is rubbed further in the wound when he finds his father, who is furious, and tells Reiner never to contact him again. His self-reflection brings Reiner to attempt suicide, though he can't bring himself to pull the trigger. Our staff writer Umeko reviewed this emotionally heavy episode during its initial Toonami run, which you can read about in detail here.

For this week's episode of the Toonami Faithful Podcast, host Andrew "Sketch" Hingson is joined by Varun "VLordGTZ" Gupta, Byran "Laserkid" Johnson, and special guests LumRamnaYasha and Allison (Meowth900). The group discusses the last part of Jojo's Bizarre Adventure: Golden Wind. Besides the usual Jojo references that are plenty, the group also looks at Bruno Bucciarati's impact in this series and what made this season work! Jojo fans do not want to miss this episode!
Recently Editor-in-Chief CJ Maffris wrote an editorial looking at how Grisha Yeager is the embodiment of propaganda. Earlier, many would argue how Grisha's persona was more of a wise sage archetype that was foiled by Marley and the lies they used to trick his previous son Zeke to betray them. However, as fans viewed the final season, it looks as if Grisha hid many essential details of his past, which shows how someone can weaponize information and how dangerous that is.

Did you enjoy this week's Toonami? Let us know by commenting below or directly on our social media. You can follow us on Twitter, Instagram, and Facebook. You can listen to the Toonami Faithful Podcast on Soundcloud, iTunes, Spotify, etc. for interviews, discussions, and breaking news updates. Listen at the link below or on your podcast platform of choice:
C.J Maffris is the Editor-in-Chief at Toonamifaithful.com. He also produced and directed the Toonami documentary, What Toonami Means To Me. Feel free to follow CJ on Twitter @SeaJayMaffris
Celia Rose is the Director of Social Media for ToonamiFaithful.com. Feel free to follow Celia Rose on Twitter @planetstwinkle.