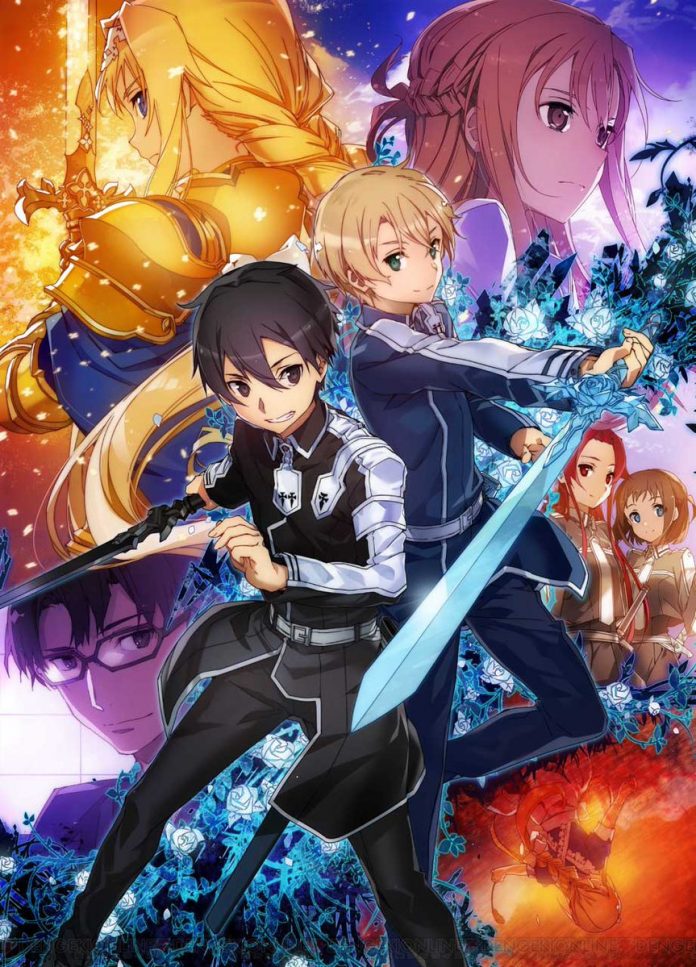 Those that have seen the Sword Art Online: Ordinal Scale film in theaters back in spring and have stayed through the credits saw a post-credits scene that ended with the words "SAO will return." Several months later during Dengeki Bunko's "Aki no Saiten 2017" event in Tokyo, it has been announced that the third season of the Sword Art Online franchise, "Alicization" has been confirmed to be in production.
Named after the "Project Alicization" story arc in the original light novels, the new season takes place after the events of Mother's Rosario and Ordinal Scale, with the entire story arc ranging from Volumes 9-19 of the novels. With every story arc before covering 1-2 novels a piece (and both seasons covering roughly 4 volumes), Alicization will be the longest story arc in the franchise to date. It is currently unknown how many episodes will be required to cover this story arc from beginning to end or whether Alicization will be segmented into several cours due to the arc's length (similar to what was seen with Durararax2, Gundam IBO, and My Hero Academia among others), or will be shown straight through.
The summary for volume 9, the beginning of Project Alicizaiton is as follows (via Yen Press, highlight for potential spoilers):
Kirito awakens in a vast, fantastical forest filled with towering trees. In his search for clues to the truth of his surroundings, he encounters a young boy who seems to know him. He ought to be a simple NPC, but the depth of his emotions seem no different than a human. As they search for the boy's parents, Kirito finds a peculiar memory returning to him. A memory from his own childhood, of this boy and a girl, too, with golden hair, and a name he should have never forgotten–Alice.
It has not been confirmed whether Bryce Papenbrook or Cherami Leigh will be reprising their roles as Kirito and Asuna respectively or if Alex von David will reprise his role as ADR Director, but it has been confirmed that their Japanese voice actors for Kirito and Asuna, Yoshitsugu Matsuoka and Haruka Tomatsu respectively, will. The new season will introduce two new characters to the series, Eugeo and Alice, who will be voiced by Nobunaga Shimazaki and Ai Kayano respectively.
No news if it's gonna be dubbed yet, or if I'm gonna be involved! Fingers crossed, but I won't get my hopes up…

— Alex von David (@alexvondavid) October 1, 2017
Aniplex has also released a new trailer for the new season, which you can see below.
In addition, Aniplex has also green-lighted production on a side story, titled "Sword Art Online Alternative Gun Gale Online".
Originally published in 2014 and written by Keiichi Sigsawa of Kino's Journey fame, this new series is directly related to the Phantom Bullet story arc seen during the first part of season 2.
The story for Alternative GGO is as follows: (Via Anime News Network)
The story follows Karen Kohiruimaki, a 183-centimeter-tall (6-foot-tall) college student who's insecure her height, and is bad at dealing with people in the real world. She enters the world of Gun Gale Online with her avatar, Llenn, who is less than 150 centimeters (5 feet) tall and wears all pink. She meets a beautiful, brown-skinned female player who goes by Pitohui. They hit it off, but one day Pitohui pressures her to participate in "Squad Jam," a team Battle Royale variation of the Bullet of Bullets tournament.
The trailer can be seen below:
A premiere date for these two new installments to the franchise have yet to be announced.
Sword Art Online seasons 1 and 2 have previously aired on Toonami with season 1 in 2013 and Season 2 in 2015 respectively. Given the show's success, SAO will be one to watch for as a potential candidate to make a return to the better cartoon show at some point. Of course, nothing is assured at this point as more details of the series have yet to be released but we will keep you posted.
As with all potential Toonami shows, if you do wish to see Sword Art Online return to the block for Project Alicization, Alternative GGO, and perhaps even Ordinal Scale as well, we do recommend that you continue giving your support to the show and Toonami overall, and to send your show recommendations to their Facebook and Tumblr message boxes.
What are your thoughts on the recent news? Let us know by commenting blow or directly on our social media.