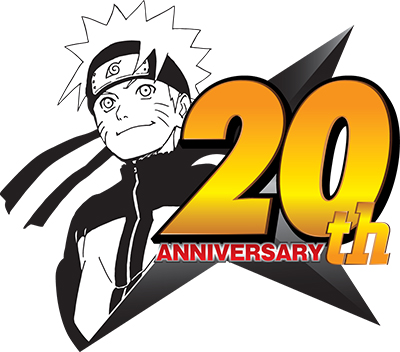 VIZ MEDIA CELEBRATES NARUTO'S 20TH ANNIVERSARY WITH THE YEAR OF NARUTO
The World's Most Popular Ninja Marks His Platinum Anniversary With Special Products, Activations And Collaborations With Top Lifestyle Brands
San Francisco, CA, September 5, 2019 – Multimedia entertainment company VIZ Media will mark the 20th anniversary of NARUTO with a national brand campaign, the YEAR OF NARUTO, launching at the upcoming New York Comic Con 2019 (NYCC). The beloved action/adventure franchise has become synonymous with Japanese pop culture and exemplifies the massive international popularity of anime and manga.
To celebrate NARUTO's manga origins and kick off the YEAR OF NARUTO, VIZ Media will debut one-of-a-kind, limited edition manga-inspired products at NYCC. The exclusive items available to North American fans for the first time include an official NARUTO skateboard deck by Hypland and a hand-numbered, exclusive poster with hologram details featuring Naruto in various stages of his evolution, from a ninja-in-training, all the way to a full-fledged Hokage.
VIZ Media's YEAR OF NARUTO campaign will continue throughout 2020 and will feature a wide range of yet-to-be announced officially licensed brand activations. These include video games, events featuring pop-up installations, panel discussions and other special live programming, and an array of product activations and collaborations with top global lifestyle brands.
"The YEAR OF NARUTO is a fitting tribute to a global marquee brand and an important international ambassador for Japanese pop culture," says Brad Woods, Chief Marketing Office, VIZ Media. "Join us as we celebrate our favorite ninja with special collaborations, new officially licensed merchandise and events in the coming year!"
About NARUTO
The NARUTO manga series was created by Masashi Kishimoto and debuted in Japan in 1999 in Weekly Shonen Jump magazine. In North America, VIZ Media launched the series in 2003 in its WEEKLY SHONEN JUMP English counterpart. NARUTO went on to debut as a dedicated manga series in Japan in 2000 and in the U.S. in the Summer of 2003. The series was a consistent bestseller in the U.S. throughout its entire run and regularly appeared on bestseller charts for the New York Times, USA Today and BookScan. The property also inspired a widely distributed anime series and several feature films.
In the NARUTO manga and NARUTO SHIPPUDEN animated series, Naruto Uzumaki wants to be the best ninja in the land. He's done well so far, but Naruto knows he must train harder than ever and leaves his village for intense exercises that will push him to his limits.
BORUTO: NARUTO NEXT GENERATIONS is the action-packed continuation of the famed series and focuses on the adventures of the son of the celebrated ninja. As the story opens, the life of the shinobi is beginning to change. Boruto Uzumaki, son of Seventh Hokage Naruto Uzumaki, has enrolled in the Ninja Academy to learn the ways of the ninja. Now, as a series of mysterious events unfolds, Boruto's story is about to begin!
VIZ Media publishes the bestselling NARUTO and BORUTO manga series in print and digital editions and is also the master licensor for all NARUTO and BORUTO brands in North America, Latin America and the West Indies, encompassing digital streaming, TV broadcast, EST, home media and consumer product/merchandising rights for the anime series and feature films.
Additional information on NARUTO is available at Naruto.com.
About VIZ Media, LLC
Established in 1986, VIZ Media is the premier company in the fields of publishing, animation distribution, and global entertainment licensing. Along with its popular SHONEN JUMP brand and blockbuster properties like NARUTO, DRAGON BALL, SAILOR MOON, and POKÉMON, VIZ Media offers an extensive library of titles and original content in a wide variety of book and video formats, as well as through official licensed merchandise. Owned by three of Japan's largest publishing and entertainment companies, Shogakukan Inc., Shueisha Inc., and Shogakukan-Shueisha Productions, Co., Ltd., VIZ Media is dedicated to bringing the best titles for English-speaking audiences worldwide.
Learn more about VIZ Media and its properties at viz.com.