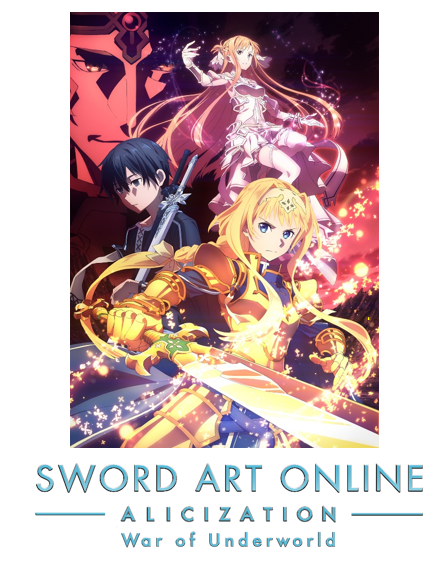 Sword Art Online Alicization War of Underworld Premiere at Anime Fest @ NYCC
The Sword Art Online series makes its way to the big apple with New York Comic Con's Anime Fest 2019!
SANTA MONICA, CA (September 25, 2019) – Aniplex of America is excited to announce the Sword Art Online Alicization War of Underworld Premiere with Special Guest Bryce Papenbrook at Anime Fest @ NYCC 2019 on October 6 at 3 PM (EST). The special event will feature the North American premiere of episodes one and two of the "War of Underworld," ahead of its October 12 premiere date for streaming, followed by a very special Q&A session with the voice actor of Kirito, Bryce Papenbrook. The Sword Art Online series is the latest to join the schedule of events planned by Anime Fest, the celebration of all things anime at New York Comic Con, which describes itself as "the NYCC home for exclusive and intimate anime panels and signings, interactive and immersive experiences, afterhours parties, and a place to geek out and connect with other fans." Tickets for the event are $19 for general admission, which includes guaranteed seating and special clear file, and $39 for premium tickets, which includes priority reserved seating, special clear file, and post-event meet and greet plus autograph signing with Bryce.
As the longest arc of the franchise based on Reki Kawahara's bestselling light novels, Sword Art Online Alicization premiered to much fanfare in October of 2018 with a hugely successful 24 episode run on Hulu, Crunchyroll, and FunimationNow, followed by the English dub on Cartoon Network's Toonami from February to July. The series revealed that it would consist of four cours with "War of Underworld" marking the final two cours of the Alicization arc. Sword Art Online Alicization War of Underworld picks up following the dramatic events of the last episode and the series recently revealed that Haruka Tomatsu, the voice actress of Asuna, will sing the opening theme song titled "Resolution."
The Sword Art Online franchise has become a global phenomenal, recently celebrating its 10 year anniversary since publication. After the success of the first and second seasons of the TV series produced by A-1 Pictures, the franchise expanded with a feature length film in 2017 with Sword Art Online the Movie –Ordinal Scale–, which grossed over $40 million in box office ticket sales globally.
For more information, please visit the official website at: http://www.sao-alicization.com
About Sword Art Online Alicization War of Underworld:
Kirito, Eugeo, and Alice.
Six months have passed since the two disciples and an Integrity Knight brought down the pontifex, Administrator.
With the fighting over, Alice has been living in her hometown of Rulid Village.
Beside her is Kirito, who has not only lost his arm and soul, but also his dear friend. As Alice devotes herself to looking after Kirito, she too has lost the will to fight that she once had as a knight.
"Tell me, Kirito… What should I do?"
Nevertheless, the time for the final stress test – one which will engulf the entire Underworld with tragedy – draws relentlessly closer.
Meanwhile, in the deepest areas of the Dark Territory, the Dark God Vecta has resurrected, as if to have waited for this very moment. Leading an army of dark forces, they begin their invasion into the human empire in hopes of attaining the Priestess of Light.
The human empire force led by the Integrity Knight Bercouli prepares for a war of an unimaginable scale against the army of the Dark Territory.
Even then, Alice is nowhere to be seen, nor the two heroes that saved the realm…
STAFF
Written by: Reki Kawahara (Dengeki Bunko)
Original Illustration / Character Design Concept: abec
Director: Manabu Ono
Character Design: Shingo Adachi, Go Suzuki, Tomoya Nishiguchi, Yumiko Yamamoto, Kento Toya
Assistant Director: Takashi Sakuma
Chief Animation Directors: Go Suzuki, Yumiko Yamamoto, Kento Toya,
Prop Design: Asami Hayakawa, Kiminori Ito
Monster Design: Toshiya Kouno
Action Scene Animation Director: Yoshihiro Kanno
Art Directors: Yukako Ogawa, Keito Watanabe
Art Setting: Kenichi Morioka, Yuho Taniuchi
Color Setting: Naomi Nakano
Director of Photography: Kentaro Waki, Kenta Hayashi
Motion Graphics Designer: Hiromu Oshiro
CG Director: Ryuta Undo
Editing: Yuji Kondo
Sound Director: Yoshikazu Iwanami
Effects: Yasumasa Koyama
Sound Production: sonilude
Music: Yuki Kajiura
Produced by: EGG FIRM, Straight Edge
Animation Production: A-1 Pictures
Production Committee: SAO-A Committee
CAST
Kirito (Kazuto Kirigaya): Yoshitsugu Matsuoka
Asuna (Asuna Yuuki): Haruka Tomatsu
Alice: Ai Kayano
About Aniplex of America Inc.
Aniplex of America, Inc. (Santa Monica, California) is a subsidiary of Aniplex, Inc. (headquartered in Tokyo, Japan), a division of Sony Music Entertainment (Japan), Inc., and a leading provider of anime content and music production and distribution in Japan. The company's ever-growing lineup of shows includes: Sword Art Online, FULLMETAL ALCHEMIST: BROTHERHOOD, Fate/stay night [Unlimited Blade Works], Fate/Zero, Puella Magi Madoka Magica, March comes in like a lion, Blue Exorcist, KILL la KILL, Gurren Lagann, Monogatari series, anohana -The Flower We Saw That Day-, Cells at Work!, The Promised Neverland, and Demon Slayer: Kimetsu No Yaiba. In 2017, the company released the English version of the popular mobile game, Fate/Grand Order, followed by the release of mobile game, Magia Record: Puella Magi Madoka Magica Side Story's English version in the U.S. and Canada in June of 2019.