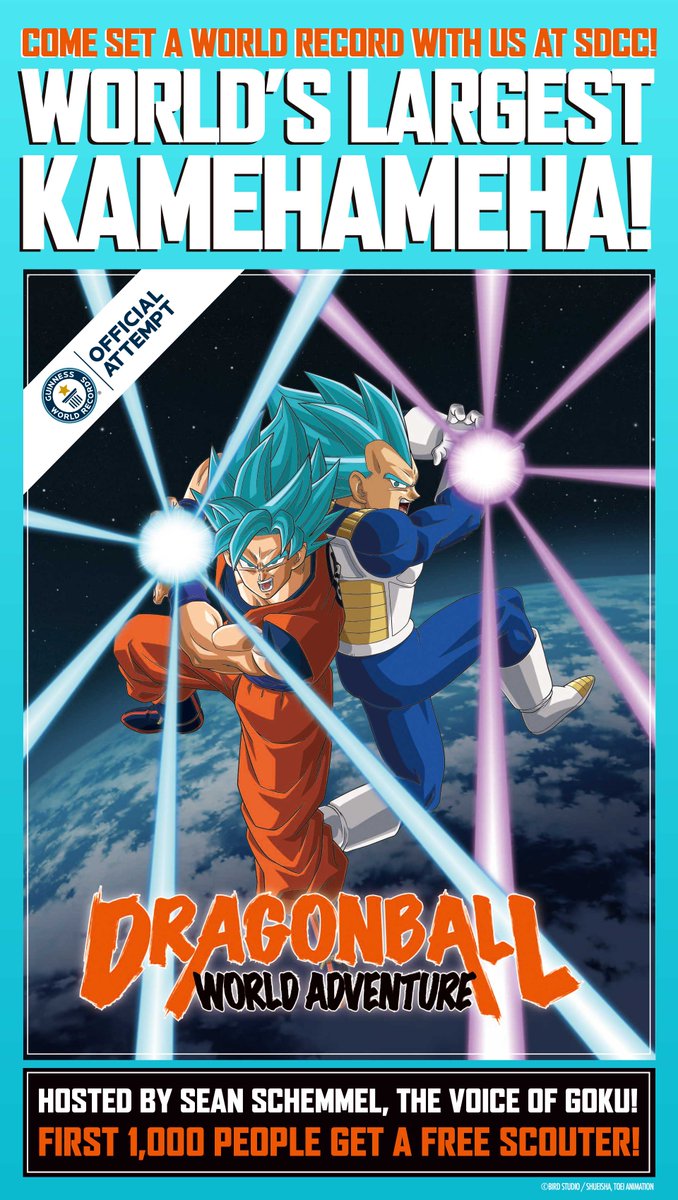 2019 DRAGON BALL WORLD TOUR KICKS OFF AT SAN DIEGO COMIC-CON
Fans Invited to Be Part of Dragon Ball History with Guinness World Records Attempt on Opening Day; Ultimate Celebration of Dragon Ball to Include Must-Have Collectible Event Exclusives, The Latest Dragon Ball Video Games, Dragon Ball Anime GIF Photobooth and Dragon Ball Sticker Rally
Los Angeles, CA – July 12, 2019. Toei Animation Inc. Funimation, a Sony Pictures Television company, and Bluefin, a Bandai Namco group company, revealed today the complete details for the launch of the 2019 Dragon Ball World Adventure at this year's San Diego Comic-Con including a history-making Guinness World Records attempt on Opening Day of the tour.
Co-sponsored and presented jointly by Bandai and Toei Animation, the 2019 Dragon Ball World Adventure opens on Wednesday July 17 at an expansive installation on the Marriott Marina Terrace at the Marriot Marquis San Diego. The tour will continue throughout San Diego Comic-Con 2019 from July 18 – July 21 and will be open daily from 10:00 a.m. to 6:00 p.m.
Following San Diego Comic-Con, the 2019 Dragon Ball World Adventure will travel to seven additional locations around the world including stops in New York City, Mexico City Mexico, Cologne Germany, Barcelona Spain, Shanghai China, Hong Kong China, and Tokyo Japan.
Dragon Ball Guinness World Records Attempt
Come be a part of Dragon Ball and Guinness World Records history! The 2019 Dragon Ball World Adventure will open with a special Guinness World Records attempt to become the largest gathering of people simultaneously performing the iconic Kamehameha super energy attack move.
Fans will  gather on Wednesday, July 17 at 3:30 p.m. at the 2019 Dragon Ball World Adventure  on the Marriott Marina Terrace at the Marriot Marquis San Diego. The first 1,000 participants to arrive will receive a free Dragon Ball Scouter accessory to wear during the Guinness World Records attempt. The Kamehameha super energy attack move will be led by actor Sean Schemmel, the English voice of Dragon Ball character Goku. Guinness World Records will be onsite  to supervise and validate the record attempt.
Dragon Ball World Adventure Displays
Dive into the world of Dragon Ball with an expansive collection of multi-faceted interactive installations will delight fans and attendees. Catch interactive kiosks featuring the latest Dragon Ball video game titles from Bandai Namco Entertainment, including Dragon Ball Z Kakarot, Dragon Ball Z Fighter, Dragon Ball Legends, and Dragon Ball Z Dokkan Battle.
Dragon Ball Animated GIF Photo Booth
Capture your visit to 2019 Dragon Ball World Adventure with a unique and shareable complimentary memento.  Head to the Dragon Ball Animated GIF Photo Booth, select your favorite background and pose for a series of photos that will be stitched together and delivered to you as a looping animated gif that can be shared directly with friends and family and/or posted to a variety of social media channels.
Dragon Ball Collectibles & Exclusives
On display will be a wide array of S.H.Figuarts event exclusives and special Dragon Ball products from leading Bandai brands including Tamashii Nations, Shokugan, and Banpresto. Event exclusives will be available to purchase at the Tamashii Nations Booth #3545 inside the Comic-Con Main Hall and require an exclusive merchandise time slot issued by San Diego Comic-Con to purchase.
Dragon Ball Sticker Rally
Join the Dragon Ball Sticker Rally and collect stickers at each attraction inside the Dragon Ball World Adventure. Stickers may be redeemed for free premiums including Dragon Ball wristbands, posters, lanyards, stickers, fans and Saiyan Hair Set headbands. In addition, all tour guests will receive an exclusive 2019 Dragon Ball World Adventure oversized swag bag to use to carry all of their Comic-Con purchases.
For additional information on the 2019 Dragon Ball World Adventure including tour dates by location, please visit www.db-tour.com.
Hi-res promotional art available for download here.
About Toei Animation Inc.
Based in Los Angeles, Toei Animation Inc. manages the film distribution of Toei's top properties, including Dragon Ball all series, Sailor Moon, One Piece, Digimon series, Saint Seiya, and many others to North America, Latin America, South Africa, Australia and New Zealand.  Toei Animation Los Angeles office further handles all categories of consumer product licensing based on its film and television brands within these territories. For more information, please visit toei-animation-usa.com.
About Funimation
Funimation, a subsidiary of Sony Pictures Television, is the go-to destination for extraordinary anime.  By combining its integrated in-house studios along with its technology and distribution partnerships, Funimation leads the industry with its omnichannel approach to offering anime to fans – from streaming and home entertainment, to theatrical distribution and broadcast television. The company's next generation streaming service, FunimationNow, provides subscribers with instant access to their favorite sub and dub shows in ad-free HD on the widest array of devices and platforms—from smartphones and tablets to TVs and gaming consoles. For more information about Funimation, visit funimation.com.
About Bluefin
Bluefin is a leading master and channel distributor of Japanese toys, collectibles, novelty and hobby products. The company's extensive product line features a diverse and continually expanding catalog of high quality and popular collectibles from Asia. As a Bandai Namco group company, Bluefin distributes products in the U.S. for Bandai Tamashii Nations, Hobby and Shokugan. The company's array of brand offerings also includes products from Storm Collectibles, Mr. Hobby/GSI, SEN-TI-NEL and Flame Toys, for which the company is the North American exclusive distributor. Bluefin is also the official North American consumer products and retail development partner for Studio Ghibli. Additional company information is available at: https://bluefinbrands.com/