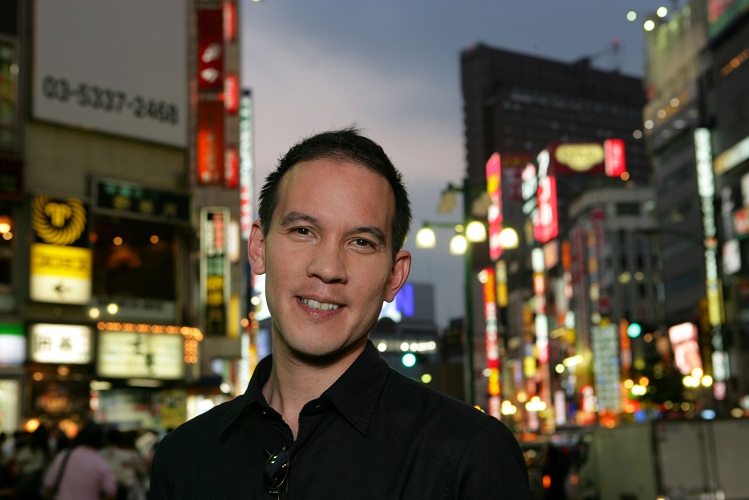 Baltimore, MD (July 18, 2013) – We are pleased to announce that Roland Kelts will be returning to Otakon for our 20th show. He first appeared at Otakon in 2011.
Roland Kelts is the author of the acclaimed and best-selling Japanamerica: How Japanese Pop Culture has Invaded the US. He is currently a Visiting Scholar at Keio University in Japan and a columnist for The Japan Times who divides his time between New York and Tokyo. He has interviewed Hayao Miyazaki, Makoto Shinkai, Yoshiyuki Tomino and Haruki Murakami, among others, and his writing on Japanese culture is published in The New Yorker, Time Magazine, Vogue, The Daily Yomiuri, The New York Times and Anime News Network, among others.
He is a consultant for Crunchyroll.com and appears at anime conventions in the U.S., Japan, Asia and Europe.
You can follow him here on his blog: http://japanamerica.blogspot.com/
Otakon 2013 will be held August 9-11 at the Baltimore Convention Center in Baltimore, MD.
ABOUT OTAKON AND OTAKORP, INC.: Now entering its twentieth year, Otakon is an annual celebration of Japanese and East Asian popular culture, and also one of the largest gatherings of fans in the United States. Otakon celebrates popular culture as a gateway to deeper understanding of Asian culture, and has grown along with the enthusiasm for anime, manga, video games, and music from the Far East. Since 1999, Otakon has been held in Baltimore, Maryland; currently, Otakon is one of Baltimore's few large, city-wide events, drawing over 32,000 people for three days each year (for a paid attendance of over 89,000 turnstile attendees). Otakon is a membership based convention sponsored by Otakorp, Inc., a Pennsylvania-based, 501(c)3 educational non-profit whose mission is to promote the appreciation of Asian culture, primarily through its media and entertainment. Otakorp, Inc. is directed by an all-volunteer, unpaid staff – we are run by fans, for fans.
For more information about Otakorp, Inc., see http://www.otakon.com/otakorp/index.asp
For more information and the latest news on Otakon 2013, see http://www.otakon.com/