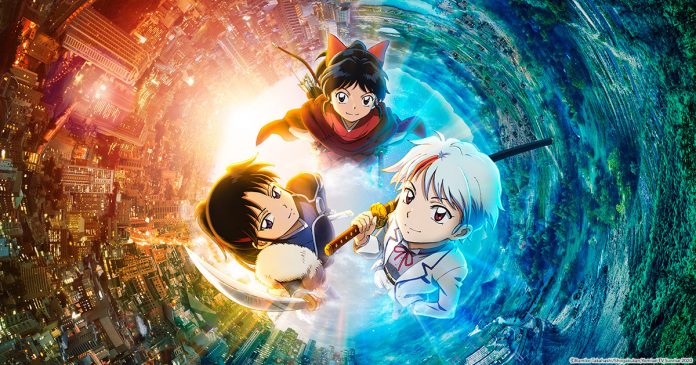 In a press release sent to Toonami Faithful, details of where Yashahime: Princess Half-Demon will broadcast was made public, and a potential English dub will happen in the future.
VIZ Media confirmed that the Inuyasha sequel series will be on Crunchyroll, FUNimationNow, and Hulu on Oct. 3, 2020, and shown to the North American and Latin American territories. VIZ Media also mentioned that an English dub would follow shortly after. Whether that means after it debuts or after the anime finishes is still unknown.
Since this project grabbed attention, many fans have speculated a possible Toonami airing due to the history of Inuyasha on Adult Swim, as well as the confirmation of an English dub happening.
Below is the full press release and reads as follows:
SAN FRANCISCO, CA (September 23, 2020)—VIZ Media, the leading pop culture publisher and producer of Japanese manga and animation in North America announced today Yashahime: Princess Half-Demon is coming to Crunchyroll, Funimation, and Hulu on October 3, 2020.
The Inuyasha-inspired anime will be available for simulcast in North and Latin American territories subtitled, with the English dub to follow shortly after.
Brad Woods, VIZ Media CMO, said: "We can't wait for both Inuyasha and anime fans of all ages to discover the spirit of adventure and friendship in 'Yashahime: Princess Half-Demon,' which will be coming to Crunchyroll, Funimation, and Hulu this October. By partnering with multiple platforms, the iconic and much-loved property will have tremendous reach and availability for fans to enjoy this next chapter with half-demon twins Towa and Setsuna."
Yashahime: Princess Half-Demonfollows the daughters of Sesshomaru and Inuyasha as they set out on a journey transcending time. Set in feudal Japan, half-demon twins Towa and Setsuna are separated from each other during a forest fire. While desperately searching for her younger sister, Towa wanders into a mysterious tunnel that sends her into present-day Japan, where she is found and raised by Kagome Higurashi's brother, Sota, and his family.
Ten years later, the tunnel that connects the two eras has reopened, allowing Towa to be reunited with Setsuna, who is now a demon slayer working for Kohaku. But to Towa's shock, Setsuna appears to have lost all memories of her older sister. Joined by Moroha, the daughter of Inuyasha and Kagome, the three young women travel between the two eras on an adventure to regain their missing past.
Confirmed voice cast: Sara Matsumoto as Towa Higurashi, Mikako Komatsu as Setsuna, and Azusa Tadokoro as the voice of Moroha.
About VIZ Media:
An international authority on manga and anime for more than three decades, VIZ Media is leading the way in what's now, new and next. Reaching one in four millennials and half of all Gen Z manga readers, VIZ is at the forefront of America's Japanese pop-culture phenomenon, which today dominates multiple industries from publishing and animation to film and gaming.
VIZ is proud to be the #1 destination for manga in America and home to some of the most prestigious anime brands driving the industry. Combined with a market share footprint larger than household names collectively, VIZ has pivoted from a localization company to a market leading pop culture publisher and producer.
Are you excited about this new Inuyasha-inspired anime? And will the English dub find its way to Toonami? Tell us in the comment section below or on our social media pages!
Don't forget to listen to the Toonami Faithful Podcast!